Is Weed Legal in Nevada? NV Cannabis Laws (June 2023)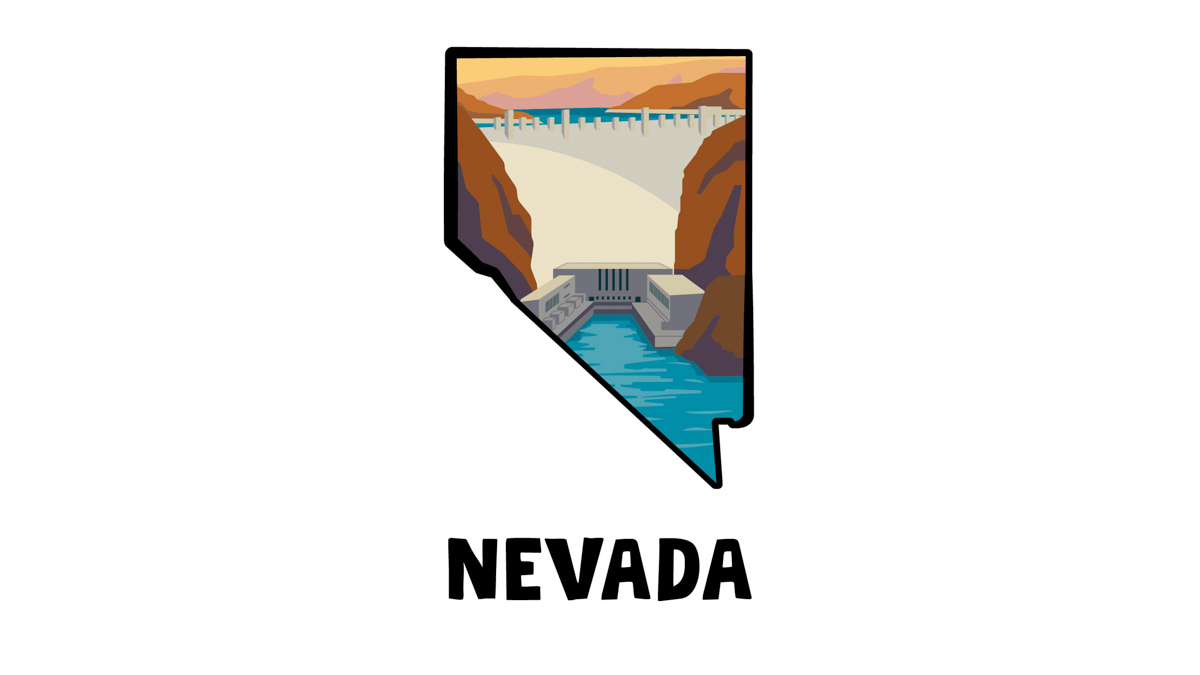 This article provides a complete guide to the legal status of marijuana in Nevada. We cover recreational and medical marijuana regulations, including possession limits, home cultivation, traveling, and public use. At the end of the article, you'll find the list of the most frequently asked questions regarding cannabis in Nevada.
Nevada legalized recreational marijuana in 2016. Before then, the state had three failed attempts to legalize weed, all of which were built on the success of AB453 — a bill that defelonized cannabis and expanded the medical marijuana system.
Each state has its own methods of implementing recreational cannabis sales, but Nevada is a true pioneer in innovations.
Not only has it based its marijuana market model on the gaming industry, but it also involved the alcohol industry in the distribution of weed.
Nevada was also the first state to introduce cannabis consumption lounges and drive-through dispensaries.
In this article, we explore Nevada weed laws in detail and shed light on the legal status of psychoactive cannabinoids from hemp.
Is Weed Legal in Nevada?
Yes, marijuana is legal in Nevada for both recreational and medical use. However, medical marijuana patients have higher possession limits than recreational users.
Related: States Where Marijuana Is Illegal
Here's what you need to know about both groups.
Is Recreational Marijuana Legal in Nevada?
Yes. Adults over 21 in Nevada can legally possess up to one ounce of marijuana and 3.5 grams of cannabis concentrate. They can purchase these products from state-licensed dispensaries.
Recreational sales are regulated by the Nevada Revised Statute: Regulation and Taxation of Marijuana, and the Nevada Administrative Code: Regulation and Taxation of Marijuana.
Is Medical Marijuana Legal in Nevada?
Yes. Medical marijuana has been legal in Nevada since 2000. The biggest difference between recreational and medical users is that the latter can buy, grow, and possess more than the former.
If you're a medical marijuana patient, you can possess up to 2.5 ounces of marijuana and grow up to 12 mature plants.
Penalties for Marijuana Possession
Nevada is one of the most relaxed states in the country when it comes to penalties for marijuana possession.
Carrying more than one ounce of marijuana (for recreational users) carries a possible fine of $600.
The same penalty applies to smoking marijuana in public.
However, selling marijuana without a license is a felony. If you're caught with intent to sell, penalties start at 4 years in prison and $5,000 in fines.
Is Weed Decriminalized in Nevada?
Yes. You won't even receive a ticket if you have up to an ounce of cannabis. There's no jail time for larger amounts unless you're trying to sell the weed.
What's the Future of Cannabis Legalization in Nevada?
Nevada is one of the most progressive states when it comes to cannabis legalization. With legal consumption lounges, drive-through dispensaries, and generous home cultivation laws, it's one of the best places to be in if you're a cannabis aficionado.
Recently, AB400 was signed into law. The new bill has removed THC blood tests from road control practices and replaced them with demonstrable impairment as the primary indicator of cannabis intoxication.
Nevada is also facing equity problems. Out of 330 licenses in the state, only one of the dispensaries is fully owned by a Caucasian woman. Another one is partially run by an African American woman — and that's where the list ends.
Delta-8 THC: A Better and Federally Legal Alternative to Marijuana in Nevada?
Delta-8 THC products from hemp have recently become extremely popular in the USA. That's because the 2018 Farm Bill created a legal loophole, according to which all hemp-derived products are federally legal as long as they contain no more than 0.3% delta-9 THC.
Shortly after the bill was signed into law, hemp manufacturers discovered new methods of extracting usable amounts of delta-8 THC from hemp. They achieved that by converting CBD into delta-8.
However, individual states hold the power to regulate certain substances within their jurisdiction. But before we answer, "Is delta-8 THC legal in Nevada," let's see what makes people eager to try it.
Delta-8 THC vs. Delta-9 THC
Delta-8 THC and delta-9 THC are two different variants of the THC molecule.
Delta-9 is the primary psychoactive ingredient in marijuana — the one that gets you high and offers a plethora of health benefits.
Delta-8 THC is the isomer of delta-9. It has a similar chemical formula, but its atomic bonds are arranged in different ways.
Delta-8 has a double bond at the eighth chain; delta-9 THC has this bond at the ninth chain. For this reason, delta-8 THC is about 50% as potent as delta-9.
You'd need to double the amount of delta-8 to experience the same intensity of effects as with marijuana.
Cons of Delta-9 THC from Marijuana
Marijuana has deeply relaxing euphoric properties. It's also a mild psychedelic whose effects are dose-dependent.
Low and moderate doses elevate your mood, ease pain, reduce stress, and enhance focus as part of their nootropic effects.
Larger doses will get you high, altering your thinking patterns and perception of your surroundings. The high also triggers euphoria, increased appetite, and giggles. Depending on the consumed strain and its terpene profile, the effects may lean toward energizing or sedating.
Most people are okay with the effects of delta-9 THC. However, not everyone can enjoy the high. Some individuals are susceptible to this cannabinoid, and for them, it reveals its biphasic nature.
The side effects of taking too much delta-9 THC include:
Anxiety
Paranoia
Feelings of discomfort
Cold sweats
Dizziness
Confusion
Increased heart rate
Short-term memory problems
Effects and Benefits of Delta-8 THC
Delta-8 THC has the same effect profile as delta-9 THC, but since it's less powerful, it doesn't get you as high in large doses as regular weed.
Lower strength also means a lower incidence of anxiety and paranoia. Of course, you can still get anxious if you take more than enough, but the odds are much lower.
People usually take delta-8 THC for the following benefits:
Anti-nausea
Anti-inflammatory
Pain relief
Increased appetite
Feelings of calmness and relaxation
Neuroprotection
Is Delta-8 THC Legal in Nevada?
No, delta-8 THC is technically illegal in the state of Nevada.
The landmark 2018 Farm Bill drew a thick line between hemp and marijuana. According to this bill, hemp is any cannabis plant with 0.3% or less delta-9 THC, making all hemp-derived products (including delta-8 THC) legal.
However, states still have the power to make different regulations regarding cannabis.
Although Nevada has legalized cannabis for recreational use, it has banned delta-8 THC.
Benefits of Buying Delta-8 THC Online
If you're in a state that allows delta-8 THC products, the best way to buy them is from a reputable online store.
When you buy delta-8 online, you can:
Take advantage of lower baseline prices because online stores can cut out the middleman
Save even more money thanks to seasonal discounts, reward programs, and subscription orders
Compare hundreds of different products in the comfort of your home
Read third-party lab reports and customer reviews on independent websites to verify the credibility of your vendor
Best Online Delta-8 THC Stores
Finding a trustworthy delta-8 store can be a pain. The market is unregulated, and there are no established standards regarding the manufacturing, labeling, and lab testing of such products.
Customers must shoulder the responsibility for research, stacking the duties, and making the process even peskier.
Here are my recommendations for the top two leading brands in the delta-8 space. Feel free to use them if you're in a rush. Both companies provide batch-specific certificates of analysis for the potency and purity of their products.
1. Area 52
Get 15% off all Area 52 products. Use code "CFAH" at checkout.
Area 52 has been "alienizing the minds" of its customers since 2019. The brand specializes in delta-8 THC, HHC, and full-spectrum CBD products, taking cannabinoid-based formulas to a whole new level.
Area 52 offers a broad range of delta-8 products, such as tinctures, edibles, pre-rolls, and vape carts. They pack a punch with 25–40 mg of delta-8 per serving, but more importantly, they're rich in terpenes, which boosts the potency of delta-8 THC and the cognitive buzz that comes with it.
The newly introduced line of "true full-spectrum products" features some classics like energy gummies, sleep gummies, immunity gummies, and CBD oil, as well as novel formats like delta-8 honey and HHC gummies. You can mix and match different products to personalize your experience with delta-8.
2. Finest Labs
Finest Labs is my go-to pick for beginners, especially if you're just dipping your toes in the delta-8 THC market. The company makes only two delta-8 products, but make no mistake, these formulas have been mastered to perfection — with great attention to the ratios between delta-8 THC and terpenes.
You can choose between delta-8 THC tinctures and gummies. The gummies pack 25 mg of delta-8 per serving, while the tincture is less concentrated, with 15 mg in each dose. That's why I recommend them to sensitive cannabis users as their first tier.
Finest Labs also offers 31 blends of terpenes that are mixed to resemble the flavor and aroma profiles of various cannabis strains — indica, sativa, and hybrids.
FAQs
Who can use medical marijuana in Nevada?
You can apply for a medical marijuana card in Nevada if you've been diagnosed with one of the following conditions:
AIDS
Cancer
Glaucoma
Post-traumatic stress disorder (PTSD)
Cachexia
Persistent muscle spasms (including Multiple Sclerosis)
Seizures, including epilepsy
Severe nausea
Severe pain
Any other debilitating or chronic medical condition that, in the opinion of a professional physician, might benefit from cannabis treatment.
Can you grow weed in Nevada?
Yes. However, different limits apply to recreational and medical users.
If you're a recreational user, you can grow up to 6 plants at home.
Medical marijuana users can legally cultivate up to 12 plants.
Can you smoke marijuana in public?
No. Smoking marijuana in public is illegal in Nevada and can lead to a $600 fine. You can consume cannabis on private property or in designated consumption lounges.
Can you travel with marijuana in Nevada?
Yes, but your weed must be stored in a closed container and out of the driver's reach.
It's illegal to travel with marijuana outside of Nevada. Doing so is treated as a federal felony (marijuana trafficking) and may land you a 5-year prison sentence on top of $250,000 in fines for less than 50 kg and fewer than 50 plants.
Is buying weed online an option in Nevada?
Yes. Nevada is one of the few states that allow online marijuana sales for delivery. Anyone with a valid government-issued ID can buy weed online from a licensed dispensary.
Is CBD Oil from Hemp Legal in Nevada?
Yes, all non-psychoactive products from hemp are legal in Nevada. The state follows the language of the 2018 Farm Bill, allowing hemp derivatives as long as they don't contain more than 0.3% delta-9 THC. The only exception is delta-8 THC.
You can find CBD products in Nevada dispensaries, pharmacies, hemp stores, vape shops, and online.
Buying Weed in Nevada: Bottom Line
If you're up for some weed tourism in the USA, you're in for a treat in Nevada. The state has relaxed laws around cannabis and is one of the leaders in innovations, such as drive-through dispensaries and cannabis consumption lounges.
If you have a qualifying medical condition, you can apply for a medical marijuana card in Nevada. As a patient, you can buy 2.5 ounces of marijuana and grow up to 12 plants at home, putting you in a better position than recreational users.
Unfortunately, Nevada banned delta-8 THC products, and the situation is unlikely to change until the industry figures out a standardized method of lab testing for the purity of such products.
If you want to try delta-8 THC, make sure to purchase it from a legal state and carefully research all your options before handing out your money.