Is Weed Legal in New Mexico? NM Cannabis Laws (June 2023)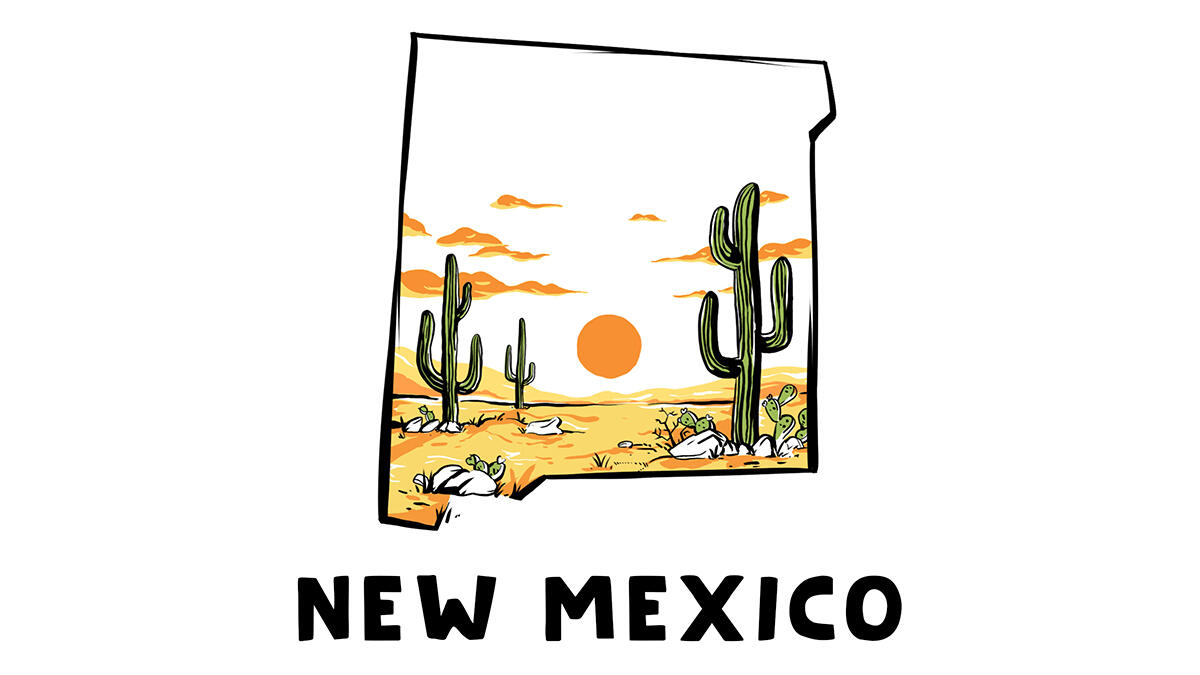 This article covers the legality of marijuana in New Mexico. We explain state regulations regarding the recreational and medical use of marijuana. You'll learn about possession rules, where to buy cannabis, growing weed at home, and whether you can travel with marijuana in New Mexico. We also present a federally legal alternative for those who are sensitive to the psychedelic effects of delta-9 THC from marijuana.
Cannabis is legal under the New Mexico laws for adults 21+
The state also has a medical marijuana program for qualifying patients.
People in New Mexico can legally buy up to two ounces of marijuana, 16 grams of marijuana concentrates, and 800 milligrams of edibles.
For medical marijuana patients, the limits are higher — up to 15 grams of marijuana flower.
You can grow up to six plants per person or 12 per household.
Delta-8 THC is a federally legal, milder alternative to delta-9 THC from marijuana. You can find it in New Mexico locally and online.
Is Weed Legal in New Mexico?
Yes, marijuana is legal in New Mexico, although different rules apply to different types of users.
Related: Marijuana Legal States
Here's a quick rundown of marijuana laws in New Mexico.
Is Recreational Marijuana Legal in New Mexico?
Yes, adults 21+ can legally purchase, possess, and consume marijuana for recreational use as long as they source it from state-licensed dispensaries.
Possession limits include:
2 ounces of marijuana flower
16 grams of cannabis concentrate
800 milligrams of edibles
Intending to distribute any amount of marijuana without a license is a felony and may lead to heavy fines and jail time.
Is Medical Marijuana Legal in New Mexico?
New Mexico legalized marijuana on April 2, 2007, when Governor Bill Richardson signed the medical marijuana legalization bill Senate Bill 523 into law.
Medical marijuana patients can purchase up to 425 "units of cannabis" and/or cannabis products within 90 days. 425 units are equivalent to 15 ounces of flower.
You can also grow up to 16 plants at home if you have a medical marijuana card — but only four can be at the flowering stage.
Penalties for Marijuana Possession
Possession of two and up to eight ounces of marijuana is classified as a misdemeanor and subject to a $100-$1000 fine plus imprisonment for up to one year. If you're caught with more than 8 ounces or its equivalent in cannabis concentrate and edibles, you'll be charged with a fourth-degree felony and face a fine of up to $5,000 on top of 1.5 years in prison.
Is Weed Decriminalized in New Mexico?
Yes, weed is decriminalized in New Mexico as long as you adhere to the possession limits.
New Mexico also has an expungement program for people previously convicted of marijuana possession.
If you were caught with what's now a legal amount of weed, your criminal record will be cleared. According to official estimates, over 150,000 New Mexico residents are qualified for expungement.
Delta-8 THC: A Better and Legal Alternative to Marijuana
Although marijuana is legal in New Mexico for both medical and recreational use, certain limitations may stave off potential users.
It's also impossible to buy weed online in New Mexico, which creates inconveniences for people living far from licensed dispensaries. Not everybody wants to grow marijuana at home, which adds another brick to the availability problem.
Not to mention that certain individuals are overly sensitive to the psychedelic effects of delta-9 THC in marijuana.
Delta-8 THC is a decent alternative for beginner users, but before we elaborate on it, let's look at the main reasons why certain folks choose to avoid high-THC cannabis.
Cons of Delta-9 THC from Marijuana
Most people can enjoy the psychoactive effects of marijuana without unpleasant side effects.
Low and moderate doses are relaxing and soothing. They can ease stress, mitigate pain, protect your nerves, and improve cognitive functioning.
Larger amounts of delta-9 THC will get you high, changing your thinking patterns, increasing sensory perception, boosting your appetite, and elevating your mood. People often laugh after smoking weed and become more talkative.
However, if you have a low tolerance and are sensitive to the psychoactive nature of delta-9 THC, you can experience a range of unpleasant side effects, such as:
Anxiety
Paranoia
Feelings of discomfort
Cold sweats
Dizziness
Confusion
Increased heart rate
Short-term memory problems
The high from delta-8 THC is milder and more clear-headed.
Effects and Benefits of Delta-8 THC
Delta-8 THC and delta-9 THC are strikingly similar at first glance. However, the arrangement of their atomic bonds is slightly different; delta-8 has a double bond at the eighth carbon chain, while delta-9, this bond is located at the ninth chain.
For this reason, delta-8 THC is about 50% as potent as delta-9. In other words, you'd need to consume twice the amount of delta-8 to experience the same intensity of effects as with marijuana.
Delta-8 THC also comes with a lower incidence of anxiety and paranoia, which has become the primary driver of its popularity in the USA.
Both cannabinoids offer similar health benefits, including:
Anti-nausea
Anti-inflammatory
Pain relief
Increased appetite
Feelings of calmness and relaxation
Neuroprotection
Is Delta-8 THC Legal in New Mexico?
Yes, delta-8 THC is legal in New Mexico, provided that it comes from hemp plants.
The 2018 Farm Bill legalized hemp and all its derivatives, including cannabinoids, terpenes, flavonoids, isomers, and salts of isomers.
As long as the end product contains 0.3% or less delta-9 THC, it's federally legal.
This includes hemp-derived isomers of THC, such as delta-8, delta-10 THC, and HHC.
Although 14 states banned delta-8 THC products, New Mexico laws align with the provisions set out by the Farm Bill; you can legally buy delta-8 THC extracts locally and online.
Benefits of Buying Delta-8 THC Online
The best way to find high-quality delta-8 THC products is to look for a reputable online store instead of finding local stores that sell delta-8.
Online vendors don't have to deal with the middleman, so they can offer better deals on their goods.
You can take advantage of coupon codes, reward programs, subscription orders, and bulk pricing to save even more money.
Buying delta-8 THC provides more opportunities for verifying your potential supplier. You can look into third-party lab reports, read the company's "About Us" section, comb through customer reviews on independent websites, and reach out to other users on forums or social media platforms.
Not to mention that online stores save you plenty of time by cutting out the need to drive between different stores to find the product you're looking for. When you buy online, you can browse through hundreds of formulas in the comfort of your home — unrestricted by time.
Best Online Delta-8 THC Stores
Not all delta-8 THC products are made equal. Many great companies are selling high-quality extracts, but there's no shortage of fly-by-night vendors using the delta-8 craze to capitalize on the booming market.
The lack of regulations in the cannabinoid industry makes the situation even worse. Many local and online products contain significantly less delta-8 THC than stated on the label. Some of them contain more delta-9 THC than federally accepted, while others are contaminated with pesticides, heavy metals, bleaches, solvents, or mold.
Making a well-informed decision requires a solid amount of research. If you don't have the time to run your own investigation, here are my top recommendations. I've been using both brands since 2020 and have never been happier with the transparency, quality, and overall effects.
1. Area 52
Get 15% off all Area 52 products. Use code "CFAH" at checkout.
Area 52 is a Nevada-based manufacturer of delta-8 THC products based on pure distillate. You can choose from tinctures, vape carts, edibles, and pre-rolled joints to find your perfect match.
The delta-8 distillate has been infused with terpenes for a more complete effect. The presence of terpenes adds more character to the psychoactive buzz and contributes to the whole-plant synergy in cannabis.
Area 52 has recently released a line of "true full-spectrum CBD products" with different minor cannabinoids, such as CBG, CBN, and CBC, to address specific health needs.
All Area 52 products are rigorously tested in an ISO-certified laboratory for potency and purity. The company provides up-to-date certificates of analysis with each order.
2. Finest Labs
Finest Labs is one of the best delta-8 brands for beginners. The company takes a scientific, no-BS approach to cannabinoid extracts, focusing on simple products like tinctures, vape pens, and gummies.
Aside from delta-8 THC extracts, Finest Labs offers HHC edibles and Energy gummies infused with CBG and Vitamin B12.
The company is also one of the most respected manufacturers of botanical terpenes in the U.S. You can purchase single terpenes or buy special blends that recreate the effects of specific cannabis strains.
FAQs
Who can use medical marijuana in New Mexico?
Medical marijuana in New Mexico is available for patients with qualifying conditions, including:
Anorexia
Autism spectrum disorder
Alzheimer's disease
Cachexia
Cancer
Crohn's disease
Damage to the nervous tissue
Epilepsy
Friedreich's ataxia
Glaucoma
Hepatitis C
HIV/AIDS
Huntington's Disease
Hospice care
Inclusion body myositis
Inflammatory autoimmune diseases
Intractable nausea/vomiting
Lewy body dementia
Lou Gehrig's disease
Multiple sclerosis
Obstructive sleep apnea
Opioid addiction
Painful peripheral neuropathy
Parkinson's disease
Post-traumatic stress disorder (PTSD)
Severe chronic pain
Spasmodic torticollis
Spinal muscular atrophy
Ulcerative colitis
Can you grow weed in New Mexico?
Yes, you can grow up to 6 plants per person or 12 plants per household as a recreational user.
Medical marijuana patients and their caregivers receive a Personal Production License (PPL), allowing them to grow up to 16 plants, with a limit of four mature plants.
Can you smoke marijuana in Public?
New Mexico bans smoking marijuana in public. Recreational and medical users must limit their cannabis consumption to private properties.
The state's Cannabis Control Division is currently working to establish a network of cannabis consumption lounges following recent legal changes in Nevada.
Traveling with marijuana in New Mexico
You can travel with marijuana in New Mexico as long as you keep it away from the driver's reach and in a closed container.
Driving under the influence of cannabis, as well as driving under the influence of any drug that impairs motor functioning, is illegal.
A first DUI offense can get you 90 days in prison and a $500 fine, with subsequent offenses punishable by longer prison time and higher fines.
Can you buy weed online in New Mexico?
Yes, for recreational and medical users, buying weed online for delivery is legal in New Mexico. Deliveries are processed by the courier system that the state put into place.
Is CBD oil from hemp legal in New Mexico?
Yes, you can legally buy hemp-derived CBD oil in New Mexico. CBD products are available without a prescription; you can find them in local hemp stores and online.
I recommend buying CBD oil online for the same reason I recommend buying delta-8 products this way. You can easily research your potential vendor and benefit from lower prices when you buy CBD online.
Buying Weed in New Mexico: Bottom Line
New Mexico is one of the best places to be if you're looking for legal marijuana.
The state allows weed for both recreational and medical use, granting higher possession and cultivation limits to medical marijuana patients.
As a recreational user, you can purchase marijuana from cannabis dispensaries if you're 21+ and can provide a valid, government-issued I.D.
If you're sensitive to the psychoactive effects of delta-9 THC, consider trying out hemp-derived delta-8 products. Not only are they milder than delta-9 THC, but they're also federally legal.
Just make sure to source your delta-8 THC extracts from brands that are transparent and provide relevant lab reports for their entire product line.