Is Weed Legal in Ohio? OH Cannabis Laws (June 2023)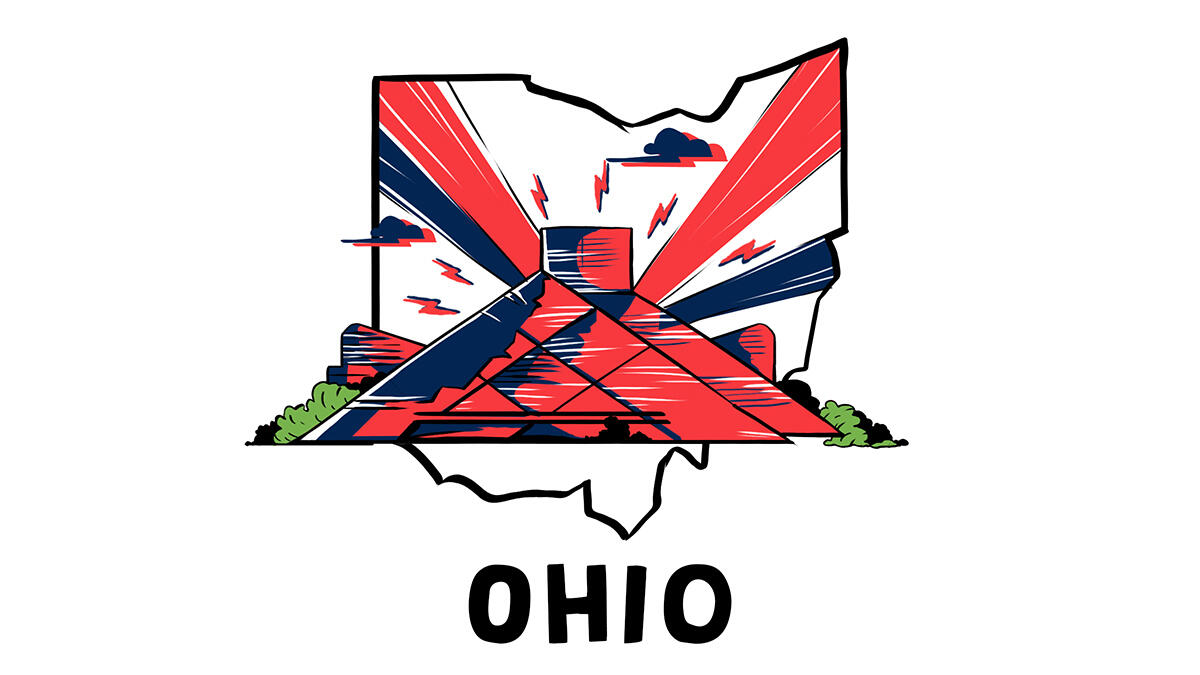 Adult-use recreational cannabis is illegal in Ohio, but small amounts (up to 100 grams) are decriminalized under state law.
Medical marijuana is legal in Ohio for eligible patients with a medical marijuana card.
Medical marijuana users can possess and purchase limited amounts of cannabis per day, e.g., 2.83 grams.
Delta-8 THC is currently the only legal psychoactive cannabinoid in Ohio. It's legal at the federal and state level.
You can't legally grow cannabis in Ohio, even if you have a medical marijuana card.
Is Weed Legal in Ohio?
Weed is illegal in Ohio for recreational use and legal for medicinal purposes. Possession of up to 100 grams of cannabis for personal use is decriminalized and classified as a misdemeanor under state law.
Related: List of States Where Weed Is Still Illegal
Here we explain the differences between recreational and medical marijuana laws in Ohio.
Is Recreational Marijuana Legal in Ohio?
No. Marijuana remains illegal for recreational use in Ohio. You can't legally use, purchase, possess, sell, grow, or gift recreational cannabis products. Doing so will result in a penalty or prosecution, such as fines or jail time depending on the amount of cannabis and intent.
Is Medical Marijuana Legal in Ohio?
Yes, medical marijuana patients can use, possess, sell, and purchase medical marijuana from state-licensed dispensaries following House Bill 523.
The bill allows patients with qualifying conditions to register for a medical marijuana card and gain access to a limited daily amount of cannabis. It also created a distribution network, a system of growing facilities, testing labs, doctor certifications, processors, and dispensaries.
There are now over 60 dispensaries operating in Ohio.
Penalties for Marijuana Possession
Penalties for marijuana possession aren't as heavy as in Indiana or Iowa. The state has decriminalized the simple use and possession of marijuana in small amounts (up to 100 grams). It's a misdemeanor for which you can receive a fine of $150.
Possession of 100–200 grams of marijuana is also a misdemeanor but punishable with a maximum fine of $250 and up to 30 days in prison.
Is Weed Decriminalized in Ohio?
Yes, Ohio was the sixth U.S. state to decriminalize small amounts of marijuana for personal use. Decriminalization went into effect following a groundbreaking bill signed by then Rep. Governor Jame Rhodes on August 22nd, 1975.
The law specifically states, "If the drug involved in the violation is marijuana or a compound, mixture, preparation, or substance containing marijuana other than hashish, whoever violates division (A) of this section is guilty of possession of marijuana. The penalty for the offense shall be determined as follows: (a) [For amounts under 100 grams] possession of marijuana is a minor misdemeanor."
What's the Future of Cannabis Legalization in Ohio?
The future of recreational cannabis legalization is painted in bright colors.
Ohio cannabis activists have managed to gather enough signatures to force Ohio lawmakers to consider and debate adult-use cannabis legalization.
If the bill passes, Ohio residents will be able to possess up to 2.5 ounces of recreational marijuana and 15 grams of cannabis concentrates. They will also have the right to grow six cannabis plants for personal use, with a limit of 12 plants per household.
However, Republican legislative leaders and Governor Mike DeWine have already announced they will not let recreational cannabis legalization happen in the next election.
Delta-8 THC: A Better and Legal Alternative to Marijuana in Ohio
It may take some time until Ohio lawmakers legalize marijuana for recreational use. So far, the only way to get access to marijuana products is by becoming a medical marijuana patient.
However, not everybody has a qualifying medical condition to apply for a medical marijuana card.
What if you're healthy but just want to try the signature effects of cannabis?
There's a decent alternative — it's called delta-8 THC.
But before we put it into the spotlight, let's answer one question: why do some people choose to avoid high-THC cannabis?
Cons of Delta-9 THC from Marijuana
Most cannabis users can enjoy the cannabis high. Delta-9 THC makes them relaxed and motivated and reduces both physical and mental tension — especially in low and moderate doses. Microdosing delta-9 can also improve your cognitive performance.
Taking large amounts of delta-9 THC can get you high, altering your thinking patterns, sharpening your senses, boosting your appetite, heightening your imagination, and elevating your mood.
These euphoric effects are usually accompanied by a range of therapeutic benefits, such as pain relief, reduced nausea, decreased inflammation, and alleviated depression symptoms.
However, certain individuals are overly sensitive to the psychoactive effects of marijuana. For them, delta-9 THC reveals its biphasic nature when consumed in high doses.
The side effects of taking too much delta-9 THC include:
Anxiety
Paranoia
Feelings of discomfort
Cold sweats
Dizziness
Confusion
Increased heart rate
Short-term memory problems
Effects and Benefits of Delta-8 THC
Delta-8 THC is a milder analog of delta-9 THC. Both cannabinoids have the same chemical formula, but their atomic structure is slightly different.
Delta-8 THC has a double bond at the eighth chain, while delta-9 has this bond at the ninth chain.
This subtle difference takes away some of delta-8 THC's potency. Delta-8 is about 50% as potent as delta-9.
If you want to experience the same intensity of effects as with marijuana, you'd need to consume twice the dose of delta-8 THC.
Delta-8 is also less likely to drive you anxious or paranoid, but these effects can still occur when you overdose.
Delta-8 THC offers similar benefits to delta-9, including:
Anti-nausea
Anti-inflammatory
Pain relief
Increased appetite
Feelings of calmness and relaxation
Neuroprotection
Is Delta-8 THC Legal in Ohio?
Yes. Delta-8 is legal in Ohio, but there are certain regulations manufacturers must follow.
Ohio previously regulated delta-8 THC in medical marijuana products. But since hemp-derived delta-8 THC is legal at the federal level, Ohio lawmakers introduced new rules.
Delta-8, delta-10, and all other THC isomers now have an updated definition, meaning the state might consider each one a controlled substance — even when extracted from hemp.
As of this writing, you can legally buy hemp-derived delta-8 THC products in local stores in Ohio and from online retailers.
Benefits of Buying Delta-8 THC Online
Most transactions on delta-8 THC products occur online these days — for a good reason.
Online stores offer lower prices compared to buying delta 8 locally on their products because they can cut out the middleman. You can also take advantage of coupon codes, subscription orders, bulk pricing, and reward programs to save even more money on high-quality extracts.
Buying delta-8 online means, you can compare different formulas and their prices in the comfort of your home. It's a huge time saver.
Not to mention that you have more opportunities for researching your potential vendors. You can look into certificates of analysis (CoA), read user reviews, examine the company's "About Us" section, or reach out to other users on social media platforms and forums like Reddit.
Best Online Delta-8 THC Stores
You need to have eyes in the back of your head when shopping for delta-8 THC. Since the market lacks regulations in terms of manufacturing, testing, and labeling standards, the responsibility for doing research is shed on the customer.
If you don't have time to comb through lab reports or read user reviews on every third-party website review out there, here's a quick recommendation for two decent brands. I've been using both for over 2 years with great results and can recommend them with a clear conscience.
1. Area 52
Get 15% off all Area 52 products. Use code "CFAH" at checkout.
Area 52 is a Nevada-based manufacturer of high-quality delta-8 THC extracts based on pure distillate. The company's selection includes tinctures, gummies, vape carts, and pre-rolled joints.
These products also contain traces of minor cannabinoids and are infused with terpenes to create the entourage effect. This biological phenomenon makes the sum of all cannabis compounds more effective than each of them alone (even at high doses).
Area 52 has recently added a line of "true full-spectrum" products, including tinctures and edibles infused with cannabinoids like CBG, CBC, and CBN to target specific health needs.
All products from this company are tested in a third-party laboratory for potency and purity.
2. Finest Labs
Finest Labs is my go-to recommendation for beginners who are looking for a simple product range from a trustworthy manufacturer. Similar to Area 52, Finest Labs rigorously tests every product batch for potency and contaminants in an ISO-certified lab, ensuring top transparency and safety.
You can choose from products like tinctures, edibles, and vape pens. Finest Labs specializes in THC isomers. There are also HHC products and special Energy gummies available in its line-up.
Finest Labs is also one of the most respected manufacturers of botanical terpenes in the U.S. It makes single terpenes as well as special blends that recreate the aroma, flavor, and effect profile of different cannabis strains.
FAQs
Who can use medical marijuana in Ohio?
If you want to apply for a medical marijuana card in Ohio, you must be diagnosed with one of the following conditions:
Amyotrophic Lateral Sclerosis (ALS)
Alzheimer's Disease
AIDS
Cachexia
Cancer
Chronic pain
Crohn's disease
Chronic Traumatic Encephalopathy (CTE)
Epilepsy (seizures)
Fibromyalgia
Glaucoma
HIV
Hepatitis C
Huntington's Disease
Inflammatory Bowel Disease (IBD)
Multiple Sclerosis
Parkinson's Disease
Post-traumatic stress disorder (PTSD)
Sickle Cell Anemia
Spasticity
Spinal cord injury
Terminal illness
Tourette syndrome
Traumatic Brain Injury (TBI)
Ulcerative colitis.
Medical marijuana patients can possess limited quantities of weed.
Daily marijuana purchase and possession limit:
2.83 grams of dried flower
295 mg of THC in patches, creams, ointments, or lotions
100 mg of THC in tinctures, capsules, edibles, oils, or any other oral products
590 mg of THC in vape oil.
90-day marijuana purchase and possession limit:
Up to 8 ounces of dried flower
Up to 26.55 grams of THC in patches, ointments, lotions, or creams
No more than 9.9 grams of THC in capsules, edibles, tinctures, or oils
Up to 53.1 grams of THC vape oil
Terminally ill patients have higher purchase and possession limits:
Up to 10 ounces of dried flower
Up to 33.3 ounces of THC in oils, capsules, edibles, or tinctures
No more than 11.7 grams of THC in vape oils
Can you grow weed in Ohio?
No. Marijuana is illegal to grow for personal use. Only state-licensed growers can produce marijuana for medicinal purposes. Caregivers for marijuana patients are also allowed to grow weed but only in small quantities.
The penalties for growing cannabis at home are the same as for possession. Growing up to 100 grams of flowers is a misdemeanor punishable by up to $150. Growing between 100-200 grams of marijuana involves a $250 fine and up to 30 days in prison.
Can you smoke marijuana in public?
No, smoking marijuana in public is illegal in Ohio. Medical marijuana patients must consume cannabis in their homes. Smoking marijuana recreationally in public is treated as possession and punished accordingly.
Traveling with marijuana in Ohio
You can travel with marijuana in Ohio as a medical marijuana patient. However, you can't take it outside of the state, as doing so will be classified as a federal felony. Trafficking marijuana is subject to $250,000 in fines and up to 5 years in prison if you're caught with less than 50 kilograms or fewer than 50 plants.
Can you buy weed online in Ohio?
No. Marijuana delivery services are illegal in Ohio. If you want to buy cannabinoids online, you can choose between hemp-derived CBD and delta-8 THC products.
Is CBD oil from hemp legal in Ohio?
Yes. The 2018 Farm Bill removed hemp from the list of controlled substances, reclassifying it as an agricultural commodity. The new law allows hemp farmers to grow and sell their crops for any purpose, including clothes, paper, ropes, construction materials, biofuel, food, and health supplements like CBD oil.
Hemp-derived CBD oil is widely available and legal in Ohio, but I recommend buying it from a reputable online store for the same reason I recommend buying delta-8 products this way — lower prices and a better toolset to vet your suppliers.
Buying Weed in Ohio: Bottom Line
Medical marijuana is legal in Ohio, but recreational users can't legally enjoy their herb. Legalization initiatives received enough votes to be considered during the next election; however, there's strong opposition from republicans led by the state governor. They've already promised recreational legalization isn't going to happen any time soon.
So far, the only option to reap the benefits of psychoactive cannabinoids without breaking the law or having to apply for a medical marijuana card is to find a trustworthy source of hemp-derived delta-8 THC products.
Delta-8 THC is legal at the federal level, and unlike 14 states that banned these extracts, Ohio follows the rules laid out by the 2018 Farm Bill. As long as the end product contains 0.3% delta-9 THC or less, you don't have to worry about any legal issues.