Is Weed Legal in Oregon? OR Cannabis Laws (June 2023)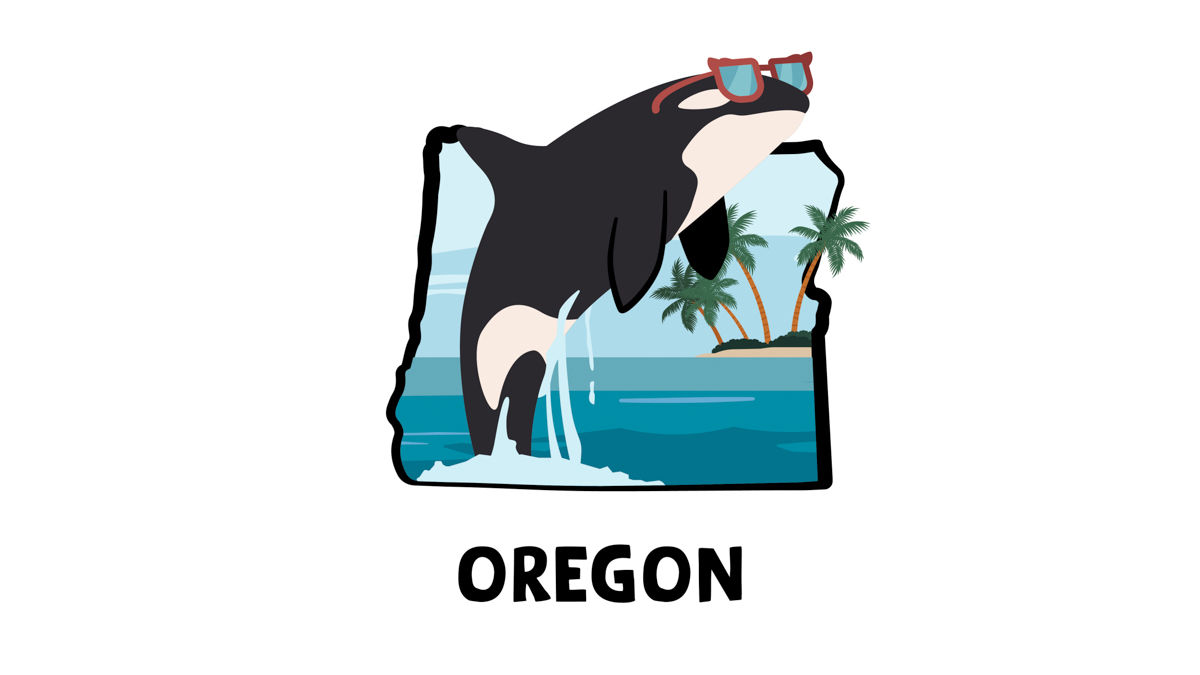 This article answers the question "is weed legal in Oregon?" We break down local recreational and medical laws, possession limits, decriminalization, and future perspectives on the development of the market. You'll also learn if you can grow weed in your house or travel with marijuana from Oregon to another state where weed is legal. Finally, we'll elaborate on delta-8 THC in Oregon, whose legality has been raising concerns recently.
Oregon is one of the most progressive states when it comes to marijuana legalization.
Weed is legal for both recreational and medical use.
If you're 21 or older, you can purchase marijuana from licensed dispensaries. You're spoiled for choice with products like flowers, hash, edibles, concentrates, vapes, etc.
Oregon is also the best state when it comes to cannabis availability. Five of the top ten cities ranked according to marijuana stores per capita were in Oregon.
The state's sun and soil create perfect conditions for growing cannabis.
But what about other cannabinoids, such as delta-8 THC? Are they legal in Oregon too?
Keep reading to find out.
Is Weed Legal in Oregon?
Yes. Weed is legal in Oregon for both medical and recreational use. However, you have more perks if you're a medical user.
Related: Where Is Cannabis Illegal?
Here's what you need to know about Oregon marijuana laws.
Is Recreational Marijuana Legal in Oregon?
Yes, if you're 21 or older, you can legally buy up to one ounce of marijuana from one of the state-licensed dispensaries.
You're not allowed to consume cannabis in public, so if you want to smoke weed, you must do it in a private residence.
You can have more cannabis in your house, up to 8 ounces of flower, 1 ounce of cannabis concentrate, 16 ounces of an infused edible, and 72 ounces of a beverage.
Recreational users are also allowed to grow 4 marijuana plants per household.
Is Medical Marijuana Legal in Oregon?
Yes. Medical marijuana is legal in Oregon for people aged 18 and older.
If you have a medical marijuana card, you can buy and possess more weed than recreational users. Whether you're in public or at home, you're allowed to carry 24 ounces of cannabis flower.
Possession limits for concentrates, edibles, and beverages remain unchanged.
And so does the limit of 4 marijuana plants per household.
Penalties for Marijuana Possession
Weed is legal for adults in Oregon, but it doesn't mean there are no limits. Crossing the line could result in a fine or even jail time.
Here's the list of current penalties for possession in public:
Up to 2 ounces: $650 fine, no jail time
Up to 4 ounces: $2,5000 fine, 6 months in jail
More than 4 ounces: $6,250 fine, 1 year in jail
Growing more than 8 plants in marijuana at home is a felony punishable by up to 5 years in prison and $125,000 in fines.
If you're caught growing marijuana without a license on a commercial scale, you'll also be charged with a felony. Penalties involve 20 years in prison and $375,000 in fines.
Is Weed Decriminalized in Oregon?
Yes. You won't be charged for possession if you have less than one ounce of cannabis in public. Carrying up to 2 ounces is a violation that will cost you a $650 ticket.
What's the Future of Cannabis Legalization in Oregon?
Oregon is one of the most prominent cannabis markets in the USA, especially thanks to its ideal conditions for growing premium-quality weed.
Its progressive marijuana laws have spurred up the local economy, generating hundreds of millions of dollars in revenue.
Due to a recent supply and demand issue, retailers and harvesters in Oregon have seen a decline in prices, making the state an appealing place to live for cannabis aficionados.
Oregon is also one of the pioneering states fighting to legalize interstate cannabis commerce. On November 17, a licensed Oregon distribution company, Jefferson Packing House, filed a lawsuit against Oregon governor Kate Brown and other state officials who tried to block the interstate legalization bill; the legal battle is in progress.
Related: Is Marijuana Legal in Portland, Oregon?
Delta-8 THC: A Better Alternative to Marijuana in Oregon?
Oregon has a super friendly landscape for cannabis users, but even if you like cannabis, you may be too sensitive to the psychedelic effects of delta-9 THC.
That's why people have been looking for a milder alternative for some time, such as hemp-derived delta-8 THC.
Delta-8 THC is known for a smoother cognitive buzz and a lower risk of anxiety and paranoia.
But is it legal in Oregon? We'll find out in the next sections. But first, let's quickly look at the differences between delta-8 and delta-9.
Delta-8 THC vs. Delta-9 THC
Delta-8 and delta-9 THC are two different variants of the THC molecule. As an isomer of delta-9, delta-8 THC has a similar chemical structure — but with a different bonding.
Delta-8 THC comes with a double bond at the eighth carbon chain, while delta-9 THC has this bond at the ninth chain. That's why delta-8 is about 50% as potent as delta-9.
You'd need to consume twice as much delta-8 to experience the same type of high as with weed.
Cons of Delta-9 THC from Marijuana
Marijuana is a potent relaxant, but it also has a biphasic nature.
Low doses can relieve stress and pain, improve focus and memory, and promote the formation of new neurons.
Large doses can get you high, inducing euphoria and altering your perception of time of surroundings. Your senses get heightened, and your appetite increases, as the body gets relieved from tension.
However, taking more than enough can activate the biphasic nature of delta-9, making you feel anxious and paranoid. Your heart rate may increase and your hand will feel sweaty. That's a temporary reaction, but sometimes, it's enough to induce trauma in a person.
That's why so many people have been turning to delta-8 THC recently.
Effects and Benefits of Delta-8 THC
Delta-8 THC has a similar effect and safety profile to delta-9 THC. However, since it's less potent, the risk of anxiety and paranoia also decreases.
That doesn't mean you can't get anxious when you go overboard — but it's more difficult.
People generally describe the effects of delta-8 as relaxing, soothing, and calming. These effects may lean toward energizing or sedating depending on the ratios between terpenes and other cannabinoids in your product.
Although not as well researched as delta-9, delta-8 THC offers similar health benefits to delta-9, including:
Anti-nausea
Anti-inflammatory
Pain relief
Increased appetite
Feelings of calmness and relaxation
Euphoria
Neuroprotection
Is Delta-8 THC Legal in Oregon?
Unfortunately, delta-8 THC is no longer legal in Oregon.
The state banned all artificially derived cannabinoids in July 2022.
Most delta-8 THC companies don't ship to Oregon, so you'll need to visit a neighboring state if you want to try delta-8 products.
Benefits of Buying Delta-8 THC Online
If you're in a state where delta-8 THC is legal, the best way to find high-quality products is to look for a reputable online store.
The benefits of buying delta-8 THC online include:
Lower prices: online vendors can cut out the middleman, offering lower prices on the same quality products. You can also take advantage of coupon codes, reward programs, and subscription orders to save even more money on delta-8.
Convenience: buying delta-8 THC online gives you access to hundreds of products in the comfort of your home. You can shop at any time, from any place you want; the delivery usually takes up to 3 business days, so you can order in advance to your destination.
Transparency: reputable online brands provide current Certificates of Analysis (CoAs) from third-party laboratories to prove their potency and purity. You can also read user reviews on independent websites and comb through social media to get a bigger picture of your potential supplier and its services.
Best Online Delta-8 THC Vendors
Delta-8 THC is an unregulated market with no standards regarding the production, labeling, and testing of such products. Finding the right company takes time, especially with so many brands out there.
If you don't have the time to read lab reports and user reviews, we've done the hard work for you. After analyzing over 30 hemp brands that sell delta-8 THC, we narrowed down our choices to 10 picks and selected the top 2 leading brands that offer the best value for money. Both manufacturers provide batch-specific CoAs from third-party laboratories.
1. Area 52
Get 15% off all Area 52 products. Use code "CFAH" at checkout.
Area 52 is an innovative brand focused on premium delta-8 THC extracts based on pure distillate. It offers a broad selection of products, including delta-8 tinctures, edibles, vape carts, and pre-rolls.
The carts and pre-rolled joints are great if you want to personalize your delta-8 experience. Each product comes in 3 different strains — Indica, Sativa, and Hybrid — that suit different times of day and lifestyle goals.
The company also has a special line of "true full-spectrum products," such as UFO CBD oil and gummies. Both products come with a blend of delta-9 THC, CBD, CBG, and minor cannabinoids to create unique synergy and enhance the therapeutic potential of CBD.
2. Finest Labs
Finest Labs is our go-to recommendation for beginners because it offers just two products: delta-8 THC tinctures and gummies.
These are simple formulas featuring a low dose of delta-8 THC (15 mg – 25 mg per serving) and a range of botanical terpenes that improve the absorption of delta-8 and trace cannabinoids from the distillate.
If you have a higher tolerance to delta-8, try the gummies. They're not only potent but also delicious; the juicy strawberry flavor resembles our favorite gummies from school times, so we're getting innocent memories with some guilty pleasure.
FAQs
Who can use medical marijuana in Oregon?
You can apply for a medical marijuana card in Oregon if you've been diagnosed with one of the following conditions:
Cancer
Glaucoma
A degenerative or pervasive neurological disease
HIV/AIDS
Post-traumatic stress disorder (PTSD)
A medical condition or treatment that produces the following symptoms

Cachexia
Severe pain
Severe nausea
Seizures
Persistent muscle spasms
Oregon doesn't offer reciprocity, meaning that only residents can purchase marijuana from medical dispensaries.
Can you grow weed in Oregon?
Yes. Both medical and recreational users can grow up to 4 marijuana plants per household.
Can you smoke marijuana in public?
Although weed is legal in Oregon, you can't smoke it in public. Doing so can result in a citation from law enforcement.
Can you travel with marijuana in Oregon?
Traveling with marijuana is legal in Oregon as long as you keep your products in a closed container and away from the driver's reach.
You can't, however, take marijuana outside of Oregon to another state. Until cannabis interstate commerce is legalized, marijuana transportation remains a federal felony.
It's also illegal to drive under the influence o cannabis, alcohol, and other intoxicating substances.
Is CBD Oil from hemp legal in Oregon?
Yes. CBD oil is legal in Oregon under the 2018 Farm Bill. The state follows federal regulations to the letter, meaning you don't need a prescription to buy CBD products.
You can find hemp-derived CBD oil in specialized CBD stores, fitness centers, organic food stores, pharmacies, and online.
Buying Weed in Oregon: Bottom Line
Oregon is one of the best states to live in if you're into cannabis. The state has legalized the plant for both recreational and medical use.
If you're 21 or older, you can purchase up to 1 ounce of weed from an adult-use dispensary or its equivalent in edibles, concentrates, and beverages.
Both medical and recreational users can grow up to 4 plants per household, although patients are allowed to carry more cannabis in public and at home (up to 24 ounces).
Unfortunately, delta-8 THC remains illegal in Oregon until the authorities figure out effective testing methods regarding the purity of such products.
If you live in a place where hemp-derived delta-8 is legal, the best way to purchase high-quality extracts is to find a reputable online store. Always ask for current CoAs from a third-party laboratory to ensure you're getting a safe product.