Is Weed Legal in Texas? TX Cannabis Laws (June 2023)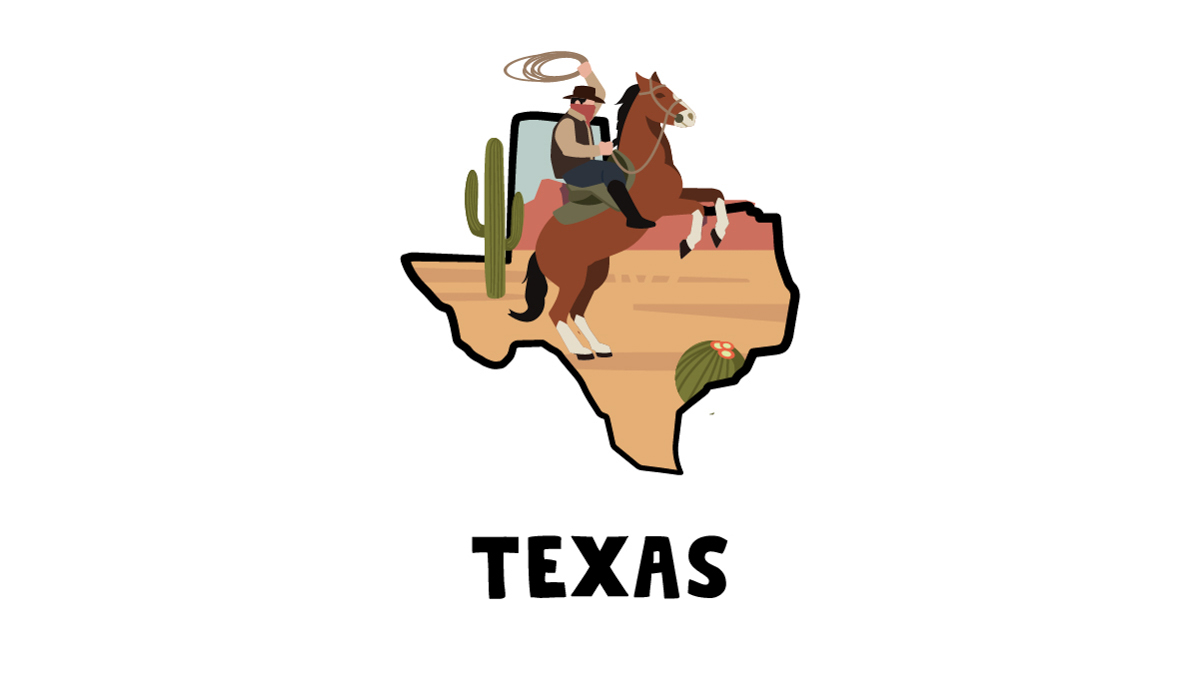 The possession, distribution, production, growing, and sale of recreational marijuana is illegal in Texas.
Medical marijuana is legal but Texas has one of the most restricted programs in the U.S. Qualifying patients have access to low-THC (1%) cannabis oil.
Penalties for marijuana possession are heavy, ranging from a class C misdemeanor to a class A felony
In some counties, such as Dallas, Plano, and El Paso, possession of marijuana has been decriminalized
Hemp-derived delta 8 THC and CBD products are legal in Texas as long as they contain no more than 0.3% delta 9 THC
Read on to learn more about Texan cannabis laws.
Is Weed Legal in Texas?
Marijuana in Texas is illegal for recreational use. The state has a medical marijuana program for patients, but it only allows using low-THC cannabis oil by patients with intractable forms of epilepsy.
Related: Weed Legality by State
Here's more about the different marijuana regulations in Texas.
Is Recreational Marijuana Legal in Texas?
In Texas, marijuana is illegal because the law classifies it as a Schedule I drug under the Texas Controlled Substances Act (TCSA).
The state laws align with the federal regulations on marijuana. This means that the use, possession, sale, distribution, and production of marijuana for recreational use is prohibited and criminalized.
Is Medical Marijuana Legal in Texas?
Medical marijuana is currently legal in Texas but heavily regulated. The state authorities first legalized medical marijuana in 2015 by signing the Texas Compassionate Use Act. The new law allowed patients with treatment-resistant epilepsy to use cannabis oil with less than 0.5% THC.
What Are the Penalties for Marijuana Possession in Texas?
Texas marijuana possession laws are some of the harshest in the nation. If you're caught with two ounces or less of marijuana, it's a class B misdemeanor, which can result in 180 times in jail alongside a maximum fine of $2,000.
Possession of up to four ounces of marijuana is a class A misdemeanor. The penalties include a fine of $10,000 and up to one year in prison.
Being caught with larger quantities of marijuana, especially with the intent to sell, is a felony. The mandatory minimum sentence is five years, and the maximum jail time is 99 years.
Is Marijuana Decriminalized in Texas?
Although marijuana is illegal in Texas, some counties have decriminalized the possession of small amounts of weed, giving tickets or requiring the user to enter a 4-hour "educational" marijuana program.
Counties that decriminalized marijuana include:
Austin
Bexar County
Cedar Park
Dallas
El Paso
Harris County
Hays County
Nueces County
Plano County
Travis County
Williamson County
What's the Future of Cannabis Legalization in Texas?
67% of Texans want marijuana to be legalized, with 79% of Democrats and 70% of independent voters supporting legalization.
More surprisingly, 51% of Texan Republicans are in favor of legal weed.
It's likely that 2023 will be a groundbreaking year for Texas, although, of 52 attempts to fix the existing regulations in 2021, 49 failed to pass.
Delta 8 THC: A Better and Legal Alternative to Marijuana in Texas?
Marijuana is heavily criminalized in Texas, making cannabis aficionados look for legal options to reap the health benefits from the psychoactive buzz.
The only legal alternative to marijuana in Texas has been CBD.
But CBD doesn't get you high.
Fortunately, thanks to recent breakthroughs in extraction technologies, a new(ish) cannabinoid have become mainstream.
Ever heard of delta-8 THC?
It's less potent than delta 9, creates a smoother high, and is federally legal.
Related: Is Delta 8 Legal in Texas?
Delta-8 vs. Delta-9 THC
On a molecular level, delta 8 and delta 9 THC are strikingly similar. But the way their atoms are arranged makes delta 8 about 50% less potent than delta 9.
Delta 8 THC has a double bond at the eighth carbon chain, while for delta 9, this bond is at the ninth chain.
The lower potency is why so many people are turning to hemp delta-8 THC products now.
Cons of Delta 9 THC from Marijuana
In low and moderate doses, delta-9 THC acts as a relaxant and can improve your cognitive performance.
Higher doses induce feelings of euphoria, bliss, deep pleasure, sharpened senses, and altered perception of time; they also give you munchies. In other words, they get you high.
Most people like these effects and can easily handle the psychedelic nature of delta 9 when they smoke, vape, or eat cannabis.
However, some people are sensitive to cannabis. For them, delta 9 THC reveals its biphasic nature and drives them into mental discomfort followed by a few physiological reactions.
The side effects of delta 9 THC include:
Anxiety
Paranoia
Sedation
Dizziness
Increased heart rate
Sweating
Confusion
Problems with coordination
Short-term memory impairment
That's why delta 8 THC is gaining popularity so rapidly.
Effects & Benefits of Delta 8 THC from Hemp
The psychoactive effects of delta 8 THC are similar to regular weed, but they're milder and come with a lower incidence of anxiety and paranoia — the two reasons why certain people abstain from high-THC cannabis.
Users often describe the cognitive buzz as mellow and slightly stimulating, reporting relief from stress, depressive thoughts, and physical discomfort. Depending on the strain and dosage, the effects can be more energizing or sedating.
The health benefits of delta 8 THC include:
Anti-nausea
Anti-inflammatory
Pain relief
Increased appetite
Feelings of calmness and relaxation
Neuroprotection
Is Delta 8 THC Legal in Texas?
Delta 8 THC is legal at the federal level. The 2018 Farm Bill legalized hemp and its derivatives, including cannabinoids, terpenes, isomers, and salts, as long as they contain less than 0.3% delta 9 THC.
This "loophole" created a whole new market of THC isomers, including delta 8, delta 10, and HHC.
However, certain states have decided to crack down on these cannabinoids, either banning them or significantly limiting their bioavailability.
Fortunately, Texas isn't one of them. You can legally buy hemp-derived delta 8 THC in Texas; they're available in local stores and online.
Where to Buy Delta 8 THC in Texas
If you're looking for the best deals on high-quality delta 8 THC in Texas, we recommend finding a reputable online store over buying d8 locally.
Delta 8 THC can be extracted from hemp by converting CBD with the use of specialized catalysts. Such products still contain 0.3% of delta 9 THC (or less), making them legal under the 2018 Farm Bill.
Even if there are no reputable hemp stores in your neighborhood, you can order delta 8 THC online and enjoy discreet delivery.
Cannabis brands are known for their timely deliveries. Once you've made up your mind and paid for your other, the products should arrive within 2-3 business days.
The extra time is worth waiting, considering that you're buying lab-tested, certified products from organic plants.
Not to mention that online stores offer better deals on high-quality extracts because they can cut out the middleman. You can also take advantage of regular discounts, coupon codes, reward programs, and subscription pricing.
Best Online Delta 8 THC Stores
Before you find the right delta 8 THC vendor, it may take a significant amount of time to tear through mediocre companies and their sub-par extracts.
You need to examine the third-party lab reports; check for the product's potency and see if it's not contaminated with pesticides, heavy metals, solvents, or bleaches; then you have hundreds of user reviews to read through, not to mention the company's website to learn as much as possible about its manufacturing and testing practices.
Feeling overwhelmed by just reading the above? Don't worry, we've done the digging for you. After checking out over 30 delta-8 brands and testing their products, we've picked out our two favorite companies that offer the best value for money.
Area 52
Get 15% off all Area 52 products. Use code "CFAH" at checkout.
Area 52 is a Nevada-based manufacturer that focuses on exploring lesser-known cannabinoids, such as delta 8 THC, CBC, CBG, and CBN. The brand has made its name in the cannabis space by introducing a selection of premium delta 8 THC extracts based on distillate.
The Area 52 product line-up features formats like tinctures, gummies, vape carts, and pre-rolled joints infused with terpenes from various cannabis strains.
Area 52 sources its hemp from organic hemp farms in Colorado and Kentucky. These farms provide remarkably terpene-rich strains that leverage the entourage effect in cannabis.
It's one of the best companies to purchase from if you're looking for artisanal products with well-thought-out formulas.
Finest Labs
Finest Labs is known for its scientific approach to making cannabinoid extracts. The company's mission is to transform the industry by reducing the environmental impact of extraction technologies. Unlike many other companies in the business, Finest Labs doesn't use harsh acids and gasses to make its products.
These practices are validated by a meticulous lab-testing system that provides insight into the entire chemical profile of the end product.
Finest Labs offers a similar range of products to Area 52 — tinctures, gummies, and vape carts — but in slightly lower potencies. This translates into a lower cost per product, making Finest Labs a decent brand if you're shopping on a lower budget but still want good quality delta 8 products.
If you're interested in creating your cannabinoid extracts, Finest Labs offers a generous selection of botanical terpenes from organically grown plants. You can buy them as single molecules or special mixes that recreate the flavor and experience of some signature cannabis strains.
FAQs
Is Growing Weed Illegal in Texas?
No, growing, harvesting, or cultivating cannabis plants is illegal in Texas. If you're caught growing marijuana, it will be treated as a crime of possession under state law.
Who Can Use Medical Marijuana in Texas?
In 2019, the list of qualifying conditions was expanded to terminal cancer, autism, seizure disorders, and incurable neurological conditions.
To wrap it up, you can use low-THC cannabis oil if you've been diagnosed with:
Autism
Amyotrophic lateral sclerosis
Epilepsy
Multiple sclerosis
Spasticity
Terminal cancer
Neurodegenerative diseases
Traveling with Marijuana in Texas?
Since marijuana is illegal in Texas, traveling with weed isn't an option. Getting caught while crossing state borders and having marijuana in your vehicle is considered a federal felony (drug trafficking) and can get you a heavy prison sentence on top of $250,000 in fines.
Is CBD Oil from Hemp Legal in Texas?
Yes, CBD hemp oil is federally legal under the 2018 Farm Bill — and Texas is no exception. You can buy CBD oil in Texas without a prescription from local retailers or online stores.
The only requirement is that hemp-derived products contain no more than 0.3% THC. Any product crossing that threshold is considered marijuana-derived and illegal in Texas.
Final Thoughts: Marijuana Isn't Legal in Texas… But There's an Alternative
Texas has a zero-tolerance policy surrounding marijuana. While there's a scarce medical marijuana program, recreational use is still heavily criminalized.
Even in cities that decriminalized possession of small amounts, you're risking a ticket for having weed in public.
If you want to legally enjoy psychoactive cannabinoids in Texas, consider checking out hemp-derived delta 8 THC. This cannabinoid offers similar health benefits to delta 9, but the high is smoother and less anxious. But most importantly, it's federally legal.
Short on time? Feel free to check out our brand recommendations from this guide.