Is Weed Legal in West Virginia? WV Cannabis Laws (June 2023)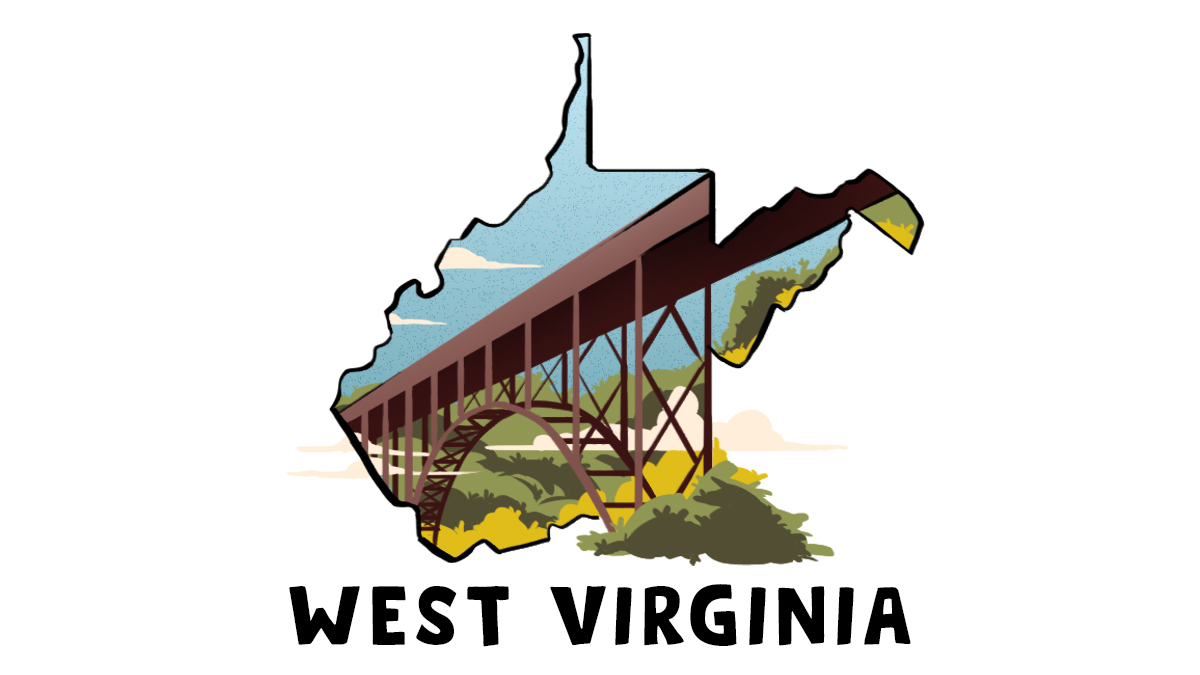 This article contains a complete overview of marijuana laws in West Virginia. We explain when marijuana is legal in the state and when you can face penalties for possession and other marijuana-related activities. You'll also learn about the federally legal alternative to marijuana in West Virginia — and where to find it.
Wondering if marijuana is legal in West Virginia?
Here's what you need to know:
Medical marijuana has been legal in West Virginia since 2017. Patients with qualifying medical conditions can apply for a medical marijuana card and buy their medicine from state-licensed dispensaries.
West Virginia prohibits recreational marijuana, imposing harsh penalties for possession. Having up to 15 grams of cannabis may result in misdemeanor charges carrying up to six years.
Legislation has been pending since 2019 to legalize marijuana for recreational use, but everything has stagnated.
Medical marijuana patients can't grow their own cannabis plants. Growing weed at home entails similar punishments to possession.
Hemp-derived delta-8 THC is legal in West Virginia as long as the end product contains no more than 0.3% delta-9 THC, as required by the 2018 Farm Bill.
Is Weed Legal in West Virginia?
It depends on what type of weed you're asking for.
Marijuana is legal in West Virginia for medical use. However, recreational users may still face harsh penalties for simple possession.
Related: Which States Are Weed Legal In?
Here's an overview of West Virginia marijuana laws.
Is Recreational Marijuana Legal in West Virginia?
No. Marijuana in West Virginia is illegal for recreational use. The legislation was introduced in 2019 (HB 2331, the Normalization Cannabis Act) that would have decriminalized marijuana and established a distribution network; however, the bill has stagnated.
Is Medical Marijuana Legal in West Virginia?
Yes, you can apply for a medical marijuana card if you've been diagnosed with one of the qualifying conditions. We'll share the list later in the article, but here's what you need to know:
The first medical marijuana dispensary in West Virginia opened in 2021.
Patients are allowed to possess a 30-day supply of medical cannabis.
Home cultivation isn't permitted.
Unlike many states with a medical marijuana program, West Virginia allows smokable forms of cannabis.
Penalties for Marijuana Possession
Possession of any amount may lead to misdemeanor charges. Penalties include up to six months in jail and a $1,000 fine.
The sale, distribution, and cultivation of marijuana are also illegal. Those who break the law may face a felony conviction, a mandatory one-year prison sentence, and a maximum fine of $15,000.
Is Weed Decriminalized in West Virginia?
No. Possession of any amount of marijuana is a criminal offense, with a mandatory minimum 90-day prison sentence.
What's the Future of Cannabis Legalization in West Virginia?
Three pending bills would have legalized marijuana and established a system for production and distribution — HB 2331, the Normalization of Cannabis Act (HB 3108), and HB 2376 — but all got stuck.
The second bill would have allowed adults to purchase up to two pounds of cannabis, which would have set the state level record regarding possession limits.
Delta-8 THC: A Better and Legal Alternative to Marijuana in West Virginia
Marijuana aficionados may consider themselves unlucky if they live in West Virginia. The only way for them to legally use high-THC cannabis is to become medical marijuana patients.
However, not everyone has a qualifying condition to receive a medical marijuana card.
Does that mean you're left with no alternative?
Here's where the good news begins.
You can legally buy hemp-derived delta-8 THC in West Virginia.
Delta-8 products from hemp are milder than marijuana; they're less likely to drive you anxious or paranoid; and best of all, they're legal at the federal level.
But before we elaborate on where to buy delta-8 THC in West Virginia, let's focus on why some people choose to avoid marijuana.
Cons of Delta-9 THC from Marijuana
Delta-9 THC is the main psychoactive compound in marijuana. Its effects on the brain are dose-dependent.
In low and moderate doses, delta-9 THC can relieve stress, ease pain, protect neurons, elevate mood, and improve cognitive performance.
Larger doses get you high, triggering euphoria and laughter, and altering your thinking patterns, perception of time, and attention capacity. You'll also feel hungry and deeply relaxed.
Most users can enjoy the high without any unpleasant side effects.
However, for sensitive individuals, high doses of THC may reveal its biphasic nature.
When you take too much THC than your body can tolerate, you may experience the following side effects:
Anxiety
Paranoia
Feelings of discomfort
Cold sweats
Dizziness
Confusion
Increased heart rate
Short-term memory problems
Effects and Benefits of Delta-8 THC
Delta-8 THC is an isomer of delta-9 THC. Both compounds have a similar chemical formula, but their atomic bonds are arranged differently.
Delta-8 THC has a double bond at the eighth chain, while delta-9 THC has it at the ninth chain. This is a subtle yet significant difference, as it causes delta-8 THC to lose some potency.
Delta-8 THC is about 50% as strong as delta-9 THC. You'd need to consume twice as much to experience the same intensity of effects as with marijuana.
The effects of delta-8 THC are also more easy-going, clear-headed, and less likely to trigger anxiety and paranoia.
People use delta-8 THC for the same reasons as delta-9, including:
Anti-nausea
Anti-inflammatory
Pain relief
Increased appetite
Feelings of calmness and relaxation
Neuroprotection
As mentioned, delta-8 products from hemp are federally legal — but does West Virginia follow the federal regulations?
Is Delta-8 THC Legal in West Virginia?
Yes! You can legally buy delta-8 THC in West Virginia. The 2018 Farm Bill removed hemp and its derivatives from the list of controlled substances — legalizing them at the federal level.
The term "derivatives" refers to all cannabinoids, terpenes, flavonoids, salts, isomers, and salts of isomers.
As long as the end product contains no more than 0.3% delta-9 THC, you're on the safe side.
The new law coincided with recent breakthroughs in extraction methods. Manufacturers have figured out a way to extract usable quantities of delta-8 THC from hemp. This way, their products contain less than 0.3% delta-9 THC and meet the requirements of the Farm Bill.
14 states have banned delta-8 THC products, but fortunately, the law in West Virginia follows federal regulations.
You can buy Delta 8 products in local stores and online in West Virginia.
Read more: Is Delta-8 THC Legal in West Virginia?
Benefits of Buying Delta-8 THC Online
Buying delta-8 THC online offers several perks that you won't find in traditional hemp stores.
First, you can choose between more products and compare their formulas and prices in the comfort of your home. There's no need to drive between different stores only to find they have just two types of delta-8 products — and none of them has been tested by a third-party lab. It would be a great time saver if you would just order online, and your delta-8 product will be delivered to you.
Speaking of lab testing, online stores provide more opportunities to vet your potential vendors. You can look into certificates of analysis (CoAs), read the brand's "About Us" section, skim through user reviews, and reach out to other customers on social media groups and forums like Reddit.
Last but not least, online retailers can cut out the middleman, offering lower prices on their products. Furthermore, you can save more money on high-quality delta-8 THC by using coupon codes and subscription orders or by joining a reward program.
Best Online Delta-8 THC Stores
Finding a trustworthy source of delta-8 THC can be challenging in the sea of mediocre, unregulated products. Keep in mind that there are lots of rip-offs and scam tricks that unreliable delta-8 companies can throw at you.
You need to make sure your extracts are free from heavy metal reagents, bleaches, pesticides, and other harmful toxins.
Not to mention that 26% of hemp-derived products on the market contain less active cannabinoids than advertised.
If you're in a rush and looking for a quick recommendation, here are two of the top delta-8 brands whose products I've been using for the last two years. Both companies rigorously test their extracts in third-party laboratories for potency and purity to ensure they're safe and effective.
1. Area 52
Get 15% off all Area 52 products. Use code "CFAH" at checkout.
Area 52 is a Nevada-based manufacturer of premium delta-8 THC products. The company uses pure distillate to make a wide range of extracts, from tinctures to vapes, edibles, and pre-rolled joints.
These products are not only potent — 25–40 mg of delta-8 per serving — but they also come with high levels of terpenes, contributing to the entourage effect and driving the effects in a particular direction. The vape carts and pre-rolls come in Sativa, Indica, and Hybrid varieties to cater to different types of users.
Recently, Area 52 has released a new line called "the real full-spectrum products," including CBD oils, CBG energy gummies, CBN sleep gummies, CBC immunity gummies, and HHC gummies.
All products from Area 52 come with batch-specific certificates of analysis confirming their quality and purity.
2. Finest Labs
Finest Labs is my go-to recommendation for beginners who feel overwhelmed by the abundance of products available on the market.
The brand features a simple product selection that includes delta-8 THC tinctures, gummies, and vape pens. Similar to Area 52, Finest Labs allows you to choose between Sativa, Indica, and Hybrid strains depending on the time of day and desired effects.
Finest Labs is also one of the most reputable producers of botanical terpenes. Its lineup consists of single terpenes and special blends that recreate the flavors, aromas, and effects of different cannabis strains.
FAQs
Who Can Use Medical Marijuana in West Virginia?
You can apply for a medical marijuana card if you've been diagnosed with one of the following conditions:
Cancer
HIV/AIDS
Amyotrophic Lateral Disease (ALS)
Parkinson's disease
Damage to the nervous tissue and spinal cord
Multiple sclerosis
Epilepsy
Neuropathy
Crohn's disease
Intractable seizures
Post-traumatic stress disorder (PTSD)
Sickle cell anemia
Terminal illness, with a prognosis of fewer than 12 months to live
Severe chronic or intractable pain stemming from neuropathies
Can You Grow Weed in West Virginia?
No, West Virginia doesn't allow growing weed at home. Home cultivation is treated the same as possession and punished accordingly. Penalties range depending on the amount of weed and the number of plants you have at home.
Can You Smoke Marijuana in Public?
It's illegal to smoke marijuana in public. Similar to growing weed at home, smoking is considered the same offense as possession. You can get arrested and jailed for six months on top of a $1,000 fine.
Can You Travel With Marijuana in West Virginia?
You can travel with medical marijuana if you have a valid medical marijuana card. However, your medicine should be kept away from the driver's reach and in its original container.
Even in states where medical marijuana is legal, it's prohibited to drive while under the influence (DUI). If you're suspected of DUI, you'll b asked to run a breath, blood, or urine test.
Medical marijuana patients may not drive vehicles if they have more than 3 ng/mL of THC in their blood.
Traveling with marijuana outside of the state is considered drug trafficking. If you're charged with this federal felony, you may face up to 5 years in jail and $250,000 in fines when you have less than 50 kilograms of marijuana or fewer than 50 plants.
Is Buying Weed Online an Option in West Virginia?
No. You can't buy or sell weed online in West Virginia — at least not as a recreational user.
If you're a medical marijuana patient, you can order from a medical marijuana dispensary online, but there are no delivery services. You or your caregiver would need to pick it up, which still saves you time since you don't have to wait in line.
Is CBD Oil From Hemp Legal in West Virginia?
Yes, hemp-derived CBD oil is legal in West Virginia. The 2018 Farm Bill reclassified hemp as an agricultural commodity, allowing farmers to grow and sell it for any use — including health supplements like CBD oils, gummies, vapes, etc.
You don't need a prescription to buy CBD oil; there are plenty of hemp stores all over the state, but since the market is largely unregulated, I recommend buying CBD products online. Similar to delta-8 THC, you have more options for researching your potential suppliers and can benefit from lower prices.
Buying Weed in West Virginia: Bottom Line
West Virginia has a decent medical marijuana program for patients, but recreational users are still a discriminated group.
Possession of any amount of cannabis is considered a criminal offense, punishable with a minimum mandatory prison sentence of 3 months and a $1,000 fine.
If you want to try psychoactive cannabinoids without worrying about getting into conflict with the law, look for hemp-derived delta-8 THC in West Virginia.
Delta-8 THC products from hemp are federally legal; the state law also allows the sale of delta-8 THC and other hemp-derived isomers as long as they contain no more than 0.3% delta-9 THC.
Just make sure to carefully research your options and choose transparent brands that provide relevant certificates of analysis.