Is Weed Legal in Alaska? AK Cannabis Laws (June 2023)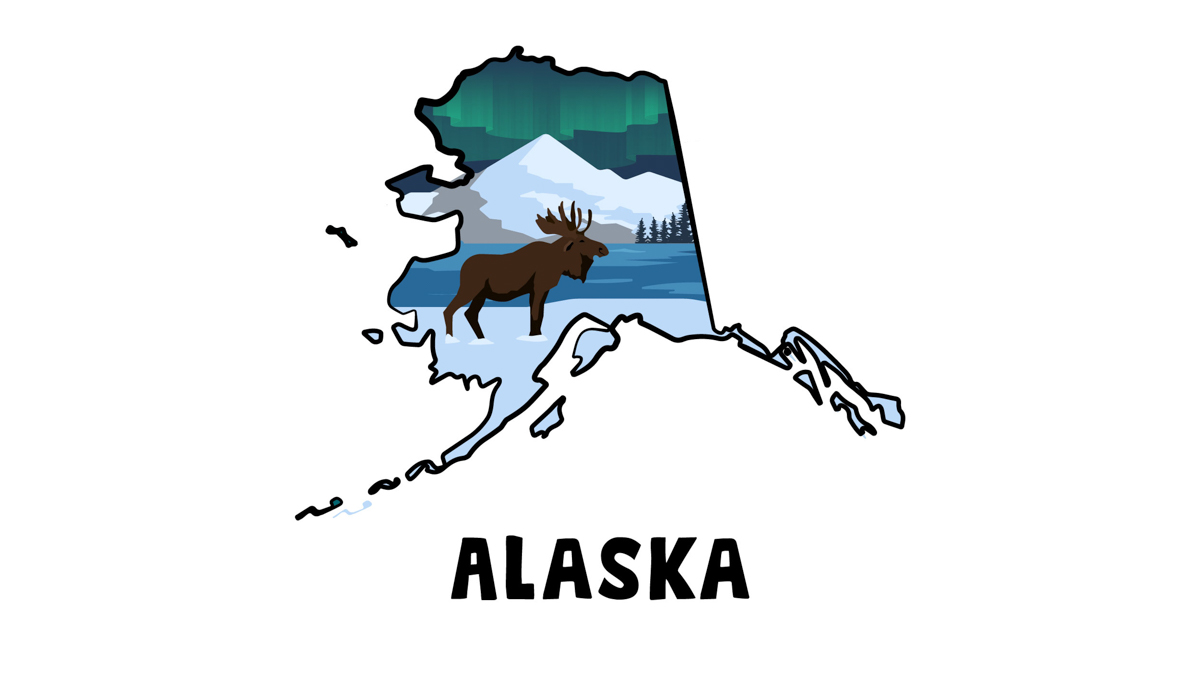 This article answers the question "Is weed legal in Alaska?" We provide a complete rundown of medical and recreational laws, possession limits, home cultivation, transportation, and public consumption. You'll also learn about cannabis delivery and the legal status of hemp-derived isomers of THC.
Alaska legalized weed for adult use in 2014 after multiple other ballots failed.
Adults 21 and older can purchase up to one ounce of marijuana from dispensaries and grow up to 6 plants at home.
The state also has a medical marijuana program for patients. If you're a medical user, you're subject to the same possession, purchase, and cultivation limits as recreational consumers.
In 1975, Alaska decriminalized the possession and cultivation of small amounts of marijuana, paving the way for other states to implement more liberal laws around cannabis.
However, not everything cannabis-derived is legal in Alaska. In this article, we zoom in on state marijuana and hemp laws, discussing the essential details for residents and tourists.
Is Weed Legal in Alaska?
Yes, Alaska legalized weed in 2014, creating a framework for recreational sales. Marijuana laws in Alaska are regulated by two main bodies of law:
Alaska Statute Title 17 Chapter 38: "The Regulation of Marijuana"
Section 3 of the Alaska Administrative Code Chapter 306: Regulation of Marijuana Industry
Related: Marijuana Laws in All Fifty States
Here's what you need to know about the recreational and medical use of marijuana in Alaska.
Is Recreational Marijuana Legal in Alaska?
Yes. Although signed in 2014, legalization took effect in 2015, and recreational sales were launched in 2016.
Customers of dispensaries may purchase and possess up to 1 ounce of flower and can grow up to six plants at home.
However, there's a catch to home cultivation; only three plants can be flowering at a time.
Possession of up to 4 ounces has been decriminalized as long as it's for personal use and remains in your home.
Is Medical Marijuana Legal in Alaska?
Yes. After criminalizing and decriminalizing marijuana time and again, the state legalized medical marijuana in 1998. The voters passed Ballot Measure 8, also known as the Alaska Medical Marijuana Initiative.
The new law allowed medical patients to legally possess and consume cannabis, making it the second state in the USA to implement a medical marijuana program after California.
As mentioned earlier, patients or their caregivers can purchase, grow, and possess medical marijuana up to one ounce and grow up to six plants at home.
You can use a medical defense in cases of higher possession, but this only applies to flowers and not extracts or concentrates.
Penalties for Marijuana Possession
Possessing more than 4 ounces of marijuana is considered a Class A misdemeanor, with a punishment of up to one year in prison and a maximum fine of $10,000.
If you're caught trying to sell marijuana, these penalties apply even to the smallest amount of weed.
Is Weed Decriminalized in Alaska?
Yes. You can legally purchase and possess up to 1 ounce of marijuana in public and up to 4 ounces at home.
What's the Future of Cannabis Legalization in Alaska?
Though Alaska is one of the trailblazers for cannabis legalization in the USA, the state is struggling with two issues right now.
The first issue involves public consumption. As of now, it's illegal to smoke cannabis in public, but Alaska lawmakers are working to establish a licensing system for dispensaries that want to encourage recreational users and patients to consume cannabis on dedicated sites.
The other problem is with online deliveries. Weed delivery was briefly allowed in 2020 to address distancing during coronavirus times, but has since been prohibited.
However, you can still order weed online and pick it up in person to avoid standing in lines. Unlike deliveries, these emergency regulations have been established for good.
Delta-8 THC: A Better and Federally Legal Alternative to Marijuana in Alaska?
Since the discovery of isomer extractions, hemp-derived cannabinoids such as delta-8 THC has been making waves in the industry.
The 2018 Farm Bill legalized hemp and its derivatives by removing them from the list of controlled substances.
Hemp-derived products are federally legal as long as they contain no more than 0.3% delta-9 THC on a dry-weight basis.
However, states have retained their right to amend the federal law within their jurisdiction.
But before we answer the question "Is delta-8 THC legal in Alaska?" let's explore this new-ish cannabinoid.
Delta-8 THC vs. Delta-9 THC
Delta-8 THC and delta-9 THC are two variants of the THC molecule. Delta-8 THC is the isomer of delta-9, meaning it has an almost identical chemical formula. However, the arrangement of its atomic bonds is slightly different — altering the potency of delta-8.
According to most estimates, delta-8 THC is about 50% as potent as delta-9. You'd need to double your amount of delta-8 to experience the same intensity of effects as with regular weed.
That's why delta-8 THC is called "diet weed" or "cannabis light."
It's also the primary reason why so many people are turning to hemp delta-8 products these days.
Cons of Delta-9 THC from Marijuana
Marijuana is a deeply relaxing, mild psychedelic. In low and moderate doses, it can ease pain, relieve stress, elevate mood, and improve cognition.
Larger amounts will make you feel high, causing euphoria, giggles, chattiness, and increased appetite. Your body may feel heavier and your thinking patterns change, too. Your senses of smell, vision, and hearing become sharpened, making activities like eating and listening to music more enjoyable.
Most people like the psychoactive effects of delta-9 THC and don't experience any unwanted reactions.
However, sensitive individuals — especially those with a low tolerance to THC — may not like cerebral stimulation. For them, delta-9 THC may trigger the following side effects:
Anxiety
Paranoia
Feelings of discomfort
Cold sweats
Dizziness
Confusion
Increased heart rate
Short-term memory problems
Effects and Benefits of Delta-8 THC
Delta-8 THC produces similar effects to delta-9, but it's not as powerful. That means you're less likely to get anxious and paranoid in higher doses.
Of course, that may still happen if you take more than enough, but judging from the potency perspective, delta-8 THC is a safer alternative to high-THC cannabis.
Although the research on the health benefits of delta-8 is still in the early stages, scientists believe it has a similar therapeutic profile to delta-9.
Potential health benefits of delta-8 THC include:
Anti-nausea
Anti-inflammatory
Pain relief
Increased appetite
Feelings of calmness and relaxation
Neuroprotection
Is Delta-8 THC Legal in Alaska?
Unfortunately, delta-8 THC is illegal in Alaska. The Alaska Statuses mentions it specifically in Sec. 7. AS 11.71.900(14).
Despite its relaxed attitude toward cannabis, Alaska has banned delta-8 products due to safety issues. Currently, there are no established lab testing standards that would help accurately evaluate the purity of such products.
Since President Donald Trump passed the 2018 Farm Bill, delta-8 THC has become a legal substance at the federal level as long as it meets two conditions:
It had to be made from hemp
The end product couldn't contain more than 0.3% delta-8 THC
Most US states applied the same language to their regulations regarding hemp-derived products, but a few states adopted their own regulations that outlawed the analogs like delta-8 or delta-10 THC.
Alaska was one of the first states to impose such restrictions.
Benefits of Buying Delta-8 THC Online
If you live in a state that allows delta-8 THC hemp, you might be tempted to shop for D8 products locally.
But given the current state of the hemp industry, you'll be better off buying from a reputable online store.
Buying delta-8 THC online comes with a few big perks, such as:
Lower prices due to the lack of the middleman
Coupon codes, reward programs, subscription orders, and bulk pricing so that you can save even more money on high-quality products.
Greater convenience (you can compare dozens of products in the comfort of your home)
Better transparency (certificates of analysis, user reviews, independent online rankings)
Best Online Delta-8 THC Stores in Alaska
Buying delta-8 THC products can be a challenge in the current shape of the market. The CBD and delta-8 space remains largely unregulated, with no manufacturing, labeling, or lab testing standards in place.
You need to shoulder the responsibility for research and verify your potential vendors to make a well-informed decision. If you're in a rush, here's my recommendation of the two leading brands that currently offer the best value for money in my opinion.
1. Area 52
Get 15% off all Area 52 products. Use code "CFAH" at checkout.
Area 52 stems from Nevada and specializes in delta-8 THC extracts from the pure distillate. The company offers delta-8 tinctures, gummies, vape carts, and pre-rolled joints.
These products can pack a punch with 25–40 mg of delta-8 per serving. On top of that, they're infused with concentrated blends of terpenes that contribute to the botanical synergy in hemp extracts. These formulas make a little go a long way.
Area 52 has recently released a new product line called "true full-spectrum," featuring novel formats like HHC gummies and delta-8 honey, as well as more traditional products, such as energy gummies, sleep gummies, immunity gummies, and CBD oil.
All Area 52 products are triple-tested in an ISO-certified laboratory for potency and purity to ensure maximum safety.
2. Finest Labs
Finest Labs is one of the best delta-8 brands for beginners thanks to its modest product range. While the company doesn't sell everything but the kitchen sink, its formulas are mastered to perfection and with great attention to the ratios between cannabinoids and terpenes.
You can choose between delta-8 THC tinctures and edibles, with potency ranging between 15–25 mg of delta-8 per serving. The lower strength makes Finest Labs a great pick for those with a low tolerance.
Finest Labs is also one of the most respected manufacturers of terpenes in the USA. The company offers 31 different terpenes from different cannabis strains that help you achieve specific effects in your extracts, such as energy, focus, rest, calm, and uplift.
FAQs
Who can buy medical marijuana in Alaska?
Alaska allows patients to register for a medical marijuana card to treat "debilitating medical conditions," such as:
Cancer
Glaucoma
HIV/AIDS
Cachexia
Severe pain
Severe nausea
Seizures and epilepsy
Persistent muscle spasms
Multiple sclerosis
Patients can also sign a petition for another condition if they and their doctor deem medical marijuana an appropriate treatment.
Can you grow weed in Alaska?
Yes, medical patients and recreational users can grow up to six plants per household, of which only three can be in the flowering stage.
Can you smoke marijuana in public?
Public consumption is illegal in Alaska and will result in a fine of up to $100. In 2019, Alaska allowed its dispensaries to seek licenses for an "onsite consumption endorsement" so that patients and customers can consume cannabis in-store.
Can you travel with marijuana in Alaska?
Yes. However, your weed should be in a closed container and out of the driver's reach.
It's prohibited to drive under the influence (DUI) of cannabis or other intoxicants. The penalties are the same as for alcohol.
You also can't take marijuana outside of Alaska. Cross-state transportation of marijuana is classified as a federal felony (drug trafficking) and punishable by up to 5 years in prison and $250,000 in fines for less than 50 kg and fewer than 50 plants.
Is buying weed online an option in Alaska?
Yes. You can buy weed online and pick it up in person at a dispensary. For a brief moment, Alaska lawmakers allowed marijuana deliveries to manage distancing during the COVID pandemic, but the temporary regulations were eventually withdrawn.
Is CBD oil from hemp legal in Alaska?
Yes, CBD oil — and other hemp-derived CBD supplements — are legal in Alaska under federal and state law.
When it comes to CBD, Alaska follows the language of the Farm Bill to the letter. You can easily find CBD products in local dispensaries, pharmacies, head shops, vape stores, wellness centers, and online.
Buying Weed in Alaska: Bottom Line
Alaska allows marijuana for both medical and recreational use. If you're 21 or older, you can go to a dispensary and buy up to an ounce of weed for personal use. You can also grow up to six plants, provided that only three of them are mature.
Medical marijuana patients should follow the same regulations as recreational users, although they can petition the state of Alaska to increase their individual possession limits when recommended by a doctor.
Delta-8 THC remains prohibited until the industry comes up with sufficient lab testing standards for the purity of such products. For now, it remains in a legal gray area, given the provisions of the Farm Bill.