Best Delta 8 THC Pre-Rolls & Cigarettes in 2023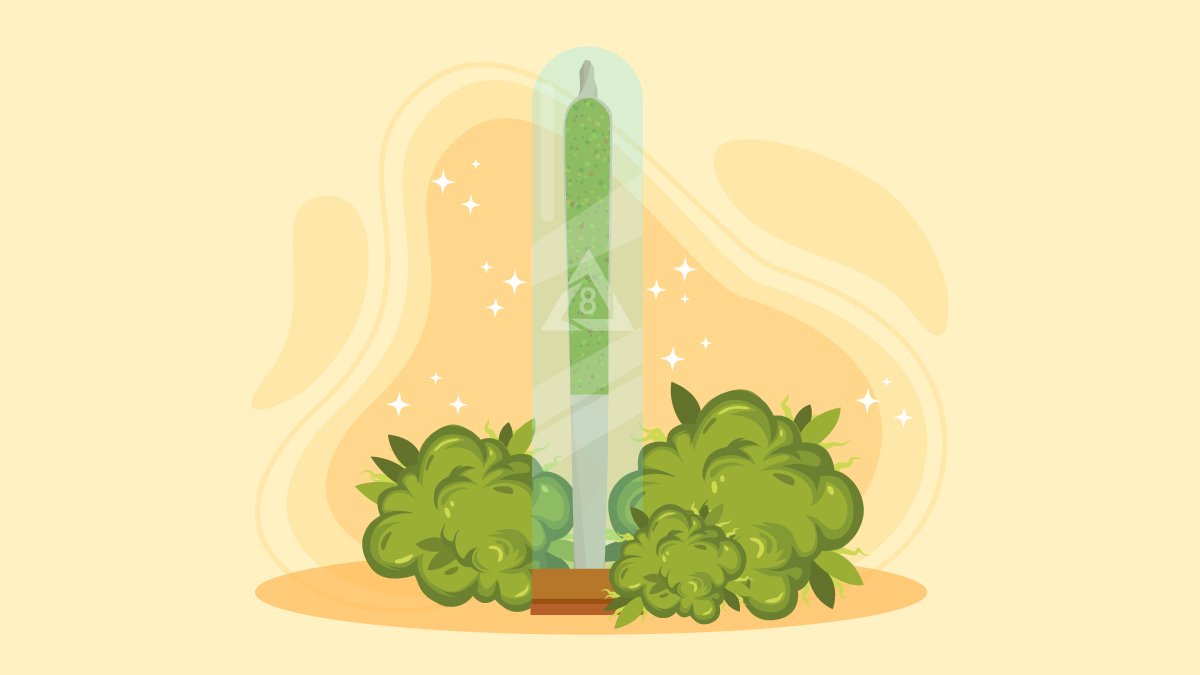 Delta 8 THC is already quite established on the market, but there's one particular form of this cannabinoid that has recently garnered the attention of those who prefer analog consumption methods.
I'm talking about delta 8 THC pre-rolls. Not only are more cannabis aficionados getting their fair share of delta 8 flowers, but so are hemp companies.
More and more brands are expanding their collections with delta 8 buds and pre-rolled joints.
Here I list the best delta 8 THC pre-rolls in 2023 from brands that use organic hemp and top-quality rolling papers.
Best Delta 8 Pre-rolls List
Now, I've been browsing through dozens of delta 8 brands and saw the beauty and the ugliness of delta 8 pre-rolls. Here are my favorite d8 joints based on the flavor, structure, strain variety, price, and overall quality.
Go check them out.
Area 52 – Best Delta 8 THC Pre-Rolls Overall, Editor's Pick
Finest Labs – Best Delta 8 THC Pre-Rolls, Runner Up
Delta Extrax – Good Value
Exhale Wellness – Best Variety
Get 15% off all Area 52 products. Use code "CFAH" at checkout.
Area 52 is one of the pioneering and well-known brands of delta 8 products. The company first introduced a simple selection of products in 2020, offering tinctures, vapes, and gummies. Today, this company is one of the most talked-about brands on the market — offering not only delta 8 extracts, but also CBD, CBG, CBN, and HHC products.
Recently, Area 52 released a special line of premium delta 8 THC pre-rolls in several different stains — featuring both Sativa, Indica, and Hybrid varieties. Each option comes with a different terpene profile, providing different effects, from the heady buzz and a boost of creativity to physical relaxation and a mellow vibe.
What's best about Area 52 is that the company focuses on high-quality ingredients and provides up-to-date certificates of analysis for every pre-roll in its line-up. So, you know you're getting a joint that is free from harmful contaminants.
Finest Labs emerged shortly after Area 52, offering a similar product range. All of their delta-8 products come from organic hemp plants, ensuring the highest purity and quality of the sourcing material. Finest Lab's hemp strains are known for their robust terpene content, which provides a deeper experience and more diverse effects than most brands.
As the manufacturer of plant-derived terpenes, Finest Labs delivers a broad range of different hemp strains, from citrusy and piney varieties to more skunky and earthy flowers, so whether you prefer to smoke delta 8 joints during the day or in the evening, this brand has got you covered with plenty of options.
Finest Labs offers pure delta 8 pre-rolls; there are no tobacco, herbal mixes, or other fillers that could compromise the potency and flavor of delta 8 THC. Each pre-roll is tested in an independent laboratory for quality and safety, ensuring there are no pesticides or herbicides in the flowers.
3. Delta Extrax
If you enjoy cannabinoid-based products, you've probably come across Delta Extrax, or maybe you've even tried some of its products. Not only does the company have vast experience in the cannabinoid market, but it was also one of the first manufacturers to enter the delta 8 scene.
My favorite product from this company is the White Rhino delta 8 THC pre-roll. It's a hybrid strain that contains a blend of delta 8 THC and CBG, so you can expect balanced effects enhanced with an energizing buzz from the latter.
However, the taste is too earthy for my taste. The smoke could also be denser in my opinion, but these are just personal nuances.
4. Exhale Wellness
Exhale wellness is a hemp brand run by a group of cannabinoid experts. The company is known for providing high-quality delta 8 extracts from organic hemp.
Exhale Wellness promises that the flowers used in pre-rolls are locally grown in the United States, meaning they adhere to the quality regulations set out by the United States Department of Agriculture (USDA).
This means that the flowers are grown without pesticides, chemical fertilizers, or other toxic ingredients. As a result, you're getting a safe and healthy product that can boost your cognitive performance.
Exhale Wellness covers a variety of different pre-rolls from various cannabis strains. The company's collection includes Northern Lights, Hawaiian Haze, Cookies, Zkittlesz, Lifter, and Candy.
All of these strains are non-GMO and rolled with natural, unbleached papers.
5. Plain Jane
Hemp products are usually quite expensive, which can be frustrating and is one of the main reasons why people choose not to buy delta-8 pre-rolls. However, Plain Jane is a living example that you can combine high quality with reasonable prices.
Like every brand I've put on that list, Plain Jane pre-rolls are made from hemp that is grown on pure American soil. In addition, you can choose from many joint sizes and flavors to personalize your experience.
Plain Jane's pre-rolls are also convenient and user-friendly. Each joint comes with a precise strain description and the percentage of delta 8 THC, allowing you to gauge your dosage easily.
Each product by Plain Jane is tested for pesticides, herbicides, mycotoxins, and chemical fertilizers.
How We Chose the Best Delta 8 THC Joints & Pre-Rolls
There can be a significant difference between the quality of the two pre-rolls. Believe me, I've had enough of them and some of these joints can taste like burnt grass, which is anything but enjoyable.
There's a reason why each of these brands has been included in my ranking. After years of experimenting with different companies and their products, I've worked out a quality assessment system that I always use when checking new names on the market.
Here's what I focus on when looking for the best delta 8 THC pre-rolls.
Hemp Source
Hemp source is THE most important aspect because it's what you smoke. Smoking is the least healthy method of consuming cannabinoids, so the key is to minimize the damage while elevating the user experience. That's why the best delta 8 pre-rolls are made from organic, non-GMO, and terpene-rich hemp strains.
Avoid pre-rolls that don't specify the hemp source; such products may be rolled with poor-quality, mass-produced hemp flower that's contaminated with pesticides and other dangerous chemicals.
Strain Variety
For me, it's always quality above quantity — but you need to have some choice, especially when buying delta 8 products like pre-rolls in local stores and other vendors. Otherwise, you'll get bored pretty quickly.
Having a few strains to choose from is good because it can prevent you from building a tolerance to delta 8 so quickly. Keep in mind that tolerance to delta 8 builds up faster than to delta 9, and switching strains is one of the best ways to keep it in moderation without having to take T-breaks.
Research
When I'm doing my research on the best delta 8 products — and pre-rolls are no exception — I'm leaving no stone unturned. From the aforementioned hemp source to the quality of the rolling papers to the strain variety, flavors, third-party testing, I include every important factor in my research. There are too many scammers out there; solid research will keep you from falling a victim to their shady practices.
Polls and Surveys
Polls and surveys, as well as verified customer reviews, can provide you with a bigger picture of your potential vendor. After looking through several surveys and reviews, I narrowed down my options to these 5 brands that stood out in terms of consistency, transparency, and customer service.
Experience
Experience is everything when it comes to delta 8 pre-rolls. The best experience comes from the flowers that have been properly grown and cured before rolling them into joints. Such products provide a complex aroma profile, gentle smoke, and burn evenly. Speaking of which, make sure that your joints are rolled tightly enough and are made with high-quality rolling papers; otherwise, you may end up with a canoeing joint.
How to Buy the Best Quality Delta 8 Pre-rolls
If you've never smoked a delta 8 pre-roll and you're purchasing them for the first time, there are some things that you need to know.
There are many delta 8 joints that contain illegal ingredients or substandard products that can compromise your experience with the pre-roll. In worse scenarios, they can harm your health, so you need to do serious research and analyze a few important parameters.
Spotting a good-quality brand or product isn't easy, but there are some steps you can take to make it smoother.
Check Your Vendor's Reputation
Some CBD companies that have been making hemp pre-rolls have started selling delta 8 THC joints as a way to diversify their product range. These brands usually have an established reputation and a lot of faithful customers. So, whenever you don't feel like exploring new names on the market, you can check if some well-known brands offer delta 8 pre-rolls.
When looking for the best delta 8 THC pre-rolled joints, check the company's history, search for certificates of analysis, and learn as much as you can about its production practices.
Third-party websites like Better Business Bureau (BBB) or TrustPilot can hint you toward legit companies.
Ingredients
Checking what ingredients are used in your delta 8 pre-roll is a must before you consume it. First, the smoked ingredients bypass the liver, so their bioavailability increases significantly. If you're smoking delta 8 joints that contain tobacco or are made with hemp that has been laced with pesticides, your body will effectively absorb them, disrupting different systems and organs.
A good-quality delta 8 pre-roll should contain only one ingredient: organic delta 8 THC hemp flower.
Third-party Testing
Every company should test its products in a third-party laboratory to confirm their potency and purity. If a product passes such tests, it receives a certificate of analysis, which is a form of a lab report. These certificates should be posted on the company's website as quality proof.
Never purchase from a company that keeps its lab reports undisclosed.
Customer Service
Check the return policy of your company, as well as a money-back guarantee (if it has one). A customer-friendly policy is a good sign because it means the company is confident about the quality of its products. They should also be responsive and knowledgeable about what they're selling so don't be afraid to ask questions — that's what customer service is for.
Potency
Delta 8 THC is about half as strong as delta 9, so you need to consume twice as much to experience the same cognitive change. Choose the potency of your delta 8 pre-rolls based on your tolerance to THC.
What is a Delta 8 Flower?
Delta 8 flowers are raw, dried buds of the hemp plant that have been infused with delta 8 THC distillate. This brings out the psychoactive effects from the bud. Taking Delta Use delta 8 pre-rolls to relax the mind and relieve your body of discomfort.
Delta 8 THC vs Delta 9 THC
There's a slight difference in the molecular structure of delta 8 THC and delta 9 THC. For delta 9, the double bond in the carbon atom is located at the 9th chain, while in delta 8, it appears at the 8th chain.
This results in a weaker psychoactive potential but also in a lower incidence of anxiety and paranoia. However, that's not the only difference. More importantly, delta 8 THC is federally legal because it comes from hemp. According to the 2018 Farm Bill, all hemp derivatives are federally legal as long as they contain no more than 0.3% of THC
Delta 8 THC vs CBD
There's a significant difference between delta 8 THC and CBD. While not as psychoactive as delta 9, you can still get high from delta 8. CBD, on the other hand, doesn't have such properties. It's also not habit-forming, unlike the two.
What Are Delta 8 Pre-Rolls?
Delta 8 pre-rolls are simply hemp joints containing flower that has been infused with delta-8 THC distillate. They are rolled into papers made from hemp, rice, or wood pulp. The best delta 8 pre-rolls are made with unbleached hemp papers because such material is entirely free from toxins.
Recommended Smoking Dosage for Delta 8 Flower
There's no exact amount to guide users on the correct dose for smoking delta 8 pre-rolls. However, the recommended dosage of delta 8 joints is one to three puffs. This should provide a moderate strength and balance the effects for both the body and mind. If you don't follow the recommended dosage of delta 8 at one session, you may experience side effects such as drowsiness, confusion, anxiety, and paranoia, although the last two reactions are very rare with delta 8 pre-rolls.
Will Delta 8 Pre-Rolls Get Me High?
The answer depends on how high your tolerance to delta 8 THC is. Even a small amount of delta 8 can give you psychoactive effects if you're a first-time user. If you have some experience with smoking regular weed joints, use twice the amount of delta 8 flowers in your joint to get the same effects. But if you're a new user, stick to my previous two-three puffs strategy.
Does Delta 8 Pre-Roll Smell?
Yes, they do, especially if the strain has been well cured before it became a joint. The exact aromas and flavors of your delta 8 pre-roll will depend on the strain of your distillate, which is used to infuse the flower and provide it with psychoactive effects.
Is It Cheaper to Buy Pre-Rolls?
When you purchase pre-rolls, you're not just buying the delta 8 flowers. You're also paying for the paper, the tip, and the time somebody has put into rolling that joint. This means that delta 8 pre-rolls are more expensive than delta 8 flowers, but you may find it worth paying a little more for the convenience of smoking a nicely rolled joint without the effort associated with grinding the herb, licking the paper, and working with your hands.
Summarizing the Best Delta 8 Pre-Rolls
Delta 8 pre-rolls are one of the most enjoyable ways to consume delta 8 THC while keeping total control over the dosage, strain, and type of effects.
The popularity of delta 8 pre-rolls has grown significantly over the last few years. While you need to pay a little bit more for a pre-roll than for a whole flower, the extra expense is worth it, especially with premium-quality pre-rolls that are not only potent and tasty but pleasant to look at.
If you've never had any experience with delta 8 pre-roll and you're looking to get the best experience for your money, check out my recommendations from this guide. I also encourage you to do your own research in that matter — you can use the above tips to help yourself make a well-informed decision.