7 Biggest Mistakes to Avoid When Buying CBD Oil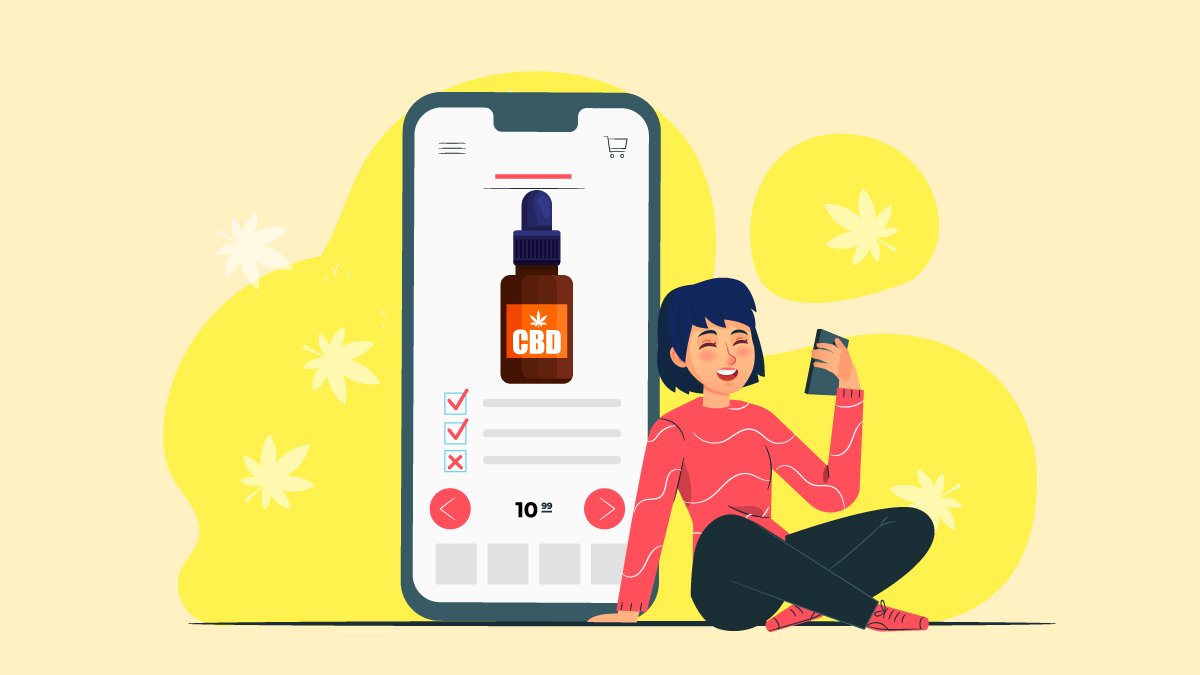 Everybody wants to capitalize on the CBD craze.
Even companies that didn't even consider CBD and cannabis before, such as Ben & Jerry's is cashing in on the emerging industry.
However, not everybody wants to play clean.
With 2019 showing even a greater increase in CBD oil in the US than the previous year, the market has become an attractive place for shady businesses that don't care much about your experience with CBD or the safety of their products.
While seasoned CBD users can usually tell the difference between a good and bad CBD oil, new consumers may not be aware of the perils of buying CBD online.
This article will help you avoid the 7 most common mistakes made by inexperienced customers. Once you read it, I hope you'll be able to make a well-informed purchase decision and be able to spot good vendors from the bad ones.
But first, let's take a peek at the health benefits of CBD oil.
What Is CBD Used For?
CBD oil made from high-quality ingredients when used properly may prove a versatile form of relief for many health problems.
CBD on its own has many uses, such as:
Anxiety
AIDS/HIV Symptoms
Cancer
Crohn's Disease
Depression
Epilepsy
Sleep issues and insomnia
Managing Multiple Sclerosis symptoms
Neurodegenerative Disorders (Alzheimer's, Parkinson's)
PTSD
However, not all CBD oils are created equal.
7 Common Mistakes to Avoid When Buying CBD Oil
Poorly manufactured CBD oil sourced from inferior hemp can do more harm than good. Companies that put their revenue before their customers are aware of the aforementioned mistakes beginners make — and they take advantage of it.
Here's what people do wrong when buying CBD oil online:
1. Buying Cheap CBD Oils
Be very cautious of "cheap" CBD oils.
For experienced users, this point may seem obvious, but with such a wide range of options on the market right now, and so many online stores to buy CBD oil from, this market is a minefield for newcomers.
And buying cheap CBD oil is one of the many mines you're likely to encounter.
Let's make it clear — cheap oils are cheap for a reason. They either involve inferior ingredients or their CBD content is far lower than what's written on the bottle. Sometimes, you'll be lucky if there's any CBD in some of these oils at all.
CBD oils are expensive because the manufacturing process calls for high-tech scientific equipment and highly qualified professionals who can use it to extract the oil from its plant source safely.
For a whole extraction kit, companies need to pay between $80,000–$200,000, let alone the cost of hiring and maintaining a team of specialists.
Third-party lab tests — the only way to verify the quality of your CBD oil — aren't done for free, either.
Because of that, the entire cost of CBD products — from growing hemp to labeling and packaging — is relatively expensive compared to other nutritional supplements.
2. Not Checking the Hemp's Source
If you've ever felt bad after using CBD oil, this could be due to some toxic ingredients in it, such as heavy metals, solvent residue, mold, or fungus.
This is caused by using poorly grown hemp.
The second-most common mistake new CBD users make is not paying attention to their hemp's country of origin.
That's a shame because the source of your CBD is the most important information given the fact hemp is rather loosely regulated across the world.
Hemp is a bioaccumulator. In other words, the plant absorbs everything from its surroundings — accumulating these substances in its tissues.
Hazardous chemicals can show up in your hemp (and oil) if grown in contaminated soils. Arsenic, lead, cadmium, and other heavy metals are all problematic toxins that can pile up in the cannabis plant.
On top of that, farmers in certain countries use dangerous pesticides and herbicides to grow their plants, which are also easily absorbed by the plants.
I recommend buying CBD oil sourced from American-grown hemp. Since the passage of the 2018 Farm Bill, hemp has become an officially acknowledged agricultural crop — meaning that farmers can choose to grow it without the intense bureaucracy and layers of approval needed to grow hemp. Now anybody can choose to grow it on their land if they see fit.
Alternatively, you can buy from companies that get their hemp from European farmers, but when doing so, remember to check if the hemp is organic.
Steer clear of hemp grown in China and other regions of Asia, where the use of pesticides is widespread, and hemp plants are cultivated in poor-quality soil.
3. Assuming All CBD Oils Are the Same
PRODUCT
DETAILS

Best Overall CBD Oil

Royal CBD – Full Spectrum

Rated #1 for overall anxiety and depression relief
Highest quality hemp oil on our list
100% organic, free of pesticides, and artificial ingredients
Established brand with 24/7 customer support
30-day 100% money-back guarantee

Get 15% off all Royal CBD products.  Use code "CFAH" at checkout.

Best Organic Formula

Gold Bee

Rated Best Organic Formula
100% Organic Hemp from California
Exotic flavors (Kiwi, Lychee)

Click for Best Price

Runner Up

CBDPure Oil

Good customer support
30-day money-back guarantee

Click for Best Price
The main reason for the unbelievable popularity of CBD is its non-psychoactive nature and popularity as a health supplement.
CBD on its own can't get you high.
But that doesn't mean that all CBD products are non-psychoactive.
CBD can be extracted from both hemp and marijuana. If a company uses marijuana plants to source their CBD oil from, this product will also contain higher levels of THC.
Marijuana CBD oil is capable of getting you high, so make sure your CBD comes from hemp plants.
Hemp-derived CBD oil usually has less than 0.3% THC, which has no intoxicating effects on the user. Hemp products are also federally legal, unlike their marijuana counterparts.
Look for manufacturers that use safe extraction methods — such as pressurized CO2 — to make their CBD oil. If a company cuts corners on its extraction equipment and solvents, there's a chance the THC levels will turn out higher than the 0.3% limit.
4. Not Educating Yourself About the Effects of CBD
While CBD comes with a myriad of health benefits, there are limitations in what it can do.
CBD is, by no means, a quick fix or a universal solution to all your problems — despite what some CBD vendors like to suggest.
There's a clear mechanism behind the effects of CBD — this compound modulates the endocannabinoid system, the primary neurochemical network that controls nearly every homeostatic function in our bodies.
When you do your research and understand how CBD interacts with the body and brain, you'll be able to tell whether or not it can improve your quality of life.
Educate yourself about cannabis and the endocannabinoid system, and understand how to dose CBD oil for optimal results before you buy it.
5. Expecting Miracles
This point is closely connected to point number 4.
As a day-to-day supplement, CBD offers unmatched versatility when it comes to improving one's quality of life. As mentioned, many studies suggest that CBD may be able to relieve many symptoms and conditions that affect millions of people across the world.
But CBD is not a wonder drug; sometimes, you won't experience its benefits right away. It may take several weeks or even months for CBD oil to regulate the endocannabinoid system and bring the chemical balance back in our bodies.
Of course, relief from stress or temporary pain may come pretty fast, but for chronic health issues, it doesn't work that way.
Here's are the most popular uses of CBD:
Relieve Anxiety
Improve immune function
Reduce physical tension and cramping
Help with mood swings
Relieve symptoms of pain
Reduce inflammation
That being said, you can't expect CBD oil to cure cancer, end depression, and take away all your pain. However, you may be able to use it to support your treatment and enhance your well-being from different angles.
6. Starting With the Highest Potency
The potency of CBD oil is essential. Starting with the highest strength isn't the smartest choice.
If this is your first time trying CBD, your system will be very sensitive to the effects it produces — you won't need much CBD oil to feel the difference. That is, of course, unless your condition requires high doses of cannabidiol.
You need to gradually work your way up to the point where CBD brings the desired effects, rather than going all out with the dosage from day one.
I'll stress it once again: CBD may take some time to fix the chemical imbalance in your body, so starting at maximum doses closes the door for further adjustments, not to mention it's simply cost-prohibitive.
Although CBD is considered a safe and non-toxic substance, it may cause several mild, dosage-dependent adverse reactions.
Consuming too much CBD may trigger the following side-effects:
7. Not Reading 3rd-Party Lab Test Results
Third-party testing analyzes the content of CBD products. It checks for such details as the concentration of CBD in the extract, the ratio between minor cannabinoids, and terpene content. Moreover, laboratory screening can detect over 200 common contaminants that could have negative consequences on the quality of your CBD oil.
Most reputable companies either have lab reports available on their websites, or they send them at the user's request. If the customer service refuses to show you the proof of their claims, it's better to err on the side of caution and choose a more transparent vendor.
How to Avoid Making These Mistakes When Buying CBD Oil
CBD is an emerging market, but it already shows a huge potential for both consumers and manufacturers alike. The industry's growing at an incredible pace.
You can find a lot of information about CBD products out there. Cannabis advocates are going above and beyond to educate patients and recreational users about the benefits and risks of buying CBD oil.
I hope this article will help you avoid common mistakes when buying CBD oil online, and that you'll remain wary of companies that are trying to hook you with fancy buzzwords and far-fetched promises. Such vendors are just trying to push cheap CBD products that sometimes contain minuscule amounts of CBD.
Always verify your vendor's credibility with a decent background check — otherwise, you could be cheated blind.