Can Truck Drivers Use CBD Oil?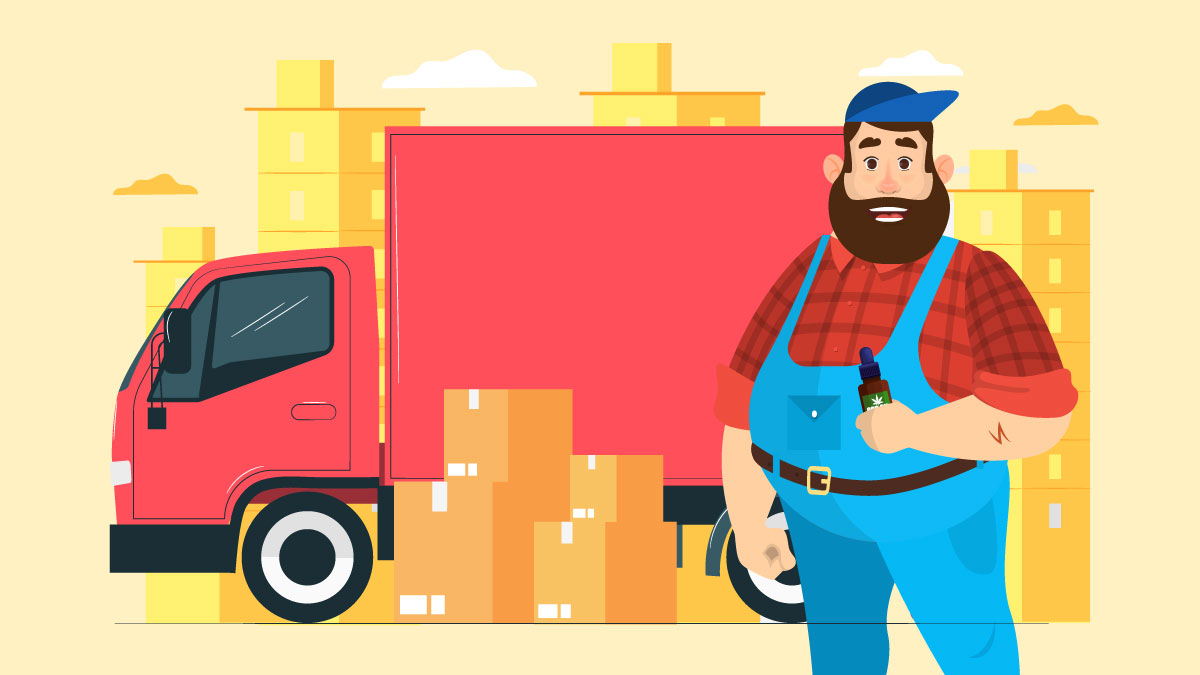 CBD can ease many health concerns that truck drivers are dealing with, including pain, sleep problems, and anxiety.
Since CBD is legal on a federal level, many drivers are wondering if they can include it in their daily supplementation plan without having to worry about potential road controls.
Since CBD is non-intoxicating, the simple answer is: yes, they can. But since not all CBD is created equal, let's elaborate on what kind of CBD oil is appropriate for truck drivers.
Why do Truck Drivers need CBD?
Truck driving is a typical yet demanding job. It requires a lot of focus, and if there is ever a chance to make a driver feel a little better than usual, it's only logical for them to grab hold of the opportunity.
CBD oil seems to be able to help with numerous negative impacts of truck driving. Here's why drivers use cannabidiol:
Combating Sleep Disorders
Sleep deprivation is one of the common issues for truck drivers. It happens as a result of their irregular sleeping pattern.
Some days, they drive for long hours without sleep. Sometimes, drivers can only take short sleep breaks for a few consecutive days.
So, when they finally get their days off, they may find it difficult to adjust back to sleeping at night. According to a study, 20.6% of truck drivers suffer from a chronic sleep disorder. When left unattended, this sleep disorder may eventually lead to other physiological issues or affect their mental health.
A 2007 study showed that CBD can help people fall asleep faster and spend more time in the deep sleep stage. Using CBD while you are off work as a truck driver can provide you with immediate relaxation, thereby ensuring longer resting hours before returning to work for your next shift.
Pain Relief
Driving long distances for hours may cause pain, tension, muscle strains, and other types of discomfort. This rigorous driving is what most truck drivers do every other day, and as such, they are more prone to body aches and soreness. A study has found CBD to offer benefits for pain reduction due to its anti-inflammatory properties. Using CBD may help truck drivers relax their muscles and reduce inflammation, therefore making them as comfortable as they can be while they go about doing their job.
Inducing a State Of Calmness
Most truck drivers suffer from depression and anxiety, and there is proof of this in a 2012 research. The research states that 26.9% of truck drivers are depressed, while 14.5% suffer from anxiety. These mental health issues are not a good state of mind for someone who's behind wheels, traveling major roads. Truck drivers that aren't in full control of their emotions can pose a threat to other drivers on the road.
That is another reason why truck users should use CBD oil. A 2014 study claims CBD helps to induce a state of calmness because of its ability to increase serotonin levels, serving as an antidepressant.
Reducing Blood Pressure
High blood pressure (HBP) is another major health problem associated with truck drivers. They are susceptible to HBP because of the unhealthy nature of their job. These factors range from sitting in the same position for a long time to eating more fast food as they're on the road most of the time and don't have the luxury of eating proper meals.
Research on CBD has discovered that it has a lot of cardiovascular benefits, including the ability to reduce blood pressure. CBD helps regulate blood pressure by protecting the arteries from inflammation. It also reduces fluid retention and relaxes the blood vessels.
Is it Safe to Use CBD and Drive?
CBD is a non-intoxicating compound, so unlike THC, it won't get you high and impair your ability to drive a vehicle. The only type of CBD oil that contains trace amounts of THC is the full-spectrum extract. However, it only contains 0.3% of THC, which isn't enough to induce intoxication.
That being said, you shouldn't take large doses of CBD right before entering the truck because large doses can make you feel dizzy and sedated. If you're tested for THC at work, make sure to choose broad-spectrum or isolate-based products. These types of CBD are completely THC-free.
CBD Dosage: How Much CBD Should Truck Drivers Take?
There is no standard dose for CBD. The ideal CBD dosage depends on factors such as body weight, body chemistry, and the concentration of the product you want to use.
If you are using CBD as a truck driver, you should consider your schedule before deciding on the dose. If your shift is on or close, you should use a little to moderate amount to avoid the risk of drowsiness while driving. If it falls on off days, you can go ahead and use adequate quantities to help maximize the benefits.
Will CBD Make You Fail a Drug Test?
Truck drivers, due to the nature of their job, are frequently tested for drugs, and as such, questions may arise as to whether it is okay for them to use CBD.
Generally speaking, CBD alone won't make you fail a drug test. If you don't take extremely large amounts of full-spectrum CBD, such as 2000 mg daily, it shouldn't result in a false positive score for THC.
Nevertheless, the CBD market is still unregulated by the FDA, so no official body supervises the production and labeling of CBD products. There are many mislabeled CBD oils on the market; some of them contain less CBD than advertised, while others have THC levels exceeding legal limits.
Buying from an unverified source may cause you to take more THC than you think — and thus lead to a failed drug test.
Always make sure that you know exactly how much CBD and THC is in your product. You can do it by reading the product's certificate of analysis. This document should be available on your vendor's website.
Summary
In conclusion, we can not simply answer yes or no when asked if truck drivers can use CBD oil because it's a bit complicated. The answer can be no, in the sense that truck drivers are to stay entirely away from anything that may have tetrahydrocannabinol in it. Such may include marijuana-derived CBD or a full-spectrum hemp-derived CBD oil.
In the same vein, the answer can be yes as long as the truck driver is careful enough to use only the right kind of CBD — broad-spectrum or isolate CBD products, or a little dose of full-spectrum CBD.
The timing and dose are the other essential factors. High doses of CBD may promote dizziness and sedation, so it's better to use CBD oil when you're off your shift if your situation requires taking large amounts of this cannabinoid.
Last but not least, always make sure that your CBD oil comes from a trusted source that provides batch-specific lab reports for its products. Only then can you rest assured that your product doesn't contain more THC than approved by the federal government.
References
Mona, S., Yorghos, A., Chad, C., Sevil, S., Caitlin, F. Trucking organization and mental health disorders of truck driving. 2012. [1]
Kimberly, A, Babson., James, S., Danielle, M. Cannabis, Cannabinoids, and sleep: a Review of the literature. 2017.
Ethan, B, R., Geoffrey, W, G., Phillip, J, R. Cannabis, pain, and sleep: Lessons from therapeutic clinical trials of sativex, a cannabis-based medicine. 2007. [3]
Hammell, D, C., Zhang, L, P., Ma, F., Abshire, S, M., Mcllrath, S, L., Stinchcomb, A, L., Westlund, K, N. Transdermal cannabidiol reduces inflammation and pain-related behaviors in a rat model of arthritis. 2015. [4]
Khalid, A, J., Garry, D, T., Saoirse, E, O. A single dose of cannabidiol reduces blood pressure in healthy volunteers in a randomized crossover study. 2017. [5]