CBD and Caffeine: Why You Should Mix CBD with Your Morning Coffee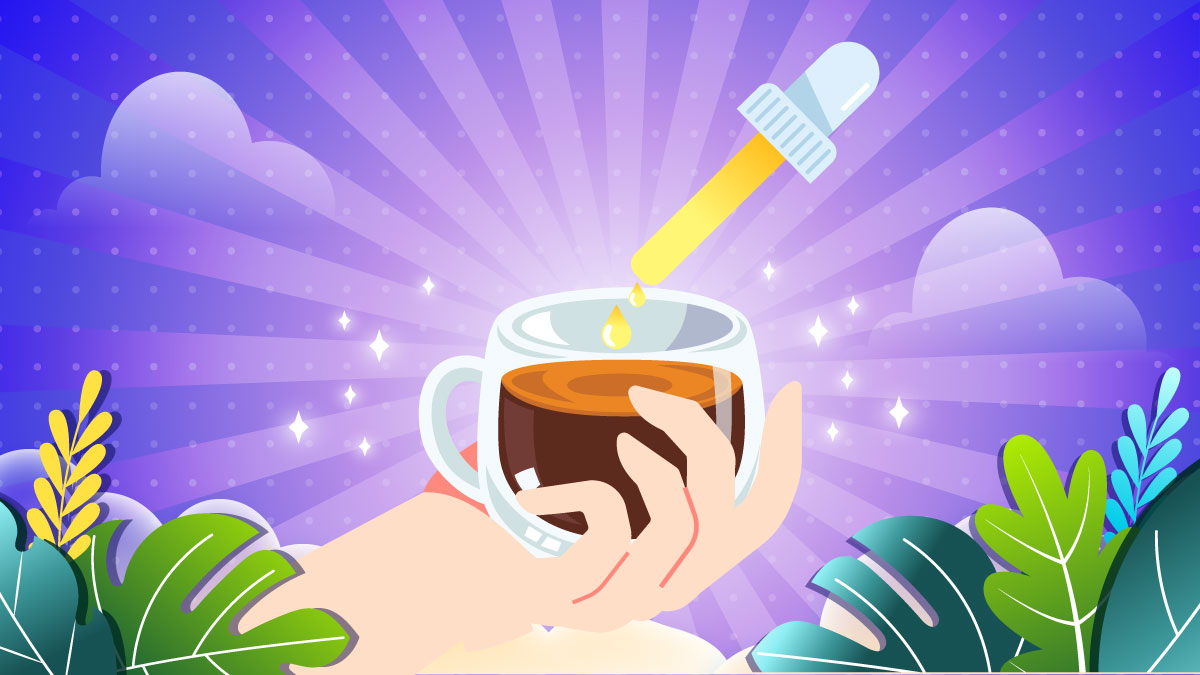 With the rising appreciation for CBD's many potential health benefits, more and more people are wondering how the popular health supplement interacts with another common lifestyle drug — coffee. 
So the question is, can you mix caffeine and CBD oil?
You might be surprised to see me refer to coffee as a drug, but that's exactly what it is—or at least the caffeine is. As with any drug, there's the potential for adverse interactions when other drugs are added to the mix.
In the case of CBD—which many take for anxiety — it's not hard to see why one might have concerns about whether coffee will harsh the relaxation provided by their favorite cannabinoid.
Does caffeine counteract CBD oil? The answer is a little more complicated than a mere "yes" or "no."
What Do CBD and Caffeine Do to You?
Before we get into the specifics of what CBD and caffeine do to you, you first must understand how the endocannabinoid system works.
The endocannabinoid system is a complex network of enzymes and receptors that your body uses to regulate functions relating to mood, sleep, appetite, memory, and many other biological elements. It uses molecules called endocannabinoids — which are produced both naturally in your body and can be introduced from outside sources — that link with receptors throughout your body to route signals that drive these functions.
Arguably the most famous cannabinoids that can be introduced externally — THC and CBD — are found in the cannabis plant. But another substance that interacts with the endocannabinoid system is even more common: the caffeine in your cup of joe.
One study has shown that caffeine and CBD have opposite effects on the endocannabinoid system. While the former shut down neurotransmitters, the latter activates them.
That being the case, you might be quick to assume that the two are incompatible opposites. But the reality is not so cut and dry.
Does Caffeine Counteract CBD Oil?
So far, we've established that CBD relaxes you while caffeine is a stimulant. Therefore the two must counteract each other, right? Not so fast.
The fact is the different dosages of these two drugs can have wildly varying results, so it's difficult to predict how different doses might interact with one another.
In an interview with Marie Claire, medical director at Canna-Centers, Dr. Bonni Goldstein explained, "It's unclear at this point the exact interaction between CBD and caffeine. At low doses, CBD is a stimulant, and in higher doses, it can cause sedation… Someone's reaction to a combination of these compounds would not be easily predictable because various doses of each would affect the response."
Speaking for the same article, cannabis activist and entrepreneur Jane West agreed: "It's just not as simple as one effect negating the other. The effects of cannabinoids are concentration-specific."
The lack of clarity on how CBD and caffeine interact hasn't prevented many from not only using the two together but actually infusing CBD into their coffee.
Should You Mix CBD Oil and Caffeine?
In the end, we don't have enough hard research on this specific question to provide a science-based answer. But there is plenty of anecdotal evidence that suggests that many people do find benefits to using CBD alongside coffee.
For example, many who use CBD in conjunction with caffeine report that it helps to ease some of the jitters that coffee tends to elicit, thereby making them alert but calm. And for those who find that too much caffeine can cause anxiety—a common side effect when consuming an abundance of coffee—CBD's anti-anxiety properties can be the ideal solution. What's more, as a powerful anti-nausea agent, CBD can help those who experience upset stomachs when they drink coffee.
In other words, while the science isn't in yet on how CBD and caffeine interact, the benefits we do know CBD can deliver can likely be useful to coffee drinkers.
Can CBD Help with Caffeine Withdrawal?
If you're like many out there who love (or can't live without) the energy that coffee provides, but you hate the crash, you might be wondering — can CBD help with caffeine withdrawal?
The symptoms of caffeine withdrawal include nausea, headache, anxiety, depression, irritability, and tremors, all of which are treatable with CBD. So if it's getting late in the day and your coffee is waning, CBD might provide exactly the relief you're looking for.
Tips for Mixing Caffeine with CBD Oil
If you do decide to mix CBD oil with caffeine, here are a few things to keep in mind:
1. Pace yourself
As little is known about how specific dosages will interact, it's probably best to start at relatively low to moderate doses of each. In other words, avoid starting by taking 1,500 mg of CBD with your triple shot espresso. Play around with dosages a bit until you find the right combination for you.
2. Consider timing
Depending on the potency of your CBD oil, it might take time before it takes effect. That means that if you want it to provide its benefits from your very first cup of coffee, consider consuming your CBD 20-40 minutes before you start drinking your brew.
Likewise, if you're hoping to stave off the effects of caffeine withdrawal, it might be best to take your CBD before the crash.
3. Turn down the heat
Some studies have shown that CBD's potency can be diminished under extreme heat, so if you plan on adding your CBD oil directly to your coffee, consider choosing an iced drink or give your hot coffee or tea a few minutes to cool down.
4. Know the legality
At this point, CBD is legal in almost every state in the US as well as most countries, but there are still places where you can get in trouble for possessing or ingesting anything cannabis-related, including CBD. So before you pop out your vial of CBD oil right in front of the barista, be aware of what your local laws happen to be.
Choosing a CBD Oil for Your Coffee
Theoretically speaking, you can combine any CBD oil with your coffee. However, that doesn't mean that you're going to get the same effect from every product. Here are a few things to look for when choosing your CBD oil:
1. Quality hemp
Ensure that you're using a CBD product sourced from quality hemp that is organically grown without pesticides or other additives. Hemp is known as a "hyperaccumulator," which means it easily absorbs anything present in its soil. If you wouldn't want it in your body, you don't want it in your hemp and, therefore, your CBD.
2. Extraction method
Different producers use several methods to extract CBD from hemp, but they aren't all created equal. Look for products made using CO2 extraction, which tends to deliver the highest levels of potency and purity. Most CBD producers include information about their extraction process on their product label or website.
3. Check the THC
It's almost impossible to create a CBD product that is completely free of THC, but the THC levels should be so low that they won't deliver psychoactive effects that get you "high." Check for THC levels that are no higher than 0.3 percent.
4. Look for "whole-plant" or "full-spectrum."
Different CBD products include different amounts of secondary compounds derived from hemp plants, such as terpenes, flavonoids, fatty acids, and other cannabinoids. The presence of these compounds tends to ensure more potency and a wider range of health benefits thanks to increased bioavailability—meaning they absorb into your system better — so be sure to look for CBD oil that is "whole-plant" or "full-spectrum."
5. Check for third-party analysis
These days the most reputable CBD producers have their products tested for potency and purity by a third-party laboratory. Usually, these tests' results can be found on the company's website or by scanning a QR code on the product label.
In Summation: Can You Mix Caffeine and CBD Oil?
At this point, we have no evidence that there are health risks to combining CBD oil with caffeine or that your morning cup of joe will counteract the CBD you take for anxiety or any other reason.
So can you mix caffeine and CBD oil? Yes, and it seems like it will do more good than harm.