Can CBD Oil Help with Spinal Stenosis Pain?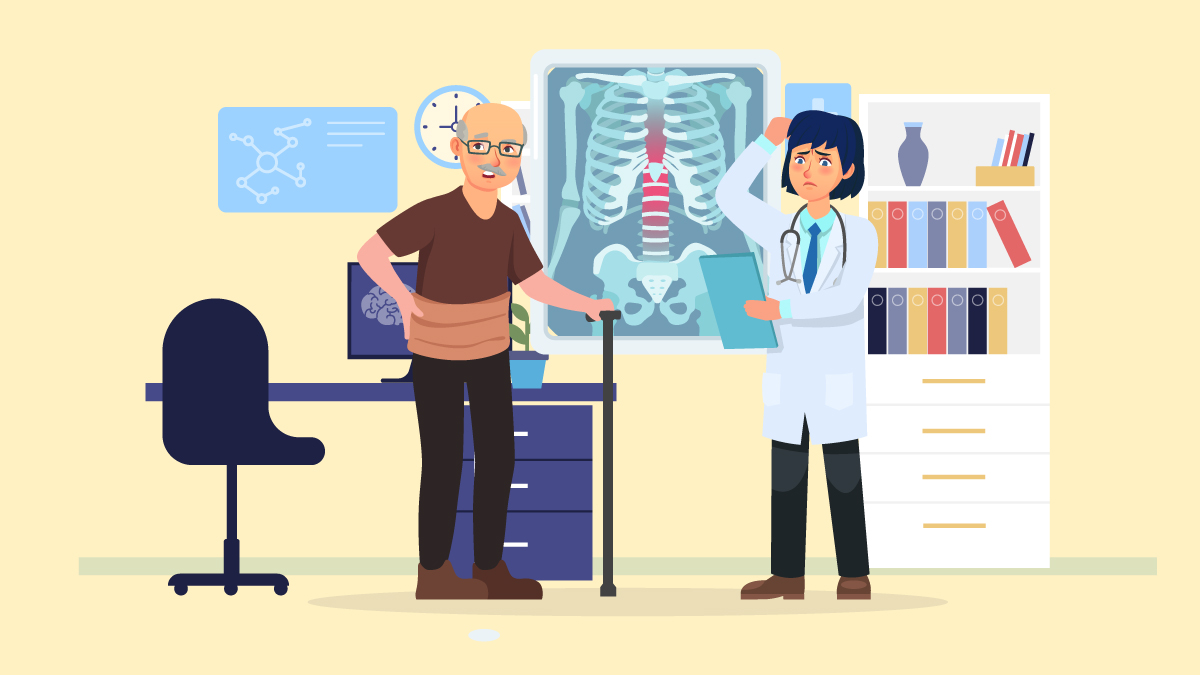 CBD has potent anti-inflammatory properties, indicating potential benefits for the symptom control of spinal stenosis, also known as spinal injury.
Spinal stenosis refers to a spine issue associated with high inflammation markers. The discomfort is also followed by nerve pain, further deteriorating the quality of life of many patients. People with spinal stenosis often rely on potent prescription medications — putting themselves at a high risk of dependence and severe withdrawals.
Being unable to rest and function properly throughout the day, individuals suffering from spinal injuries turn to natural remedies for relief.
CBD is touted by the medical community to reduce inflammation and mitigate pain signaling to the brain. These qualities put it high on the list of potential natural alternatives to treating spinal stenosis.
Read this article to find out if CBD can help you with symptom control.
Does CBD Oil Help with Spinal Stenosis Pain?
Some studies suggest that CBD oil could help many spinal stenosis symptoms. In a study published in the Journal of Pain Research in 2018, the research team examined the link between cannabinoids and spinal cord stimulation in patients with spinal stenosis from a failed back surgery.
The Italian study analyzed the situation of 11 patients diagnosed with neuropathic pain after their surgery. All participants discontinued other treatments in favor of a cannabinoid-based solution. They were taking a predetermined dose of THC/CBD, which they could adjust to their response. At the end of the study, the patients reported significant improvement in pain while recovering from surgery compared to the beginning of the trial.
Several spinal disorders, including spinal cord injury, spinal stenosis, and radiculopathy (pinched nerve) due to herniated discs, are common triggers of nerve pain.
A research paper published in 2020 in C current Pharmaceutical Biotechnology analyzed the efficacy of CBD oil in managing neuropathic pain in 29 participants with peripheral neuropathy.
The group that received CBD reported that their severe pain and cold, itchy sensations had been diminished significantly. They also didn't report any adverse effects. The researchers concluded that transdermal use of CBD oil helps considerably improve pain and other types of discomfort experienced by patients with peripheral neuropathy.
CBD for Other Spinal Stenosis-Related Symptoms
Spinal stenosis — and chronic back pain in general — is often accompanied by anxiety. A study posted in the Journal of Psychopharmacology in 2011 evaluated the effects of CBD on social anxiety disorder (SAD). The authors found that patients with SAD who used a high dose of CBD reported substantial improvements. CBD can help manage anxiety disorders by acting on serotonin and GABA receptors on top of improving endocannabinoid signaling in the brain.
Another study on CBD and anxiety — published in The Permanente Journal — investigated the efficacy of CBD on sleeping disorders and anxiety. The final sample examined 72 adults, 47 of whom reported anxiety as their primary health problem. The other 25 volunteers pointed to sleep deprivation as the main issue.
Almost 80% of participants experienced significant relief from anxiety within the first month. Sleep scores improved in over 66% of the tested subjects. Individuals with spinal stenosis struggle with anxiety and insomnia; when combined, they can take a serious toll on their overall well-being.
Learn more about how CBD can help manage sleeping disorders here.
How CBD Helps to Alleviate Symptoms of Spinal Stenosis
CBD's potential in controlling the symptoms of spinal stenosis is largely attributed to its interaction with endocannabinoid receptors, serotonin receptors, and TRPV-1 vanilloid receptors.
In a 2014 study published in the British Journal of Pharmacology, CBD was found to inhibit chemotherapy-induced neuropathic pain. The researchers discovered that the analgesic and anti-inflammatory effects of CBD could be produced partly by its interaction with the 5-HT1A (serotonin) receptor.
Interestingly, this interaction can also reduce anxiety levels, a more stable mood, and better emotional control.
A 2019 study further confirmed these findings in a mice model, showing that CBD decreased anxiety-like behavior and normalized serotonin activity.
CBD can also mitigate pain signals by engaging with TRPV-1 vanilloid receptors, which are the same receptors that respond to the terpenes in vanilla beans; these essential oils are responsible for the pain-dampening properties of vanilla — the reason why it has been widely used in folk medicine.
In a 2012 study published in Pharmaceuticals, the authors found a strong link between TRPV1 cells and autoimmune diseases and inflammation. This fuels the hypothesis that CBD's impact on TRPV1 receptors helps mitigate pain signals and curb inflammation.
Last but not least, CBD can help the body level its endocannabinoid deficiencies. Not only does it signal the endocannabinoid system to produce its own endocannabinoids, but it also acts as the inhibitor of enzymes that break them down. Higher levels of endocannabinoids such as anandamide have been associated with a higher pain threshold and better stress response.
How to Use CBD Oil for Spinal Stenosis
CBD comes in many different forms. The most common format is CBD oil, which contains a CBD-rich hemp extract that is infused into a carrier oil. 
CBD oil is taken sublingually (under the tongue). You need to use a dropper attached to the bottle of your oil to measure out the desired amount — then transfer it beneath the tongue and hold it in your mouth for up to 60 seconds.
From there, CBD, along with other phytonutrients, will travel to your bloodstream using the tiny capillaries under the tongue. Sublingual absorption improves the bioavailability of CBD and speeds up the onset of its calming and relaxing effects. Bioavailability refers to the amount of CBD that ends up in your bloodstream after ingestion.
The leftover amount of CBD oil is swallowed and processed by the digestive system.
CBD oil combines relatively high bioavailability with dosage precision, which is why many people use it as their go-to way to supplement cannabidiol.
The best type of CBD oil for spinal stenosis is the full-spectrum one because it contains all the valuable compounds from hemp; CBD and other cannabinoids, terpenes, and flavonoids work synergistically to create the entourage effect — enhancing the therapeutic efficacy of the product.
However, the problem with full-spectrum CBD oil is that it carries a strong earthy flavor, which may not appeal to many users. If you have a sensitive palate, you may want to consider the following alternatives:
CBD Cream for Spinal Stenosis
CBD cream is a decent option for spinal stenosis if you want to add a targeted approach to your treatment. While products like CBD oil or capsules will help reduce inflammation and dampen painful sensations from within, CBD topicals, such as creams, ointments, and gels, offer localized pain relief.
When you apply CBD directly to the skin, it interacts with the CB2 receptors of the skin's endocannabinoid system. This results in an anti-inflammatory response because CBD acts on adenosine receptors, which block the inflammatory proteins known as cytokines. 
Using CBD topically may help you reduce back pain, swelling, redness, and pain of inflammation. 
CBD Gummies for Spinal Stenosis
If you dislike the taste of CBD oil, you may try out CBD gummies for spinal stenosis. They are available in different flavors, potencies, shapes, and formulas and resemble regular gummy bears.  Gummies offer a fixed dose of CBD per serving and deliver it to your system through the gastrointestinal tract. This method of administration has some significant advantages, but it also has one drawback.
Speaking of the positives, a predetermined amount of CBD in each gummy makes it easier to calculate the dosage. For example, if you benefit from 50 mg of CBD per day and your gummies have 25 mg each, you need to take two gummies to match your dosage.
Once CBD enters the GI tract, it is metabolized by the liver and then gradually released into the bloodstream, ensuring longer-lasting effects (up to 10 hours).
That being said, the effects of oral CBD products have a delayed onset. This phenomenon is known as the first-pass metabolism; it's also why CBD gummies offer lower bioavailability than oils (around 20%).
CBD Dosage for Degenerative Disc Disease
The CBD space remains unregulated, so there are no dosage guidelines or standard dosage charts for specific conditions, including spinal stenosis pain and other symptoms.
A review of studies assessing CBD dosages in clinical populations concluded that an optimal dose could vary from 1 mg to 50 mg per 10 kg of bodyweight depending on the user's metabolism, weight, the severity of symptoms, unique body chemistry, and gender.
It's generally recommended to start with a low dose such as 5–10 mg of CBD and gradually increase the amount until you find a dose that gives you the best results without making you feel dizzy or lethargic.
To learn more about CBD Dosage, head over to this post for a general guideline.
What Is Spinal Stenosis?
Spinal stenosis is a medical name to describe a narrowing of the spaces within the spine; it's also known as the foramina. This condition reduces the space for the nerves to travel, which can happen in the spinal canal or within the intervertebral foramina.
The spinal cord compression or a spinal nerve can cause tingling, pain, numbness, or weakness. The symptoms can vary depending on the time and the severity of narrowing over time. The location of the issue matters too.
Types of Spinal Stenosis
Spinal stenosis has two main types. The diagnosis depends on the condition's location; it's also possible to have both forms of spinal stenosis at the same time.
Cervical Stenosis
This type of spinal stenosis occurs when the narrowing affects the neck area of the spine. People with spinal stenosis have spinal cords with less space to travel, which may cause them to compress. The contraction could result in dysfunction and pain anywhere beneath the compressed area.
The symptoms of cervical stenosis include:
Pain in the neck

Problems with movements and balance

Weakness or tingling in an arm, hand, leg, or foot

Bladder or bowel dysfunction (severe cases)
Lumbar Stenosis
Patients with lumbar stenosis have the narrowing of the spine at the lower back. Also known as foraminal stenosis, this is the most common type of spinal stenosis:
You may have lumbar stenosis if you experience the following symptoms:
Back pain

Cramping in 1 or both legs when walking

Weakness, numbness, and tingling in a foot or leg
Conventional Spinal Stenosis Treatments & Their Side Effects
Doctors usually diagnose spinal stenosis via tests such as MRI scan, X-ray, or CT myelogram
Treatments for spinal stenosis depend on the location of the condition and the severity of symptoms. A physician may prescribe conventional painkillers, including:
Anti-seizure drugs like gabapentin or pregabalin

Non-steroidal anti-inflammatory drugs (NSAID)

Opioids such as oxycodone or hydrocodone

Tricyclic antidepressants such as amitriptyline
However, the above treatments come with a risk of dangerous side effects, such as liver damage, kidney failure, weight gain, hormonal imbalances, autoimmune diseases, nausea, and vomiting — not to mention the high potential for dependence and withdrawals when it comes to opioids.
Patients with spinal stenosis tend to become less active physically over time due to the pain experienced when moving. However, this can only cause muscle weakness to deteriorate. Therefore, physical therapy is often recommended as the go-to treatment to improve balance and regain strength and endurance.
Other possible spinal stenosis treatments include:
Decompression:

People with spinal stenosis can ask their doctor about this procedure. Decompression involves removing compressed ligaments from the back of the spine. The process is known as image-guided lumbar decompression and doesn't require general anesthesia.
Steroid injections:

corticosteroids could alleviate inflammation at the site of the stenosis, dampening pain. Patients can only take a handful of injections annually due to the side effects associated with frequent use, such as weakened bones and connective tissues.

Surgery:

it is performed as a last resort and aims to relieve pressure on the spinal cord or nerve roots. This can be achieved by creating greater space in the spinal canal. Surgical procedures include laminoplasty, laminectomy, and laminotomy.
There are also clinical studies involving the use of stem cells to treat degenerative disc disease. Researchers are also testing several genomic medications.
Summarizing the Potential Benefits of CBD Oil for Spinal Stenosis
Medical researchers are fueling more resources into studies on CBD's effects on spinal stenosis and other forms of spinal injury. A growing body of evidence suggests that CBD oil can help manage several symptoms related to spinal stenosis, including inflammation, nerve pain, anxiety, and sleep deprivation.
The best part about using CBD for spinal stenosis is that its benefits aren't accompanied by dangerous side effects, unlike most pharmaceutical medications. CBD is safe and well-tolerated, even in doses as high as 1,500 mg per day.
Research so far suggests that the best approach to treating spinal stenosis with CBD is the combination of a sublingual and topical product. Take CBD oil (or gummies) for general supplementation, and apply topicals directly on the site of the pain to relieve localized discomfort by activating the CB2 receptors with CBD.
Reference Links:
Mondello, E., Quattrone, D., Cardia, L., Bova, G., Mallamace, R., Barbagallo, A. A., Mondello, C., Mannucci, C., Di Pietro, M., Arcoraci, V., & Calapai, G. (2018). Cannabinoids and spinal cord stimulation for the treatment of failed back surgery syndrome refractory pain.

Journal of pain research

,

11

, 1761–1767. [1]

Xu, D. H., Cullen, B. D., Tang, M., & Fang, Y. (2020). The Effectiveness of Topical Cannabidiol Oil in Symptomatic Relief of Peripheral Neuropathy of the Lower Extremities.

Current pharmaceutical biotechnology

,

21

(5), 390–402. [2]

Crippa, J. A., Derenusson, G. N., Ferrari, T. B., Wichert-Ana, L., Duran, F. L., Martin-Santos, R., Simões, M. V., Bhattacharyya, S., Fusar-Poli, P., Atakan, Z., Santos Filho, A., Freitas-Ferrari, M. C., McGuire, P. K., Zuardi, A. W., Busatto, G. F., & Hallak, J. E. (2011). Neural basis of cannabidiol (CBD) anxiolytic effects in generalized social anxiety disorder: a preliminary report.

Journal of psychopharmacology (Oxford, England)

,

25

(1), 121–130. 

Linge, R., Jiménez-Sánchez, L., Campa, L., Pilar-Cuéllar, F., Vidal, R., Pazos, A., Adell, A., & Díaz, Á. (2016). Cannabidiol induces rapid-acting antidepressant-like effects and enhances cortical 5-HT/glutamate neurotransmission: role of 5-HT1A receptors.

Neuropharmacology

,

103

, 16–26. 

Pretzsch, C. M., Freyberg, J., Voinescu, B., Lythgoe, D., Horder, J., Mendez, M. A., Wichers, R., Ajram, L., Ivin, G., Heasman, M., Edden, R., Williams, S., Murphy, D., Daly, E., & McAlonan, G. M. (2019). Effects of cannabidiol on brain excitation and inhibition systems; a randomized placebo-controlled single-dose trial during magnetic resonance spectroscopy in adults with and without autism spectrum disorder.

Neuropsychopharmacology: official publication of the American College of Neuropsychopharmacology

,

44

(8), 1398–1405. [3]

Leweke, F. M., Piomelli, D., Pahlisch, F., Muhl, D., Gerth, C. W., Hoyer, C., Klosterkötter, J., Hellmich, M., & Koethe, D. (2012). Cannabidiol enhances anandamide signaling and alleviates psychotic symptoms of schizophrenia.

Translational psychiatry

,

2

(3), e94. 

Shannon, S., Lewis, N., Lee, H., & Hughes, S. (2019). Cannabidiol in Anxiety and Sleep: A Large Case Series.

The Permanente journal

,

23

, 18–041.  [4]

Ward, S. J., McAllister, S. D., Kawamura, R., Murase, R., Neelakantan, H., & Walker, E. A. (2014). Cannabidiol inhibits paclitaxel-induced neuropathic pain through 5-HT(1A) receptors without diminishing nervous system function or chemotherapy efficacy.

British journal of pharmacology

,

171

(3), 636–645. 

De Gregorio, D., McLaughlin, R. J., Posa, L., Ochoa-Sanchez, R., Enns, J., Lopez-Canul, M., Aboud, M., Maione, S., Comai, S., & Gobbi, G. (2019). Cannabidiol modulates serotonergic transmission and reverses both allodynia and anxiety-like behavior in a model of neuropathic pain.

Pain

,

160

(1), 136–150. 

Tsuji, F., & Aono, H. (2012). Role of transient receptor potential vanilloid 1 in inflammation and autoimmune diseases.

Pharmaceuticals (Basel, Switzerland)

,

5

(8), 837–852.