CBD Oil for Psoriasis – Hemp Products Your Scalp Will Love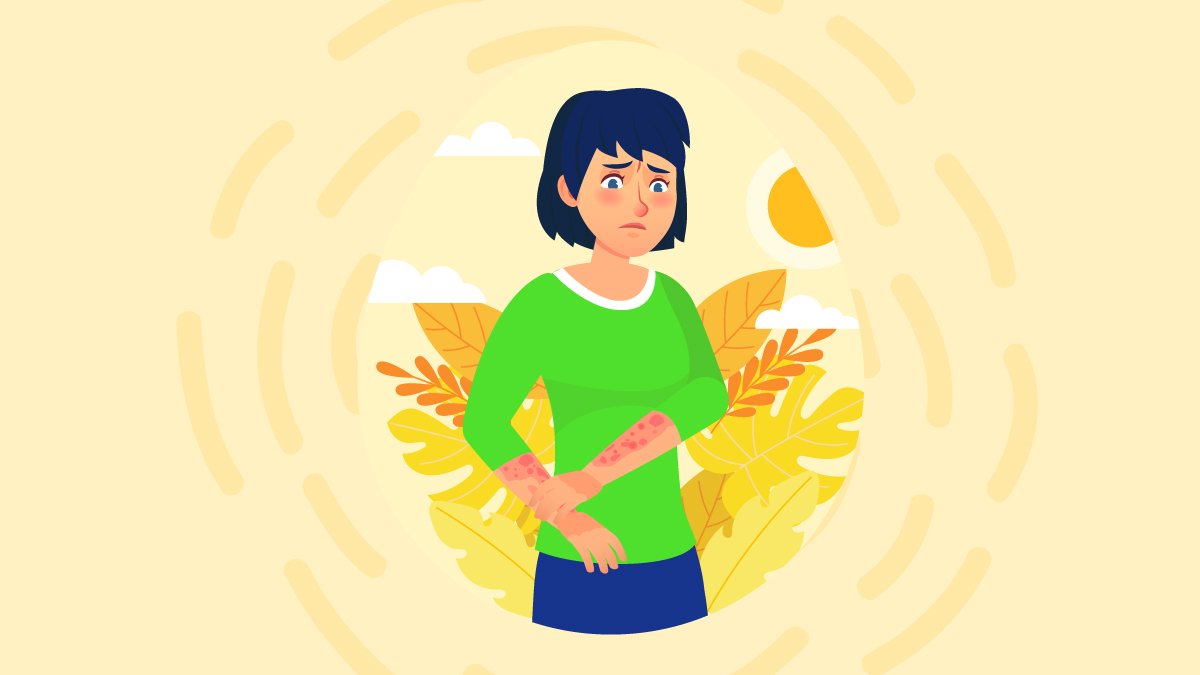 A staggering 125 million people have psoriasis worldwide. That's 2 to 3 percent of the total population.
Psoriasis is currently incurable, so how do you treat this chronic skin condition?
CBD is thought to be an effective treatment for psoriasis and is a popular option for improving the quality of life of people suffering from this challenging skin disease.
In this article, we will be looking at how psoriasis sufferers can benefit from CBD, what benefits it offers, and where you can find the best CBD for the condition.
Does CBD Help With Psoriasis?
Although psoriasis does not have a cure yet, there are ways to relieve symptoms for a better quality of life. CBD is considered by many experts to be one effective way of treating the condition.
Summary: How CBD may help alleviate symptoms of psoriasis: 
CBD reduces inflammation in the skin
CBD reduces inflammation in the joints
CBD offers pain relief
CBD may reduce excessive skin cell production
How Does CBD Work for Psoriasis?
CBD and other cannabinoids work by interacting with the body's endocannabinoid system.
The endocannabinoid system (ECS) is made up of two receptors — CB1 and CB2. These receptors have been found all around the body and make up the endocannabinoid system. This system helps the brain communicate with the rest of the body.
CBD interacts with these receptors, impacting receptor activity. These interactions can help reduce inflammation, aid pain relief, support the immune system, and reduce a variety of other symptoms.
CB1 receptors are found in the skin (among other places), giving CBD the potential to impact many skin conditions. Studies show that CBD's interaction with these receptors can positively impact psoriasis and other chronic skin conditions [1].
The same study suggests that CBD can also slow down excess skin growth, reducing the buildup of excess skin cells involved with psoriasis flare-ups.
The anti-inflammatory qualities of CBD help reduce the swelling, redness, and irritation associated with psoriasis. Both this quality and the pain-relieving qualities of CBD also help reduce swelling and pain in the joints, making it an effective treatment for psoriatic arthritis.
Although research into the effects of CBD on psoriasis is still in the early stages, existing studies do support users' claims. Many people with psoriasis are already using CBD to treat their condition with excellent results.
Is CBD Oil the Only Option for Psoriasis?
CBD oil isn't the only option for psoriasis. 
When orally consumed CBD is concerned, there are a number of different products that are effective. Gummies, soft gels, capsules, honey sticks, and CBD shots will all give you the same effect. It is up to you which method of consumption fits you best.
Topical CBD products are another option that can be used alone or in conjunction with an orally consumed CBD product. Creams, balms, and roll-ons can help relieve psoriasis symptoms directly at the source.
Studies show that topical CBD products can significantly improve the skin and help reduce symptoms [2].
Vapable products are also available if you prefer to inhale your CBD. Vaping may have a negative impact on your lungs but this method of consumption has higher bioavailability. This means far more CBD is absorbed when inhaled compared to orally consumed CBD.
Our Top 3 CBD Brands for Psoriasis:
Royal CBD — Best Overall CBD
Gold Bee CBD — Best Organic Vegan CBD
Hemp Bombs CBD — Best Budget CBD
Get 15% off all Royal CBD products.  Use code "CFAH" at checkout.
Royal CBD is a larger California-based company that offers high-quality premium CBD products. Their motto "Don't Go Average, Go Royal" sums up what the company is about.
They're a trusted brand with a wide range of products. This large brand has more infrastructure and produces CBD on a bigger scale, so you can be sure the product you need will be available.
Like Gold Bee, Royal extracts their CBD from organic hemp and gets their products third-party lab tested. They offer full-spectrum, broad-spectrum, and isolate products.
They use a CO2 extraction process to acquire their CBD from the raw hemp plant. Their heatless and solvent-less extraction method ensures maximum potency and purity without any nasty chemical residues.
They produce everything from oils of all potencies to balms, creams, and dog treats. If you're looking for a premium CBD company that has a wide range of products, Royal CBD is a great brand.
Royal CBD has 5-star customer service. They encourage you to contact them by phone, message, or social media if you need advice on dosage, consumption, or which CBD oil will work best for you.
Key Points:
Wide range of products available

Multiple potencies available

5-star customer service

Full-spectrum, broad-spectrum, and isolate available

Uses certified organic hemp

CO2 extraction process

Excellent cannabinoid profiles in their full-spectrum products — independent lab tested
Gold Bee is a California-based company that focuses on quality rather than quantity. They're a smaller company that prides itself on producing the highest-quality products by incorporating a slow-diffusion process.
The slow-diffusion extraction process requires a significant amount of time and is done in small batches to ensure consistent quality. For this reason, the company sometimes struggles to keep up with demand.
The attention to detail that this company gives to its CBD products is incredible. Although their slow extraction process slows down production, their oils, gummies, and capsules are of the highest quality.
Gold Bee's product range is limited, but there is much to say about making a few products well rather than a lot of products averagely.
You will find CBD in oil, capsules, gummies, and their unique organic honey sticks. Potency options are limited, with most of their products coming in high-potency full or broad-spectrum options.
Key Points:
High-potency products

Full-spectrum, broad-spectrum, and Isolate available

100% vegan (except their honey sticks)

Uses certified organic hemp

A small company with incredible attention to detail

Slow-diffusion extraction process

High terpene and cannabinoid content — independent lab tested
Hemp Bombs CBD is a Florida-based brand. They've been on the market for over 5 years now and have quite a following with many happy customers. They focus on providing premium products for an affordable price.
They put their attention toward creating high-quality CBD isolates with no full-spectrum or broad-spectrum products in their range. Their product range is wide though, with everything from gummies to pet products.
Hemp bombs extract their CBD from GMO-free organic hemp. They formerly sourced their hemp from Europe, but now the U.S has caught up with organic farming processes they use 100% U.S-grown hemp.
Although Hemp Bombs are happy to reveal where their hemp is sourced from, they don't reveal how they extract the CBD from it. We can assume that they use a solvent extraction from looking at the independent lab reports.
There are traces of ethanol, ethyl acetate, methanol, and isopropyl alcohol in their oils. These levels are extremely low and are deemed safe for consumption.
Hemp bombs have a page dedicated to lab reports on their website, so you can see potency levels, present terpenes, solvent residues, and bacterial analysis.
Overall, Hemp Bombs CBD is a great option if you're looking for high-quality isolates on a budget. Perhaps less premium than the last two brands, but far more cost-effective.
Key Points:
Excellent value for money

CBD isolate

Uses U.S-grown organic hemp

Wide range of products available

Multiple potencies available
What is Psoriasis?
Psoriasis is a common skin condition that causes uncomfortable skin flaking, redness, and itchy patches. Psoriasis is usually found on the elbows, knees, and scalp but can occur anywhere on the body.
The severity of the condition varies greatly. For some, psoriasis is a minor irritation with small patches developing in one area. For others, it can cause serious problems and dramatically affect the quality of life.
Unfortunately, there's no cure for this chronic disease. For most suffers this is a minor inconvenience but for others, it can cause major discomfort and eventually lead to another, a more severe condition known as psoriatic arthritis.
The Symptoms of Psoriasis
Psoriasis varies from person to person and symptoms can differ depending on the severity of the condition. It's common to have flare-ups of psoriasis with cycles of flaring and subsidence.
There are five common types of psoriasis each with differing symptoms:
1. Plaque Psoriasis
This is the most common form of psoriasis.
Symptoms include raised, dry, red skin with flaky scales of excess skin.
Psoriasis patches are usually found on the elbows, scalp, and knees, the patches of inflamed skin can become itchy, sore, and tender.
2. Nail Psoriasis
Psoriasis on the finger and toenails can cause pitting, discoloration, abnormal nail growth, and in some cases loosening from the nail bed or crumbling of the nail.
3. Guttate Psoriasis
This form of psoriasis is more common in people under the age of 30. This type is caused by bacterial infections such as strep throat. Symptoms include small scaly lesions around the throat, chest, arms, or legs.
4. Inverse Psoriasis
Inverse Psoriasis can occur all over the body. It's common in skin folds and sweaty areas, it can flare up through exercise or friction. Symptoms include smooth red patches of skin that feel raw and tender.
5. Psoriatic Arthritis
Psoriatic arthritis can be mild to severe but is uncomfortable for all its sufferers. It causes swollen, painful, stiff joints. Progressive joint damage is common with permanent damage possible in more serious cases.
How to Use CBD for Psoriasis
There are many different ways to treat psoriasis using CBD.
CBD can be consumed in the form of oil, edibles, and capsules.
Topical products such as balms, creams, and roll-ons are also considered effective treatments for psoriasis.
Whether you choose a full-spectrum, broad-spectrum, or isolate is also something to consider.
In this section, we will be looking at the different treatment options and helping you decide what will work best for you.
1. Oils, Gummies, or Capsules?
How you consume CBD for psoriasis is entirely up to you. Taking CBD orally with oil gives you the most flexibility as you can adjust your dose depending on how many drops are taken.
Consuming CBD-infused gummies, capsules, or other edibles makes it easier to regulate how much CBD you are taking throughout the day. Each edible or capsule has a specific dosage, making it easier to monitor your CBD intake.
2. Topical CBD products
Topical products such as creams, balms, and roll-ons can be applied directly to the skin. They have a positive effect on skin health and can be used to treat a variety of chronic skin conditions from eczema to psoriasis.
Cannabis users look for CBD topicals online from reputable sources to instantly relieve their pain or irritation and can be applied directly to the lesions, rashes, and scaly skin that psoriasis causes. They are also perfect for people that don't want to ingest cannabis products for their psoriasis.
3. Full-Spectrum, Broad-Spectrum, or Isolate?
Full-Spectrum CBD — Full-spectrum CBD contains not only CBD but all the other cannabinoids and terpenes that are present in the hemp plant, including THC. To abide by federal law in the U.S and laws across Europe, Full-spectrum CBD products contain less than 0.3% THC.
Broad-Spectrum CBD — Broad-Spectrum CBD is similar to full-spectrum. It contains all other naturally occurring cannabinoids and terpenes however THC is removed.
CBD Isolate — CBD isolate is a pure extract. Isolates contain CBD only without any extra cannabinoids or terpenes.
Full-spectrum and broad-spectrum products are considered more effective for a wider range of conditions because the cannabinoid profile is more expansive. Cannabinoids and terpenes work in synergy to create the entourage effect.
Research suggests that full and broad-spectrum CBD has more prominent health benefits than isolates [3]. This means they can be effectively used to treat not only psoriasis but other ailments as well.
CBD isolates (containing only CBD) are great for people that have negative reactions to other cannabinoids. Isolates are perfect for first-time users and in the case of psoriasis, are effective in both oral and topical products.
CBD Dosage for Psoriasis
There is no real dosage guide when using CBD for psoriasis.
If you have never used CBD before it is best to start with a low dose and work your way up gradually if you need to. Make sure to monitor how your body reacts to the CBD and stop upping the dose as you see results.
As for topical products, you should apply a small amount to an unaffected area of skin to ensure you do not react to anything in the cream, balm, or gel. Wait for 30 minutes to ensure your skin doesn't react to the product.
Once you've made sure there is no reaction, you can follow the application instructions on your chosen topical. For creams and balms, spreading a thin even layer over the affected area is enough to take effect, other products will need rubbing in to promote absorption.
Final Thoughts: Can CBD Help With Psoriasis?
Unfortunately, psoriasis is currently incurable but it's certainly treatable. CBD is a great way to combat psoriasis and treat your scars due to this skin condition.
Using orally consumed products alongside topical products will provide you with instant and ongoing relief from your symptoms. If you're new to CBD remember to start small and work up your dosages to see how you react to the substance.
Make sure you purchase your CBD from a reputable and reliable brand to ensure you are ingesting a safe product that will provide results.
It's also recommended that you speak to a dermatologist before using CBD to treat your psoriasis. Some medications you currently use may react with CBD, so be sure to check with your doctor if you're concerned about the medication you're using.
References Used In This Article
Jonathan D Wilkinson and Elizabeth M Williamson. (2006). Cannabinoids inhibit human keratinocyte proliferation through a non-CB1/CB2 mechanism and have a potential therapeutic value in the treatment of psoriasis. Japanese Society for Investigative Dermatology, 45(2): 87-92.
B Palmieri, C Laurino, and M Vadalá. (2019). A therapeutic effect of cbd-enriched ointment in inflammatory skin diseases and cutaneous scars. La Clinica Terapeutica vol, 170,2 (2019): e93-e99.
Ethan B. Russo. (2018). The Case for the Entourage Effect and Conventional Breeding of Clinical Cannabis: No "Strain," No Gain. Frontiers in Plant Science, 2018; 9: 1969.