Can I Take CBD While Breastfeeding? Is It Safe?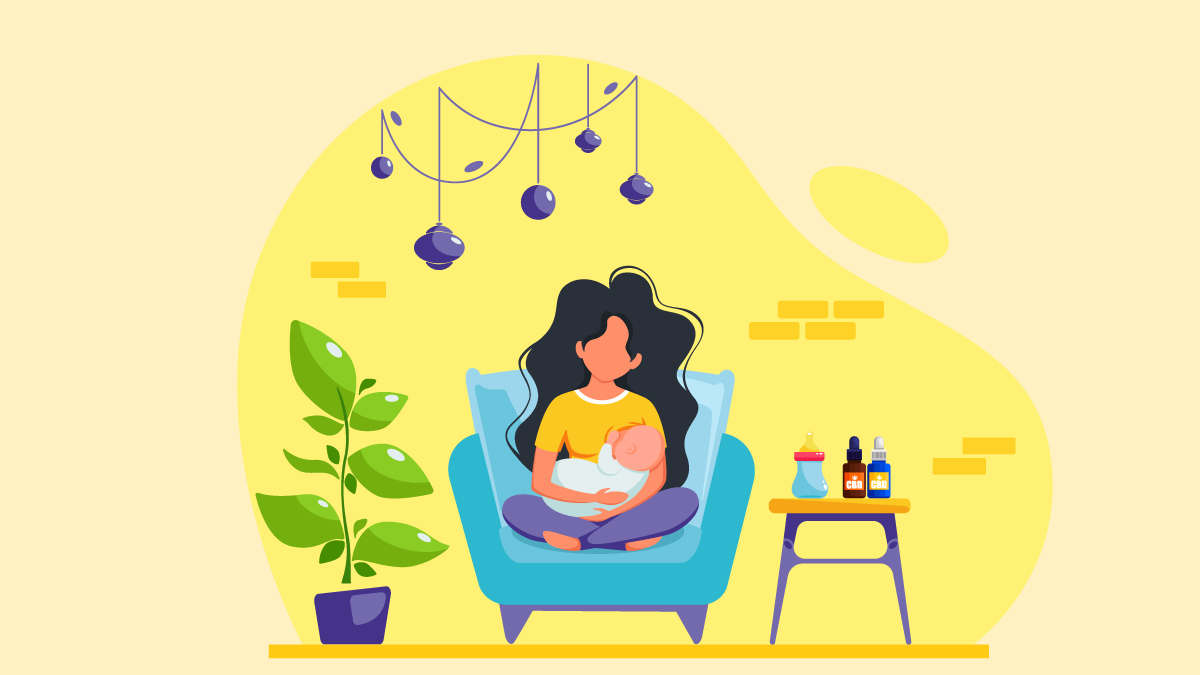 There are a lot of reasons why a new mother may want to use cannabidiol (CBD) supplements after giving birth.
Some of the most common reasons include anxiety, postpartum depression, pain, or insomnia — all of which are more common in the first few weeks after giving birth while adjusting to the many changes in routines.
It's important to remember that any of the CBD you take while breastfeeding will result in the transmission of some of that CBD to the baby.
Some mothers will take CBD or other supplements for their baby — especially for excessive crying and aggravation or to address inflammatory conditions the baby may be experiencing.
In this article, we'll cover the most popular reasons why a mother may want to use CBD for herself or her baby — and discuss the safety around using CBD and other related cannabinoids while breastfeeding.
Potential Uses of CBD While Breastfeeding
There are many reasons a woman may consider using CBD while breastfeeding. This is a delicate time in a woman's life because, for many, it marks the start of a new phase of life. This can be stressful for many new moms, as it forces them to change many of their daily routines and habits.
This change can negatively affect sleeping patterns, stress levels, and much more, leading to symptoms such as anxiety, depression, and insomnia — all of which can be addressed by CBD.
Additionally, one of the best ways to deliver active compounds to a baby is through =breast milk. So whether you're taking the supplement for yourself (leading to dosing of the baby as a side-effect), or dosing yourself as a side-effect to dosing the baby — the results will be the same.
Here's a breakdown of the most common reasons a woman may want to use CBD while breastfeeding, and how CBD may provide some relief for those symptoms.
1. Sleeping Issues
Insomnia is both a symptom and a condition. It's one of the most common health conditions in the world, especially among new parents.
There are many causes for postpartum insomnia, such as the frequent waking in the night to feed your baby as well as the widespread neurological changes happening as your body adjusts to a new lifestyle.
Babies are less likely to experience insomnia, but this is still entirely possible.
CBD is an excellent supplement for use with insomnia because of its sedative and relaxing effects.
Studies have shown that people taking doses larger than 200 mg of CBD can fall asleep sooner, stay asleep longer, and report feeling more refreshed the following morning than the control group taking nothing to help their sleep.
2. Depression
Postpartum depression is common — affecting roughly one in ten women. This condition can range in its severity — some women experiencing minor symptoms for a few weeks after giving birth; others can progress to chronic depression lasting several years.
CBD offers some unique benefits towards depression — however, you should always consult with your doctor before using anything to support depression — even herbal supplements, including CBD. There are several different causes for this condition, so it's essential to understand the cause before you start taking anything.
With that said, CBD does offer some powerful benefits to different causes of depression. There are also a few phase 2 clinical trials currently underway investigating the effects of CBD for different types of depression.
3. Anxiety
Around 4–11% of women during the postpartum period are diagnosed with anxiety — but many more remain undiagnosed. The fact of the matter is that anxiety is common among new parents in general, but especially women in the first few weeks immediately preceding the birth.
Some babies can experience different forms of anxiety — characterized by excessive crying, lack of sleep.
The most common cause of infant anxiety is anxious or stressed parents — babies are receptive to emotions. CBD is useful for anxiety-related symptoms because it's able to enhance the binding ability of a neurotransmitter known as GABA — GABA essentially acts as the brake pedal for the nervous system. When we start moving too fast (such as during an anxiety attack), GABA works to slow down neurological activity and help us relax.
Top-Rated CBD Oils For New Mothers
Not all CBD is created equal. There's a significant degree of difference when it comes to the quality of different CBD products.
If using this supplement while breastfeeding, it's essential to find something as high quality as possible, and preferably in lower potency.
Here Are Our Top 3 Recommended Products That Fit That Criteria:
Get 15% off all Royal CBD products.  Use code "CFAH" at checkout.
Royal CBD is a leader in manufacturing premium CBD oils — offering high-quality products made using organically-grown American hemp. A sample from each batch produced by this company is sent to independent labs for testing. This is used to prove the quality and safety of every bottle sold.
This company prefers to keep things simple, offering three key potencies to suit the needs of people using low-doses (such as breastfeeding mothers), moderate, and high doses(for more severe symptom management).
I would recommend going with the lower potency option (250 mg per ounce) — as it's better to use lower potencies of CBD while breastfeeding — especially if you've never used CBD before.
Hemp Bombs isn't as well-known for the quality of oils as a manufacturer like Royal — however, they do a great job of providing excellent quality on a large scale. This company sells every form of CBD you can imagine, from CBD oils and capsules to more obscure products like CBD syrups and tattoo ointments.
In general, Hemp Bombs is going to offer more affordable CBD options and the cost of some of the quality. With that being said, these products are still sent through the same quality control standards as the other top-rated brands on our list. They provide third-party testing on their oils, which assess the product for heavy metal contamination, pesticide and solvent residues, and measure the product for its cannabinoid levels.
3. CBDistillery CBD Gummies
CBDistillery is a Colorado-based company with a diverse product lineup. Out of all their products, my favorite is their CBD gummies — which come in three primary forms; full-spectrum, isolate, and nighttime formula (containing melatonin).
I recommend starting with the isolate-based CBD gummies as they're designed to be completely free from THC and other cannabinoids.
At 30 mg per gummy, the dose may be a little high for some users, and too high for breastfeeding mothers just starting. The reason I included this product on the list is that as a gummy, it's easy to split the dose into two 15 mg halves. You can even split the gummy into thirds if you want a lower 10 mg dose of CBD instead.
Look For CBD Oils with Third-Party Testing
Should you decide to use CBD post-pregnancy, here are some of the top-rated CBD brands to look out for.
It's critical that if you're using CBD anywhere near infants that the oils are confirmed to be free from heavy metal contaminants, pesticides, or solvents that may have been leftover from the manufacturing process.
Although CBD itself isn't thought to be unsafe for infants, these compounds most certainly are and should be avoided at all costs.
Low-quality CBD products often contain contaminants, so it's vital that you find a high-quality manufacturer that provided transparency through third-party testing with all of their products.
I recommend going with a company like Royal CBD when shopping for products online. This is an excellent example of a company with strong integrity for keeping harmful compounds out of their oils — and keeping everything transparent for every batch.
This company does extensive testing throughout the manufacturing process, before finally sending a sample for the final product off to an independent lab for testing.
Third-party labs provide a non-biased analysis of products to look for everything from heavy metals and pesticides, to microbial contaminants such as bacteria and fungi. They also have the cannabinoid levels tested to ensure the THC content is well below the safe threshold of 0.3%.
Is CBD Safe to Use While Breastfeeding?
Now that we know why someone may consider using CBD while breastfeeding, here comes the big question — is it safe for the baby?
Some substances will transfer from the bloodstream into the breast milk, which will of course, then go on to affect the baby.
Breast Milk is high in fatty substances, so compounds that dissolve in fat will transfer into breast milk much easier than water-soluble compounds.
CBD is a fat-soluble compound, meaning that it will easily transfer through breast milk and into the baby's digestive tract. Of course, the amount that transfers into the breast milk is minimal, but enough that it's something we need to consider before giving the green light.
So how does CBD affect babies?
Research is Limited & Opinions Vary
Unfortunately, there's almost no research currently available exploring the interaction between CBD supplementation in babies.
Older research exploring the interaction of other cannabinoids like THC has shown less than ideal results.
THC is considered unsafe for babies, so psychoactive forms of cannabis such as marijuana, THC-oils, or pharmaceutical preparations containing THC or THC-derivatives should be avoided while breastfeeding.
But CBD is another story altogether.
This compound isn't psychoactive and doesn't have the same interaction with neurotransmitters in the brain like serotonin — which is one of the main reasons why THC is not advised for babies or small children.
CBD works through entirely different mechanisms, acting as more of a balancing agent — helping to support homeostasis within the body rather than pushing the body in one direction or another.
What the Experts Say
Doctors' opinions on the use of CBD in infants will vary. Most doctors err on the side of avoiding the substance due to the lack of research to prove the substance is safe.
On the other hand, this is a problem we face with many supplements and medications.
Just because we don't have the research to prove something is safe, doesn't mean it's dangerous — so some doctors will exhibit caution while using supplements with small children and babies as long as there are no obvious signs that the supplement may be dangerous.
Despite many women using CBD while breastfeeding, there are virtually no reports of any direct consequences of this practice.
No negative case studies and certainly no clinical trials showing a negative effect have surfaced to date. This suggests the substance is safe to use while breastfeeding — but demands close observation by a pediatrician to keep an eye out for any signs of trouble.
There are even some studies showing CBD safe for small children (not infants) — even in high doses while being used to treat seizure disorders.
Moderation & Observation is Key
It's at your own discretion and the discretion of your doctor to decide whether or not CBD is the right supplement for you — especially while breastfeeding.
We recommend you mention your intentions to your doctor to get their opinion. Depending on why you want to use CBD, your doctor may give you the okay — especially if the benefits of the supplement outweigh any slight negatives.
However, even if your doctor does give you the okay to start using CBD while you continue to breastfeed, they'll likely recommend you to keep it in moderation.
Use the oils to support symptom flare-ups to help make your life more comfortable, but it's best to avoid the supplement when you don't need it.
Final Thoughts: Is CBD Safe While Breastfeeding?
There are many reasons why someone may choose to use CBD — from sleeping issues and anxiety to depression and inflammation.
Any of the CBD you take while breastfeeding can make its way into breast milk, and therefore your baby.
There are no clear indications that CBD is unsafe for babies — especially compared to some of the other cannabinoids like THC, which have been proven to be unsafe for newborns and young children.
Nevertheless, CBD still hasn't been proven safe either — which is why many doctors err on the side of avoiding the supplement.
If you choose to use CBD supplements for yourself or to treat your baby through breast milk, we highly recommend first consulting with your doctor to discuss your intentions.
Have you used CBD while breastfeeding? What was your experience like? Leave your comments below.
References
Russo, E. B., Guy, G. W., & Robson, P. J. (2007, August 1). Cannabis, pain, and sleep: Lessons from therapeutic clinical trials of sativexρ, a cannabis-based medicine. Chemistry and Biodiversity. Wiley-Blackwell. https://doi.org/10.1002/cbdv.200790150
O'hara, M. W., & Swain, A. M. (1996). Rates and risk of postpartum depression—a meta-analysis. International review of psychiatry, 8(1), 37-54.
R de Mello Schier, A., P de Oliveira Ribeiro, N., S Coutinho, D., Machado, S., Arias-Carrión, O., A Crippa, J., … & C Silva, A. (2014). Antidepressant-like and anxiolytic-like effects of cannabidiol: a chemical compound of Cannabis sativa. CNS & Neurological Disorders-Drug Targets (Formerly Current Drug Targets-CNS & Neurological Disorders), 13(6), 953-960.
Misri, S., Abizadeh, J., Sanders, S., & Swift, E. (2015). Perinatal generalized anxiety disorder: assessment and treatment. Journal of Women's Health, 24(9), 762
Banerjee, S. P., Snyder, S. H., & Mechoulam, R. A. P. H. A. E. L. (1975). Cannabinoids: influence on neurotransmitter uptake in rat brain synaptosomes. Journal of Pharmacology and Experimental Therapeutics, 194(1), 74-81.
Bakas, T., Van Nieuwenhuijzen, P. S., Devenish, S. O., McGregor, I. S., Arnold, J. C., & Chebib, M. (2017). The direct actions of cannabidiol and 2-arachidonoyl glycerol at GABAA receptors. Pharmacological research, 119, 358-370.
Campbell, C. T., Phillips, M. S., & Manasco, K. (2017). Cannabinoids in pediatrics. The Journal of Pediatric Pharmacology and Therapeutics, 22(3), 176-185.