Is CBD Legal in Arizona? AZ Hemp Laws (2023)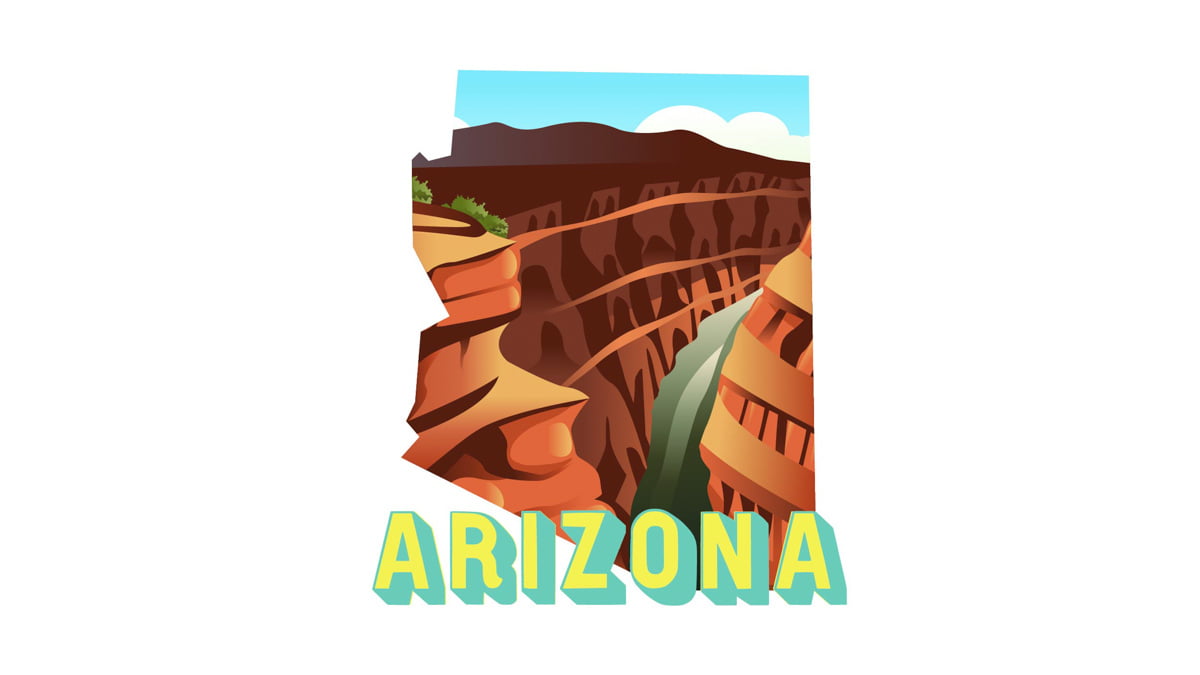 Are CBD products legal in Arizona?
The short answer is yes.
CBD derived from both hemp and marijuana is legal in Arizona — with some caveats.
In this guide, we'll discuss the legality of CBD within the state of Arizona and under the federal system.
We'll also discuss where to find trusted CBD retailers and how to buy the best CBD oil. We'll also direct you to the best CBD products in the state.
Is CBD Legal in Arizona?
All CBD products derived from hemp are legal in Arizona.
In May 2018, the Arizona State Legislature legalized industrial hemp when it approved SB 1098. This bill legalizes the use of hemp and all its parts, including CBD.
CBD became federally legal by passing the 2018 Farm Bill in December 2018. This bill legalizes industrial hemp, provided that it contains no more than 0.3% THC.
These two bills make it fully legal for Arizonans to consume CBD products without fear of prosecution from the law. This also means that residents in Arizona can now purchase any hemp-derived CBD product even without their doctor's prescription, as long as the THC content of the product doesn't exceed the THC limit.
Related: Legal Status of CBD in 50 States
Best CBD Oils in Arizona
Royal CBD Oil — Best CBD Oil Overall
Gold Bee CBD Oil — Best Vegan Hemp CBD Gummies
CBDistillery THC-Free Pure CBD Oil — Best Pure CBD Oil
1. Royal CBD Oil — Best CBD Oil
Get 15% off all Royal CBD products. Use code "CFAH" at checkout.
Royal CBD is one of the most-recommended CBD oil brands in the industry. They offer full-spectrum CBD oil of different strengths to suit different needs. You can find this oil in potencies including 500 mg, 1000 mg, and 2500 mg (30 mL bottles).
The THC content of these full-spectrum CBD oils is below the 0.3% threshold.
Royal CBD uses organically-grown, non-GMO, industrial hemp cultivated exclusively in the US.
The company sends a sample of every batch to a third-party lab for analysis to prove it's free from contaminants and that the company's potency claims are accurate. The certificates of analysis for each product can be found on their website.
2. Gold Bee CBD Gummies — Best Vegan Hemp CBD Gummies
Gold Bee gummies are 100% vegan and gluten-free. The company uses broad-spectrum CBD sourced from organically-grown, all-natural hemp extracts.
Their THC-free CBD gummies don't contain any artificial colorings or flavorings but use organic cane sugar and natural fruit flavors.
Each gummy contains 25 mg of broad-spectrum hemp extract.
3. CBDistillery THC-Free Pure CBD Oil — Best Pure CBD Oil
For CBD isolates without any traces of THC, you'll never go wrong with CBDistillery's pure CBD oil. Their product comes in three strengths — 500 mg, 1000 mg, and 2500 mg in 30 mL bottles.
They sourced their CBD from premium-grade, non-GMO hemp cultivated in the US by licensed hemp growers.
Their pure CBD oils have undergone rigid testing by an accredited third-party laboratory to ensure their quality, potency, and safety.
What Type of CBD is Right for You?
There are three types of CBD oil – pure CBD or CBD isolate, broad-spectrum CBD, and full-spectrum CBD oils.
Pure CBD oil (CBD isolate) is an oil that contains only CBD. It contains no other cannabinoids or terpenes.
Broad-spectrum CBD oil has CBD and other cannabinoids and terpenes, with the exception of THC.
Full-spectrum CBD oil contains all the cannabinoids and terpenes naturally produced in the hemp plant — including THC.
In Arizona, you can access all three types of CBD oil.
While there's some debate about which type of CBD oil is the best, most experts agree that full-spectrum hemp extracts are the strongest and have the most versatile set of effects.
Where to Buy CBD in Arizona
Looking for different CBD products in Arizona isn't hard. They're readily available online and from your local dispensary.
Most people order their CBD oils online and have them delivered. Most CBD companies will ship to Arizona for free.
When shopping for CBD products online, keep the following points in mind to avoid wasting your money on low-grade or ineffective products:
1. Look for the Product's COA
You'll know the product is legit if it has a valid COA done by an accredited laboratory.
This means the company submitted its products for testing and was found safe and free from contaminants.
The laboratory results also show that the product's cannabinoid content is accurate as advertised.
2. Avoid Brands That Make Too-Good-to-Be-True Claims
Avoid brands that make outrageous promises.
While CBD helps control several symptoms, it's not a cure-all for all types of diseases and disorders.
Trusted brands know this and will never mislead their consumers. According to FDA guidelines, it's illegal for a CBD company to make specific health claims about its products. If you find a brand that suggests their oil can cure or treat a specific disease — this is a red flag — move along to another brand instead.
3. Read Reviews
Reading reviews is one of the best ways to protect yourself from low-quality CBD oil.
Customer feedback and reviews give you a good idea of what to expect from the product. They also give you good information about CBD brands.
If you find most of the reviews online are negative or there are no reviews available, it could be a sign that the company you're looking at isn't reputable. There should be plenty of positive brands mentions and reviews online from a simple Google search.
Is Marijuana Legal in Arizona?
In November 2020, voters in Arizona voted in favor of Proposition 207. This statewide ballot initiative legalizes marijuana in Arizona for adult use (over the age of 21).
Adults above 21 can now legally buy, possess, and use marijuana for recreational purposes.
They can possess no more than 1 ounce of usable marijuana and no more than 5 grams of marijuana concentrate in their primary residence.
They're allowed to cultivate and grow up to six marijuana plants at their primary residence.
Adults are also allowed to transfer up to an ounce of marijuana to another adult, provided it's not done in public, given to a minor, or involves money,
The new law doesn't allow the use of marijuana in public places. Doing so is considered a petty offense.
Of note, marijuana and all its forms still remain illegal under federal law. It's still classified as a Schedule 1 drug, so transporting marijuana across state borders can land you in many legal troubles.
How Much Marijuana Can I Buy or Grow?
Registered patients are allowed to purchase and possess up to 2.5 ounces of usable marijuana per two weeks. They're also allowed to cultivate up to 12 plants if their residence is 25 miles away from the nearest dispensary.
Adult residents can purchase and possess up to 1 ounce of usable marijuana and no more than 5 grams of concentrates. They're also allowed to grow up to 6 plants in their private residences, provided it's for non-commercial purposes.
Is Smoking Marijuana Legal in Arizona?
Smoking marijuana in public — for medical or recreational use — is not allowed in Arizona. You can only smoke weed inside your own home or on private property.
Consuming edibles in public, though, is allowed, provided you're a registered patient and won't be driving or operating heavy machinery.
What Are the Types of Marijuana Allowed in Arizona?
Residents can consume smokable marijuana (flowers), vape, edibles, oils, tinctures, capsules, and concentrates. They're also allowed to use topicals such as balms and salves.
When Did Arizona Legalize Marijuana?
Marijuana for medical use was legalized in 2010.
As for recreational use, 59.8% of Arizonan voters passed Proposition 207 in November 2020. This makes Arizona the 13th state to have legalized marijuana for recreational purposes.
The effective date is still unclear, so if you're itching to get your hands on recreational weed now, know that you'll have to wait for a while.
Licenses to sell recreational weed will be issued to qualified dispensaries in January, and by February, we'll start seeing retail license approvals.
As for legal sales, there are talks that this could start around March 2021.
The expungement process may also be available for those convicted of possessing 2.5 ounces or less of marijuana or those caught growing six marijuana plants or less. This can start around July 2021.
Recommended & Trusted CBD Retailers in Arizona
Below are some of the recommended and trusted CBD retailers in some of Arizona's biggest cities. These are the most-reviewed dispensaries with high ratings.
CBD Stores in Phoenix
Urban Greenhouse Dispensary
Nirvana Center
Bloom Dispensary Phoenix
Bloom Dispensary Tucson
Earth's Healing South
Harvest HOC of Tucson Dispensary
CBD Stores in Scottsdale
Arizona Natural Selections of Scottsdale Dispensary
Harvest HOC of Scottsdale Dispensary
MedMen Scottsdale
CBD Stores in Mesa
GreenPharms Dispensary Mesa
The Mint Dispensary
Arizona Natural Selections of Mesa Dispensary
CBD Stores in Chandler
Sticky Saguaro
Oasis Cannabis South Chandler
Green Leaf Medical Marijuana Doctors
Final Thoughts — Buying CBD in Arizona
CBD can be derived from hemp or marijuana. All forms are now legal in the state of Arizona.
As a consumer, it's important to do some research first about the product, the manufacturer, and the store you're buying it from.
In our experience, online cannabis shops offer the best benefits in terms of quality CBD products, huge perks, and convenience.
When choosing CBD oil in Arizona, always go for laboratory-tested products made by trusted brands to make sure you're getting premium CBD products.