cbdMD Review & Coupon Code (2023 Update)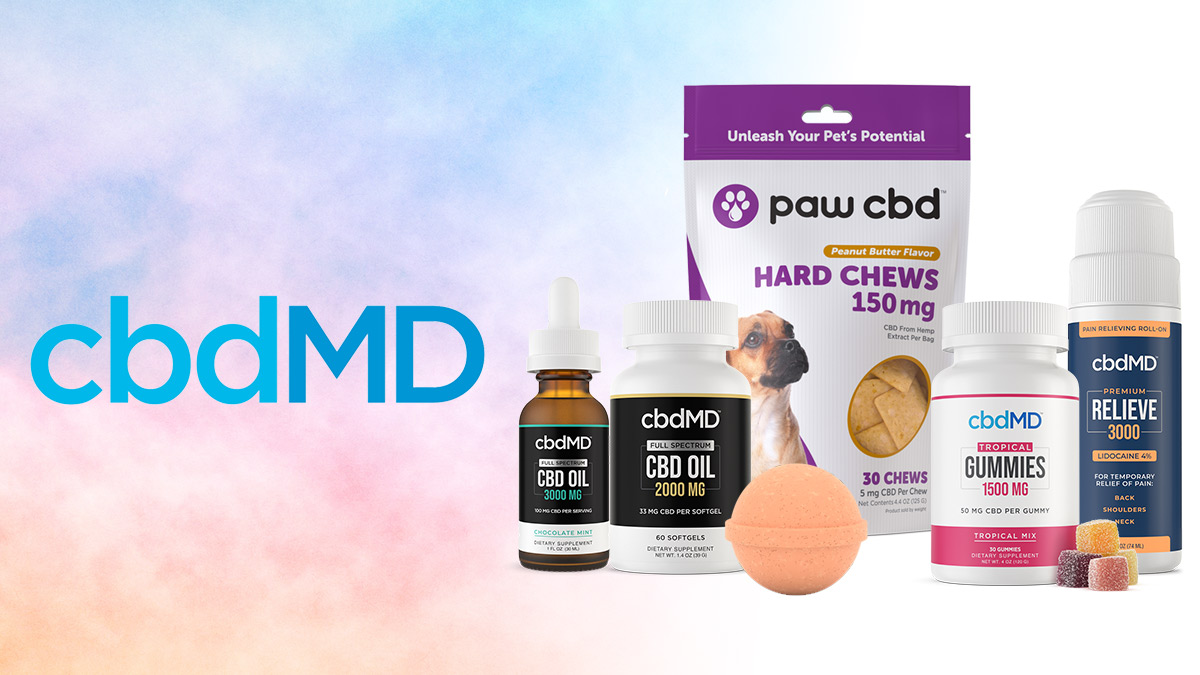 cbdMD offers a wide range of CBD products from high-quality ingredients. It's a company that prioritizes providing alternative options for everyday wellness. cbdMD says that its hemp plants are organic and cultivated in the United States. Their manufacturing process preserves important properties of hemp while leaving behind traces of THC.
This review will give you a transparent run-through on the cbdMD brand. Learn everything you need to know — from its background, feedback, up to its most popular products, and pricing.
In case you need more options, we'll also provide alternative brands with reputable names to cbdMD that can help you decide which one is the most suitable for you.
About cbdMD
Based in Charlotte, NC, cbdMD mainly manufactures and distributes its CBD products within the state. It's also known for its prominent partnerships with athletes.
The company uses organic hemp plants cultivated in the U.S. and utilizes a CO2 extraction method to collect the CBD and other beneficial compounds. This process helps to preserve the important properties in hemp while leaving behind all traces of THC. Such products leverage the entourage effect — a phenomenon where all cannabis molecules work together to enhance their effects on your wellness.
cbdMD offers a wide range of products like tinctures, gummies, topicals, bath bombs, and products for pets.
Quality & Transparency
cbdMD is fairly transparent when it comes to the nits and bits of its products. The company uses CO2 extraction — a premium standard in the industry — that preserves all the good stuff, including trace amounts of THC (below 0.3%). f
All products manufactured by the brand undergo third-party, ISO-certified, lab testing. The analysis is comprehensive — showing the cannabinoid and terpene profile, potency, and results for pesticides, heavy metals, bacteria, yeast, and mold.
Lawsuits & Warning Letters
FDA typically sends out warning letters to brands that have violated its rules Surrounding the marketing of CBD products As of now, cbdMD hasn't received a warning letter yet.
On the other hand, cbdMD has a couple of pending lawsuits. There was a class-action suit filed against the brand in California which challenged the legality of the brand's CBD collection. Allegedly, cbdMD's products were illegally sold as unapproved drugs.
Another class-action suit was filed by two customers in California due to an issue of data breaches in spring 2020. They claimed that cbdMD's negligence led to a leakage of personal information that was then used by other parties from fraudulent transactions.
By August 2021, both parties reached a settlement including a claim reimbursement to those affected by the breach and an improvement to the company's security.
Customer Feedback
The company has an A+ rating on the Better Business Bureau (BBB) website, although it's not yet accredited by BBB. In addition, cbdMD has 3.2 stars out of 5 which is based on five reviews on Trustpilot. Records show that the reviews they receive are 60% excellent and 40% bad.
Among the reviews, three of them state that the products are effective, high quality, and reasonably priced. However, the remaining two describe the products as ineffective and costly. There were also negative reviews on cbdMD having poor customer service. At least two customers report damaged goods while three customers complained about the difficulty in returning items or receiving funds.
Pricing
cbdMD offers a wide array of products and in most of its categories, it offers a range of flavors and potencies from 3000 milligrams (mg) to 7,500 mg. When it comes to pricing, it often varies based on the potency and size of the product.
The cheapest product that you can get — when bought separately — is the CBD bath bombs which cost $9.99. The most expensive item is their CBD oil tincture which is around $209.99 in 7500 mg.
cbdMD also offers discount programs:
Veterans program: 30% discount on every product for all active or retired members of the U.S. armed forces.
Disability program: 40% discount to customers who are legally disabled.
First responders program: 30% discount on all purchases to first responders (firefighters, police officers, emergency physicians, nurses, and emergency medical technicians).
Some say that the price range of cbdMD is relatively standard within the industry, however, some customers still find cbdMD's products expensive.
cbdMD Product Range
As mentioned earlier, cbdMD offers a wide range of products — which can be both a good and a bad thing. It's a good thing since customers can choose among multiple options and there's a better chance that they can find the exact product that suits them. The bad thing is having diverse choices can be baffling especially for first-time buyers.
Featured Product: cbdMD Full Spectrum CBD Oil Tincture
| | |
| --- | --- |
| Type of CBD | Full-spectrum |
| Potency Range | 750 – 3000 mg per bottle |
| Flavor Options | Natural, Mint Chocolate |
CBD oil tinctures are one of the simplest and most flexible ways to take CBD as part of your daily regimen. No wonder that it is one of the best-selling products of cbdMD. This category features a wide range of options from flavors to potency.
CBD oil tinctures can be added to your drinks, food, or straight under your tongue which gives the fastest results. In case you're worried about the taste, cbdMD says that the natural flavor has a light earthy flavor while the mint chocolate is great to be paired in any dessert.
Aside from the full spectrum hemp extract, the CBD is enhanced with CBG, CBN, and CBC. Be wary though, as it also contains a small amount of THC.
CBD Gummies
| | |
| --- | --- |
| Type of CBD | Full Spectrum |
| CBD Potency | 300 mg – 1500 mg |
| Flavors | Raspberry, Strawberry, Tropical, Orange |
| Formulas | Classic, Sour, Vitamin C-infused |
cbdMD also sells high-quality CBD Gummies in three formulas: Classic CBD Gummies, Sour Gummies, and Vitamin C-infused ones. The company claims that the gummies can help to manage stress, recover from exercise, and support general wellness due to their calming effect.
Each bottle contains 30 organic gummies, each containing 10 mg of CBD. It also comes in multiple flavors, including:
Raspberry
Tropical
Strawberry
Orange
CBD Gummies are the easiest and tastiest way to take CBD. It's also the best type of CBD edibles because it covers the hempy aftertaste of the CBD extract.
CBD Topicals
| | |
| --- | --- |
| Product Types | Cream, Gel, Lotion, Balm, Massage Oil |
| Type of CBD | Full Spectrum |
| CBD Potency | 300 mg – 3000 mg |
Since cbdMD is known for collaborating with athletes, its CBD Topicals come in many different formulas providing more options for various needs of the sportspeople. It has gels, creams, lotions, balms, oils, and even a lidocaine-enhanced formula. Lidocaine has anesthetic properties that are good for temporary relief.
CBD Topicals are commonly used for skin application for surface level relief on a localized area of the body. This topical product for pain is best used for relieving any discomfort felt in the affected area.
cbdMD also adds ingredients like arnica, vitamin B6, and MSM to make the products non-greasy. The potency of these CBD Topicals varies on every variant but overall, it ranges from 300 mg to 3000 mg.
CBD Capsules
| | |
| --- | --- |
| Type of CBD | Full Spectrum |
| CBD Potency  | 15 – 50 mg |
| Sizes | 30 ct – 60 ct. |
CBD capsules are one of the easiest ways to get CBD in your daily regimen. Unlike tinctures and topicals, it usually takes a lot longer for CBD capsules to take effect – as for cbdMD's CBD capsules, it takes about an hour. But its effect is longer compared to these fast-acting products.
cbdMD offers premium-quality capsules that come in 30 or 60-count bottles. Each pill has 15 or 50 mg of CBD depending on the selected option. You can get them as softgels or traditional pills.
The capsules are vegan and gluten-free.
CBD Bath Bombs
As for bath products, cbdMD offers one format — CBD Bath Bombs. A bath bomb is a compacted mixture of wet and dry ingredients – usually baking soda and citric acid as the base to give its "bomb effect" – molded into different kinds of shapes. This is often used to elevate baths by adding emollients and softeners to the water.
cbdMD's CBD Bath Bombs have six varieties: Resist, Rise, Rejuvenate, Romance, Restore, and Relax. These products constitute at least one of these scents: lavender, eucalyptus, and frankincense.
The cbdMD CBD Bath Bombs are the cheapest products that you can get on its website. You can buy a single bomb for $9.99.
CBD For Pets
When we say that cbdMD offers a wide range of products, of course, it also includes a complete line of CBD products for pets. Their Paw CBD products contain the same Superior Broad Spectrum formula that is used on their products for humans.
cbdMD offers a separate line of CBD products for dogs and for cats. For dogs, they have oil tinctures, hard and soft chews, chews for hips and joints, balms, shampoos, and peanut butter. For cats, only oil tinctures and soft chews are being offered.
Each variety of products has different concentrations depending on the product and the pet's weight. The concentrations are offered in milligrams and each product comes with suggested serving directions.
Other Products by cbdMD CBD Botanicals
cbdMD also offers skincare products, these are what they call "CBD Botanicals." This unique line of theirs offers multiple skincare varieties including:
CBD Face Oils and Serums
CBD Moisturizers
Clearskin (a "special" collection of products for oily skin types)
CBD Masks
CBD Exfoliants
CBD Body Products (body oil, body butter, and body sugar)
Their CBD Body Products are available in three scents: deep sea, coconut, and lavender. Each container contains 250 mg of products. On the other hand, CBD skincare products come in jars and bottles that weigh from 1 ounce (oz) to 8 oz.
According to cbdMD's website, each product is cruelty-free, paraben-free, non-GMO, gluten-free, and THC-free. They also claim that most of their products are vegan, although these products were not specified.
Pros & Cons
Pros
Cons

High-quality products
Non-GMO hemp
Third-party testing
Bundle packs

Expensive than other brands
Wide range of products with limited information on some
Limited product information
Poor customer service
Class action lawsuit due to weak data security
The Pros
High-Quality Products
cbdMD is known for making high-quality products. The company uses medical-grade laboratories and has stringent internal controls to ensure consistent quality. cbdMD is also transparent when it comes to its farming, extraction, and lab-testing procedures.
Non-GMO Hemp
cbdMD products are made with organic, non-GMO hemp grown in the U.S. Domestic hemp plants usually come in a higher standard than the ones sourced from overseas. Unfortunately, cbdMD doesn't disclose any specific details about their farms.
Third-Party Testing
The whole cbdMD line-up goes under ISO-certified, third-party testing. Each certificate of analysis (COA) shows the cannabinoid and terpene profile, potency, and results for pesticides, heavy metals, bacteria, yeast, and mold. The lab results are available on the cbdMD website for customers to review.
Bundle Packs
A bundle pack is a convenient option if you are a new user. cbdMD is known for having a wide range of products which can be quite overwhelming for beginners. Although, this may not be an ideal option if you don't want to spend too much on new products. The company offers two types of bundles: build-your-own bundle and pre-built bundle.
The Cons
Expensive Products
Many customer and article reviews commented on the price range of cbdMD's products. Compared to other brands, cbdMD is an expensive brand — even for the quality it provides.
Wide Range of Products
While it's a good thing that cbdMD has products for many different needs, this abundance can be confusing for beginners. The brand has different products with categories that have their own sub-categories — which are anything but convenient to browse.
Limited Product Information
The website doesn't provide enough information on some products. For example, the CBD vapes don't have many details except for the ingredients. Reviews have also shown that the Paw CBD products come without dosing instructions, which can be frustrating for pet owners who are trying CBD with their furry friends for the first time.
Poor Customer Service
On Trustpilot, cbdMD has 3.2 stars out of 5 based on five reviews. On Sitejabber, the company garnered a rating of 2.48 stars from 27 reviews where most complaints are about customer service problems. The complaints range from unresponsive customer staff to issues with shipment and packaging.
Lawsuit for Data Breach
In 2020, a law firm filed a class-action lawsuit on behalf of customers who were affected by a data breach on cbdMD's platform. According to cbdMD, the platform was hacked with malicious code that enabled customer information to be accessed by an unauthorized third party.
This negligence does not only stop in failing to prevent the data breaches but the company also didn't detect the breaches until six months after, as stated in the lawsuit. The moment cbdMD discovered the problem, it informed its shareholders first — instead of prioritizing tapping the affected customers.
While this class action lawsuit has been settled in 2021, it is still alarming how cbdMD has been careless with its customer information. For a company that has high-quality products, it should also focus on ensuring quality security measures for the sake of customers' safety.
Best Alternative Options for cbdMD
Now that you've been informed by the nits and grits of the cbdMD as a company and its products, you can also check these top 3 alternative options that we've selected for you. If you're looking for a brand that is less expensive but still high-quality, offers enough range of products, and doesn't have any lawsuits, it's highly recommended that you check these brands out.
Get 15% off all Royal CBD products. Use code "CFAH" at checkout.
Pros
Cons

Organic, non-GMO products
Supercritical CO2 extraction
Sustainable farming
High-potency products available
Natural flavorings
Free shipping
User-friendly website

Limited product range (but convenient for new users)
Not available locally
Royal CBD is an established CBD brand that has been offering premium-quality hemp extracts since 2018. It has been tagged as one of the best CBD brands since it's popular for having highly potent oils made from organic hemp. Here is a list of Royal CBD products that you can find on its website:
CBD oils
CBD capsules
CBD gummies
CBD honey sticks
CBD topicals
CBD for pets
The Royal CBD line is ensured to be all-natural and organically made from non-GMO hemp grown in the local farms within the U.S.
The company uses CO2 extraction to provide consistent potency and purity throughout batches. You can choose from full-spectrum CBD, broad-spectrum CBD, and isolates. Each product is meticulously tested in an independent laboratory. The certificates of analysis feature a complete profile, including the results for potency, cannabinoid and terpene profiles, and potential contaminants.
The company's products have been mentioned in prestigious magazines, such as We Be High, LA Weekly, SF Weekly, and Observer.
Pros
Cons

Organic hemp from California
CO2 extraction
Infused with superfoods
Full-spectrum and broad-spectrum CBD
Up to 2500 mg of total CBD
Flavored with natural ingredients
Pet products
30-day Money Back Guarantee

Limited potency options
No isolate-based products
Gold Bee has been creating a buzz in various areas due to its high-quality formula. This company also specializes in full-spectrum hemp extracts for humans and pets.
It is known for locally-grown hemp, raw honey extract, and organic coconut oil. Before transitioning to selling CBD products, Gold Bee had been making organic superfoods infused with wildflower honey.
You can choose from the following formats:
CBD oils
CBD gummies
CBD honey sticks
CBD capsules
CBD topicals
CBD pet products
Similar to Royal CBD, the company also utilizes CO2 extraction, the golden standard in the hemp industry.
CBDPure
Pros
Cons

Organic hemp from Colorado
Full-spectrum products
Well-thought-out formulations
90-day Money Back Guarantee
One of the pioneer brands in the USA

Narrow product range
Lack of flavored products
Premium pricing
CBDPure is a family-owned company that is considered to be one of the first players to enter the CBD market. Surprisingly, it has a narrow product range for such a veteran.
However, 'narrow' isn't always a bad thing. What makes this brand interesting is that it maintains a simple product selection but focuses on mastering these formulations. To date, CBDPure offers four product types:
CBD oils
CBD capsules
CBD cream
CBD for pets
All CBDPure products are full-spectrum and sourced from organically-grown hemp plants from Colorado and Washington farmers. The company also uses a CO2 extraction process to preserve the natural cannabinoids and terpenes found in the hemp extract.
From well-thought-out formulas to unmatched transparency and a generous return policy, CBDPure gives you plenty of reasons to order from its website.
The Takeaway
cbdMD is known for having a wide range of products such as oil tinctures, gummies, topicals, capsules, botanicals, drinks, bath bombs, botanicals, and CBD for pets.
While having this huge amount of choices may be a great opportunity for mixing and matching, it can be overwhelming especially for beginner users. To compensate for the confusing varieties, cbdMD offers bundle packs that are either pre-built or customizable.
Based on the reviews from customers and several articles available online, this brand may be a relatively good choice if you are an experienced user who already knows what you are looking for and can sift through the multiple options with ease. That is if you don't mind the high cost and the recent lawsuit.
Have second thoughts with cbdMD? Try considering our recommendations for the best alternative options for this brand. Doing so will give you a bigger picture and help you decide which brand provides the best value for the money.
Have you tried any cbdMD products? What are your thoughts about this brand? Let us know in the comments!