Eagle Hemp CBD Review & Coupon Code (2023 Update)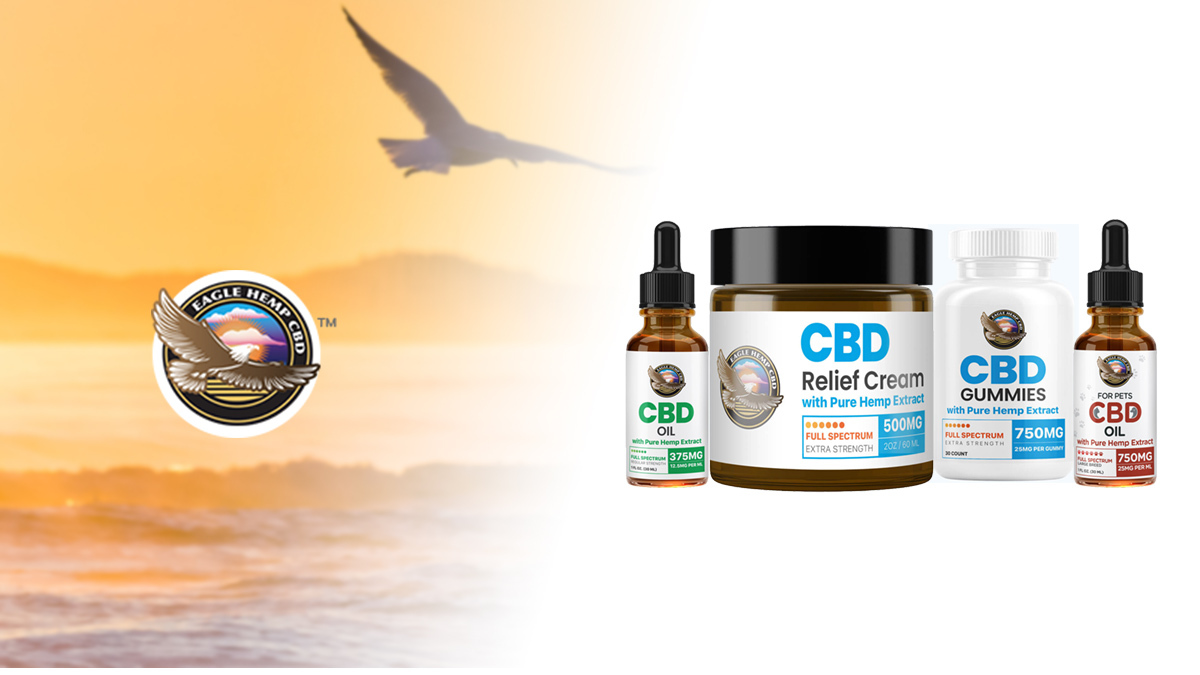 Some CBD scammers are incredibly good at disguising themselves as legitimate brands who have your best interest in mind.
They will lure you with fake testimonies from celebrities, offer "free trials," sell their products at a bargain price, and do whatever it takes to drain your hard-earned money just to send you… nothing.
And God forbid you to try to get a refund — they'll make the procedure a true hell.
Today, we shed light on Eagle Hemp, a CBD scam brand that uses malicious practices to confuse you into thinking that you're buying from a reputable manufacturer.
Read on our Eagle Hemp review and protect yourself from this kind of scam.
What Is Eagle Hemp?
Eagle Hemp is a CBD company located in Tampa, Florida. The brand sells its own CBD products and is also the manufacturer for white-label companies. Both departments have different web addresses.
In its online retail store, Eagle Hemp has a limited product choice, including CBD oil, CBD gummies, CBD topicals, and CBD pet tincture.
The company claims to use "the finest hemp" from American farmers but it doesn't specify which states and what farms it gets the plants from.
But, things get even more suspicious when you go down the rabbit hole.
Here's the truth about Eagle Hemp.
Is Eagle Hemp Legit or a Scam?
Eagle Hemp is 100% a scam CBD company that uses false celebrity endorsements, and most of the time, it doesn't even ship its products to customers.
The brand has a 1.5/5 star rating on Better Business Bureau (BBB) with almost 100 complaints either about the quality of the products or the lack of customer service.
Google reviews indicate the same, with most reviewers claiming they've been cheated by Eagle Hemp, reporting incidents such as unexpected charges to their credit card, problems with refunds, and difficulties contacting the company.
BBB contacted Eagle Hemp in June 2021 but hasn't received a response to date.
The Type of Scam: Fake CBD Company
Fake CBD companies are one of the biggest pains of this industry. Since the market isn't regulated, shady businesses are popping up one after another every month. 
When you purchase from a fake CBD company, it will either use the website to steal personal and financial information from you — or collect a myriad of orders and disappear without sending them.
There are several tell-tale signs that indicate a fake CBD business.
Let's take a look at them.
How This Scam Works
Fake CBD companies work by confusing the customer that they're buying from a legitimate brand with a lot of positive reviews and testimonials from high-authority personas.
How to Spot this Scam
One of the biggest indicators of a CBD scam company is a fake celebrity endorsement. Eagle Hemp uses celebrities like Martha Stuart and Whoopi Goldberg to advertise its products — although none of them have signed up for this.
Using a person's image without their consent is a felony, not to mention that it leverages the principle of authority to convince people who follow celebrities to fall for Eagle Hemp's offer.
Eagle Hemp also claims to have been featured in Shark Tank. The problem with this claim is that no CBD brand has been included in the show to date.
Aside from that, product descriptions don't match the product type. For example, when you take a look at the bottle of gummies, the list of ingredients says "MCT oil and Full Spectrum Hemp Oil," and the instructions recommend contacting your veterinarian before taking the product.
Lies after lies.
Of course, everything is done under the cover of inch-deep assurances, such as "ultra-pure CBD oil," "the finest hemp," "100% natural," etc.
Last but not least, Eagle Hemp has absolutely no legitimate reviews on the web. All of them are written as backup articles to rank high for phrases like "the best CBD oil" or "the best CBD gummies" and lure as many potential customers as possible.
Why We Don't Recommend Eagle Hemp
Everything from fake CBD products to scandalous customer service and unfulfilled refunds is wrong about Eagle Hemp. As I said, the company is a straight scam, and the owners even don't seem to bother to make appearances.
Below I show you the biggest red flags:
Orders Aren't Sent to Customers
The major problem with Eagle Hemp is that the brand doesn't send most of their orders to customers. When you take a look at the BBB website, you'll notice that most of the complaints relate to shipping issues aside from the quality.
For example, one customer claims he purchased CBD for his father at $39.99 per bottle and was charged $199.99 without any explanation. The grande finale? The order has never made it to the customer.
They Will Bill You Extra for Products You Didn't Order
There are plenty of reviews regarding billing issues with Eagle Hemp. The company has a pattern of charging its customers with extra money — sending products they didn't purchase.
According to another customer that left her complaint on the BBB website, she ordered a product sample but received 5 bottles of full-sized CBD oil and her credit card was charged with $199.00.
Google reviews confirm this problem. Many users labeled as "Local Guides" call the place a rip-off, saying they paid for one product, and about 2-3 days later, someone took $199.00 off their bank account.
Fake Customer Service
Reputable companies are known for caring customer service that is responsive and knowledgeable about their products.
When it comes to fake CBD brands, it's the exact opposite.
Eagle Hemp has virtually no customer service. Although there's a phone number and e-mail address listed in the footer, customers are saying the company doesn't pick up their calls, even though they've been calling within working hours.
Emails are also left without a response most of the time.
Extremely Difficult Refund Procedure
Sometimes, you'll receive information on how to return your order to get a refund. The information looks legit; there's even a tracking number and you'll receive a confirmation email once the package makes it back to Eagle Hemp.
Needless to say, you won't get your cashback. After scrolling down through a few pages of BBB and Google reviews, I've noticed a pattern that the company postpones the refund, asking the customers to wait 7 to 14 days and check their bank account every day. But in the end, none of them received their refund.
Forged Testimonies from Celebrities
As mentioned, fake companies use fake celebrity endorsements to leverage sales before disappearing from the market. People tend to have more trust for celebrities or public figures that have some sort of authority. However, these testimonies are almost always forged, with a sheer intent to persuade you into buying from these companies. Eagle Hemp does the same and it bugs me to see that no regulatory body has cracked down on the company to date.
Fake Mentions in Media Outlets
When you see that a company has been featured in magazines like Forbes, High Times, LA Weekly, Observer, or Yahoo, it automatically gains reputation in your eyes. After all, mentions in big media outlets don't come out of the blue.
But, have you ever verified these claims? When you search for Eagle Hemp on the above websites, you'll see absolutely NOTHING. 
Did those websites delete their stellar reviews? No, they've never been there in the first place.
Tragic Customer Reviews on BBB and Google
You can have as many positive reviews as you want on your own website, but sometimes, a look at third-party websites like blogs, Reddit threads, and online ranking can give you a brutal crash test.
That's exactly the case with Eagle Hemp. With hundreds of reviews on BBB and Google, its average rating is 1.5/5 — nothing to add here.
You can count the positive ones on one hand, and they look as if they were written by the company's employees.
Alternative Options to Eagle Hemp
Now that you know Eagle Hemp is a scam, you're probably wondering where you can find CBD products that are the real deal.
Here are the top 3 brands that make honest, high-quality, and third-party tested CBD products from hemp grown on American farms.
Pros
Cons

Organic, US-grown hemp

Supercritical CO2 extraction

Broad product range

High-strength options are available

Well-designed formulas

Flavored with natural ingredients

Complete third-party testing profile

30-days Money Back Guarantee

A little bit more expensive than the market's average (but still worth the price)

Not available locally
Royal CBD is a premium manufacturer specializing in full-spectrum CBD products from organic hemp. Established over 3 years ago, this company offers a great product range such as their high-grade CBD oil for pain, CBD-infused edible gummies, and capsules, for both experienced users and beginners alike.
The company uses hemp grown in Colorado to ensure top-quality sourcing material. The plants are then extracted with supercritical CO2; this is to make sure the products remain pure and potent. Royal CBD tests its extracts three times, including the potency, cannabinoids, terpenes, and common contaminants.
You can choose from the following products:
CBD oil

CBD capsules

CBD edibles

CBD gummies

CBD honey sticks

 CBD topicals

CBD for pets

CBD pet oil

CBD dog treats
All these products are available in various potencies, flavors, and formulations to cater to different types of consumers.
Pros
Cons

Organic hemp from California

CO2 extraction

Infused with superfoods

Full-spectrum and broad-spectrum CBD

Up to 2500 mg of total CBD

Flavored with natural ingredients

Pet products

30-day Money Back Guarantee

Limited potency options

No isolate-based products
Gold Bee transitioned from making superfoods like organic honey and coconut oil to producing hemp extracts infused with these two ingredients. The brand comes from Nevada and has partnered with local farmers to create its proprietary blend of high-CBD strains that also boast exceptional terpene profiles.
Gold Bee offers a decent product selection, including:
CBD oil

CBD capsules

CBD edibles

CBD gummies

CBD honey sticks

CBD roll-on

CBD for pets

CBD pet oil

CBD dog treats
Similar to Royal CBD, Gold Bee tests its products for quality and safety in an ISO-certified laboratory. You can view the lab reports on specific product pages.
3. CBDPure
Pros
Cons

Organic hemp from Colorado

Full-spectrum products

Well-thought-out formulations

90-day Money Back Guarantee

One of the pioneer brands in the USA

Narrow product range

No edibles

Lack of flavored products

Premium pricing
CBDPure is one of the most popular companies in the CBD space. The brand started out in 2016 with a humble selection of basic CBD products, such as:
CBD oils

CBD capsules

CBD cream

CBD for pets
Unlike other pioneering brands, CBDPure hasn't expanded its product line-up over time. You won't find any novel formats like nano CBD, CBD vape pens, carts, or even CBD oil for vaping, but if you're looking for some basic formats crafted into premium quality, CBDPure is a solid pick.
This is also one of the most honest and transparent companies on the market. From hemp farming to extraction methods and lab-testing practices, CBDPure discloses that information on its website. You can also read its blog to educate yourself about CBD, its properties, and how to use CBD products in daily supplementation.
In case you weren't satisfied with your products, you can send them within 90 days for a full refund. That's a sign CBDPure is confident about the quality of its products.
Final Verdict: Eagle Hemp Is One of the Scammest Companies on the Market. Beware!
Eagle Hemp pretends to be a premium hemp manufacturer that offers both retail products and white label services to aspiring CBD brands. However, when you take a closer look at the company, it meets literally every criterion to call them a scam.
Eagle Hemp claims to provide third-party lab reports for its products, but when you click on them, the hyperlink takes you to the top of the page.
Product descriptions are inaccurate and the photos don't match the products for the most part. 
Not to mention fake celebrity endorsements and a plethora of negative reviews on Better Business Bureau and Google.
The majority of complaints refer to undelivered orders, extra charges for products that haven't been purchased, and customer service that exists only theoretically because they don't answer or return calls.
If you've been cheated by Eagle Hemp, you're going to have a hard time trying to take your money back. And even if you do, don't expect any explanation from the company — they're too busy luring new customers with promises of "ultra-pure CBD oil."