Finest Labs Review & Coupon Code (2023 Update)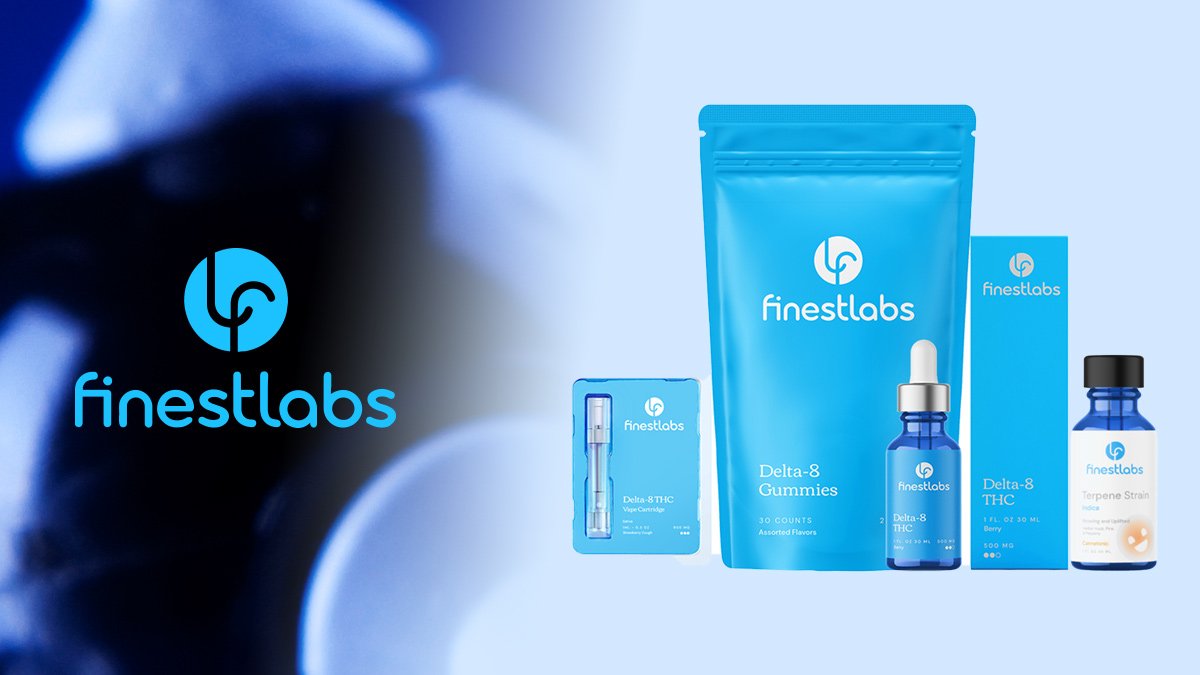 Finest Labs is a cannabinoid company deeply rooted in science. They're dedicated to using some of the most advanced extraction technologies and the country's most talented biochemists to create better products that everyone can enjoy.
Terpene extracts are Finest Labs' primary focus, but the company also makes a variety of hemp-derived delta 8 extracts.
This comprehensive guide will help you better understand why we believe Finest Labs is one of the best cannabinoid vendors on the market right now.
About Finest Labs
Finest Labs is an online retailer doing business out of Las Vegas, Nevada.
This brand is a mainstay in the hemp-derived cannabinoid business, focusing on creating top-quality D8 products for users to buy in an environmentally responsible and sustainable way. The company accomplishes this by using advanced extraction methods that don't include any harmful solvents or gases. 
The company's mission is to transform the hemp industry using cutting-edge science to reduce the environmental impact without sacrificing the quality of its products.
Finest Labs' branding reflects its core ideals, with simple, elegant packaging evoking their no-nonsense, scientific approach. You won't find any unnecessary ingredients or fillers in any products from Finest Labs.
The brand currently focuses on its lineup of terpenes and delta 8 THC but has been experimenting with promising new cannabinoids like CBC, CBG, CBN, and more. 
All of Finest Labs' offerings are created using advanced extraction methods and state-of-the-art AI optimized processes that allow them to cut operating costs, increase their efficiency, and produce pure isolates without the need for dangerous chemicals. 
These practices are validated by extensive third-party testing to ensure Finest Labs' products meet its strict quality and purity requirements. You can find detailed, easy-to-read lab reports published alongside every Finest Labs product. This makes Finest Labs one of the trustworthy delta 8 THC companies to buy from locally and online.
Finest Labs Product Range
Finest Labs sells delta 8 tinctures, gummies, and vape cartridges, and a large selection of terpenes. Here is a quick look at the company's products.
Finest Labs' delta 8 tincture is one of its best-selling products and, while it's impressive on its own, it owes much of its popularity to the terpene lineup  — more on that in a bit.
The delta 8 tincture comes in a standard 30 mL dropper bottle and contains 500 mg of pure delta 8 THC distillate suspended in MCT carrier oil. A bit of quick arithmetic reveals that each 1 mL drop contains 15 mg of concentrated delta 8 THC, making it easy and convenient to adjust your dose size.
Unfortunately, it's only available in one flavor: berry. However, the flavor is exceptional, and many people find that it tastes significantly better than most tinctures on the market.
Finest Labs' tincture is a little pricey compared to similar products from other companies. However, it contains high-quality, pure delta 8 extract and opts for MCT oil instead of lower quality options like alcohol or glycerine, making this a case of "you get what you pay for."
Finest Labs sells its tincture in packs of one, two, or three bottles, with the two and three packs offering a discount and better bang for your buck.
Product Specs:
| | |
| --- | --- |
| Total Delta 8 THC | 500 mg |
| Extract Type | Delta 8 distillate |
| Delta 8 Potency | 15 mg/mL |
| Flavors | Berry |
One area where Finest Labs completely outclasses the competition is terpene blends. Terpenes are aromatic compounds that give everything from pine trees and citrus fruits to hemp and marijuana their distinctive scents and tastes.
Finest Labs produces an extensive line of 24 hemp-derived terpenes that give people the ability to mix their own unique blends at home. While terpenes themselves don't contain any THC or CBD, they are perfect additions to creams, salves, and Finest Labs' tincture to create the ideal entourage effect.
These terpenes come in a staggering number of flavors, from ordinary options like strawberry banana and cherry pie, to more outlandish — but equally delicious — options like wedding cake and blue cheese.
Even though cannabis-derived terpenes don't contain THC and are therefore not psychoactive, many people find the aromas therapeutic and enjoy the non-psychoactive relaxation. Finest Labs' website has a helpful overview of each terpene it offers, rating each on how well they promote sleep, energy, creativity, focus, relaxation, and mood.
The one downside to Finest Lab's terpenes is that they're expensive. If you're interested in delta 8 products only and don't want to craft your own products at home, you might not see the utility in purchasing these. However, they're a must-have for curious people looking to inject some personality into their delta 8 use.
Finest Labs Terpene Strains: 
Cannatonnic, Skywalker OG, Forbidden Fruit, Blue Dream, Pineapple Express, Grandaddy Purple, Berry Gelato, Strawberry Cough, Purple Punch, Green Crack, Grape Ape, Cherry Pie, Blue Cheese, SFV OG, Fire OG, Bubba Kush, Dogwalker OG, Girl Scout Cookies, Wedding Cake, Strawberry Banana, Do-si-dos, King Louis XIII, Mimosa, & Super Sour Diesel. 
Any delta 8 company worth its salt sells gummies. They're many people's favorite way to take delta 8 THC because they're convenient to carry, taste great, and are usually less expensive than other mechanisms.
Finest Labs' gummies check all of those boxes, providing 25 mg of delta 8 THC per great-tasting gummy. Like their tinctures, these gummies come in just a single flavor, strawberry.
The gummies can be purchased in one, two, or three packs. Each pack contains 30 gummies and is available at a great price from their website, with the two and three-packs coming with a slight discount.
These gummies are made from 100% industrial-grade hemp and contain less than 0.3% delta 9 THC in accordance with federal limits. They're also vegan-friendly and contain no harmful additives or chemicals.
Finest Labs' gummies are perfect for people looking for premium D8 chewable gummies that are backed by lab results to confirm potency, purity, and safety. The company updates its lab results with each new batch, so you always know exactly what you're getting.
Product Specs:
| | |
| --- | --- |
| Total Delta 8 THC | 750 mg |
| Extract Type | Delta 8 distillate |
| Delta 8 Potency | 25 mg per gummy |
| Flavors | Strawberry |
Finest Labs also carries vape cartridges for people who prefer to inhale their delta 8 THC. Each cartridge contains 900 mg of pure delta 8 along with Finest Labs' berry terpenes to give it a smooth, satisfying flavor. If you are looking for top-quality D8 vape carts, you might want to consider Finest Labs' product.
Accessibility is an important part of Finest Labs' identity, and their vape cartridges are the perfect example. They use universal 510 threading, making them usable with standard vape batteries. Their vape cartridges are high quality, long-lasting, and manufactured with fast-heating technology. They have simple, clean ingredients, and you can always verify the cannabinoid content on the posted lab results, which are always up to date.
Finest Labs' vape cartridges are fairly priced, given their stellar construction and usability. Each cartridge provides approximately 225 draws with about 4 mg of delta 8 THC per draw.
Product Specs:
| | |
| --- | --- |
| Total Delta 8 THC | 900 mg |
| Extract Type | Delta 8 distillate |
| Delta 8 Potency | 5 mg per puff |
What Finest Labs Does Well
Finest Labs' dedication to innovation is their most defining feature. They've taken significant steps to uphold the highest quality standards for production while reducing their waste, and it shows across their entire product lineup.
From the comprehensive independent lab results published on their website to the fact that their production facility has GMP (Good Manufacturing Practices) and ISO (International Organization for Standardization) certifications, everything about Finest Labs' approach to cannabinoids exudes quality.
Its terpenes specifically exemplify its dedication to producing high-quality cannabis extracts. Finest Labs' terpene lineup is second to none in variety and quality.
All of its products contain cannabinoids extracted using solventless methods and environmentally-friendly methods that represent the cutting edge of extraction technology.
Negatives of Finest Labs
Finest Labs is an impressive company, but it's not perfect. 
Its tincture, gummies, and vape cartridges are currently only available in one flavor, although more are on the way, according to the company's website.
Speaking of product selection, Finest Labs only really sells four things: delta 8 tinctures, gummies, vape cartridges, and terpenes. People looking for more niche items will probably be disappointed by the limited selection.
Having a narrow focus lets Finest Labs maintain its impressive levels of quality but sacrifices variety in doing so.
Key Takeaways: A Top-Level Brand With Potential
Finest Labs is already one of the major players in the delta 8 space and one of the primary wholesalers of terpene products. Many of the other brands we've reviewed on CFAH use Finest Lab's terpenes to flavor their products. 
What sets this company apart is its dedication to the science of cannabis extraction. The founder has a ton of experience and is well-known in the cannabis extraction sphere already. This is a significant upside for users looking to avoid mistakenly ordering impure, impotent, or contaminated products (something that's all too common in this space). 
Despite the lower product selection compared to other brands, we have high hopes that Finest Labs will continue to grow and produce an expanded lineup of high-quality products in the coming years.