Hemp Oil vs CBD Oil for Dogs: What's the Difference?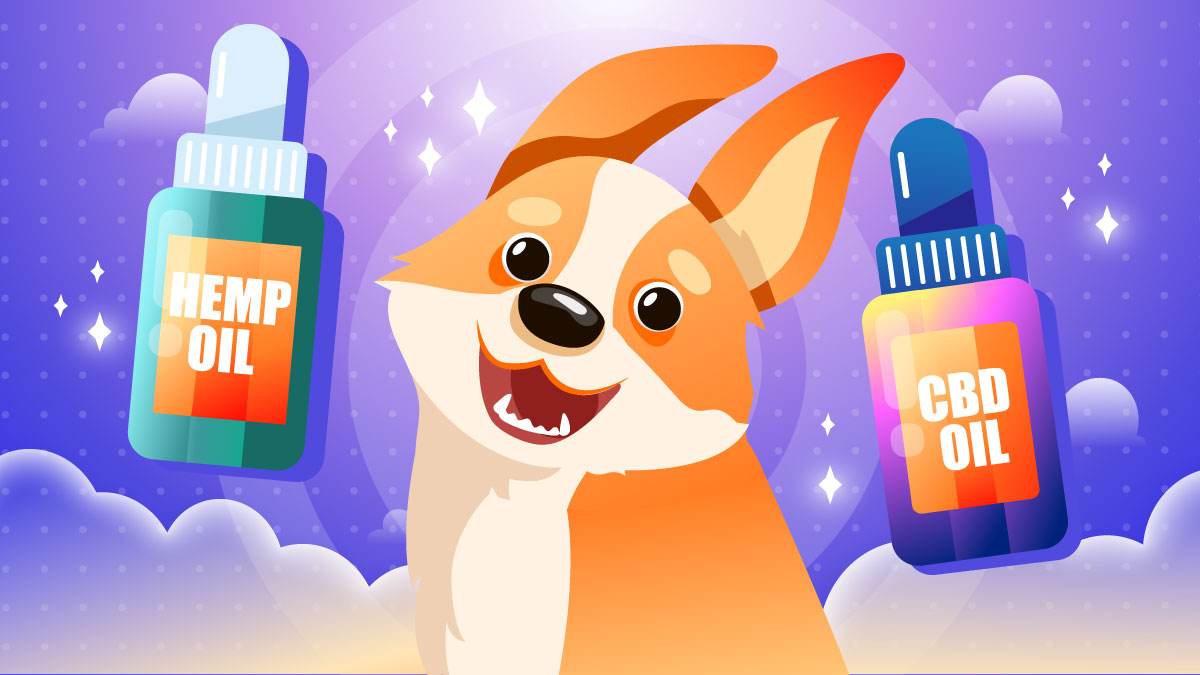 For someone with little to no experience as a pet parent, telling the difference between hemp oil and CBD oil for dogs can be a hard nut to crack.
After all, both products come from hemp.
Both are oils.
So, aren't just terms like 'hemp oil' and 'CBD oil' thrown interchangeably to describe the same extract?
We wish it could be that simple — but it's not.
Some shady manufacturers use this lack of knowledge to their advantage, selling overpriced hemp seed oil as CBD oil, with ridiculously high potencies listed on labels.
In this article, we look deeply into the differences between CBD oil and hemp oil: how they're made, what their benefits are, how to use them, and whether or not they're safe for dogs and other animals.
Let's get this settled once and for all.
What is Hemp Oil for Dogs?
If you want to get a grasp of the differences between hemp oil vs CBD oil for dogs, you need to understand the nature of both products.
Let's start with hemp — the "mother" of hemp oil and CBD oil.
Hemp is a subvariety of the Cannabis sativa L. genus, and the non-intoxicating cousin of marijuana (formerly known as 'indian hemp').
The 2018 Farm Bill fixed America's federal regulations on cannabis, drawing a thick line between hemp and marijuana.
Hemp was removed from the list of controlled substances due to its low THC content (0.3% or less).
The new law also legalized all hemp derivatives, including cannabinoids, terpenes, flavonoids, salts, and isomers.
Hemp seed oil is a culinary product that you can also use as a nutritional supplement. Hemp seeds had been legal long before the 2018 Farm Bill because the seeds don't contain any cannabinoids at all.
This gives us the first hint about the differences between hemp oil vs. CBD oil for dogs.
Let's elaborate on hemp seed oil first.
How Hemp Seed Oil is Made
Hemp seed oil is made from clean and cold-pressed seeds from the hemp plant. After being run through a mechanical press, the oil is refined and infused into hemp seed oil products or sold alone in glass bottles along with other consumable oils.
Hemp seeds are a popular superfood with a remarkable nutritional profile, but they're devoid of cannabinoids and terpenes. In other words, you won't find CBD, THC, or other active compounds in hemp seed oil.
The Benefits and Uses of Hemp Seed Oil
Hemp seed oil can be a part of your dog's supplementation plan. You can add some hemp seed oil to its food or provide it in hemp dog treats to deliver beneficial nutrients.
Hemp seed oil is a rich source of omega-3 fatty acids, which provide anti-inflammatory effects. It comes in a 3:1 ratio of omega-3 to omega-6, making it one of the best plant oils for dogs.
Hemp seeds are also high in proteins and contain high levels of vitamins, trace minerals, and antioxidants.
While hemp seed oil appears to be safe for dogs, its benefits and risks are less researched by animal studies. The majority of scientific evidence regarding its safety comes from human trials.
What is CBD Oil for Dogs?
CBD oil is a concentrated, viscous extract derived from the flowers of mature hemp plants. The most popular extraction methods include CO2 and ethanol extraction; reputable manufacturers invest in the CO2 technology because it yields clean and consistently potent extracts without using harsh solvents or high temperatures.
In its raw form, CBD oil contains high levels of cannabidiol (CBD) accompanied by minor cannabinoids, terpenes, and trace amounts of THC. For legal reasons, the THC limit in hemp-derived products is 0.3%.
Together, these compounds support your dog's endocannabinoid system (ECS) – the master regulatory network in all mammals. This system promotes and helps maintain homeostasis (balance) between other systems and organs.
Functions regulated by the ECS include mood, memory, pain perception, sleep, fertility, appetite, body temperature, neuroprotection, immune function, etc.
Dog parents give their buddies CBD oil to help manage canine anxiety, stress, epilepsy, inflammation, mobility issues, gastrointestinal disorders, and skin diseases.
Features of High-Quality CBD Oil for Dogs
If you want to make sure your dog's CBD oil doesn't contain more THC than is legally approved, always ask for Certificates of Analysis (CoA) from an independent laboratory.
Another paramount quality factor is the hemp source. Hemp plants absorb every substance from their environment, including nutrients and toxins/pollutants.
The best CBD oils for dogs are made from hemp grown in the U.S. on organic farms. Such plants contain high levels of cannabinoids and terpenes and are free from heavy metals, pesticides, and plant growth regulators.
Hemp Oil vs CBD Oil for Dogs: Understanding the Lingo
When discussing the differences between hemp oil vs. CBD oil, language is the bone of contention.
"Hemp oil" is an umbrella term that covers both CBD oil and hemp seed oil.
However, people use it more often regarding the latter.
If you're looking for CBD oil, it should have this name written on the label.
"CBD hemp oil" is another acceptable term. But anything without "CBD" in its name is most likely overpriced hemp seed oil.
Pay close attention to the exact ingredients in any pet product you choose for your furry buddy.
Terms like "CBD," "full-spectrum hemp extract," and "cannabidiol," mean that your product contains CBD oil.
"Hemp seed oil" or "cannabis sativa seed oil" is indicative of a food product.
Different Types of CBD Oil for Dogs
Now that you've got a good understanding of the basics behind CBD oils, it's time to cover different types of CBD oils — because not all CBD products are the same.
CBD is just one of over 115 cannabinoids. So it's not simply a choice between hemp oil vs. CBD oil for dogs. It's a more complex issue of what type of CBD oil is best for your four-legged friend.
You can choose from:
Pure CBD (Isolate)
Broad-spectrum CBD
Full-spectrum CBD
Here's what you need to know about each type.
Pure CBD: What Is CBD Isolate?
CBD isolate is the purest and most concentrated form of cannabidiol. The extraction process removes all of the other cannabinoids, terpenes, and botanical compounds. While isolates ensure there's no THC in the end product, it lacks the synergy of whole-plant extracts, which makes them inferior to broad-spectrum and full-spectrum products.
Full Spectrum CBD: Is It Better for Dogs than Isolate?
Full-spectrum CBD oil contains all phytochemicals from hemp, including CBD, trace cannabinoids, terpenes, and a tiny amount of THC (no more than 0.3%).
This type of CBD oil for dogs leverages the entourage phenomenon. It's a biological phenomenon where all cannabinoids and terpenes work together to enhance the efficacy of the whole product. In other words, the entire range of hemp compounds is therapeutically stronger than each of these products alone (even in high concentrations) (1).
Not all dogs like the taste of full-spectrum CBD oils; if your buddy fusses over the hempy aftertaste, try out a bacon-flavored or peanut butter-flavored CBD oil.
What About Broad Spectrum CBD Oil for Dogs?
Broad-spectrum CBD is almost identical to its full-spectrum counterpart – except for the lack of THC.
This form can be made by isolating all compounds from the raw extracts and recombining them into a unique blend or by thinning down the CBD oil to reduce its THC content to zero.
Broad-spectrum products offer some of the holistic effects linked to whole-plant products, without introducing THC to your dog's system.
Hemp Oil vs. CBD Oil for Dogs: What's the Difference?
Hemp oil is a food product or nutritional supplement, so its uses are obvious. But with CBD oil, it's a different story.
Because CBD operates on more than 65 molecular targets, its therapeutic effects are vast (2).
Pet owners give their dogs CBD oil to manage:
Separation anxiety (3)
Fear of loud noises
Pain and inflammation (4)
Seizures (5)
Mobility issues (6)
Gastrointestinal disorders (7)
Anxiety, stress, and pain are the best-researched aspects of CBD use in dogs.
Let's take a how CBD works to ease these conditions.
CBD Oil for Dogs with Separation Issues
Some dogs don't handle it well when they're left alone and show signs of unease, such as pacing, barking, biting furniture, trembling, or cowering when their parents leave the house for a few hours, e.g. when they're at work or school.
Some worried dog owners have seen alarming behavior on their pet cam first-hand, and others have been notified by neighbors who heard their dog barking relentlessly. As a result, many parents are turning to CBD oil to provide relief for their canine friends.
CBD for Dogs with Noise Aversion
Is your dog having its ears perked up at strange or loud noises? Dogs are super sensitive when it comes to hearing, and firework events, such as the 4th of July, parties, and thunderstorms, can cause them to show signals of distress.
When you give your dog CBD oil, especially combined with L-tryptophan or melatonin, it will likely ease their stress, especially for the duration of unpleasant experiences.
CBD for Physical Comfort and Activity
Dogs can develop certain health problems as they get older. One of the most common issues with aging dogs is joint pain and limited mobility.
But even younger dogs may struggle with muscle tension after a long day full of playtime.
Some pet parents have noticed that CBD oil for dogs helps ease their pet's pain, reduces inflammation, and supports mobility.
This is paramount for your dog because physical mobility is part of their wellness routine, making them healthy for a long time.
How to Give CBD Oil to Dogs
There are several forms of CBD you can give to your dog. Here are some of the most popular delivery methods and their benefits:
Tinctures
Treats
Peanut Butter
Topicals
CBD Tinctures: Dosage Accuracy
CBD oil tinctures for dogs are the most commonly used format. They offer an easy way to measure the ideal CBD serving size for your dog.
A tincture is a great product if you have two dogs, and each has different dosage requirements.
Not to mention that tinctures give you plenty of options to administer CBD to your dog. You can mix it with their food or feed them directly with the convenient dropper.
CBD Dog Treats: Portability and Ease of Use
CBD dog treats are an appealing alternative to oil tinctures. First, they come with a predetermined amount of CBD per serving, so there's no guesswork and measuring.
Some dogs are also stubborn about the very consumption method. Pets aren't used to holding oily substances under their tongues.
But, I haven't seen a dog that would fuss over delicious peanut butter CBD treats.
The effects will need more time to kick in, but once they do, they offer long-lasting relief — making them a perfect option for travels or when you go to work and don't want your buddy to suffer from separation discomfort.
CBD Topicals: Localized Relief
There are two types of CBD topicals.
The first type is made for everyday use to give your dog a wellness treatment, like shampoos, lotions, and skin sprays. CBD can improve the condition of the skin and coat by delivering a range of potent antioxidants and anti-inflammatory compounds.
The second type is designed for therapeutic use and packs more CBD per container. Such products often include other botanicals that work synergistically with CBD, including menthol, cayenne pepper, fruit oils, and terpenes.
Most CBD-rich topicals are made to ease physical discomfort in trouble spots. They come in handy when your dog has arthritis, an autoimmune skin condition, or when they're recovering from an injury.
Unique CBD Oil Formulas for Dogs
Speaking of dedicated CBD oil formulas, hemp brands can be creative when it comes to addressing specific canine health needs.
CBD oil products for dogs can combine the hemp extract with other active ingredients, such as curcumin, l-theanine, Boswellia, chamomile, etc. Royal CBD makes well-thought-out formulas with biologically appropriate ingredients for pets. You can read more about their formulas in our article on the best CBD dog treats for health-conscious pet parents.
Are Flavored CBD Products Good for Dogs?
Yes, as long as they contain natural flavorings and colorings. Flavored CBD oils are a decent alternative to classic versions because they mask the hempy aftertaste that makes some dogs unwilling to swallow the oil.
Steer away from CBD oils for dogs that include artificial flavorings; their safety hasn't been researched in animal studies and judging by human research on this subject, they're potentially dangerous for pets in the long run.
Hemp Oil vs CBD Oil for Cats
Cats, like dogs and humans, have an endocannabinoid system (ECS). They can benefit from CBD supplementation in a similar way, including the following situations:
Pain
Limited mobility
Skin problems
Stress maintenance
Is Your Cat in Pain?
Even young, healthy cats can experience muscle soreness and stiffness at the end of a long, active day. If you notice that your furball has a hard time climbing up their cat tower, it might be useful to give them CBD oil for cats, which can improve mobility and ease physical discomfort.
Does Your Cat Struggle with Skin Problems?
Sometimes, a cat may have issues with dry or itchy skin. Some cat parents give their cats CBD oil and report significant improvements in the health of their coats and skin. Cats also become calmer and less likely to bite or excessively lick their fur on problematic areas.
How to Ease Stress in Cats with CBD
Like all mammals, cats can experience stress from time to time. Whether it's about loud noises, nail trims, grooming, or being in a carrier on the way to the vet, your cat will give obvious signs of discontent.
Whenever you hear loud mewling or see your cat hiding under the bed and couch, it's a clear indicator of stress. CBD oil for cats can help promote healthy stress responses and prevent the cat from acting out in an uncomfortable situation like the above.
How to Give CBD Oil to Cats
Cats are more demanding when it comes to health supplements because they're smaller than dogs. They also have highly sensitive digestion, so it's important to purchase a product specifically formulated for felines.
As with any pet, it's best to start with the smallest dose possible. Observe your cat for 30 days and look if CBD is working. Your cat may be chasing their toys a little faster or eating their food with a little more appetite.
If you don't see any difference after 30 days, increase the dosage by adding a few more milligrams to the cat's routine and reassess the results after another month.
You can experiment with different consumption methods when familiarizing your feline friend with CBD — what works for one cat may not produce the same results for another.
Here are your options:
CBD oil tinctures for cats
CBD cat chews
CBD topicals
CBD Oil
If you have two cats (or more) and they have different dosage needs, or if you just want precise control over the amount of CBD they receive, CBD oil is your best bet.
Opt for strengths like 125 or 250 milligrams per bottle. As mentioned earlier, cats are smaller than dogs, so lower potencies are easier to dose — and less likely to cause stomach upset.
Similar to dogs, you can give CBD oil to your cat directly in their mouth or mix it with their food.
Soft Chews
Since many cats struggle with dental problems and can't crush a treat that's too hard or chunky, soft chews are a better option.
They offer a fixed dose of CBD per serving and are mess-free, making them perfect to include in your cat's daily routine.
Again, you can experiment with different formulas of CBD soft chews for cats to find the one that best suits their health needs.
Topicals
CBD topicals for cats offer different formulas with various supportive ingredients to enhance or complement the effects of CBD.
You can choose from shampoos, lotions, and coat sprays if your goal is to take care of the cat's natural beauty and nourish its skin while protecting it against environmental damage.
For specific health problems, such as joint pain, limited mobility, or skin inflammation, we recommend more concentrated topicals, such as CBD creams, balms, and roll-on gels.
Hemp Oil vs CBD Oil: Always Purchase Dog-Specific Products
Hemp oil and CBD oil for dogs aren't the same.
Hemp oil refers to hemp seed oil and is classified as a food product or dietary supplement thanks to its dense nutritional content.
CBD oil is extracted from hemp flowers and supports the mammalian endocannabinoid system. Pet parents use it to address different health problems in dogs, from separation anxiety to pain, autoimmune diseases, epilepsy, and neurodegeneration.
When choosing between hemp oil vs. CBD oil for your dog, your decision boils down to your goals for your pet and their lifestyle.
Whichever product you choose, make sure to purchase pet-specific products. In states where marijuana is legal, some CBD products for people might contain more than 0.3% THC and thus be dangerous for pets like dogs due to potential toxicity.
Sources:
Russo E. B. (2011). Taming THC: potential cannabis synergy and phytocannabinoid-terpenoid entourage effects. British journal of pharmacology, 163(7), 1344–1364. [1]
de Almeida, D. L., & Devi, L. A. (2020). Diversity of molecular targets and signaling pathways for CBD. Pharmacology research & perspectives, 8(6), e00682. [2]
Blessing, E. M., Steenkamp, M. M., Manzanares, J., & Marmar, C. R. (2015). Cannabidiol as a Potential Treatment for Anxiety Disorders. Neurotherapeutics : the journal of the American Society for Experimental NeuroTherapeutics, 12(4), 825–836. [3]
Gugliandolo, E., Licata, P., Peritore, A. F., Siracusa, R., D'Amico, R., Cordaro, M., Fusco, R., Impellizzeri, D., Di Paola, R., Cuzzocrea, S., Crupi, R., & Interlandi, C. D. (2021). Effect of Cannabidiol (CBD) on Canine Inflammatory Response: An Ex Vivo Study on LPS Stimulated Whole Blood. Veterinary sciences, 8(9), 185. https://doi.org/10.3390/vetsci8090185
McGrath, S., Bartner, L. R., Rao, S., Packer, R. A., & Gustafson, D. L. (2019). Randomized blinded controlled clinical trial to assess the effect of oral cannabidiol administration in addition to conventional antiepileptic treatment on seizure frequency in dogs with intractable idiopathic epilepsy. Journal of the American Veterinary Medical Association, 254(11), 1301–1308. https://doi.org/10.2460/javma.254.11.1301
Verrico, C. D., Wesson, S., Konduri, V., Hofferek, C. J., Vazquez-Perez, J., Blair, E., Dunner, K., Jr, Salimpour, P., Decker, W. K., & Halpert, M. M. (2020). A randomized, double-blind, placebo-controlled study of daily cannabidiol for the treatment of canine osteoarthritis pain. Pain, 161(9), 2191–2202. [4]
Gamble, L. J., Boesch, J. M., Frye, C. W., Schwark, W. S., Mann, S., Wolfe, L., Brown, H., Berthelsen, E. S., & Wakshlag, J. J. (2018). Pharmacokinetics, Safety, and Clinical Efficacy of Cannabidiol Treatment in Osteoarthritic Dogs. Frontiers in veterinary science, 5, 165. [5]