DIY Guide: How to Make Your Own CBD Oil From Hemp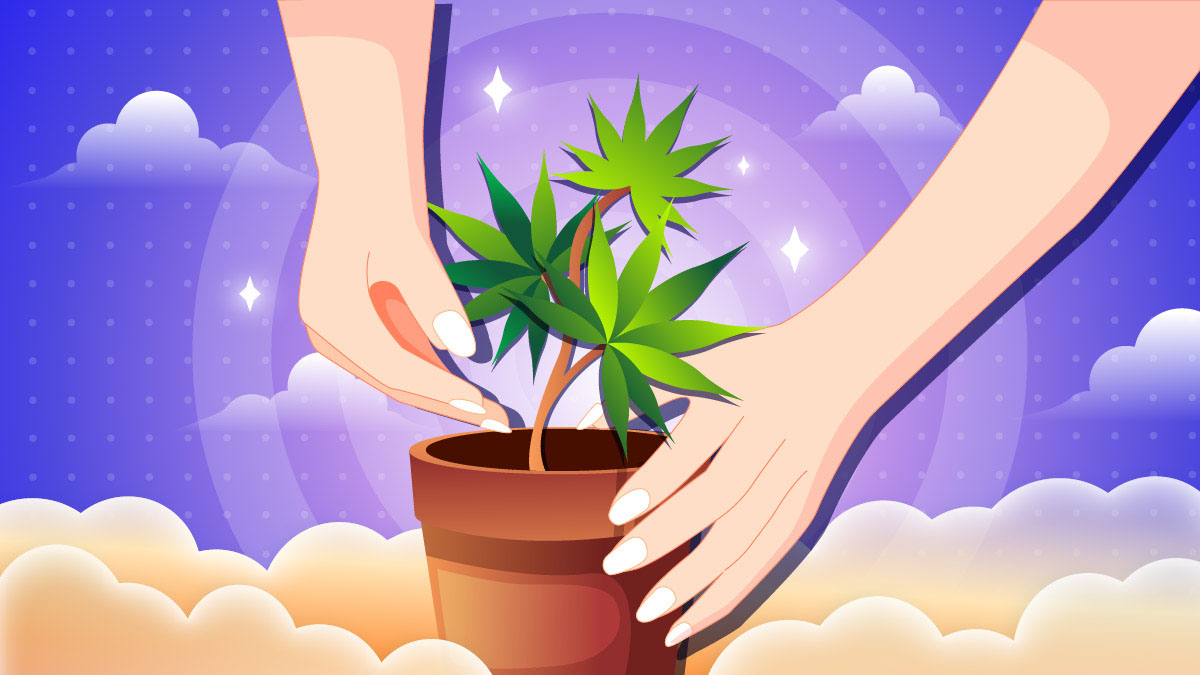 People use CBD oil to reduce pain, ease anxiety, combat inflammation, and improve their response to daily stressors. With so many benefits, as well as advanced technology involved in making CBD oil, commercially available products can be expensive.
And you know what?
You can easily make CBD oil at home if you want to save money.
While it won't be crafted with the same precision as professionally extracted CBD oils, a homemade batch of sublingual drops is still safer than some of the untested and mislabeled products sold in vape stores and head shops.
If you're looking to make CBD oil at home, you'll need just two ingredients: high-CBD hemp flower and a carrier oil such as MCT oil, hemp seed oil, or olive oil. Alternatively, you can use alcohol as the solvent, which we'll also cover in the article.
The Benefits of Making CBD Oil at Home
People take CBD in various forms, but oil is one of the staple products. People usually buy their CBD oil online or in dispensaries, but ultimately it depends on where you live. Some states will spoil you with choice, whereas others will offer limited options. That's why we always recommend getting your CBD from a trustworthy online retailer.
More to the point, those with far fewer options may want to consider making their CBD oil at home to save time on browsing hundreds of products and comparing different brands. If you have the know-how, what can go wrong?
Not only that, but you'll also save money on your monthly supplementation. High-quality CBD oils can be expensive, especially when coming from reputable brands.
If these two aspects are your priorities, then making CBD oil at home is a viable option.
Let's take a look at these few simple ingredients that can yield great CBD oil straightaway.
What You'll Need to Make CBD Oil at Home
First, you need to consider your extraction method and check if you can get some quality hemp flowers somewhere near you. If not, look for high-CBD strains online; there's a lot of great companies shipping their flowers to all 50 states.
Speaking of which, let's take a look at how to pick the right strain for making CBD oil at home.
Strain Selection: Selecting a High-CBD Strain
CBD can be extracted from both hemp and marijuana.
While all hemp strains grown for CBD oils contain higher than average CBD levels, this isn't the case for marijuana plants.
Marijuana is typically higher in THC, but you can find some high-CBD hybrid strains obtained through selective breeding. If you can find these somewhere near you — provided that you live in a place where marijuana is legal — making CBD oil at home from this type of cannabis is fine.
If you want a product that's legal in all 50 states, we recommend that you look for high-CBD hemp flower online.
Decarboxylation: Activating the CBD
If you want to make CBD oil, you need to make sure that the CBD has been converted from its inactive precursor CBDA. CBDA is an acid that has many health benefits of its own, but it doesn't have the properties of CBD.
Yes, you've read that correctly. There's no CBD in raw, unprocessed hemp plants. If you want to extract CBD from hemp, you need to activate it through heat before combining the plant material with the solvent of your choice.
You can activate CBD through other means of heating. The most common decarboxylation method for making CBD oil at home is the oven method. Some people use a slow cooker, which is another inexpensive way to activate CBD. However, these methods are also imprecise and may not activate your cannabinoids efficiently.
If you want to perform decarboxylation properly, you'll need a decarboxylator, also known as a precision cooker. This device can maintain optimal temperatures needed for the full activation of CBD and trace cannabinoids without destroying terpenes. Using a professional decarboxylator is a worthwhile investment for anyone who makes CBD oil at home regularly and is looking for a consistently good product.
What Alcohol / Carrier Oil Are You Going to Use?
If you're ready to make CBD oil at home for the first time, you'll first have to decide which method you want to use. Amateurs have two options to choose from: food-safe alcohol or carrier oil.
Alcohol extraction requires you to soak the hemp plant in alcohol until it strips all the beneficial compounds from it. The process also requires patience because the extract gains potency over time. The longer you let the product sit, the stronger it will get. This is how cannabis tinctures are made.
The second method involves using natural plant oils as carriers due to CBD's fat-solubility. It's a gentle process for which you can use hemp seed, olive, and coconut oils.
There's also a third extraction method. However, this one is reserved for professionals, as it involves the use of pressurized CO2. This method requires a lot of space, extremely expensive equipment, and scientific knowledge to perform properly. It's by far the best method to produce CBD oils, but since it can't be performed under home conditions, let's stick to the first two.
Extraction Methods: Different Ways of Making CBD Oil at Home
In this section, we'll focus on making CBD oil at home using the two methods discussed above.
1. Make CBD Oil Using Alcohol
Ingredients:
30 grams of ground hemp flower
High-proof, food-grade alcohol
Equipment:
Mixing bowl
Parchment paper
Baking tray
Grinder
Catchment container
Double boiler
Wooden spoon
Funnel
Spatula
Plastic syringe
Fine strainer
Instructions:
Decarboxylate your plant matter by grinding it up to an even consistency and placing it on a baking tray lined with parchment paper. Place your hemp flower in a preheated oven at 225 F (110 C) and let it bake for one hour.
Place your decarboxylated flower in the mixing bowl and submerge it completely in the alcohol. Use the wooden spoon to stir the decarbed buds for up to 10 minutes. During this time, the alcohol will extract the desired compounds such as cannabinoids and terpenes. Stirring the mixture speeds up the process by shaking off the trichomes that produce these compounds.
Separate the CBD-infused extract from the plant matter. Strain your liquid through a piece of cheesecloth into a collecting container below. You'll notice that the solution has a dark green color. Repeat this process until your extract becomes more clear.
Set up a double boiler. Pour the alcohol tincture into the top of the boiler and apply steady heat. High-proof alcohol is highly volatile and will evaporate at low temperatures. If necessary, turn the heat on and off. Make sure that you have a decent ventilation system, and if not, perform this extraction outdoors. The vapor from alcohol is highly flammable and poses a risk of explosion.
Once all the alcohol has evaporated, the extract will have a viscous, tar-like consistency. You can draw it up into a large syringe while it's still warm or keep it in a bottle with a glass dropper.
2. Make CBD Oil Using a Carrier Oil
Ingredients: 
30 grams of high-CBD hemp flower
450-500 ml carrier oil (hemp seed and coconut are the best)
Equipment:
Baking tray
Parchment paper
Herb grinder
Double boiler
Glass jar with lid
Cheesecloth
Instructions:
Decarboxylate the hemp flower using the same method as in the recipe above.
Now it's time to combine the flowers and oil to start the extraction process. Place the two ingredients in the double boiler, feeling the bottom container with some water, and bring it to a light simmer. It's important to ensure that it's not a rolling boil because if you get the mixture past 150 C, the majority of terpenes will evaporate. The simmering process takes up to 3 hours, with the end product looking slightly darker than the unprocessed oil.
Carefully remove the top of the boiler. Take your jar, place the cheesecloth over the top, and pour your mixture into the container. Make sure you have strained as much oil as possible from the hemp plant, then dispose of the flower.
Seal the container and store it in a cool, dry place. You can use it as is or add it as an ingredient in your food recipes.
Tips for Making CBD Oil at Home
Choose high-CBD flower
Use high-quality, healthy carrier fat
Be precise
Store your CBD oil as you would any other herb-infused oil
Try adding natural flavorings to the oil to improve its flavor.
Advantages of Professional CBD Oil Extraction
Now that you know how to make DIY CBD oil at home, you're probably wondering how it turns out when compared with professionally manufactured oils — those obtained through CO2 extraction.
As written earlier, CO2 extraction is the golden standard in the industry. This method yields safe, top-shelf products, but it requires an expensive triple-chamber machine, large amounts of flower, and an experienced professional to oversee the process. Using CO2 extraction guarantees pure and more potent products than any homemade method. If you're looking for a superior product, CO2-extracted CBD oil is your best bet.
Final Thoughts on Making CBD Oil at Home
Making your own bottle of CBD oil at home is a good option to kickstart your CBD routine if you want to save time and money. In the meantime, you can do your research on the CBD market and compare different brands online to get a decent deal on quality products. Many premium companies offer reward programs, discounts, and bulk pricing on their CBD oils. But as you do your research, you will already have a bottle of safely made CBD oil to test your body's response to this compound.
Still, we recommend you purchase a professionally extracted CBD oil if you attempt to ease a specific condition. Commercial products are not only precisely crafted but they will also have the exact ingredients and potencies listed on the bottle.
Have you tried to make CBD oil at home? Let us know in the comments!
Related: How to Make CBD Capsules