King Kanine CBD Review & Coupon Code (2023 Update)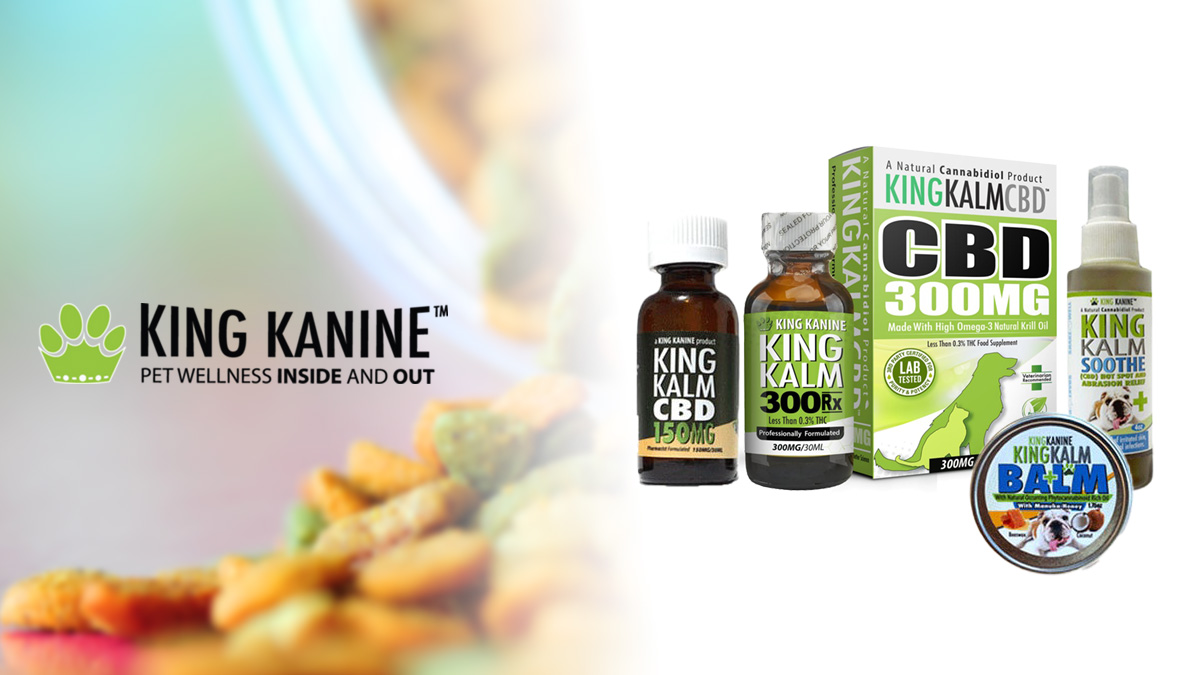 King Kanine is a popular CBD brand for pets. The company produces a variety of novel products specifically for dogs and smaller animals, although dogs are its main focus.
In this review, we'll explore the King Kanine product range, shed light on the company's background and reputation, and present you with some alternative options so that you can choose a product that will give your pet the most bang for their buck.
Here's what you need to know about King Kanine.
King Kanine CBD: Highlights
Pros
Cons

Organic ingredients
Variety of strengths
Dedicated to animal welfare

Products mostly for dogs
Relatively expensive
Only one potency of CBD treats
Quality & Transparency
King Kanine has partnered with Colorado farmers to create its proprietary blend of organic CBD strains.
All its products are made with CO2 extraction and third-party tested for potency and purity — including results for common contaminants such as pesticides, heavy metals, mycotoxins, and solvents.
However, in order to be 100% transparent with its claims about organic hemp, King Kanine should obtain a certificate from the USDA.
Warning Letters & Lawsuits
To date, King Kanine hasn't received a warning letter from the FDA for mislabeling its products or marketing them in a way that violates compliance rules laid out by the agency.
The company also isn't facing any lawsuits, meaning it's an honest manufacturer.
Certifications
All King Kanine CBD products are tested in an ISO-17025 certified laboratory. However, the products themselves don't have any certifications. Although King Kanine claims to make organic CBD extracts, it hasn't received the USDA organic badge yet.
Customer Service
On top of a 30-day money-back guarantee, King Kanine provides free shipping to its U.S. customers. It also has a live chat customer service representative available to answer your questions. However, the chat isn't 24/7.
Pricing
Unfortunately, King Kanine products are on the expensive side. With some formats, you need to pay up to $0.53 per mg of CBD. There are more affordable brands that make similar products out there.
King Kanine Product Range
The variety of different forms and concentrations of CBD makes King Kanine a strong pick among health-conscious pet parents. Here's what you can order from this company.
King Kanine CBD Oil Pet & Dog Formula
| | |
| --- | --- |
| Type of CBD | Isolate |
| CBD Potency | 75 mg – 600 mg |
| Flavors | Unflavored |
King Kanine offers a broad range of CBD oils formulated with isolate. These products come in a variety of concentrations, from 75 mg (small-sized animals) to 600 mg of CBD per bottle (large animals).
Aside from its classic formula, the company has a special option that comes packed with antioxidants and essential fatty acids, such as:
Copaiba oil: an anti-inflammatory compound that may also provide relief from pain and speed up the healing of wounds.
Krill oil: a rich source of omega-3 fats that works well as an antioxidant and anti-inflammatory
DHA: also known as docosahexaenoic acid, this type of omega-3 fat reduces the risk of heart disease, inflammation, and supports proper blood circulation among other positive effects
Unfortunately, there are no flavored versions of this oil, so if your pet is particularly picky, you may want to opt for another format from the King Kanine line-up.
King Kanine CBD Soothe Spray
| | |
| --- | --- |
| Type of CBD | Isolate |
| CBD Potency | 96 mg |
The King Kanine CBD Soothe Spray comes in one size and potency, offering 96 mg of pure CBD in a 120 ml (4 oz) bottle. You can use it directly on your dog's or cat's skin to address hot spots, dry skin, irritation, and dermal abrasions.
King Kanine also has one other type of spray — dedicated to fighting mange and ringworms — two common causes of skin problems in pets.
This product is available in only one variant but King Kanine doesn't specify its potency on the site, nor does it provide a certificate of analysis for it.
King Kanine CBD Dog Treats
| | |
| --- | --- |
| Type of CBD | Isolate |
| Potency of CBD | 6 mg per treat |
| Flavors | Apple, Blueberry, Honey |
The King Kalm Crunch Treats are a good alternative if your dog doesn't like the texture of CBD oil. They're very easy to dose with a premeasured dose of 6 mg of pure CBD and come in three flavors: Apple, Blueberry, and Honey. These treats can make for a healthy treat and a way to smuggle some CBD into their routine in a fun way.
King Kanine CBD Balm
| | |
| --- | --- |
| Type of CBD | Isolate |
| CBD Potency | 392 mg |
| Size | 50 mL |
King Kanine carries one formula of the King Kalm Balm that provides 392 mg of CBD in a 50 mL bottle. This product can be used topically to treat dry, irritated, and sore skin — as well as to relieve different types of physical discomfort.
The balm is made with all-natural ingredients, including natural beeswax, coconut oil, manuka honey, and essential oils.
Other Products by King Kanine
Aside from an impressive selection of CBD pet products, King Kanine also has several non-CBD formulations that include hempseed oil as one of the main ingredients.
For example, you can buy a King Klean Dog Shampoo, a special Klean Paws cleaner, bath spray, and bed spray. All products are formulated with natural ingredients such as healthy plant oils, essential oils, and fruit extracts; they're eco-friendly and non-toxic.
Lastly, King Kalm has two types of combs that are made to de-shed your pet with ease and comfort. It comes in two sizes and pairs well with dogs, cats, and other pets that shed.
King Kanine Review: Pros & Cons
King Kanine is a decent manufacturer of CBD pet products. The brand offers high-quality oils, treats, and topicals with various formulations and strengths to choose from. However, like any CBD company, this one is not without flaws.
Here's what King Kanine does well, and where it could step up its game.
The Pros
Organic Ingredients
The market of pet food and supplements is filled with mediocre products that contain many unnecessary ingredients, such as preservatives, colorings, fillers, starches, and an excessive amount of carbohydrates.
King Kanine strives to elevate the industry standards by offering all-natural CBD edibles and supplements from organic hemp. The company's products are also infused with superfoods that add their own benefits to the formula or enhance the therapeutic effects of CBD, like calming hyper dogs.
Variety of Strengths
King Kanine caters to dogs of different breeds and sizes. Whether you're browsing through its CBD oil, edibles, or topicals, you can choose between different concentrations of cannabidiol to adjust the dosage to your pet's weight. King Kanine also provides clear dosing instructions and serving sizes to help new users easily gauge the optimal amount.
Dedicated to Animal Welfare
King Kanine's mission is to promote wellness inside and out in animals. The company contributes to the American Society for the Prevention of Cruelty to Animals (ASPCA) to help raise funds and awareness for animals suffering from abuse and neglect.
The Cons
Relatively Expensive
As mentioned earlier in my King Kanine review, these products are for people with a higher budget. Some of its formulas cost upwards of $0.50 per mg of CBD, which is way above the market standards. Even the cheaper products are still a bit costly for CBD isolate.
Products Mostly for Dogs
The King Kanine range is focused mostly around dogs; even the branding says "canine," which is a clear indicator of what the company specializes in. While there are formulas dedicated to smaller pets, the company doesn't openly state that you can use them with cats, rabbits, or other animals. King Kanine also doesn't offer any high-strength products that could be useful for horses.
Only One Potency of CBD Treats
Despite the impressive choice of concentrations in CBD oils and topicals, King Kanine offers a limited range of potencies for its dog treats. Each treat contains 6 mg of CBD regardless of the selected flavor.
Alternative Options to King Kanine CBD
Pros
Cons

Organic hemp
CO2 extraction
Full-spectrum CBD
Up to 500 mg of CBD
Third-party tested for potency and purity

Rather expensive compared to similar products
Royal CBD offers exceptional quality when it comes to CBD pet products because they use the same premium ingredients as the line of CBD oils for humans.
Royal CBD sources its hemp from organic farms in Colorado and produces clean full-spectrum extracts thanks to CO2 extraction. These products are triple-tested by an independent laboratory for potency and purity to ensure they're safe for pets.
The brand has two pet products in its line-up: CBD pet oil and CBD dog treats.
The Royal CBD pet oil is available in two concentrations; you can choose between 250 mg and 500 mg of full-spectrum CBD in a bacon flavor. Royal CBD is known for making even the fussiest dogs easily hop on the CBD routine.
Still, if your dog turns its nose away from CBD oil, you may try out CBD Dog treats. They come in three formulas: Active, Calm, and Hearty. Each formula contains different superfoods to provide unique benefits for your dog.
Since these are full-spectrum products, the Royal CBD pet line evokes the entourage effect, allowing your pet to process CBD more efficiently.
Pros
Cons

Non-GMO hemp
Supercritical CO2 extraction
Full-spectrum
600 mg of CBD
MCT carrier oil

Only one potency
Limited production runs mean limited supply available
Gold Bee follows the same quality standards as Royal CBD, but it has a slightly different product range for pets, from premium quality CBD oil for dogs to CBD pet treats.
The Gold Bee product line is more suitable for larger dogs. Its full-spectrum CBD pet oil is available in only one concentration (600 mg), which may be difficult to dose with smaller breeds. But it comes in a delicious peanut butter flavor, so if you have a large dog, this product might be spot-on.
And, if your furry friend is an enemy of oily supplements, you can try giving him the Gold Bee dog treats known as Goofy Bones; again, at 10 mg of full-spectrum CBD per treat, these chews work better with bigger dogs.
Gold Bee is also one of the most transparent companies on the market. It publishes complete lab reports on its website, with results for potency and contaminants.
Final Verdict: King Kanine is A Decent Pet Brand… But It Has Strong Competition
King Kanine is a wholesome dog-specific CBD manufacturer that obviously pays great detail to the quality of its products.
However, the King Kanine line is a little more expensive than some of its competitors. Considering that these are isolate-based products, the company could charge less for its formulas.
If you're looking for more affordable pet products that are crafted into similar quality standards, check out my alternative recommendations and compare different products to get a better look at your options.