Is Weed Legal in Louisiana? LA Cannabis Laws (June 2023)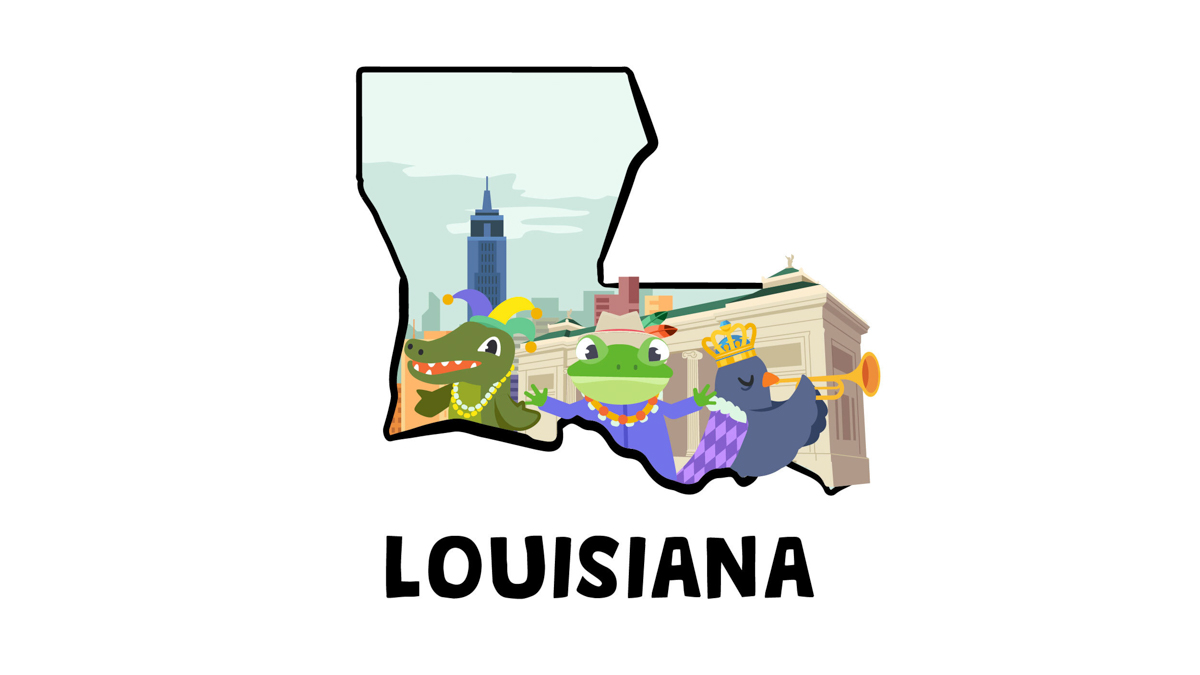 This article answers the question, "Is marijuana legal in Louisiana" and is part of our comprehensive guide to the legal status of cannabis in the USA. We elaborate on recreational and medical marijuana laws and discuss decriminalization, cultivation, penalties for possession, and future perspectives on legalization. You'll also learn about a federally legal alternative to weed in Louisiana.
Louisiana legalized medical marijuana in 2015, and in 2022, the state expanded its program, increasing possession limits and the availability of certain cannabis products.
Unfortunately, recreational users aren't in a position to praise their current situation. Marijuana remains illegal for recreational use, and even first-time offenses include fines and short jail time.
Read on to explore cannabis laws in Louisiana, as well as federally legal alternatives to recreational pot.
Is Weed Legal in Louisiana?
Weed in Louisiana is legal only for medical marijuana card holders. The state has a medical marijuana program for individuals with qualifying health conditions.
Related: Cannabis Legalization Map Live Updates
Here's what you need to know about medical and recreational marijuana use in Louisiana.
Is Recreational Marijuana Legal in Louisiana?
No. It's illegal to use marijuana recreationally in Louisiana. Doing so may land you a fine and jail time; the severity of both punishments depends on the amount of weed and your intentions for use (whether it's for personal smoking or for sale).
Is Medical Marijuana Legal in Louisiana?
Yes. Louisiana has had a medical marijuana program since 2015. However, the first bill said doctors could "prescribe" cannabis, which is against federal law. Doctors may recommend marijuana, but they can't prescribe it because cannabis is a Schedule I substance at the federal level.
In 2016, lawmakers passed two amendments to the bill that corrected the language, ensured legal protection for patients, and expanded the list of qualifying conditions.
2020 was another good year for medical marijuana in Louisiana. Doctors have got the right to recommend medical marijuana for any illness they deem necessary — provided that the doctor is qualified to treat that disease.
In 2022, Louisiana increased the purchase limits for patients to 2.5 ounces of flowers every two weeks from their pharmacist.
Other products available in pharmacies include cannabis oils, extracts, sprays, capsules, lotions, gels, chewables, lotions, suppositories, and transdermal patches.
Penalties for Marijuana Possession
As mentioned earlier, marijuana is illegal for recreational use in Louisiana. Here's what may happen if you get caught with weed:
First-time offenders in possession of 14 grams of marijuana or less may receive a fine of $300 and be sentenced to 15 days in prison.
First-time offenses for larger amounts may lead to a $500 fine and a maximum of six months in prison.
Second convictions entail more severe penalties. If you're caught with less than 2.5 pounds, you may be fined $1,000 and have to spend up to two years in prison.
A third conviction of fewer than 2.5 pounds increases the fine to $2,500 and up to two years in prison. Larger amounts result in heftier fines and longer sentences.
Possession of any amount of marijuana with intent to sell or distribute is subject to 30 years in prison and a maximum fine of $50,000.
Getting caught selling weed for the second time may lead to 60 years in prison and $100,000 in fines. The harshest penalties are for selling marijuana to minors.
Is Weed Decriminalized in Louisiana?
No. Louisiana hasn't decriminalized small amounts of cannabis. However, New Orleans passed an ordinance that decriminalized weed in 2016. After the law was passed, marijuana arrests dramatically decreased in the city.
What's the Future of Cannabis Legalization in Louisiana?
Even though Louisiana residents declare they would vote for legalizing cannabis for recreational use, it's not a priority for legislators.
Activists requested a study to explore the impact of cannabis legalization but failed before bringing the issue to the public debate.
Delta-8 THC: A Better and Legal Alternative to Marijuana in Louisiana
With recreational cannabis legalization stalled in Louisiana, your only option to legally purchase weed in the state is to become a medical marijuana patient.
But what if you don't have a qualifying health condition and the medical marijuana card is out of your reach?
Fortunately, there's a federally legal alternative to marijuana.
It's called delta-8 THC.
Read on to learn more about one of the latest trends in the green market.
Delta-8 THC vs. Delta-9 THC
The THC molecule has several variants — the two most popular being delta-8 and delta-9 THC.
Delta-9 THC is the primary psychoactive ingredient in marijuana — but what about delta-8 THC?
Is this some brother of delta-9 with different effects?
Well, yes and no.
Delta-8 THC is the isomer of delta-9, meaning both compounds have an almost identical chemical formula.
However, their structure looks slightly different. Delta-8 THC has a double bond at the eighth carbon chain; meanwhile, in delta-9 THC, this bond occurs at the ninth chain.
That's the reason why delta-8 THC is about 50% as potent as delta-9 from marijuana — and why so many people are turning to hemp delta-8 products these days.
Cons of Delta-8 THC From Marijuana
Marijuana is a mild psychedelic with deeply relaxing and euphoric properties. Low and moderate doses have a nootropic effect on the brain, helping optimize the nervous system, ease pain, elevate mood, reduce stress, and improve cognition.
Larger doses can make you feel high, causing euphoria, laughter, increased appetite, and changing the way you perceive your surroundings and the time. The psychoactive effects of marijuana are followed by a long list of potential medical benefits.
While most users can enjoy the high without any unpleasant reactions, some individuals are overly sensitive to the psychedelic nature of delta-9 THC. For them, the cannabinoid reveals its biphasic nature, causing an array of uncomfortable symptoms.
The side effects of overdosing on THC include:
Anxiety
Paranoia
Feelings of discomfort
Cold sweats
Dizziness
Confusion
Increased heart rate
Short-term memory problems
Here's how you can use hemp delta-8 products to avoid a bad experience.
Effects and Benefits of Delta-8 THC
Delta-8 THC offers similar effects to delta-9 THC — but they're not as powerful when it comes to mental stimulation.
Since delta-8 THC is about half as potent as delta-9, it takes twice the amount of delta-8 to achieve the same intense feeling. This lowers the risk of anxiety and paranoia.
Of course, you can still get anxious and paranoid, but if you use delta-8 within reason, they're almost non-existent.
People use delta-8 THC for the same health benefits as delta-9, including:
Anti-nausea
Anti-inflammatory
Pain relief
Increased appetite
Feelings of calmness and relaxation
Euphoria
Neuroprotection
Is Delta-8 THC Legal in Louisiana?
Yes! Delta-8 THC is legal under state law. Louisiana follows the language of the Farm Bill, which legalized hemp and all its derivatives, including cannabinoids, terpenes, flavonoids, isomers, salts, and salts of isomers.
The only requirement is that these products contain no more than 0.3% delta-9 THC on a dry-weight basis.
So far, 14 states have banned hemp-derived delta-8 THC products, but fortunately, Louisiana has fully adopted the rules of the Farm Bill.
You shouldn't have problems finding delta-8 THC stores locally and online.
Benefits of Buying Delta-8 THC Online
While shopping locally sounds tempting, getting your delta-8 online is better than in-store. You may want to reconsider your preferences after learning the perks of buying online.
Buying from an online store gives you:
Lower prices: no middleman means lower baseline prices for the same-grade products. You can further save more money with reward programs, coupon codes, bulk pricing, and subscription orders.
Convenience: don't want to drive around town only to find out the local vendors offer a few uncertified tinctures and vape pens? Try your luck with online stores. You can compare different formulas and prices without leaving your house, unrestricted by opening hours and location.
Transparency: Sourcing your delta-8 products from online retailers gives you access to certificates of analysis, customer reviews, and other resources that allow you to double-check the credibility of your vendor before you hand out your hard-earned money.
Best Online Delta-8 THC Vendors in Louisiana
If you want to ensure a well-informed purchase, you need to devote a serious amount of time to researching your potential options.
Feeling in a rush? Don't worry, I've done the digging for you. Having been in the hemp market for several years, I tested over 30 popular hemp brands that offer delta-8 THC products.
After narrowing down my options to 10 picks, I selected the top two leading brands that offer remarkable product quality, transparency, and testing integrity. I've been buying from them for the last two years and can recommend them with a clear conscience.
1. Area 52
Area 52 was founded in Nevada, and it took less than one year for the company to become one of the most recognizable brands in the USA. Area 52 specializes in hemp-derived delta-8 THC products, such as tinctures, vape carts, edibles, and pre-rolled joints.
These products can pack a punch, with 25–40 mg delta-8 THC per serving, and they also contain exceptionally high levels of terpenes. These fragrant molecules contribute to the entourage effect, potentiating the cognitive buzz from delta-8 THC and offering well-rounded health benefits.
Recently, Area 52 has introduced a line of "true full-spectrum" products, featuring novel formats like HHC gummies and delta-8 honey sticks, as well as traditional products, such as energy gummies, sleep gummies, immunity gummies, and CBD oil.
2. Finest Labs
Finest Labs is my go-to recommendation for beginners. First-time users may feel overwhelmed by the abundance of products available online, and Finest Labs offers a solution to this problem.
The company has a humble selection of delta-8 extracts, including tinctures, gummies, and vape pens. The vape pens are infused with strains-specific terpenes (sativa, indica, or hybrid) to help you tailor the experience to the expected effects and your preferred time of the day.
Finest Labs is also one of the most reputable producers of botanical terpenes, offering both single molecules and unique blends that resemble the aroma and flavor profile of various cannabis strains.
FAQs
Who can use medical marijuana in Louisiana?
Louisiana removed all limits from its list of qualifying conditions following the introduction of Act 286 in 2020.
The new law stated that any physician licensed by the State Board of Medical Examiners might recommend medical marijuana if they decide their patients could benefit from using cannabis for their condition.
Can you grow weed in Louisiana?
Unfortunately, no. Medical marijuana patients in Louisiana aren't allowed to grow their own cannabis plants. They must buy their medicine from one of the nine state-licensed dispensaries.
Can you smoke marijuana in public?
Louisiana's state law doesn't explicitly mention medical marijuana consumption rules in public, so the matter remains unregulated. However, you shouldn't smoke marijuana in places where smoking or vaping tobacco is prohibited — unless you need to take your dose in case your symptoms worsen.
Can you travel with marijuana in Louisiana?
Yes, you can travel with weed in Louisiana, but you must be a medical marijuana card holder. You should also keep your medicine in a closed container and out of the driver's reach.
It's illegal to drive under the influence of cannabis. You'll need to pass a chemical test of breath, blood, and urine to determine the levels of THC metabolites in your blood.
Taking marijuana out of Louisiana is also illegal. Traveling with cannabis between states may lead to federal felony charges (marijuana trafficking) and severe financial punishment on top of 5 years in jail.
Is buying weed online an option in Louisiana?
Marijuana for delivery is illegal in Louisiana. You can order medical cannabis online, but only for pick-up. Doing so will save you the time you'd otherwise spend in line.
Is CBD oil from hemp legal in Louisiana?
Yes. All hemp-derived products, including CBD supplements, are legal in Louisiana and across all 50 states. As mentioned earlier, state law follows the language of the Farm Bill, which removed hemp and its derivatives from the list of controlled substances.
You can easily find CBD oil nearby in health stores, fitness centers, pharmacies, vape shops, and online. Because the market lacks regulation regarding potency and safety standards, I'd place my bet on online stores.
Read more: Is CBD Legal in Louisiana?
Buying Weed in Louisiana: Bottom Line
Louisiana isn't the most attractive state for cannabis aficionados. While it has a liberal program for medical marijuana patients, recreational use remains illegal and harshly punished.
If you're looking for a federally legal alternative to marijuana that comes with a lower incidence of anxiety and paranoia, check out hemp delta-8 THC products.
Adults 21 and older can purchase delta-8 THC from local and online retailers. Always double-check your source of delta-8 extracts to ensure you're getting the best value for your money.