Is Weed Legal in Massachusetts? MA Cannabis Laws (June 2023)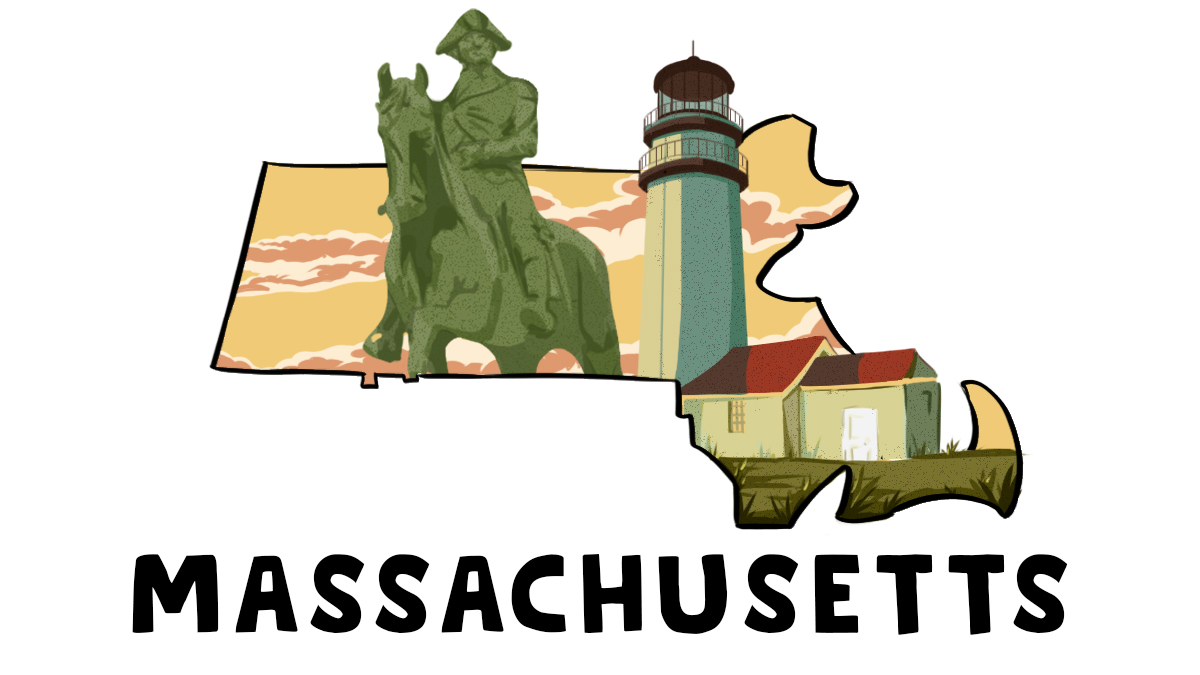 This article provides a complete guide to Massachusetts weed laws. We answer the question, "is marijuana legal in Massachusetts," and elaborate on possession limits, home cultivation, public use, traveling, and hemp products. You'll also learn about the future of cannabis legalization and where delta-8 THC has its place in this.
Marijuana is legal in Massachusetts for adults 21 and older. Retail sales began in November 2018.
The state also has an expansive medical marijuana program for patients. Medical weed has been legal in Massachusetts since 2012.
The state is also very liberal about home growing, allowing adults to cultivate up to 12 plants for two or more people per home.
You can also have more than one ounce of weed at home, provided it's locked up, according to state law.
In this article, we dive deep into marijuana laws and Massachusetts and explore the local weed market.
Is Weed Legal in Massachusetts?
Yes. Massachusetts legalized weed for adults 21 and older in 2016. Within the past 10 years, the state has made both recreational and medical marijuana legal.
However, both groups are subject to different regulations.
Related: Cannabis Laws by State
Here's what you need to know.
Is Recreational Marijuana Legal in Massachusetts?
Yes. In 2016, voters in Massachusetts passed the Massachusetts Legalization, Regulation, and Taxation of Marijuana Initiative, also known as Question 4, with 53.59% of the vote.
The bill created a framework for cannabis regulations similar to how alcohol sales are treated — making Massachusetts the first state on the US East Coast to allow dispensaries to sell weed to adults.
If you're 21 or older, you may possess the following:
One ounce of marijuana in a public place
Up to 10 ounces of marijuana at home
Up to 5 grams of cannabis concentrate
Up to 6 mature plants, with a maximum of 12 plants per resident. The plants must be kept away from public view.
Now to medical marijuana.
Is Medical Marijuana Legal in Massachusetts?
Yes. Massachusetts voters approved medical legalization in 2012. Patients can potentially purchase much larger quantities than recreational users.
According to Massachusetts medical marijuana laws, patients may buy a 60-day supply, meaning they can purchase any amount of weed recommended by their physician for that period.
Although some municipalities tried to outlaw medical marijuana dispensaries, State Attorney General Marth Coakley later created legal protections for these treatment centers against cities and towns.
Penalties for Marijuana Possession
If you possess up to two ounces for personal use or grow up to 12 mature plants per person, you won't go to prison, but you'll have to pay a $100 fine for a civil penalty.
Here's what happens if you're caught with larger quantities:
Up to 4 ounces: $1,000 fine, no prison time
4-8 ounces: $2,500 fine, 6 months in prison
8 pounds and more: $125,000 fine, 5 years in prison
Is Weed Decriminalized in Massachusetts?
Yes. Having up to 2 ounces of marijuana won't result in a penalty. If you're caught with 2-4 ounces, you'll have to pay a fine of up to $1,000, but you won't go to prison.
What's the Future of Cannabis Legalization in Massachusetts?
Massachusetts is now working to improve laws regarding equity in the cannabis industry. The goal is to make it easier for small, local businesses — and those owned by people of color — to enter the market and make sure they're not dominated by large corporations.
There's also a bill pending in the Senate that would allow cities and towns to vote for establishing social consumption sites, such as cannabis lounges or bars.
Delta-8 THC: A Better and Legal Alternative to Marijuana in Massachusetts
Massachusetts has a robust marijuana market for both medical and recreational users. The state is home to a plethora of high-quality dispensaries with knowledgeable staff that can answer your questions and dispel doubts if you're a novice user.
However, some people don't have a good experience with high-THC cannabis. Many sensitive users complain that THC makes them anxious and paranoid if they're not careful enough with the dosage.
Fortunately, there's a better — and federally legal — alternative to marijuana in Massachusetts.
It's called delta-8 THC.
Delta-8 THC vs. Delta-9 THC
Delta-8 THC is an isomer of delta-9 THC — the most common variant of the THC molecule. Both compounds have an almost identical chemical formula, but their structure is slightly different.
Delta-8 THC has a double bond at the eighth carbon chain, while delta-9 THC has this bond at the ninth chain.
This subtle difference causes delta-8 THC to lose some potency. Delta-8 is about half as potent as delta-9 THC.
In other words, you'd need to double your dose of delta-8 to experience the same intensity of effects as with weed.
And that's the reason why so many people are turning to delta-8 THC products nowadays.
Cons of Delta-9 THC From Marijuana
Marijuana is a mild psychedelic with deeply relaxing and mood-elevating properties.
The effects of delta-9 THC are dose-dependent. In low and moderate doses, delta-8 THC can ease pain, relieve stress, improve your mood, and boost your focus.
Larger doses can get you high, causing euphoria, laughter, increased appetite, and a warped perception of your surroundings. Your thinking patterns change, too. You can get more creative, inspired, empathetic, and social when you pick the right strain and dosage.
Most people enjoy the psychoactive effects of delta-9 THC, but not everyone is that lucky. Some users are particularly sensitive to the psychedelic nature of this cannabinoid.
If you take too much THC, you may experience the following side effects:
Anxiety
Paranoia
Feelings of discomfort
Cold sweats
Dizziness
Confusion
Increased heart rate
Short-term memory problems
Effects and Benefits of Delta-8 THC
Delta-8 offers a similar feeling to delta-9. People report feeling relaxed, euphoric, and mellow when they hit the sweet spot. But since delta-8 is about 50% less potent, it comes with a lower incidence of anxiety and paranoia.
That's not to say you can't get anxious or paranoid if you take more than enough, but as long as you use it responsibly, you'll be able to enjoy the cognitive buzz.
People use delta-8 THC for the same health benefits as marijuana, including:
Anti-nausea
Anti-inflammatory
Pain relief
Increased appetite
Feelings of calmness and relaxation
Euphoria
Neuroprotection
Is Delta-8 THC Legal in Massachusetts?
Yes. Hemp-derived delta-8 THC products are legal in Massachusetts as long as they contain 0.3% delta-9 THC or less.
The state has followed the federal law and the 2018 Farm Bill, which made hemp and its derivatives federally legal.
That means hemp-derived products can be transported across state borders, unlike marijuana.
The majority of delta-8 THC products result from CBD synthesis, so they fit the definition of "hemp-derived."
If you live in Massachusetts, you can purchase delta-8 THC products in person or online from manufacturers within and outside the state.
Read more: Is Delta-8 THC Legal in The U.S.?
Benefits of Buying Delta-8 THC Online
All branches of the hemp sectors are notoriously underregulated, and the delta-8 THC niche isn't an exception.
There are a lot of poor-quality products, some of which can be contaminated with harmful toxins, such as heavy metal reagents or bleaches.
Buying delta-8 THC online gives you access to more research tools to verify the credibility of your vendor. You can look into third-party lab reports, comb through customer reviews on independent websites, read the company's "About Us" section, and check social media or forums like Reddit to see what other users are saying about the store.
Online stores also have a better product selection of fresher products. You can browse through dozens of brands and their formulas, compare their prices, and select the best deal for yourself.
And you don't need to leave your house to do that.
Not to mention the lower prices. Online stores can skip the middleman and offer better deals on high-quality products. You can further take advantage of reward programs, subscription orders, coupon codes, and bulk pricing to save even more money.
Best Online Delta-8 THC Stores in Massachusetts
Finding a trustworthy delta-8 supplier requires a lot of time doing research on the purity and potency standards, the importance of lab reports, and what to pay attention to if you don't want to fall victim to scammers.
In a hurry? Don't worry, we've done the hard work for you. We can recommend the top two leading brands after buying from them for 2 years. Both companies excel at transparency, testing integrity, product quality, and customer service.
1. Area 52
Area 52 is a premium brand from Nevada that specializes in delta-8 THC extracts. The company's creed is to "alienize your mind," which captures the idea behind this product in the best way possible.
You can choose from a variety of delta-8 products like delta-8 THC tinctures, vape carts, gummies, and pre-rolled joints. They pack a punch with 25-40 mg delta-8 per serving and are also rich in terpenes. The presence of terpenes potentiates THC's cognitive buzz and health benefits, making a little go a long way.
Recently, Area 52 has introduced a new product line called "the real full-spectrum." It features novel formats like HHC gummies and delta-8 honey sticks, as well as more traditional products, such as energy gummies, sleep gummies, immunity gummies, and CBD oil.
2. Finest Labs
Finest Labs is our go-to recommendation for beginners. The abundance of different delta-8 products can be overwhelming if you're a first-time user, and Finest Labs offers the answer to that problem.
Its product line-up is modest, but the formulas have been crafted with great attention to detail and the ratios between delta-8, minor cannabinoids, and terpenes.
Finest Labs offers delta-8 THC tinctures, gummies, and vape carts — all infused with up to 40 mg of delta-8 per serving. The vape carts are also made with strain-specific terpenes — from indica, sativa, and hybrids — to help you tailor the experience to your preferences and the time of day.
The brand is also one of the most respected manufacturers of terpenes in the USA. You can purchase both single molecules and unique blends that recreate the aroma and flavor profiles of various cannabis strains.
FAQs
Who can use medical marijuana in Massachusetts?
Massachusetts medical marijuana law states that patients must be diagnosed with a "debilitating medical condition" to register and receive a medical marijuana card.
Qualifying conditions include:
HIV/AIDS
Glaucoma
Hepatitis C
Crohn's disease
Amyotrophic lateral sclerosis (ALS)
Cancer
Parkinson's disease
Multiple sclerosis
Other conditions for which a patient's physician deems marijuana an appropriate treatment
Can you grow weed in Massachusetts?
Yes. Anyone 21 and over can grow up to six mature plants at home and up to 12 plants in total per residence.
The plants must be kept out of public view, and the area should have a lock or security device to prevent children from gaining access.
Can you smoke marijuana in public?
Smoking marijuana in public is strictly prohibited in Massachusetts. Until the state figures out how to establish a network of public consumption places, smoking weed is restricted to private properties.
Can you travel with marijuana in Massachusetts?
Yes, but you can't have an open container of adult-use marijuana products in front of the driver or in the passenger area. The weed should be kept in the trunk.
Driving under the influence (DUI) of cannabis is subject to a minimum fine of $500 and up to $5,000. Subsequent offenses result in increased jail time and larger fines.
It's also illegal to travel with marijuana out of Massachusetts. Cross-state transportation of cannabis is classified as drug trafficking. You may be sentenced to up to 5 years in prison and pay $250,000 in fines if you're caught with less than 50 kg or fewer than 50 plants.
Is buying weed online an option in Massachusetts?
Yes. You can buy weed online in Massachusetts for delivery or pick it up later at a dispensary in person.
Is CBD oil from hemp legal in Massachusetts?
Yes, all hemp-derived CBD products are legal in Massachusetts as long as they don't contain more than 0.3% delta-9 THC.
The 2018 Farm Bill legalized hemp and its derivatives by removing them from the list of controlled substances allowing CBD oil in all 50 states.
Hemp is now an agricultural commodity.
You can easily find CBD oil in local pharmacies, wellness centers, hemp stores, dispensaries, and online stores.
Since the market is largely unregulated, we recommend buying CBD online because it gives you a better toolset for vetting your options on top of greater convenience and lower prices.
Buying Weed in Massachusetts: Bottom Line
Buying weed in Massachusetts is easy. You need to be 21 or older to purchase high-THC cannabis from one of the state-licensed dispensaries.
The product selection is impressive, from dried flower to hash and concentrates to tinctures, edibles, vape carts, and more.
If you're sensitive to the psychedelic effects of delta-9 THC and looking for a milder alternative, consider trying hemp-derived delta-8 THC. It offers a smoother high and isn't as anxious in high doses as its more popular cousin.
Whichever you choose for your next sesh, make sure to source your products from reputable stores that provide up-to-date certificates of analysis for the potency and purity of their extracts.