Is Weed Legal in New York? NY Cannabis Laws (June 2023)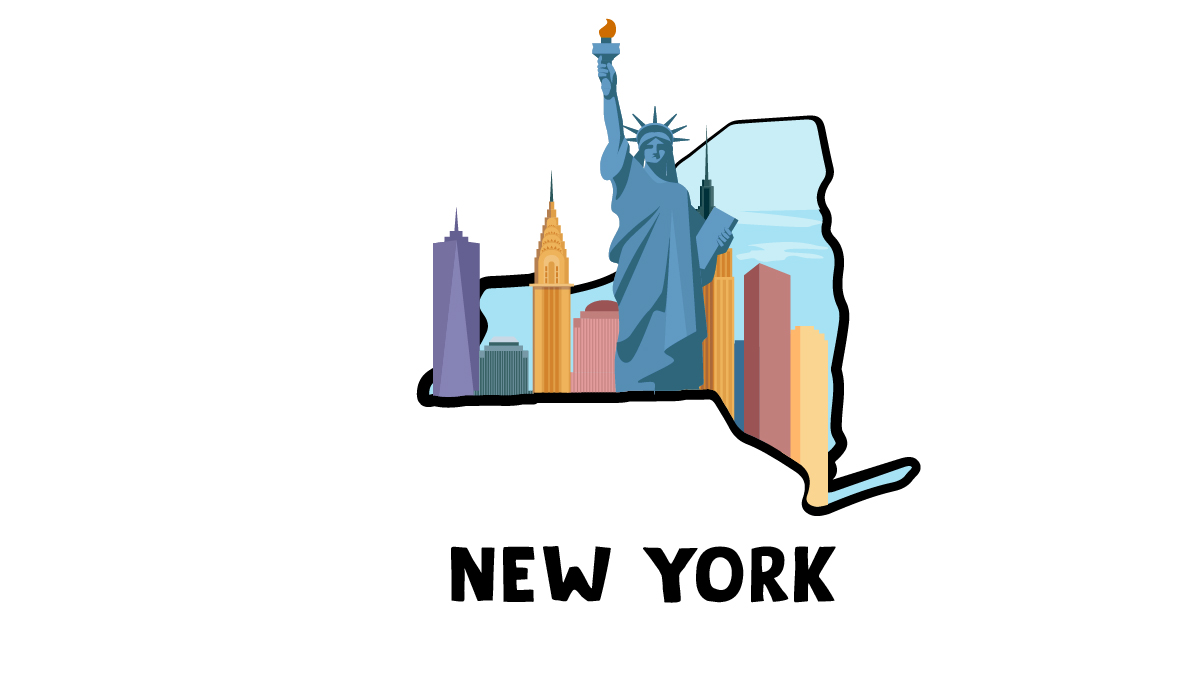 New York legalized marijuana for recreational use in 2021. Adults can possess up to 84 grams (3 ounces) of marijuana flower and 24 grams of concentrates.
Retail stores will most likely open in 2023, so there's currently no legal distribution network for marijuana in New York. There are, however, plenty of unlicensed vendors out there.
The state of New York allows home cultivation of up to 6 plants per person in the household.
Medical marijuana is legal, with many dispensaries operating in New York to help patients get the best medicine for their needs.
But if you'd like to buy weed in New York? Is there any alternative?
Read on to learn more about marijuana laws in New York and discover the benefits of delta-8 THC from hemp.
Is Weed Legal in New York?
Yes, marijuana is legal in New York for both medical and recreational use.
The only difference between medical marijuana patients and recreational users is that the latter is still waiting for dispensaries to open, which should happen no later than the beginning of 2023.
Related: Cannabis Laws by State
Here's what you need to know about recreational and medical marijuana laws in New York.
Is Recreational Marijuana Legal in New York?
Yes. In March 2021, New York state legislators passed The "Marihuana Regulation and Taxation Act after a few failed attempts between 2018 and 2020.
Weed has been partially decriminalized in the state since 2019, but the new law created a fully functional legal framework for cannabis-related activities.
Adults can possess up to 84 grams of marijuana and 24 grams of concentrates. The possession limit is increased to 5 ounces if you store cannabis flowers at home.
You can also grow up to 6 plants regardless of their growth stage.
As mentioned, New Yorkers are limited to homegrown weed for the time being as dispensaries are preparing for the opening in the next few months.
New York strives to be the leader in public cannabis consumption laws. New Yorkers will have cannabis consumption lounges and may also use delivery services.
Is Medical Marijuana Legal in New York?
Yes, medical marijuana has been legal in New York since 2014. The state law allows licensed organizations to grow and sell medical cannabis to patients.
New York has 38 operating medical dispensaries. Patients can purchase from them once they have received a medical marijuana card (more on the qualifying conditions later).
Penalties for Marijuana Possession in New York
Adults can legally possess up to 3 ounces of marijuana. You won't even get a ticket for having that amount of marijuana in public.
However, carrying more than 3 ounces and up to 8 ounces of marijuana is a misdemeanor punishable by up to 1 year in prison and a fine of $1,000.
Larger amounts change the status to a felony, for which penalties range between 4–15 years in prison and $5,000 – $15,000 in fines.
Is Weed Decriminalized in New York?
Yes. New York decriminalized the possession of up to 3 ounces of marijuana for personal use. You can also carry up to 15 grams of cannabis concentrate.
What's the Future of Cannabis Legalization in New York?
As mentioned earlier, New York is on the good way to becoming the East Coast leader of cannabis legalization. Following the example of Nevada, the state is planning to open cannabis consumption lounges, contributing to the destigmatization of the plant.
Once dispensaries start popping up in New York cities and other major locations, the Big Apple will be one of the most talked-about cannabis destinations in the USA.
Delta-8 THC: a Better and Federally Legal Alternative to Marijuana in New York
The 2018 Farm Bill and advancements in extraction methods have created a legal loophole in federal law, allowing hemp companies to sell delta-8 THC products as long as their delta-9 content remains below 0.3% on a dry weight basis.
Most states have adopted the provisions of the Farm Bill, while 14 states have rebelled against them.
New York is one of them.
It's illegal to produce, sell, and distribute hemp-derived products within the state. Of course, you can still purchase delta-8 THC online from another state and have it delivered to New York, but you'll be doing this at your peril.
Wondering why delta-8 THC is trending in the USA right now?
Delta-8 THC vs. Delta-9 THC
Delta-8 and delta-9 are different variants of the THC molecule. They have similar chemical formulas, but their atomic structure is slightly different.
Delta-8 THC comes with a double bond at the eighth carbon chain, while delta-9 THC has this bond at the ninth chain. This minor difference causes delta-8 THC to lose some potency.
Delta-8 THC is a milder analog of delta-9. The reason why people are turning to hemp-derived delta-8 THC (aside from legal reasons) is that some individuals have negative reactions to the psychedelic nature of marijuana.
Cons of Delta-9 THC from Marijuana
Delta-9 THC is the main psychoactive compound in cannabis. It comes with a wide range of therapeutic effects and can be intoxicating at certain doses.
Low and moderate doses of delta-9 are relaxing; they also relieve pain, ease stress, and improve focus.
But when you breach your tolerance, you can get high from smoking marijuana. That's when you feel euphoria, your mood gets elevated, your stomach empties in no time, and your thinking patterns work differently than when you're sober.
Most people enjoy these effects, but some individuals are overly sensitive to the psychoactive properties of THC. For them, high doses cause feelings of unease.
The side effects of taking too much delta-9 THC include:
Anxiety
Paranoia
Feelings of discomfort
Cold sweats
Dizziness
Confusion
Increased heart rate
Short-term memory problems
Effects and Benefits of Delta-8 THC
People use delta-8 products for similar benefits to marijuana, including:
Anti-nausea
Anti-inflammatory
Pain relief
Increased appetite
Feelings of calmness and relaxation
Euphoria
Neuroprotection
Is Delta-8 THC Legal in New York?
Yes and no. The 2018 Farm Bill made hemp-derived delta-8 THC federally legal, but individual states have the right to regulate cannabis on their own.
In 2021, New York lawmakers issued a statement claiming that delta-8 THC is a psychotropic substance and its production, sale, and distribution within the state is illegal.
Within is the codeword.
You can't legally buy delta-8 THC in New York stores, but you can order it online from another state — unless the company you're buying from offers to ship to gray-area states like New York.
Benefits of Buying Delta-8 THC Online
Most transactions on delta-8 THC are made online these days — and for a good reason.
Online retailers offer lower prices on high-quality products because they don't have to deal with the middleman. You can further save more money by joining reward programs and subscription orders or by using coupon codes.
Buying delta-8 THC online also gives you more opportunities to research your options. You can look into third-party lab reports, read the brand's "About Us" section, comb through customer reviews on independent websites, and reach out to other users on social media to get a bigger picture of the company.
Not to mention the obvious convenience of buying online. You can compare different formulas and their prices without leaving home, unrestricted by time.
Best Online Delta-8 THC Stores in New York
Finding a reputable delta-8 THC store in New York can be a hard nut to crack. Buying delta-8 products online is easier, but it still requires a serious amount of time if you want to make a well-informed decision.
In a hurry? No worries, I've done the hard work for you. After spending over 40 hours researching different delta-8 brands on the market, I've picked out my favorite two companies that excel at quality, transparency, and testing integrity. I've been using their products for the past two years and can recommend them with a clear conscience.
1. Area 52
Get 15% off all Area 52 products. Use code "CFAH" at checkout.
Area 52 is a premium manufacturer of delta-8 THC extracts from organic hemp. Its slogan is "alienize your state of mind," which clearly describes the mission and product selection.
Area 52 offers various forms of delta-8 THC, from tinctures to edibles like gummies and honey to vape carts and pre-rolled joints.
Not only are these products potent — packing 25–40 mg of delta-8 per serving — but they're also rich in terpenes, which contributes to well-rounded psychoactive effects and makes the buzz more enjoyable.
Recently, Area 52 has branched out with a new product line called "True Full-Spectrum." It features CBG Energy Gummies, CBN Sleep Gummies, Immunity Gummies, HHC Gummies, and CBD Oil.
2. Finest Labs
Finest Labs is one of the best companies for first-time delta-8 THC users. It offers a humble selection of delta-8 extracts, including tinctures, gummies, and vape pens. Despite a limited product choice, these formulas are crafted with great attention to detail and use the principle of entourage effects.
Finest Labs is also one of the most respected manufacturers of botanical terpenes. You can choose from single terpenes as well as special blends that recreate the flavors and aromas of different cannabis strains.
All products from Finest Labs are triple-tested by an ISO-certified laboratory for potency and purity.
FAQs
Who Can Use Medical Marijuana in New York?
New York residents can apply for a medical marijuana card if they have one of the qualifying conditions outlined by the New York Department of Health.
You can join the state medical marijuana program if you have:
Cancer
HIV/AIDS
Amyotrophic lateral sclerosis (ALS)
Parkinson's disease
Multiple sclerosis
Spinal cord injury with spasticity
Epilepsy
Inflammatory bowel disease (IBD)
Neuropathy
Huntington's disease
Substance use disorder
Post-traumatic stress disorder
Chronic pain
Can You Grow Weed in New York?
Growing marijuana at home is legal, but the state is working on creating rules for medical and recreational patients. Adults will be able to grow up to 6 plants each, with a limit of 12 plants per household.
Can you smoke marijuana in public?
Marijuana consumption is illegal in New York. In 2019, the state decriminalized cannabis, adding marijuana to the definition of smoking in the state's Public Health Law. Smoking marijuana is banned anywhere tobacco is prohibited. New York will soon be home to public cannabis consumption lounges.
Can You Smoke Marijuana in Public?
Yes, but you should keep it in a closed container and away from the driver's reach. It's illegal to smoke inside a vehicle, and driving under the influence (DUI) is punishable by up to one year in jail and a $1,000 fine. You'll also have your license revoked.
Traveling with marijuana outside of New York is illegal and classified as a federal felony (drug trafficking). You may be sentenced to prison for up to 5 years and have to pay $250,000 in fines if you're caught with less than 50 kg of marijuana or fewer than 50 plants.
Is Buying Weed Online an Option in New York?
Not yet. New York is planning to introduce an online marijuana delivery system once retail sales are launched. Until then, there's no way to buy weed online for delivery. Only medical marijuana patients can order from dispensaries for pick up.
Is CBD Oil From Hemp Legal in New York?
Yes, all hemp-derived CBD products are legal under state law as long as they contain no more than 0.3% delta-9 THC on a dry-weight basis.
You can easily find CBD oil in New York stores and online. Since the market is unregulated, I recommend buying CBD oil from reputable online stores for the same reason I recommend doing so with delta-8 THC — more research tools and lower prices.
Buying Weed in New York: Bottom Line
New Yorkers can finally enjoy legal weed. New York joined other forward-thinking states in 2021, removing another brick from the shambling prohibition.
However, if you want to buy weed in New York, you may find yourself a bit disappointed for now. Dispensaries won't open by 2023, so you need to train your patience for the next few months.
Until then, you may try your luck with hemp-derived delta-8 THC. While it's not available locally in New York, many companies offer nationwide shipping thanks to the legal status of delta-8 at the federal level. Just make sure to carefully research your potential suppliers to avoid contaminated products.