Is Weed Legal in North Dakota? ND Cannabis Laws (June 2023)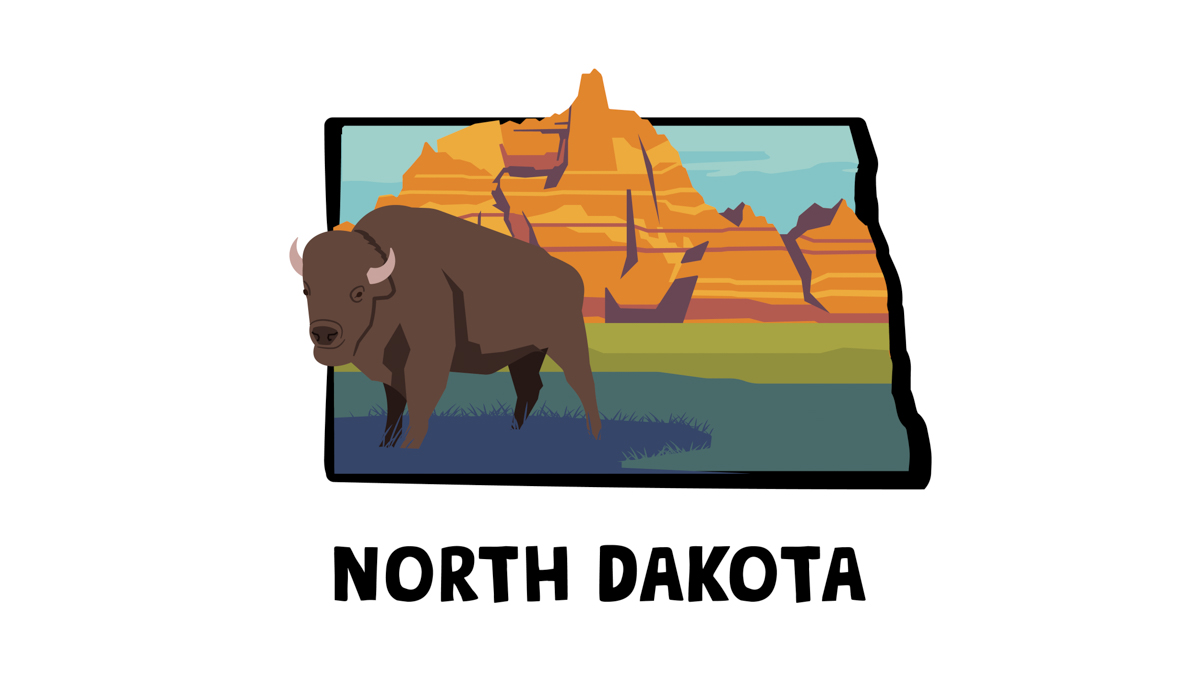 This article focuses on the legality of weed in North Dakota. We shed light on medical and recreational laws, possession limits, homegrow, traveling with marijuana, and other legal issues. After reading this article, you'll know how to get a medical marijuana card in North Dakota — and whether hemp-derived alternatives, such as delta-8 THC, are legal there.
North Dakota allows medical marijuana, but recreational weed remains illegal. North Dakota voters tried to pass recreational legislation in the 2022 elections but it didn't pass.
If you don't have a medical marijuana card, penalties for possession depend on the magnitude of your offense.
A first offense is decriminalized, but if you're caught more times, you can even go to jail.
Marijuana progress is slow in the state, and the legal landscape for alternatives like delta-8 doesn't look well, either.
Here's what you need to know about weed laws in North Dakota.
Is Weed Legal in North Dakota?
No. Weed is illegal in North Dakota if you don't have a medical marijuana card.
The state has partially decriminalized weed, but it's illegal to grow, sell, and possess it in public.
Related: Which States Are Marijuana Legal In?
Let's look at recreational and medical marijuana laws in North Dakota.
Is Recreational Marijuana Legal in North Dakota?
No. Marijuana remains illegal for recreational use in North Dakota.
A first offense for possession is decriminalized. You also won't go to jail if you have less than half-ounce, but you'll be charged with a $1,000 fine.
The sale of any amount of marijuana is a felony with up to 10 years of imprisonment.
Is Medical Marijuana Legal in North Dakota?
Yes. North Dakota legalized medical marijuana in 2016, but the first medical dispensaries opened in 2019.
If you're a registered patient, you can buy and possess up to three ounces of marijuana flower and up to 4000 mg of THC in total. Edibles remain illegal, even for medical use.
Patients living more than 40 miles away from a dispensary can grow up to 8 plants in a locked room that must be at least 1000 feet away from a school
Penalties for Marijuana Possession
Weed is illegal for recreational use in North Dakota, but the state doesn't have draconic laws. Here's what happens if you're caught with marijuana:
First-time possession: no incarceration or fine if you possess up to half an ounce.
Subsequent possession (up to half an ounce): no jail time, a $1,000 fine
Up to 500 grams: 30 days in prison, $1,500 in fines
More than 500 grams: up to 1 year in prison, $3,000 in fines
Is Weed Decriminalized in North Dakota?
Yes, weed is decriminalized in North Dakota to South Extent. First-time possession of less than half an ounce won't land you a fine or prison sentence. Subsequent offenders will have to pay a $1,000 fine.
What's the Future of Cannabis Legalization in North Dakota?
North Dakota is slowly but surely making progress with legalizing cannabis. Penalties for possession are milder than in other states, and if you're caught for the first time with less than half an ounce, nothing will happen to you.
In 2022, voters in North Dakota had a chance to legalize marijuana for recreational use, but the initiative failed. The next election will determine whether or not people in North Dakota are ready to give green light to adult-use cannabis.
Delta-8 THC: A Better Alternative to Marijuana in North Dakota?
The legal landscape for cannabinoids is shifting at the federal and state level as manufacturers discover new ways to extract psychoactive cannabinoids from hemp.
Compounds like delta-8 or delta-10 THC have been extremely popular thanks to their milder psychoactive profiles and legal status.
The 2018 Farm Bill legalized all hemp-derived products as long as they contain 0.3% or less delta-9 THC. Delta-8 THC extracts fit into that definition like a glove.
But before we elaborate on the legality of delta-8 in North Dakota, let's compare it to delta-9 THC from marijuana.
Delta-8 THC vs. Delta-9 THC
Delta-8 THC is an isomer of delta-9 THC, the primary psychoactive compound in marijuana.
It has an almost identical similar structure, but with a slightly different double bonding. Delta-8 THC has a double bond at the eighth carbon chain, while for delta-9 THC, this bond appears at the ninth carbon chain.
This subtle difference makes delta-8 THC about 50% less potent than delta-9 THC. You'd need to double your dose of delta-8 to experience the same intensity of effects as with weed.
That's why so many people are turning to delta-8 these days.
Cons of Delta-9 THC from Marijuana
Delta-9 THC has a biphasic nature, meaning that low and high doses provide completely opposite effects.
In low and moderate doses, delta-9 THC reduces stress, anxiety, and pain, and can also improve your cognitive performance thanks to its neuroprotective properties.
Larger doses will get you high, changing your perception of time and surroundings, heightening your senses, inducing euphoria, and making you feel hungry.
Most people can enjoy this kind of intoxication, but for sensitive individuals, THC may reveal its biphasic nature — causing anxiety and paranoia.
Some people even experience a panic attack after taking too much delta-9 THC.
Effects and Benefits of Delta-8 THC
Delta-8 THC comes with a similar effect profile to delta-9 THC, but since the effects are milder, delta-8 is less likely to drive you anxious and paranoid.
Of course, you might still experience these side effects, but you'd need to take way more delta-8 THC than you think.
While delta-8 THC isn't as well researched as delta-9 THC, people praise it for the following benefits:
Anti-nausea
Anti-inflammatory
Pain relief
Increased appetite
Feelings of calmness and relaxation
Euphoria
Neuroprotection
Is Delta-8 THC Legal in North Dakota?
Unfortunately, delta-8 THC is illegal in North Dakota.
In 2018, President Trump Signed the 2018 Farm Bill, which legalized hemp nationwide.
According to that bill, all hemp-derivatives are legal as long as they contain no more than 0.3% delta-9 THC on a dry-weight basis.
If a delta-8 THC product meets the above criteria, it's federally legal.
However, states can regulate the legality of hemp-derived cannabinoids within their jurisdictions. The law in North Dakota considers delta-8 THC a synthetically extracted cannabinoids, and all synthetic cannabinoids are prohibited under House Bill 1045.
Benefits of Buying Delta-8 THC Online
You can still try delta-8 THC products if you're in neighboring states where delta-8 is legal. The best way to find high-quality delta-8 extracts is to look for a reputable online store instead of shopping in local dispensaries.
The benefits of ordering delta-8 THC online include the following:
Lower prices
Seasonal discounts, reward programs, subscription orders
Greater selection of products
Better transparency
More convenience
Fresher products
Best Online Delta-8 THC Vendors
There are no regulations surrounding the production, testing, and labeling of delta-8 THC products. Finding a trustworthy manufacturer takes a lot of time in the sea of mediocre vendors.
Don't worry, we've done the digging for you. After testing over 30 hemp brands that sell delta-8 products, we've narrowed down our selection to the top 10 brands and picked out the top 2 companies that offer the best value for money.
1. Area 52
Get 15% off all Area 52 products. Use code "CFAH" at checkout.
Area 52 makes delta-8 THC products based on pure distillate. The brand offers delta-8 tinctures, edibles, vapes, and pre-rolled joints, catering to both novice and experienced users alike.
The delta-8 THC tinctures are better suited for beginners, with 25 mg of delta-8 THC per serving. If you have a higher tolerance, you may try the gummies; they pack 40 mg of delta-8 per piece in a medley of fruity flavors.
If you're up for a personalized experience, then delta-8 vapes and pre-rolls should answer your needs. They're made with strain-specific terpenes in three variants — Indica, Sativa, and Hybrid — to address different health goals and lifestyles.
2. Finest Labs
Finest Labs is our go-to recommendation for first-time users. This company offers only two types of delta-8 THC products: tinctures and gummies.
If you're just dipping your toes in the delta-8 space, the tincture is the perfect choice, with 15 mg of delta-8 THC and a blend of calming terpenes in each milliliter.
Gummies are a bit stronger, packing 25 mg per piece. They come in a juicy strawberry flavor that's achieved with natural fruit juice and concentrate.
Finest Labs also offers a broad selection of terpenes; there are 31 blends that recreate the flavors and aromas of various cannabis strains.
FAQs
Who can use medical marijuana in North Dakota?
You can buy medical marijuana in North Dakota if you've been diagnosed with one of the conditions included in the North Dakota Compassionate Care Act:
Cancer
HIV/AIDS
Hepatitis C
Amyotrophic lateral sclerosis (ALS)
Post-traumatic stress disorder (PTSD)
Alzheimer's disease
Crohn's disease
Fibromyalgia
Spinal stenosis or chronic back pain
Glaucoma
Epilepsy
A terminal illness
Can you grow weed in North Dakota?
You can grow weed in North Dakota only if you're a medical marijuana patient living 40 miles away from a dispensary and at least 1,000 feet from a school. You or your caregiver may cultivate up to eight marijuana plants.
Can you smoke marijuana in public?
Marijuana remains a controlled substance in North Dakota, meaning that while it's medically legal, you can't consume it in public. Smoking is prohibited especially near schools, parks, churches, and treatment facilities.
Can you travel with marijuana in North Dakota?
Yes, but your medicine must be kept in a closed container and away from the driver's reach. You also can't drive under the influence of marijuana or other intoxicating substance.
Is CBD oil from hemp legal in North Dakota?
Yes. You can legally buy CBD hemp oil in North Dakota. It's available in specialized CBD stores, pharmacies, wellness centers, organic stores, and online; you don't need a prescription to buy CBD oil in North Dakota.
Buying Weed in North Dakota: Bottom Line
North Dakota is on a good way to legalizing cannabis. It has partially decriminalized the possession of small amounts of marijuana (up to half an ounce) and has a generous medical marijuana program.
Unfortunately, delta-8 THC remains illegal in North Dakota, mostly due to regulatory problems regarding the purity of such products. Until companies come up with standardized lab testing methods, the situation won't change soon.
If you live in a state that allows hemp-derived delta-8 THC, the best way to find high-quality products is to look for a reputable online store. Always ask for current certificates of analysis (CoAs) from a third-party laboratory to ensure you're getting a pure and safe product.