Is CBD Oil Legal in North Dakota? ND Hemp Oil Laws (2023)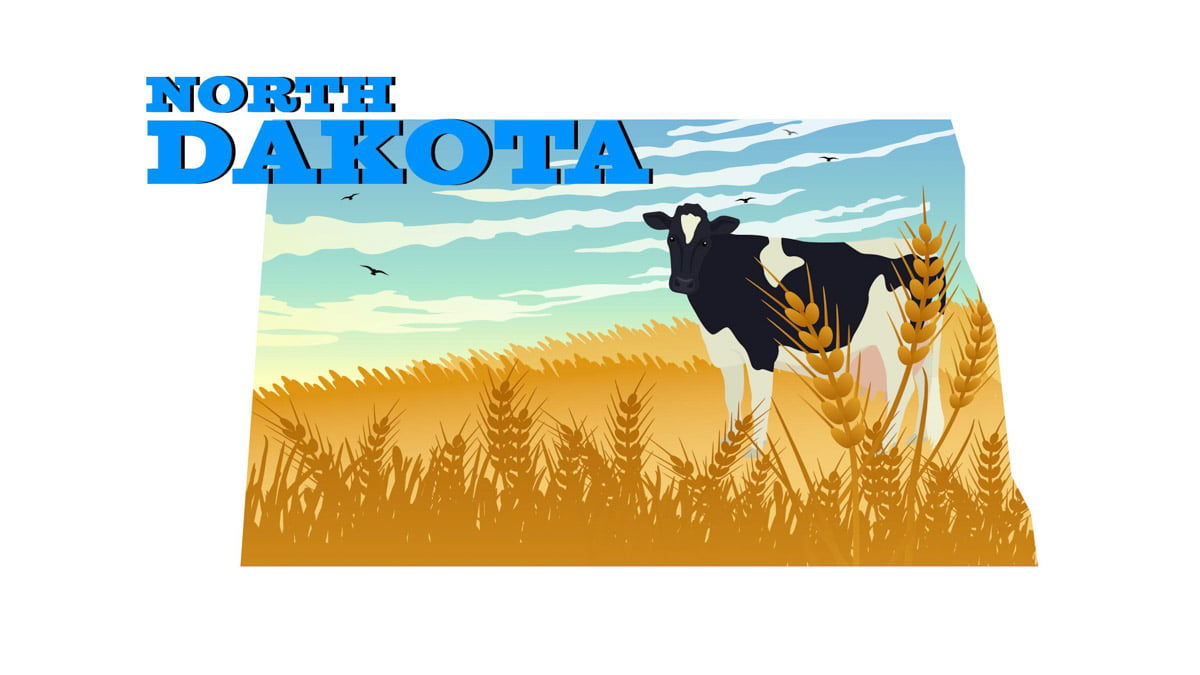 Cannabidiol's (CBD) popularity is at an all-time high, and we can see the CBD industry thriving like never before in the United States. Because of its affordability, legality, and myriad health benefits, it became one of the country's most desired health and wellness products.
When it comes to the number of brick-and-mortar CBD stores or vape shops, only a few North Dakota locations could carry CBD oil. Nonetheless, if buying locally is not an option for you, there are plenty of online retailers selling CBD goods out there. Given the legal status of hemp-derived CBD oil, you can order your products and have them delivered to your doorstep without spending a whole day on a trip to the city.
Now, before we introduce you to the list of potential CBD retailers in North Dakota, you might want to take a while to get yourself acquainted with the state's legal framework for Cannabidiol.
Is CBD Oil Legal in North Dakota?
Technically speaking, yes. But to be more precise, the legality of CBD oil depends on its source. CBD can be derived from both marijuana and hemp; these two varieties of the cannabis plant come with different amounts of THC. As such, each of them falls under different regulations.
Related: States Where Cannabidiol is Legal
Marijuana CBD Oil in North Dakota
North Dakota has enforced severe laws relating to the recreational use of marijuana. Even the possession of less than half an ounce of the dried flowers is punishable by up to 30 days in jail and/or a fine of $1,000.
Hopefully, this can change pretty soon, as supporters of legalizing recreational marijuana in North Dakota have succeeded in bringing their matter to a public ballot later this year.
As conservative as it is, North Dakota made great progress on November 8th, 2016, when the state's authorities legalized medical marijuana and allowed licensed medical dispensaries to open.
If you want to qualify for a North Dakota state medical card and get yourself some quality marijuana CBD oil, you must suffer from one of the following conditions:
Cancer;
AIDS;
ALS;
Epilepsy;
Glaucoma;
Hepatitis C.
Hemp CBD Oil in North Dakota
Hemp was legalized in the U.S. by the 2018 Farm Bill. CBD oil has been ruled to fall under the same category as other hemp products. The Farm Bill allows states to introduce their own legislation hemp control, but no North Dakota state legislation has been enacted to regulate hemp CBD oil at the time of writing.
Where to Buy CBD Oil in North Dakota?
North Dakota's CBD market is far behind such states as Florida, New York, or California when it comes to the availability of CBD oil. You're going to have a hard time shopping for CBD oil in North Dakota locally, as the state doesn't have many quality shops that could sell Cannabidiol-infused goods.
But hey, don't panic! Look, it's the 21st century; we have the Internet, e-commerce stores, and plenty of ways to shop for our favorite products online.
Speaking of which…
Buying CBD Oil Online in North Dakota
Buying CBD oil online comes with some indisputable advantages. First of all, it's easy. All you have to do is open your browser, do some background check on a couple of manufacturers, and purchase CBD oil from their official website – a piece of cake, isn't it?
Moreover, buying CBD online is fast. 99% of the time, it will take you anywhere from 5 to 10 minutes to place an order. No walking around, no asking staff for details – everything is displayed online, as long as you're buying from a trusted manufacturer.
And last but not least, if you like to buy CBD oil in bulk, you will like the wholesale deals offered by some CBD companies for their long-time clients. Given the abundance of different CBD products available online, your choice won't be limited to tinctures and vape juices, so there you go – another point in favor of buying CBD oil online!
PRODUCT
DETAILS

Best Overall CBD Oil

Royal CBD – Full Spectrum

Rated #1 for overall
Highest quality hemp oil on our list
100% organic, free of pesticides and artificial ingredients
Established brand with 24/7 customer support
30-day 100% money-back guarantee

Click for Best Price

Best Organic Formula

 

Gold Bee

Sourced from US-grown organic hemp
Contains full-spectrum CBD
Up to 80 mg CBD/mL
Great potency range for beginners
Third-party tested for potency and purity
Great honey flavor

Click for Best Price
Local CBD Oil Stores in North Dakota
Still, insisting on buying CBD oil in North Dakota somewhere near you? As we said, you might have to travel here and there to get your bottle of CBD oil, but if changing your mind is not an option, here's the list of retailers that may offer CBD products.
If you live in Fargo or you're just passing by, and you suddenly run out of CBD oil, make sure to check the following locations:
| | |
| --- | --- |
| NAME | ADDRESS |
| Ecig City | 4302 13th Ave S, Fargo, ND 58103 |
| Infinite Vapor | 68 Broadway, Fargo, ND 58102 |
| Sports Vape | 1621 South University Dr, Ste 3, Fargo, ND 58103 |
| Discontent | 1502 Broadway, Nmr, Fargo, North Dakota, ND 58102 |
CBD Oil Shops in Bismarck
There are three quality vape shops, health stores, and tobacco retailers that can carry CBD products in Bismarck. See the names above and give them a shot on your next stop in the city.
| | |
| --- | --- |
| NAME | ADDRESS |
| Infinite Vapor | 710 E Bowen Ave, Bismarck, ND 58504 |
| Tobacco Row | 404 E Bowen Ave, Bismarck, ND 58504 |
| Terry's Health Products | 717 E Main Ave, Bismarck, ND 58501 |
Final Thoughts on Buying CBD Oil in North Dakota
North Dakota residents can't complain about the availability of CBD oil in their state. While it's true that North Dakota is not a paradise for local shoppers, you may very well place your order online and have the CBD oil delivered from any state you want.
The CBD industry is growing rapidly, and sooner or later, North Dakota will join the cannabis legalization bandwagon. Thanks to the success of cannabis activists, recreational marijuana can become legal later this year or in 2019. Let's keep our fingers crossed, but for now, we cannot help but encourage you to try the benefits of hemp-derived CBD oil first hand!