Is Weed Legal in South Carolina? SC Cannabis Laws (June 2023)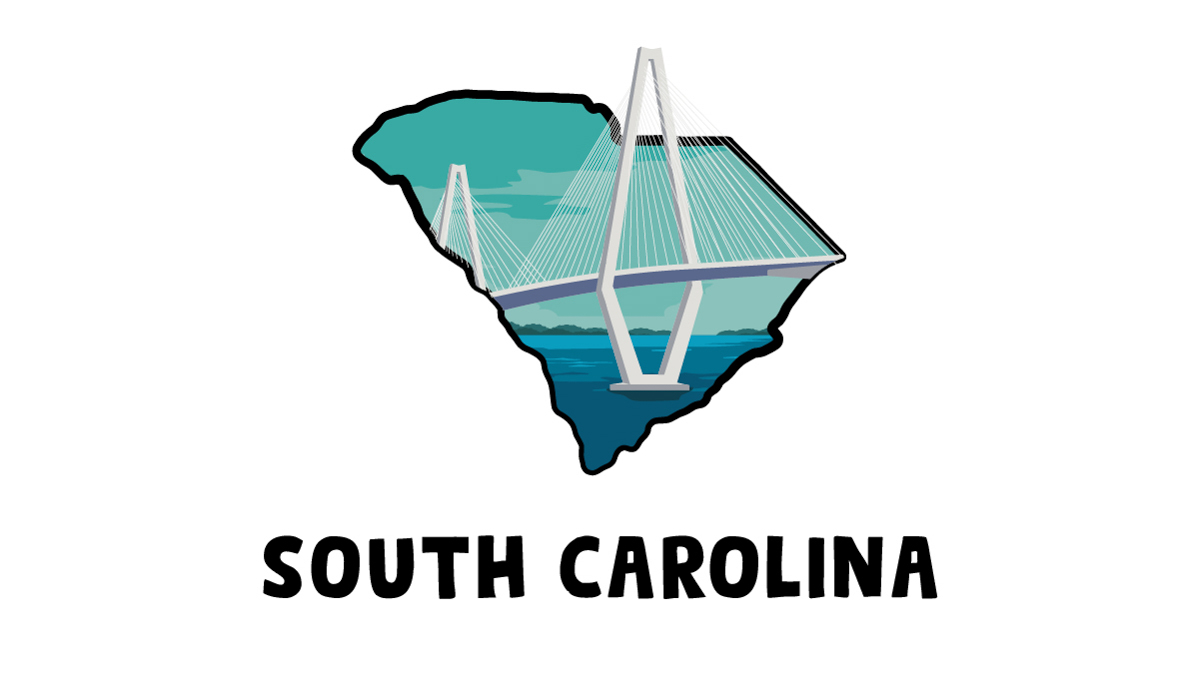 This is a complete guide to the legal status of marijuana in South Carolina. We break down medical and recreational marijuana use, discuss penalties for possession, and shed light on the future of cannabis legalization in the state. You'll also learn about the legal alternative to marijuana in South Carolina.
Marijuana is illegal in South Carolina. Both medical and recreational use is prohibited.
Low-THC/high-CBD oil is legal, though growers and manufacturers must complete a licensing and permitting process.
South Carolina has quite steep penalties for possession, ranging from 30 days in jail and $200 fines to five years in prison and a fine of up to $5,000.
In 2018, South Carolina had 34,229 marijuana arrests, scoring second place in the country.
72% of South Carolina voters support legalizing medical marijuana. Their support for recreational legalization is lower — around 23%.
Several legalization bills were killed in the Senate. The last attempt to legalize marijuana took place in 2020.
Hemp-derived delta 8 THC is legal in South Carolina. You can buy it locally and online, but since the market is unregulated, it's critical that your vendor provides relevant third-party lab reports on potency and purity.
Is Weed Legal in South Carolina?
No. Weed is illegal in South Carolina for both recreational and medical users. You can face harsh penalties for simple possession of low amounts of marijuana for personal use. The only cannabis products that are legal in South Carolina are low-THC/high-CBD oils.
Related: States That Have Legalized Weed
Is Recreational Marijuana Legal in South Carolina?
No, recreational marijuana is prohibited in South Carolina. It's illegal to grow, possess, sell, and distribute high-THC cannabis.
Is Medical Marijuana Legal in South Carolina?
No. South Carolina is one of the few states without a medical marijuana program. Patients can't apply for a medical marijuana card, and the only way they can medicate is through low-THC/high-CBD oil. However, there's a complicated licensing and permission program that prevents many manufacturers from delivering the medicine.
Penalties for Marijuana Possession
As mentioned earlier, penalties for marijuana in South Carolina are severe:
Possession of less than one ounce of marijuana flower can lead to a misdemeanor conviction, up to 30 days in jail, and a maximum fine of $200.
A first-time offense for personal use is also a misdemeanor, involving penalties from one year in prison and a fine of up to $2,000.
If you're caught with more than one ounce of weed, you'll be charged with intent to distribute and punished for a felony.
A second conviction may land you in jail for up to five years on top of a maximum fine of $5,000.
You can receive a $500 fine for possessing marijuana paraphernalia, such as a simple pipe.
Penalties for growing marijuana range depending on the plant's total weight. There's a mandatory prison sentence for a single plant.
Getting caught with concentrates can result in a prison sentence of up to 30 days and a fine of up to $200.
Is Weed Decriminalized in South Carolina?
No. Possession of any amount of marijuana in South Carolina will result in 30 days in jail and a fine between $100 and $200. Individuals with a first-time simple possession charge may be allowed to enter a pre-trial intervention program or join a drug abuse program to reduce their penalties.
What's the Future of Cannabis Legalization in South Carolina?
In 2019, lawmakers introduced the Compassionate Care Act that would establish comprehensive marijuana legislation covering a wider range of diseases.
Progress halted in 2020, with two major committee hearings canceled due in part to COVID-19.
Two other bills (H 3081, H 3272) which would legalize medical marijuana were brought to the House in 2019 but haven't been pushed further since the committee review.
Two previous attempts to legalize medical marijuana (H. 4037, S. 672) failed in 2015 in the Senate Medical Affairs Committee.
Legislation is pending to decriminalize the possession of small amounts of marijuana for personal use. If passed, it would make it a civil offense for both marijuana and hashish. Penalties would involve only fines between $100-200 for first-time offenders.
Delta 8 THC: A Better and Legal Alternative to Marijuana in South Carolina
As you can see, South Carolina is among the last few states that oppose marijuana legalization in all aspects.
While support for medical marijuana among voters is high (72%), the numbers aren't that impressive for recreational legalization (around 23%).
A funny paradox?
You can still enjoy psychoactive cannabinoids as long as they come from hemp and the end product contains no more than 0.3% delta 9 THC.
In other words, you can purchase hemp-derived delta 8 THC with no legal consequences whatsoever.
Delta 8 THC is not only federally legal, but it's also milder than delta 9 from marijuana. Some people don't tolerate the psychedelic nature of weed, so delta 8 products seem to fit here like a glove.
Cons of Delta 9 THC From Marijuana
Most people can enjoy the high from delta 9 THC. In low and moderate doses, it acts as a relaxant. It can also improve your cognitive performance, reduce stress, mitigate pain, and promote neurogenesis.
Larger doses get you high, altering your thinking patterns and perception of time, boosting your appetite, and causing episodes of laughter and a euphoric mood.
But for some individuals, high doses of delta 9 THC reveal its biphasic nature, elevating mental discomfort on top of a few physiological symptoms.
The side effects of taking too much delta 9 THC include:
Anxiety
Paranoia
Feelings of discomfort
Cold sweats
Dizziness
Confusion
Increased heart rate
Short-term memory problems
Effects and Benefits of Delta 8 THC
As an isomer of delta 9, delta 8 THC has a similar chemical formula. However, their atomic bonds are arranged differently.
Delta 9 THC has a double bond at the ninth carbon chain, while for delta 8 THC, this bond appears at the eighth chain.
This subtle difference makes delta 8 THC 50% less potent than delta 9. In plain English, you'd need to consume twice the amount of delta 8 to experience the same intensity of effects as with marijuana.
Delta 8 THC is also less likely to drive you anxious and paranoid. It does happen, but it's rare and requires extremely high doses.
That's why so many people are turning to delta 8 THC now.
Both cannabinoids offer similar benefits, such as:
Anti-nausea
Anti-inflammatory
Pain relief
Increased appetite
Feelings of calmness and relaxation
Neuroprotection
But the best part about hemp-derived delta 8 THC products is that they're federally legal. But does South Carolina allow them?
Is Delta 8 THC Legal in South Carolina?
Surprisingly, yes. You can buy D8 with no legal consequences in South Carolina as long as they come from hemp and contain no more than 0.3% delta 9 THC.
How is that possible?
The 2018 Farm Bill legalized all hemp derivatives, including cannabinoids, terpenes, flavonoids, isomers, and salts of isomers.
But since cannabinoids like delta 8 THC occur in negligible concentrations in cannabis plants, their extraction has been cost-prohibitive until recently.
Three years ago, manufacturers figured out a method of extracting usable quantities of delta 8 THC from hemp by accelerating the natural conversion process that takes place over time in the plant.
New extraction methods created a loophole in the Farm Bill, legalizing psychoactive cannabinoids from hemp as long as the end product doesn't contain more than 0.3% delta 9 THC.
Although the office of the State Attorney General released an opinion in which it deemed delta 8 THC illegal as a supposedly 'synthetic' cannabinoid, the opinion is not the law, and the current law in South Carolina fully aligns with the provisions of the 2018 Farm Bill.
That means you can legally buy hemp-derived delta 8 THC in local stores and online.
Benefits of Buying Delta 8 THC Online
Most transactions on delta 8 THC are made online these days — and for a good reason.
The delta 8 THC market is unregulated, so when you buy from local vendors, you can rely solely on their perception of what's high-quality and what's not.
You may just as well end up with a contaminated product from shady companies that contains harmful additives and less delta 8 THC than the label says.
Buying d8 online as opposed to local stores gives you more options for researching your potential suppliers. You can look into certificates of analysis (CoAs), scan through customer reviews on third-party websites, or read the company's "About Us" page to learn about its manufacturing and testing practices.
Online shopping is also more convenient. You can browse through hundreds of products and compare their formulas, potencies, and prices — all of this in the comfort of your home.
Not to mention that online stores can cut out the middleman and offer lower prices on their products. On top of that, you can use coupon codes, reward programs, and subscription orders to save even more money on high-quality delta 8 extracts in South Carolina.
Best Online Delta 8 THC Stores
Making a well-informed decision on delta 8 THC products requires a solid amount of research and decent knowledge about the market.
If you don't have time to read through lab reports or run down social media threads to find a legitimate product, here are the two finest brands I can recommend with a clear conscience.
I've been using their products for the last two years and have never been more satisfied with the cognitive benefits they give me, on top of soothing my nerves.
Both brands triple-test their products in ISO-certified laboratories for potency and purity to ensure top-shelf quality.
1. Area 52
Get 15% off all Area 52 products. Use code "CFAH" at checkout.
Area 52 comes from Nevada and specializes in psychoactive cannabinoids from hemp, such as delta 8 THC and HHC.
The brand started out with a modest selection of delta 8 THC products (gummies and tinctures), growing its line-up with vape carts and pre-rolled joints.
These products are potent and contain supportive cannabinoids and terpenes to leverage the entourage effect and increase the overall potency of the formula. The vapes and pre-rolls come in Sativa, Indica, and Hybrid options, providing different effects suited to various lifestyles and times of the day.
Area 52 hasn't stopped there. Earlier this year, the company released a line of true full-spectrum products that feature blends of CBG, CBC, CBN, and delta 9 THC (below 0.3%) to increase energy, help with sleep, and boost immunity.
2. Finest Labs
Finest Labs is one of the best delta 8 THC companies for beginners. It doesn't offer such an extensive line-up as Area 52, but these formulas are crafted to perfection. The consistency, potency, and purity of these products are almost second to none.
You can choose from delta 8 THC tinctures, gummies, and vape carts. Finest Labs also has HHC gummies and CBG + Vitamin B energy gummies for those looking to reap the benefits of other therapeutic cannabinoids.
Finest Labs is one of the most reputable manufacturers of terpenes in the USA. The company offers single terpenes and special blends that recreate the effect profile and flavors of specific cannabis strains.
FAQs
Who can use medical marijuana in South Carolina?
South Carolina doesn't have a medical marijuana program that would offer a similar infrastructure to what other states have established for patients.
Low-THC/high-CBD oil is legal for patients with various forms of epilepsy. There have been attempts to extend the list of qualifying conditions, but so far, they have all gone down the drain.
Can you grow weed in South Carolina?
No. Growing weed is illegal in South Carolina. Penalties for growing marijuana depend on the total weight of your plants.
Can you smoke marijuana in Public?
It's illegal to smoke marijuana in public. Doing so is considered the same as possession and punished accordingly.
Can you travel with marijuana in South Carolina?
You can only travel with low-THC/high-CBD oil in South Carolina. However, you can't take it out of the state if it comes from marijuana. Cross-state transportation of cannabis is treated as drug trafficking and punished with 5 years in jail and $250,000 in fines if you're caught with fewer than 50 plants or less than 50 kg of marijuana.
Is buying weed online an option in South Carolina?
No. Online marijuana sales are prohibited. Intent to sell or distribute marijuana results in felony charges.
Is CBD oil from hemp legal in South Carolina?
Yes, hemp-derived CBD oils are legal in South Carolina. The 2018 Farm Bill removed hemp and its derivatives from the list of controlled substances, reclassifying hemp plants as an agricultural commodity.
CBD oils are widely and legally available in local hemp stores, but I recommend buying them online for the same reason I recommend doing so with delta 8 THC products; you have more options to vet your potential vendors, and the prices are lower.
Buying Weed in South Carolina: Bottom Line
Buying weed in South Carolina isn't an option, no matter if you're a medical or recreational user.
Those with severe forms of epilepsy can legally buy low-THC/high-CBD oil from marijuana, but the list of licensed producers is limited due to troublesome licensing procedures.
If you're looking for a legal alternative to marijuana in South Carolina but you want to explore beyond CBD oils, delta 8 THC products are your best bet.
Delta 8 THC creates a milder high than delta 9, comes with similar benefits, and, best of all, is legal at the federal level.
Just make sure to purchase your delta 8 products from reputable sources who are transparent about their manufacturing and lab testing methods.