Is Weed Legal in Vermont? VT Cannabis Laws (June 2023)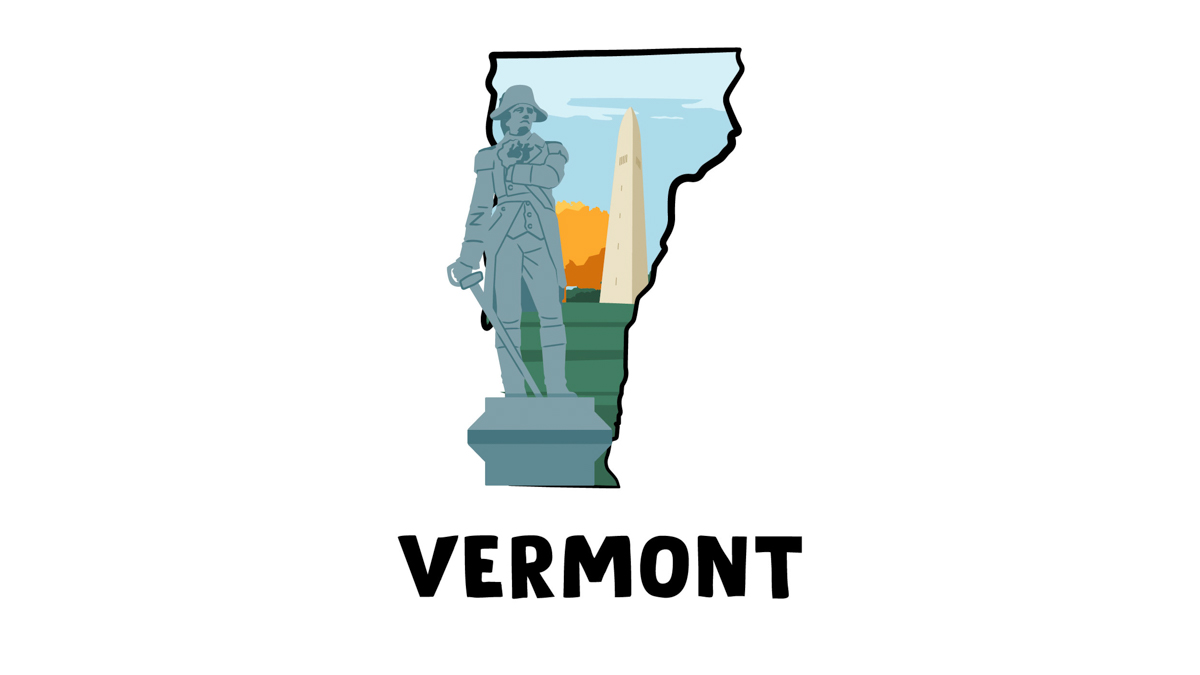 This article answers the question, "Is marijuana legal in Vermont?" We provide a complete guide to the legal status of cannabis — both hemp and marijuana — including possession limits, cultivation, public consumption, traveling with cannabis, and hemp-derived delta-8.
Before Vermont, no state had legalized the recreational use of cannabis via the state legislature — previous legal states had used a statewide ballot initiative.
But in 2018, Vermont became the pioneer.
The state legislature created a robust market for adult-use cannabis, allowing adults 21 and older to possess up to 1 ounce of cannabis flower in public.
Vermont also has a medical marijuana program for patients with qualifying conditions. The registration process is easy, and the list of medical conditions is quite liberal compared to states like Iowa or Texas.
Here we dive deeper into marijuana state laws in Vermont.
Is Weed Legal in Vermont?
Yes. Vermont legalized weed in 2018 for recreational use. Medical marijuana has been legal since 2004, with a fully operational distribution network established in 2011.
Related: List of States That Legalized Marijuana
Is Recreational Marijuana Legal in Vermont?
Yes. Vermont Governor Phil Scott signed adult-use legalization (H.511) into law in 2018. Though he admitted he had ambiguous feelings about legalization, he said, "what adults do behind closed doors and on private property is their choice, so long as it does not negatively impact the health and safety of others, especially children."
In 2020, a follow-up bill was passed that opened the licensing process for adult-use dispensaries in Vermont.
The first dispensaries opened in October 2022.
Adults 21 and older may possess up to 1 ounce of cannabis and up to 5 grams of hashish or concentrates. They can also grow up to 6 plants at home.
Is Medical Marijuana Legal in Vermont?
Yes, medical marijuana is legal in Vermont. The state passed the medical marijuana laws in 2004, but there were no operating dispensaries.
Vermont lawmakers passed another legislation that allowed dispensaries to sell cannabis in 2011.
Although marijuana is legal in Vermont for all adults, there are still perks of becoming a medical marijuana patient.
Registered patients are allowed to possess 2 ounces of marijuana, grow 2 mature plants, and 7 immature plants.
Penalties for Marijuana Possession
Marijuana is legal in Vermont, but that doesn't mean you can do anything you want with it. Here's what happens if you're carrying more than one ounce of weed:
1-2 ounces (first offence): misdemeanor punishable by 6 months in prison and a $500 fine.
1-2 ounces (subsequent offense): misdemeanor with the punishment of 2 years in prison and a maximum fine of $2,000.
2 ounces – one pound: felony punishable by up to 3 years in prison and $10,000 in fines.
1-10 lbs: felony with a 5-year prison sentence and $100,000 in fines.
More than 10 lbs: felony punishable by up to 15 years in prison and $500,000 in fines.
Is Weed Decriminalized in Vermont?
Yes, but only up to a certain amount. You won't receive a penalty if you're carrying 1 ounce or less in public.
What's the Future of Cannabis Legalization in Vermont?
When it comes to the pace of legalization efforts in Vermont, they go in a stereotypical stoner fashion.
Medical marijuana was legalized in 2004. But it took 7 years for lawmakers to introduce a bill that allowed state-licensed medical dispensaries.
Vermont legalized recreational weed in 2018, and although it did it in a pioneering way, it took another 4 years to launch retail sales.
The dispensaries were said to start opening at the beginning of October 2022, but here we are again — still no stores on the horizon.
Delta-8 THC: A Better and Federally Legal Alternative to Marijuana in Vermont
For now, the only legal way to get weed in Vermont is to grow it yourself or have a generous friend who will share some of their greens with you.
The officials are pulling the string, so if you have a short fuse, you may be fed up with the constant stagnation and look for an alternative.
In many states, delta-8 THC is making waves because it comes from hemp and is federally legal.
Before we answer the question, "is delta-8 THC legal in Vermont?" let's throw a few introductory lines about this new-ish cannabinoid.
Delta-8 THC vs. Delta-9 THC
Delta-8 THC and delta-9 THC are two variants of the THC molecule. As an isomer of delta-9, delta-8 THC has a strikingly similar chemical formula. However, its structure is a little bit different.
Delta-9 THC comes with a double bond at the ninth carbon chain; meanwhile, delta-8 THC has this bond at the eighth chain.
So what's the result of this subtle difference?
Quite a significant loss in potency.
Delta-8 THC is about 50% as potent as delta-9, so you'd need to double your dose if you want to experience the same intensity of effects.
But what if you don't?
Some people are particularly reactive to the psychedelic effects of delta-9 THC, so the lower strength of delta-8 is actually a desired trait for them.
Cons of Delta-9 THC From Marijuana
Marijuana is a mild psychedelic with deeply relaxing properties. It also has a biphasic nature, meaning that different doses produce opposite effects.
For example, low and moderate doses of delta-9 THC may elevate your mood, reduce physical discomfort, ease stress, and even boost your focus and creativity.
Larger amounts will make you feel high, altering your thinking patterns, perception of time and causing euphoria, giggles, increased appetite, and increased energy or sedation, depending on the consumed strain.
For most people, the high is enjoyable — without any unpleasant reactions.
However, if you're overly sensitive to delta-9 THC, larger doses can trigger some of the following side effects:
Anxiety
Paranoia
Feelings of discomfort
Cold sweats
Dizziness
Confusion
Increased heart rate
Short-term memory problems
That's where delta-8 THC comes into the picture.
Effects and Benefits of Delta-8 THC
Delta-8 THC produces similar effects to delta-9 THC, but since it's about half as potent, it offers a smoother cognitive buzz with a lower risk of triggering anxiety or paranoia.
Of course, you can get anxious and paranoid if you take more than enough, but the threshold is much broader than with regular weed. That's why people call delta-8 THC "cannabis light" or "diet weed."
Although research is in its infancy when it comes to the health benefits of delta-8 THC, you may expect similar therapeutic effects to delta-9, considering their chemical formula:
Anti-nausea
Anti-inflammatory
Pain relief
Increased appetite
Feelings of calmness and relaxation
Euphoria
Neuroprotection
Is Delta-8 THC Legal in Vermont?
Unfortunately, delta-8 THC is illegal in Vermont. The state clearly outlawed delta-8 THC products, claiming they can't be considered hemp-derived. To give it more detail, lawmakers decided that conversion processes involving CBD should be banned in the manufacturing of hemp extracts.
The law states producers are prohibited from making hemp-derived delta-8 THC products and ban its sales across the state.
Since the federal government allows delta-8 THC, you can still buy it and use a mail-forwarding service, but I don't recommend that because it can get you into trouble with the law.
Benefits of Buying Delta-8 THC Online
Most people prefer to buy delta-8 THC online rather than from local stores — and they have a few good reasons for that.
Buying delta-8 THC online is more convenient than bouncing between local vendors. You can compare dozens of products and their prices in the comfort of your home, unrestricted by working hours or location.
Online stores also offer lower prices on their products because they can cut out the middleman. With no extra costs involved, they also provide other smart ways to save money on high-quality delta-8 THC, such as reward programs, subscription orders, coupon codes, and bulk pricing.
Not to mention that you have more tools for researching your potential suppliers. You can look into the certificates of analysis (CoA), read the company's "About Us" section, look at customer reviews on independent websites, and check social media and forums like Reddit to see what other users say about the company.
Best Online Delta-8 THC Stores in Vermont
Buying delta-8 THC online is still risky these days because the market remains largely unregulated. There are no manufacturing, labeling, and testing standards in place, so you need to shoulder the responsibility for research.
In a rush? Don't worry, I've already done the digging. After sampling over 20 popular delta-8 THC brands, I narrowed down my options to 5 companies, and after using my list of quality criteria, I ended up with 2 leading manufacturers. Both companies offer remarkable transparency, integrity, and quality of products. I've been using their stuff for over 2 years now, and I can recommend them with a clear conscience.
1. Area 52
Area 52 is a Nevada-based manufacturer of delta-8 THC products based on pure distillate. Its collection includes tinctures, edibles, vape carts, and pre-rolled joints.
The products from Area 52 can pack a punch, with 25–40 mg of delta-8 per serving, and they're also rich in terpenes, the aromatic molecules that boost the cognitive benefits of cannabinoids.
Earlier this year, Area 52 released a line of "true full-spectrum products," featuring novel formats like HHC gummies and delta-8 THC honey, as well as traditional forms, such as energy gummies, sleep gummies, immunity gummies, and CBD oil.
All Area 52 products are rigorously tested by an ISO-certified laboratory for potency and purity.
2. Finest Labs
Finest Labs is my go-to pick for beginners because it combines premium quality with the simplicity of form. The product line-up of Finest Labs is modest, but the formulas have been mastered to perfection. You can choose between delta-8 THC tinctures, gummies, and vape carts.
On top of high potency, the vapes are infused with terpenes from different cannabis strains — indica, sativa, and hybrid — to help you tailor the effects according to the time of day and your personal preferences.
Finest Labs is also one of the most revered manufacturers of botanical terpenes, offering single molecules and unique blends that resemble the effects of various cannabis strains.
FAQs
Who can use medical marijuana in Vermont?
You can apply for a medical marijuana card in Vermont if you've been diagnosed with one of the following conditions:
Cancer
Multiple sclerosis
HIV/AIDS
Crohn's disease
Parkinson's disease
Glaucoma
PTSD
Cachexia
Chronic pain
Severe nausea
Seizures
Can you grow weed in Vermont?
Adults at least 21 years old are allowed to grow up to 2 mature plants and up to 4 immature plants (in the vegetative stage). Those limits also apply to share dwellings, such as among family members or roommates.
Plants must be kept away from public view or access and out of reach of anyone under 21.
Medical marijuana patients can grow up to 2 mature plants and up to 7 immature plants (9 plants in total).
Can you smoke marijuana in public?
No. Smoking marijuana is prohibited in any public space in Vermont. You can smoke weed only on private property.
It's also illegal to smoke cannabis, whereas smoking tobacco and e-cigarettes are prohibited.
Property owners and landlords can ban the possession of cannabis on their territory. Employers can also ban possession and use at the workplace.
Can you travel with marijuana in Vermont?
Yes, as long as you keep the cannabis in a closed container and out of the driver's reach.
It's illegal to drive under the influence (DUI) of cannabis, or any psychoactive substance for that matter.
If you're suspected of DUI, you'll be asked to do a chemical test of your breath. Refusal to submit will lead to a license revocation for six months and possible legal consequences from the state.
You also can't travel with marijuana outside of Vermont. Doing so will be treated as a federal felony (marijuana trafficking). You may be sent to jail for up to 5 years and have to pay $250,000 in fines if you're caught with less than 50 kg of marijuana or fewer than 50 plants.
Is buying weed online an option in Vermont?
Cannabis delivery isn't currently allowed in Vermont. You can order marijuana online, but you must come to the store and pick it up in person.
Is CBD oil from hemp legal in Vermont?
Yes. CBD oil was legalized in Vermont in 2018 when the amended Farm Bill went into effect. The new law removed hemp and its derivatives from the list of controlled substances.
Hemp-derived products are federally legal as long as they contain no more than 0.3% delta-9 THC on a dry-weight basis.
You can easily find CBD oil in local stores and online, but since the market lacks regulation, I recommend buying your CBD supplements from a reputable online store; not only can you benefit from lower prices, but you also have more opportunities to run a background check on your vendor.
Buying Weed in Vermont: Bottom Line
Weed has been legal in Vermont for recreational use since 2018. However, although lawmakers promised to launch retail sales at the start of October 2022, they are yet to fulfill that promise (and the time is overdue).
So far, your only option to enjoy high-THC cannabis in the state is to grow it yourself or have a friend who likes to share the good stuff.
Delta-8 THC is federally legal, but Vermont has recently outlawed such products, claiming they don't fall into the definition of "hemp derivatives."
You can buy it online and use a forwarding shipping service, but the contradiction between federal and state law raises serious doubts about whether it's worth the hassle.
Let's hope Vermont becomes more liberal about hemp-derived cannabinoids in the near future.
And that they won't slack with reforms like they do now.