Viia Hemp Review & Coupon Code (2023 Update)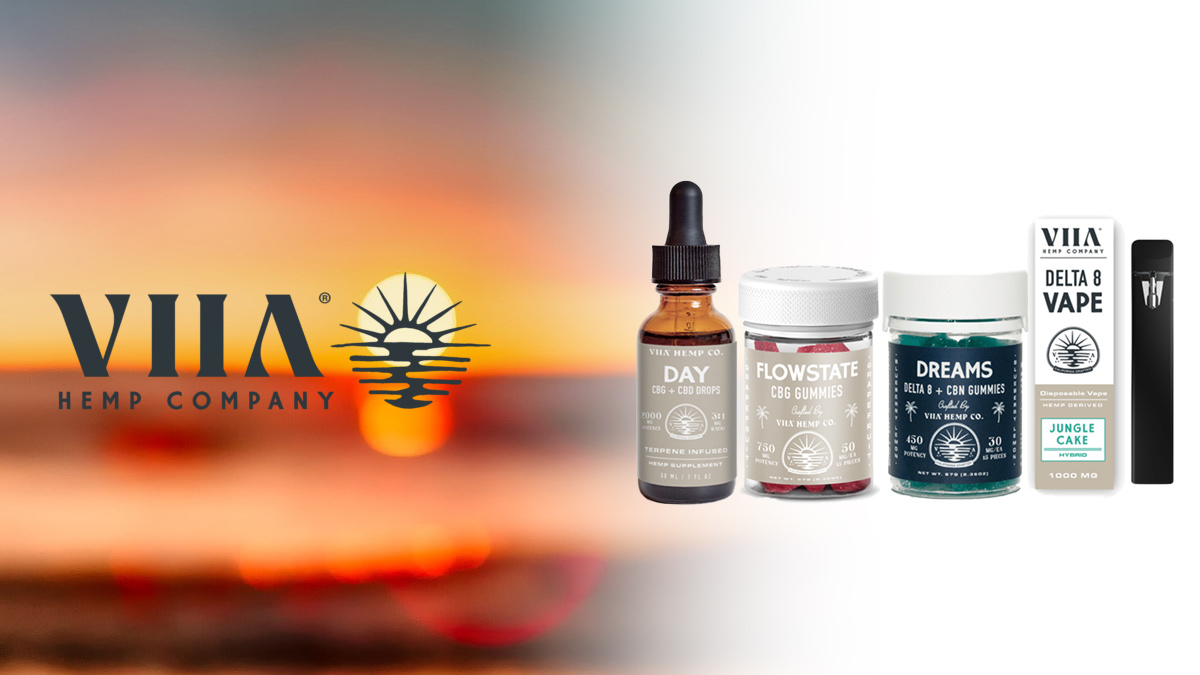 Viia Hemp is a cannabinoid company specializing in CBD, delta 8 THC, and other minor hemp-derived cannabinoids.
This company is a newcomer to the hemp industry but has established an impressive array of products, from vapes and tinctures to edibles and topicals.
This review will explore everything you need to know about Viia Hemp, including the safety of its products and the overall quality and consistency. We'll take a look at the products they offer, what the company gets right, where it falls short, and some alternative brands that might suit you better.
About Viia Hemp
Viia Hemp was founded in 2018 by Max McKendry. Notably, the founder doesn't have any past work experience in the hemp industry, so Viia Hemp serves as his professional introduction to cannabinoids. Prior to founding Viia Hemp, Max McKendry primarily worked in sales.
Viia has a noteworthy origin story. The founder was diagnosed with a medical condition characterized by severe and chronic pain. Instead of dealing with the pain or turning to prescription medication, he used cannabis for its pain-relieving effects. He then decided to share his findings with others by offering high-quality cannabinoid products with medicinal potential.
Although the origin story is inspirational, the mission statement is a bit bland and generic. The company aims to open the public's mind up to cannabinoids, remove the negative stigma cannabis has, and promote cannabinoid products by offering premium options to users. It also promotes CBD gummies you can "feel," which means they usually contain other cannabinoids that provide a more pronounced physical or mental effect.
The company is based out of San Diego, California, and has just one location there. It's a small company with just four employees, but it's in the process of expanding.
Viia Hemp Product Range
Viia Hemp offers an impressive range of cannabinoids, including more popular options like delta 8 THC and CBD, as well as some lesser-known cannabinoids, including HHC, delta 10 THC, CBG, and CBN. It also provides products with cannabinoid blends for different effects.
As far as delivery methods go, they sell disposable vapes, vape cartridges, gummies, concentrates, and topicals.
1. Featured Product: Viia Hemp Delta 8 Gummies
One of Viia Hemp's most popular products is its gummies infused with delta 8 THC. They come in three variations that are geared toward a specific use:
Bliss gummies for euphoria contain just delta 8 THC

Elevate gummies for energy and improved mood include delta 8 THC and CBG

Dreams gummies for relaxation and sleep contain delta 8 THC and CBN
The distinction made between the gummies for the particular purpose makes choosing a variation straightforward. However, each comes in just one flavor variation: Bliss in white peach, Elevate in berry, and Dreams in blueberry lemon.
The Bliss gummies contain 25 mg of delta 8 THC each, while the other options have 15 mg of delta 8 THC and 15 mg of the other cannabinoid they contain. The Bliss gummy container delivers 375 mg total, while the others offer just 225 mg of delta 8 THC per container.
Product Specs:
| | |
| --- | --- |
| Total Delta 8 THC | 225–375 mg |
| Extract Type | Delta 8 distillate |
| Delta 8 Potency | 25 mg per gummy |
| Flavors | White peach, berry, and blueberry lemon |
2. Viia Hemp Delta 8 THC Disposable Vapes
Another popular product line from Viia Hemp is its disposable delta 8 vape pens. These vape pens are made with premium materials, so they're bound to last for a long time. They include a hard plastic exterior, a medical-grade distillate tank, and a 300 milliamp-hour battery.
The ingredients inside are pure, with 85% delta 8 THC distillate, 10% minor cannabinoids, and 5% terpenes. The vapes come in two flavors — Maui Wowie and Jungle Cake — and the terpenes set these apart from vapes from other companies.
Viia Hemp posts updated lab results online to confirm potency, but there are no lab results for contaminants. As such, the safety of the vapes is questioned by some customers, but the quality elsewhere puts most users at ease.
Product Specs:
| | |
| --- | --- |
| Total Delta 8 THC | 850 mg |
| Extract Type | Delta 8 distillate |
| Delta 8 Potency | 5 mg per puff |
| Flavors | Maui Wowie and Jungle Cake |
3. Viia Hemp CBD Gummies
Viia Hemp also specializes in CBD products, and their CBD gummies are among the most popular options with cannabidiol. Like the delta 8 THC gummies, they come in different varieties based on how you intend to use them: Cloud 9 gummies for euphoria and a psychoactive effect and Flowstate gummies for relaxation.
The Cloud 9 gummies contain delta 9 THC, which is federally illegal. The company notes that it "legally" sells these full-spectrum CBD-infused gummies by deriving delta 9 THC from hemp. The actual legality is questionable, so some customers avoid purchasing these gummies altogether.
Each gummy contains around 35 mg of CBD, although the exact potency isn't entirely clear because of Viia Hemp's cannabinoid "blends." Each container is moderately expensive, totaling $35 for just 15 gummies.
Product Specs:
| | |
| --- | --- |
| Total CBD | 525 mg |
| Extract Type | Full-spectrum extract |
| CBD Potency | 35 mg per gummy |
| Flavors | Watermelon and grapefruit |
4. Other Viia Hemp Products
Viia Hemp focuses on delta 8 THC and CBD products. However, in its quest to offer more minor cannabinoids for their medicinal potential and entourage effect, the company also provides the below products:
CBD Vape Cartridges

CBD Tinctures

CBD Topical Creams 

Delta 10 THC Disposable Vapes

CBN Gummies

Delta 8 THC Vape Carts

CBG Gummies

CBG Tinctures

HHC Disposable Vapes

Vape Batteries
What Viia Hemp Does Well
Viia Hemp excels in its product line variety and potency. It sells delta 8 THC and CBD like many other hemp companies, but it also offers other cannabinoids and cannabinoid blends that include delta 10 THC, HHC, CBN, CBG, and HHC. Users shopping on Viia's website will have an excellent selection.
Additionally, all products from Viia Hemp are put through third-party lab tests to confirm the potency of each cannabinoid. Before purchasing, you can confirm the percentage of each cannabinoid, total strength, and cost per mg to confirm you're getting what you pay for.
Negatives of Viia Hemp
While third-party lab testing for potency is great, the biggest downside to Viia Hemp is that the testing process ends there. It doesn't provide results for potentially harmful contaminants and often makes its way into hemp-derived products. You can't be sure that heavy metals, fertilizers, and other chemicals aren't in your products.
Additionally, cannabinoid blends and a wide variety of cannabinoids are ideal, but Viia Hemp fails to offer many single-cannabinoid products. You'll only be able to choose blends, and the flavor option is limited for the specific combination for most of its products.
Finally, the mission statement is lacking a bit for Viia Hemp. The company states that it focuses on bringing awareness to cannabinoids, but this sounds a lot like what we see from countless other companies. Plus, the founder has no background in the hemp industry and is experienced in sales, suggesting that the driving factor for Viia is sales rather than a true passion for cannabinoids and their potential.
Alternative Brands To Check Out Instead
If Viia Hemp doesn't seem like the right fit for you, you'll have no issue finding alternatives that suit your needs and can exceed your expectations. Below are some alternative hemp brands to consider.
1. Area 52 (Best Alternative Delta 8 THC Brand)
Get 15% off all Area 52 products. Use code "CFAH" at checkout.
Area 52 is a popular vendor in the hemp industry, primarily because it focuses on offering only premium D8 products. It puts every product it offers through rigorous third-party lab testing to confirm potency and safety and contaminant levels well below legal and acceptable limits.
It uses state-of-the-art extraction processes that don't use solvents or harmful gases. Hence, the products tend to taste better than other companies' offerings and are safer for consumption.
Area 52's prices are reasonable, especially given that the quality of its products is unmatched in the industry. It carries a wide range of products, and while it focuses primarily on delta 8 THC, it has expanded a bit to include full-spectrum options in its product catalog.
Products
D8 edible gummies

D8 vape carts

D8 disposable vape pens

D8 tinctures

Full-spectrum gummies
2. Finest Labs (Another Delta 8 THC Alternative Brand)
Finest Labs focuses on quality, safety, and innovation by using cutting-edge extraction methods that use no harmful solvents, bleaches, or other chemicals or gases. It was founded by one of the country's leading biochemists, so the products consistently push the envelope in terms of safety, potency, and purity.
Each product includes third-party lab tests that confirm the potency of the delta 8 THC and the product's safety, lack of contaminants, and overall quality.
Unlike many other companies in the industry, Finest Labs offers terpene blends and concentrates so that users can create a personalized cannabinoid experience for optimal flavor and effects.
Products
Delta 8 THC vape cartridges

Delta 8 THC gummies

Delta 8 THC tinctures

Terpene blends
3. Royal CBD (Best Alternative CBD Brand)
Get 15% off all Royal CBD products. Use code "CFAH" at checkout.
Royal CBD has committed to quality over all else. Each product comes in premium, durable, and resealable packaging and is backed by extensive third-party lab tests to verify potency, purity, and a lack of contaminants. You can always rest assured that you're getting a safe, high-quality product.
Royal CBD sells CBD only, so you won't find other cannabinoids or blends. The products are ideal for those who want to experience the benefits of CBD without any other cannabinoid that could show up on a drug test or provide a psychoactive experience.
Its products are costly, but you most certainly get what you pay for with Royal CBD.
Products
CBD tinctures

CBD gummies

CBD capsules

CBD topicals and creams

CBD honey sticks

CBD tinctures and treats for pets
Final Verdict: Highly Potent But Limited Third-Party Testing
Viia Hemp is a relatively young hemp industry company founded in 2018 by Max McKendry. Max has a background in sales rather than in cannabinoids, but his story is an inspiring one of personal success using cannabinoids for medical reasons.
Viia Hemp's products are nicely varied and include many different cannabinoids, usually in blends. Customers who enjoy a dedicated mix for a specific purpose might enjoy its products, but those looking for a single cannabinoid's effects will likely be disappointed.
The company offers third-party lab tests but only to confirm potency. The tests don't indicate the safety of the products or whether or not contaminants have been introduced. If you're looking for a company that carries out complete third-party testing, consider trying Area 52 or Finest Labs for delta 8 THC products or Royal CBD for CBD products.