Is Weed Legal in Virginia? VA Cannabis Laws (June 2023)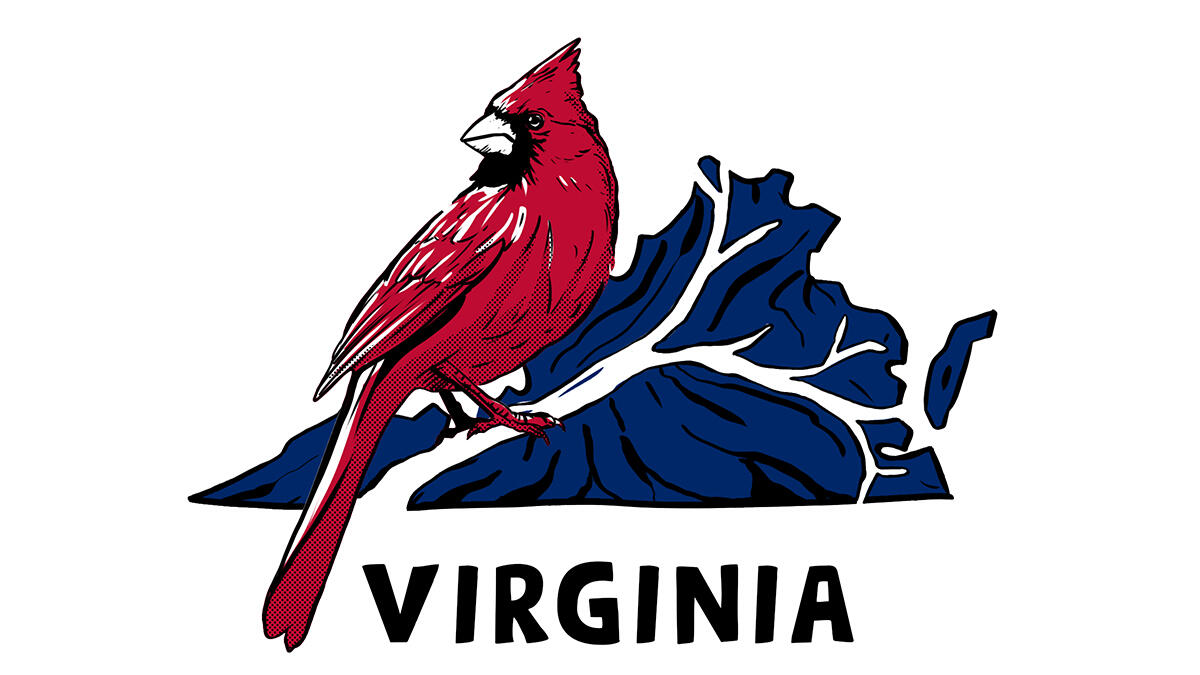 Virginia legalized marijuana for recreational use on July 1, 2021.
Adults 21 or older may legally purchase up to four ounces of cannabis.
Locals can also grow up to 4 plants per household.
Retail sales are set to begin at the beginning of 2024.
Medical marijuana patients can buy their medicine from one of four medical marijuana dispensaries. They were open in Feb. 2021.
No smokable marijuana forms are available for patients. If you have a medical marijuana card, you can purchase CBD, limited-THC oil, lozenges, capsules, and patches.
Hemp-derived delta 8 THC is legal in Virginia. The state law aligns with the regulations outlined by the 2018 Farm Bill.
The delta-8 space is unregulated, with a lot of substandard products being churned out on the market. Always look for batch-specific third-party lab reports when buying delta-8 products locally and online.
Is Weed Legal in Virginia?
Yes, marijuana is legal in Virginia for both recreational and medical use. However, the law has different rules for recreational users and patients.
Related: Marijuana Laws by State Map
Is Recreational Marijuana Legal in Virginia?
Marijuana became fully legal in Virginia for all adults on July 1, 2021. Anyone 21 or older may purchase up to one ounce of cannabis.
While it's legal to purchase marijuana and grow it at home, there's no distribution network. According to the state legislature, retail sales should begin at the beginning of 2024.
The only reason for this is that anti-cannabis politicians want to delay the opening of retail stores for as long as possible.
Is Medical Marijuana Legal in Virginia?
Yes, Virginia has a medical marijuana program for qualifying patients. If you have a medical marijuana card, you can purchase cannabis products from one of the four medical dispensaries.
However, you can't grow your own plants, nor can you purchase smokable marijuana. Your options are limited to oils, capsules, lozenges, and patches.
Penalties for Marijuana Possession
The penalties for marijuana possession in Virginia were updated on July 1, 2022. The new budget bill redefined criminalized activities involving the possession of more than four ounces of marijuana in public for personal use.
Getting caught with over four ounces but less than one pound is a Class 3 misdemeanor punishable by a $500 fine. Subsequent offenses entail a $1,000 fine and up to 6 months in jail.
Is Weed Decriminalized in Virginia?
Possession of up to four ounces of marijuana is decriminalized in Virginia. You won't even get a ticket if you have this amount during a police check.
Delta-8 THC: A Better and Legal Alternative to Marijuana
Virginia made great progress when it comes to cannabis legalization, but it still has a few boxes to tick off.
No dispensaries are currently operating in the state. Cannabis aficionados must grow their plants at home until 2024.
Medical users are also left with inconveniences. For example, they can't buy smokable or vaporized cannabis products because state law bans such forms of consumption.
Besides, some individuals are overly sensitive to the psychoactive effects of delta-9 THC.
That's why hemp-derived delta-8 THC is making waves in the cannabis community.
Cons of Delta-9 THC from Marijuana
Most people tolerate the psychoactive effects of marijuana and can enjoy the high without any unpleasant side effects.
In low and moderate doses, delta-9 THC eases stress, reduces pain, curbs anxiety, and enhances focus.
High doses can get you high, altering your thinking patterns, boosting your appetite, inducing euphoria and giggles, and making you more aware of your inner self and your surroundings.
However, THC reveals its biphasic nature at high doses for some individuals. Sensitive users may experience the following effects when they take too much:
Anxiety
Paranoia
Feelings of discomfort
Cold sweats
Dizziness
Confusion
Increased heart rate
Short-term memory problems
Effects and Benefits of Delta-8 THC
Delta-8 THC is a milder isomer of delta-9 THC. Both compounds have the same chemical formula, but their atomic bonds are arranged differently.
Delta-8 THC has a double bond at the eighth carbon chain, while for delta-9 THC, this bond is located at the ninth chain.
That makes delta-8 THC about 50% as potent as delta-9. You'd need to take twice the amount of delta-8 to experience the same intensity of effects as with marijuana.
The effects are more easy-going and clear-headed, carrying a lower incidence of anxiety and paranoia — the two main reasons why some people choose to avoid high-THC cannabis.
Delta-8 and delta-9 share a few similar health benefits, including:
Anti-nausea
Anti-inflammatory
Pain relief
Increased appetite
Feelings of calmness and relaxation
Neuroprotection
Is Delta-8 THC Legal in Virginia?
Hemp-derived delta-8 THC is legal under the 2018 Farm Bill. The bill legalized hemp and its derivatives, including cannabinoids, terpenes, isomers, and salts of isomers — as long as the final product contains no more than 0.3% delta-9 THC on a dry weight basis.
Although 14 states banned delta-8 products by imposing the same 0.3% limit on all variants of THC, delta-8 remains legal and protected under state law.
You can find hemp-derived delta-8 THC products in local hemp stores and online.
Benefits of Buying Delta-8 THC Online
Shopping for delta-8 THC locally sounds like a convenient option, but I'm not a fan of buying delta-8 products this way.
A much better option is to get them from a reputable online retailer.
Online stores offer more opportunities for verifying the credibility of your vendor. You can review customer reviews, look into third-party lab reports, read the company's "About Us" section, or reach other users on social media platforms or forums like Reddit to get a bigger picture.
You can also take advantage of lower prices because online stores can cut out the middleman. There are plenty of ways to save money on high-quality products, from coupon codes to reward programs, subscription payments, and bulk pricing.
You can also compare different products and their prices in the comfort of your home from any place and at any time of the day.
Best Online Delta-8 THC Stores
The delta-8 THC space is largely unregulated, with no manufacturing, labeling, or testing standards. This has created room for fly-by-night and scam delta 8 companies that sell subpar products without certifications. It's easy to get scammed or purchase a product contaminated with pesticides, plant growth regulators, or heavy metals.
I'll be honest: making a well-informed purchase decision on delta-8 products requires a lot of research.
If you're in a hurry, you can use my experience and try out one of the brands I list below. I've been using them for the last 2 years, and I can recommend them with a clear conscience.
1. Area 52
Get 15% off all Area 52 products. Use code "CFAH" at checkout.
Area 52 is a Nevada-based manufacturer of premium delta-8 THC extracts, available as tinctures, gummies, vape carts, and pre-rolled joints.
The company sources its products from organic hemp and uses natural conversion processes to extract delta-8 from the plant matter. These products are potent and packed with terpenes that contribute to the entourage effect in cannabis.
You don't just get buzzed from using these products. The unique blends of terpenes recreate the flavor and experience of various cannabis strains, with no artificial flavorings.
Area 52 rigorously tests its products at different production stages in a third-party laboratory. The lab analysis includes results for potency and common contaminants, such as pesticides, heavy metals, solvents, bleaches, and mold.
2. Finest Labs
Finest Labs specializes in novel cannabinoids, such as delta-8 THC and HHC. The brand offers a similar product line-up to Area 52, featuring tinctures, edibles, and vape pens. The only format it lacks are pre-rolled joints.
Finest Labs has a scientific approach to cannabinoids. Each product is crafted with premeasured ratios of delta-8 THC to minor cannabinoids and terpenes. They're also made in a dosage range suitable for both beginners and experienced users alike.
If you're interested in making your own cannabis extracts, Finest Labs offers a great selection of single terpenes and special blends redolent of specific strains of cannabis.
Batch-specific Certificate of Analysis (CoA) for each product is available on request.
FAQs
Who can use medical marijuana in Virginia?
Medical marijuana patients can purchase cannabis oil and other non-smokable products from licensed dispensaries.
Qualifying conditions for a medical marijuana card include:
Alzheimer's Disease
Amyotrophic Lateral Sclerosis (ALS)
Anxiety
Autism
Cachexia and wasting syndrome
Cancer
Crohn's Disease
Chronic Pain
Epilepsy and other seizure disorders
Fibromyalgias
Glaucoma
Hepatitis C
Huntington's Disease
Inflammatory Bowel Disease (IBD)
Multiple Sclerosis (MS)
Parkinson's Disease
Post-traumatic stress disorder (PTSD)
Sickle cell anemia
Tourette syndrome
Can you grow weed in Virginia?
All Virginians 21 and older — medical and recreational users — are allowed to grow 4 plants per household.
Can you smoke marijuana in public?
Consumption of marijuana flower is prohibited everywhere in public. If you want to consume cannabis, you need to do it on private property.
Traveling with marijuana in Virginia
You can travel with marijuana in Virginia as long as you keep it away from the driver's reach. You can't, however, take marijuana outside the state. Doing so will result in charges for drug trafficking, which is a serious federal felony punishable by up to 5 years in jail and $250,000 in fines if you're caught with less than 50 kg of marijuana or fewer than 50 plants.
Driving while intoxicated or under the influence of cannabis is prohibited under state law. Having a medical marijuana card doesn't protect you from driving while high.
Can you buy weed online in Virginia?
No, marijuana delivery is illegal in Virginia. This may change once retail sales launch in 2024, but so far, there have been no promises of legalizing online weed sales.
Is CBD oil from hemp legal in Virginia?
Hemp-derived CBD products are legal in Virginia at the federal level under the 2018 Farm Bill. You can buy them without a prescription from a local hemp store, pharmacy, wellness center, vape store, or online vendor.
I recommend buying CBD oil online for the same reason I recommend getting your delta-8 products from online retailers — more options to vet your suppliers and lower prices.
Buying Weed in Virginia: Bottom Line
Marijuana is legal in Virginia — but without a distribution network. That means Virginia residents are unable to purchase weed from dispensaries and must grow their own plants for the time being.
Retail sales are set to open in 2024.
Medical marijuana options aren't in a better situation. They only have 4 dispensaries to buy from, and there's no way to buy flowers or vape carts because the law prohibits smokable forms of medical marijuana.
The best (and federally legal) alternative to marijuana in Virginia is hemp-derived delta-8 THC. State law protects delta-8 products, making them available for all Virginians aged 21+.
Just make sure to carefully research your potential vendors and purchase from reputable brands that provide relevant certificates of analysis. There's no shortage of fly-by-night companies that are looking to capitalize on the booming market by taking advantage of unaware customers.