Is CBD Legal in Virginia? VA Hemp Laws (2023)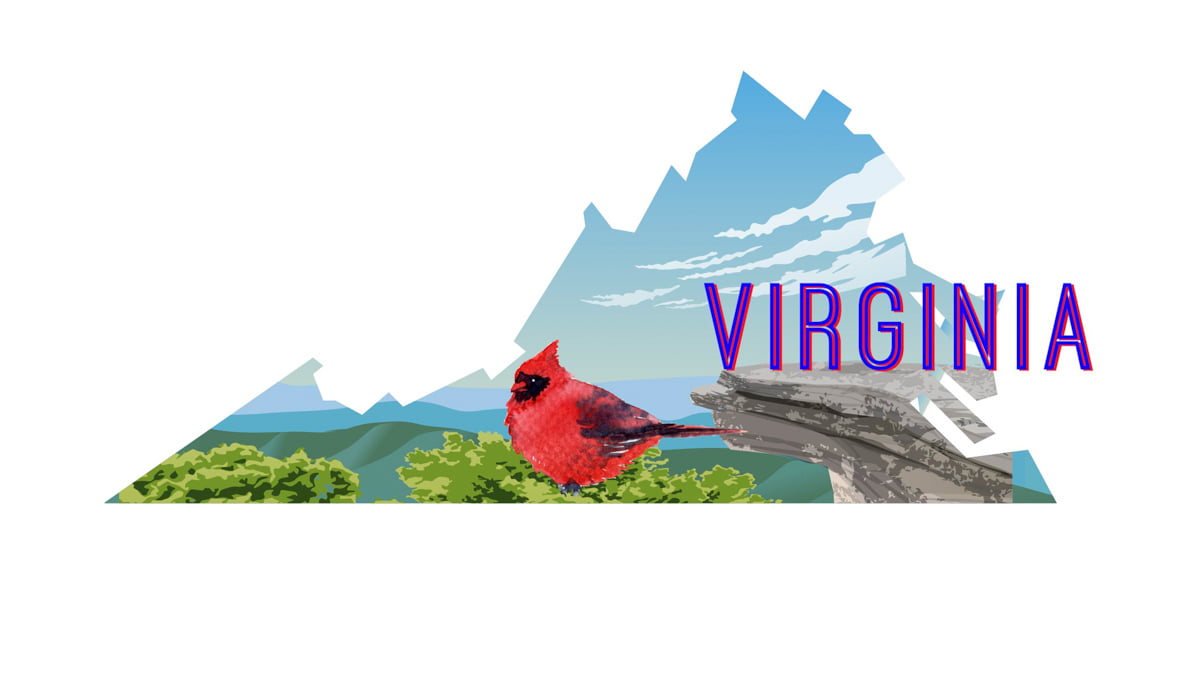 When it comes to buying CBD oil in Virginia, things are a bit complicated. Although the state's CBD market is hands down among the most exciting new developments here, the regulations on cannabis are cloudy, and the law regarding marijuana for medicinal purposes leaves a lot to be desired.
Nonetheless, that doesn't mean you cannot find good quality CBD oil in Virginia. On the contrary, there are a few places where you can go and purchase a bottle of your herbal remedy or other products infused with Cannabidiol.
Yes, we know, we've just said something about cloudy regulations regarding cannabis, and now, we're talking about easy access to CBD oil – that does not necessarily look logical. But Virginia, like all 50 states, allows the use of hemp-CBD oil, one that contains less than 0.3% THC, so it's essential to understand the difference between hemp and marijuana CBD before even trying to find a CBD oil company.
Is CBD Oil Legal in Virginia?
Yes, but as we said, it depends on the source of CBD. Cannabidiol can be derived from both hemp and marijuana, and depending on the type of CBD oil you're looking for, different laws may apply.
Here's a quick breakdown of what you need to know about buying marijuana and hemp CBD oil in Virginia.
Related: CBD Oil Laws by State
Marijuana CBD Oil in Virginia
Laws regarding marijuana in Virginia make the state far behind other U.S. territories such as California, Colorado, or Massachusetts.
The state's law allows the medical use of marijuana only for patients suffering from intractable (untreatable) epilepsy. Better yet, even if your condition qualifies you for the medical marijuana program in Virginia, you must show proof that you have undergone at least two conventional forms of treatment, and none of them have worked for you. Only then will you be able to receive a medical marijuana recommendation from a doctor.
There are other limitations to buying marijuana CBD oil in Virginia, too. For example, CBD oil from marijuana must contain at least 15% of Cannabidiol (CBD) and no more than 5% THC. Fortunately, the Virginia House and Senate have unanimously passed HB1251 and SB726 to expand the state's medical cannabis oil program for other conditions. The new legislation is set to enter into force on September 4th, 2018.
Related: Is Marijuana Legal in Virginia?
Contrary to marijuana CBD oil, its hemp-derived product is legal in all 50 states, and Virginia is no exception. Hemp is protected by the Farm Bill from 2018, which allows states to cultivate and research this variety of cannabis plants.
Why is hemp CBD oil legal? Well, it's because it has no intoxicating properties due to extremely low THC content, which is below 0.3%. At the same time, hemp is rich in CBD, other cannabinoids, vitamins, and omega fatty acids, making it a versatile wellness product.
That being said, CBD oil is widely available in Virginia. Even though the market is still in its infancy, the forecast for the future of the CBD oil industry is very positive, so we can soon expect more quality CBD stores to pop up in the most populated cities in the state.
Where to Buy CBD Oil in Virginia?
The chances are that you live somewhere near one of the top-rated CBD oil stores in Virginia. If so, go ahead and try your luck there. CBD oil retailers employ knowledgeable staff passionate about cannabis and hemp, so if you have any questions or start your adventure with Cannabidiol, feel free to ask them for advice.
On the other hand, if shopping locally is not your pair of shoes, try buying CBD oil online. If you don't know any Virginia-based CBD oil providers, this is not an issue because most CBD companies ship their products to all 50 states.
Buying CBD Oil Online in Virginia
Buying CBD oil in Virginia is fairly easy if you know a good CBD company. Although the Internet is full of businesses who claim their CBD oil cures everything and they can get you the best of all worlds for a funnily low price, we assure you that 100% of such offers are a 100% scam.
That being said, it's of paramount importance to stay extremely alert when choosing a CBD oil provider. Reputable companies don't feel the urge to brag about their products because their efficacy is their strongest argument. They need to provide valid proof of the cannabinoid content, the potency of the oil, and several other details one should pay attention to if looking for the best CBD oil.
Always check if the CBD oil of your choice is:
Sourced from 100% organic hemp
Extracted with CO2
3rd-party tested for purity and potency
A full-spectrum extract
Once you find your manufacturer, go to their website, add their CBD oil to your cart, and checkout. It's always best to buy right from the source.
For more details, please read our guide to Buying CBD Oil Online.
PRODUCT
DETAILS

Best Overall CBD Oil

Royal CBD – Full Spectrum

Rated #1 for overall
Highest quality hemp oil on our list
100% organic, free of pesticides and artificial ingredients
Established brand with 24/7 customer support
30-day 100% money-back guarantee

Click for Best Price

Best Organic Formula

 

Gold Bee

Sourced from US-grown organic hemp
Contains full-spectrum CBD
Up to 80 mg CBD/mL
Great potency range for beginners
Third-party tested for potency and purity
Great kiwi-honey flavor

Click for Best Price
Local CBD Oil Stores in Virginia
Following nationwide trends in easy access to holistic goods, Virginia has several CBD oil stores that offer various CBD-infused products, from oral drops and topical creams to CBD vape juices and dog treats. The trend is expected to continue in the upcoming years. For now, we have scanned through the best places to buy CBD oil in Virginia, mainly in Richmond and Northern Virginia, but there are also other options to purchase it, e.g., in Washington D.C., for those living nearby.
If you're still hesitant about shopping for CBD oil locally, our guide to Buying CBD Oil Near Me will come in handy.
Best CBD Oil Stores in Richmond
| | |
| --- | --- |
| NAME | ADDRESS |
| Vapors Lounge | 7822 Midlothian Tpke, North Chesterfield, VA 23235 |
Best CBD Oil Stores in Tysons
| | |
| --- | --- |
| NAME | ADDRESS |
| Wellness & Massage | 8027 Leesburg Pike, Tysons, VA 22182 |
Best CBD Oil Stores in Centreville
| | |
| --- | --- |
| NAME | ADDRESS |
| Vaperz | 13830-2 Lee Hwy, Centreville, VA 20120 |
Best CBD Oil Stores in Washington D.C.
| | |
| --- | --- |
| NAME | ADDRESS |
| National Holistic Healing Center | 1718 Connecticut Ave NW, Washington, DC 20009 |
| Takoma Wellness Center | 6925 Blair Rd NW, Washington, DC 20012 |
Final Thoughts on Buying CBD Oil in Virginia
All in all, Virginia is a safe place to buy CBD oil, as long as it is derived from the hemp variety of cannabis, of course. Unfortunately, the state remains one of the toughest places to obtain marijuana CBD oil, even for medicinal purposes. If you don't have severe epilepsy, there are currently no chances to apply for a medical marijuana recommendation.
But that's the end of bad news. As the new legislation approaches to enter force this fall, more conditions will be added to the list of illnesses that could qualify a person to the state's medical-marijuana program. These are just baby steps, but we see some changes in attitude, which is good.
For now, you can legally buy hemp-derived CBD oil, which has less than 0.3% THC and thus is non-intoxicating and approved by all 50 states. Whether you choose to shop for CBD oil in Virginia locally or online, keep in mind always to verify your potential provider so that you end up satisfied with your purchase.