Is Weed Legal in Wisconsin? WI Cannabis Laws (June 2023)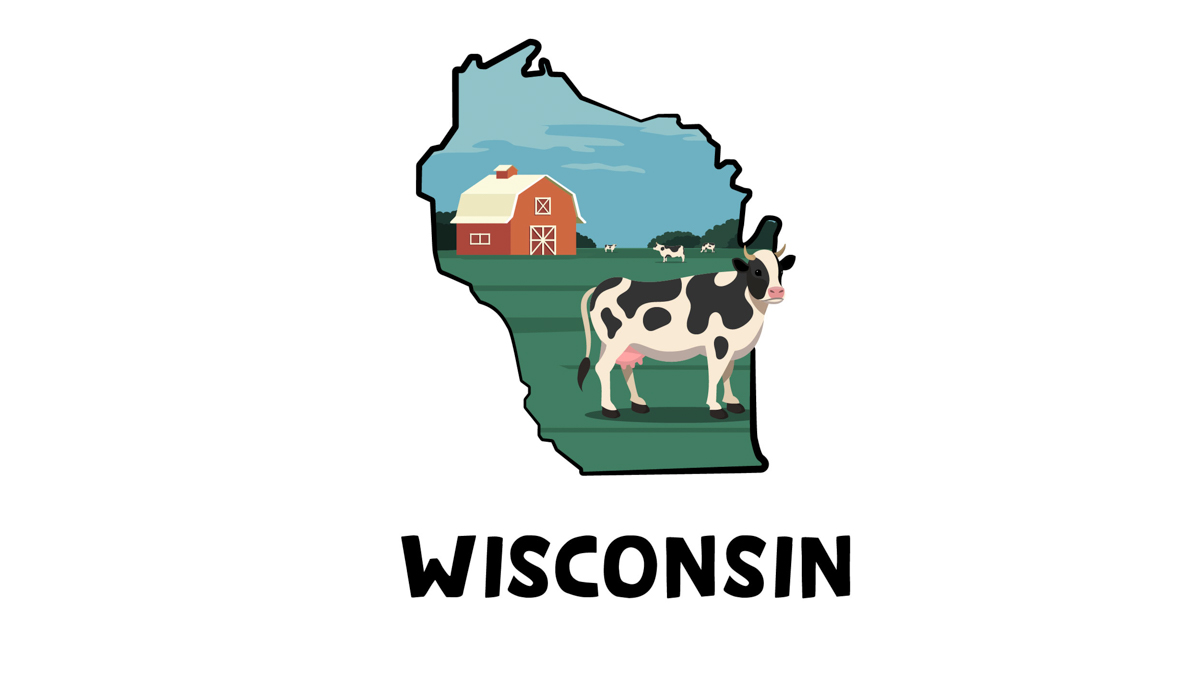 This article answers the question, "Is marijuana legal in Wisconsin." We cover both recreational and medical marijuana laws, elaborate on penalties for possession, local decriminalization, and the future of cannabis legalization — and shed light on the legal status of hemp-derived psychoactive cannabinoids.
Wisconsin is far behind states like California and Colorado when it comes to marijuana legalization.
It doesn't even have a medical marijuana program for patients.
Penalties for possession are harsh.
Hopefully, hemp-derived cannabinoids are legal in the state, meaning you can, at least, get a sample of what cannabis feels like with products like delta-8 THC.
Today, we provide a complete rundown of Wisconsin marijuana laws so that you don't accidentally throw yourself into the hands of local law enforcement.
Is Weed Legal in Wisconsin?
No. Weed in Wisconsin is illegal for everybody. You can't even buy medical marijuana because the state lacks a program for patients.
Related: States That Legalized Marijuana
If you suffer from a debilitating health condition like treatment-resistant epilepsy, you can purchase low-THC/high-CBD oil, but anything with a high THC content is strictly prohibited.
Is Recreational Marijuana Legal in Wisconsin?
No. Marijuana in Wisconsin is entirely illegal. The state has a strict policy toward cannabis, and even possession of small amounts of weed is severely punished.
The city of Madison has a no-arrest policy for adults 18 and older for possessing a small amount of marijuana for personal use. A few other cities have instituted similar regulations, so there is a silver lining for legalization — although Wisconsinians still have a lot of work ahead of them.
Is Medical Marijuana Legal in Wisconsin?
No. Wisconsin doesn't have a medical marijuana program. Patients can't apply for a medical marijuana card regardless of their medical conditions, and there are no dispensaries where you could buy medical cannabis.
Low-THC/high-CBD oil is an exception, but the term "low-THC" applies to products with no more than 0.3% delta-9 THC by dry weight — which is the same chemical composition as hemp-derived CBD oils.
Penalties for Marijuana Possession
Possession of any amount of marijuana is treated as a misdemeanor, punishable by up to six months in jail and a $1,000 fine.
A subsequent possession charge, also regardless of the amount, is a felony that can land you a 3.5-year prison sentence.
The sale of 200 grams or less entails a penalty of 3.5 years in prison. The same penalty applies to growing four or fewer plants.
Although some cities decriminalize marijuana, state laws are supreme, so the ground is still slippery for cannabis users.
Is Weed Decriminalized in Wisconsin?
Only in some cities. The first city that decriminalized the possession of small amounts of cannabis was Madison. The city council voted in favor of the decriminalization bill.
That means that individuals 18 years and older who are caught with up to an ounce of marijuana won't be arrested.
Nevertheless, the sale of any amount remains a felony.
What's the Future of Cannabis Legalization in Wisconsin?
Marijuana politics in Wisconsin are anything but friendly. The legalization of medical and recreational marijuana would require approval by the state senate and assembly, which is currently dominated by Republicans.
Senate Majority Leader Scott Fitzgerald is a vocal enemy of cannabis.
Democratic Governor Tony Evers supports medical marijuana and aided a medical program, decriminalization of personal use, and criminal record expungements for previous possession charges in his budget. However, Republican opponents made sure the effort went down the drain.
Even the most restrictive medical cannabis programs failed to pass in 2017 and 2019 because, as Sen. Fitzgerald said, no marijuana bill will pass with him in the office.
According to a 2019 Marquette University poll, 83% of Wisconsin voters want to legalize medical marijuana, and 59% would like to see a recreational market.
Delta-8 THC: A Better and Legal Alternative to Marijuana in Wisconsin
Nothing heralds any winds of change in Wisconsin at the moment, so your hands are tied if you're visiting the state and looking for some puff.
But! There's a federally legal alternative to marijuana.
It comes from hemp plants and is less psychoactive — but it can still induce a euphoric buzz that will raise your spirits a few feet above the ground.
Does the name "delta-8 THC" ring a bell?
Delta-8 THC vs. Delta-9 THC
THC has several variants. The two most popular are delta-8 and delta-9.
Delta-9 is the primary intoxicating ingredient in marijuana. It gets you high and offers a wide range of therapeutic benefits.
Delta-8 THC is the isomer of delta-9. It has a similar chemical formula, but its structure is slightly different.
Delta-9 THC has a double bond at the ninth carbon chain; meanwhile, delta-8 THC has this bond at the eighth chain — making it about 50% as potent.
The lower strength is why so many people are turning to delta-8 THC once it has become federally legal.
Cons of Delta-9 THC from Marijuana
Low and moderate doses of delta-9 THC have a nootropic effect. In plain English, they reduce stress, balance your nervous system, and improve cognitive performance. They may also take away some physical discomfort.
Larger doses can make you feel high, causing euphoria, elevated mood, increased appetite, and sharpened senses. Weed can also alter your thinking patterns and the perception of your surroundings. Depending on the strain, the effects can be more energizing or sedating.
Most people can enjoy the high without any unpleasant side effects. However, some individuals are particularly sensitive to the psychedelic nature of delta-9 THC and may experience discomfort at high doses.
Taking too much THC can cause:
Anxiety
Paranoia
Feelings of discomfort
Cold sweats
Dizziness
Confusion
Increased heart rate
Short-term memory problems
Effects and Benefits of Delta-8 THC
Delta-8 THC produces similar effects to delta-9 THC, but they're smoother and less intense due to lower strength. You're also less likely to experience anxiety and paranoia when you take higher doses of delta-8.
Here are a few health benefits that people take delta-8 THC:
Anti-nausea
Anti-inflammatory
Pain relief
Increased appetite
Feelings of calmness and relaxation
Euphoria
Neuroprotection
Is Delta-8 THC Legal in Wisconsin?
Yes. You can legally buy delta-8 THC products in Wisconsin. The state law aligns with the regulations provided by the 2018 Farm Bill, which legalized hemp at the federal level.
Individual states retain the right to modify the federal law within their jurisdiction; this resulted in 14 states banning delta-8 THC products. Fortunately, Wisconsin isn't one of them.
Delta-8 THC is available in local stores and online.
Benefits of Buying Delta-8 THC Online
There's a good reason why most transactions on delta-8 THC are made online.
Online retailers can offer better prices on high-quality products because they cut out the middleman. On top of the lower cost per product, you can also take advantage of special discounts, reward programs, and subscription orders to save even more money on delta-8 THC.
Shopping for delta-8 online also gives you more opportunities for researching your potential vendors. You can comb through customer reviews, look into the certificates of analysis (CoAs), read the company's "About Us" section, and reach out to other users on social media groups and forums like Reddit to see the bigger picture.
Not to mention that buying delta-8 THC online is super convenient. You can browse hundreds of different formulas and compare their prices in the comfort of your home — unrestricted by any opening hours.
Best Online Delta-8 THC Stores in Wisconsin
Finding the best delta-8 THC products for your needs can be time-consuming. There are many great brands out there, but there's an equal number of scam delta 8 THC companies using a popular product to make a quick buck on unaware customers.
In a rush? Don't worry, I've done the hard work for you. Here are the two leading brands that excel at transparency, integrity, and product quality.
1. Area 52
Get 15% off all Area 52 products. Use code "CFAH" at checkout.
Area 52 is a Nevada brand that specializes in delta-8 THC extracts from pure distillate. The company offers a broad selection of products, including delta-8 THC tinctures, edibles, vape carts, and pre-rolled joints.
These products can pack a punch, with 25–40 mg of delta-8 THC per serving, but they're also rich in terpenes, contributing to the entourage effect and making the buzz more enjoyable than with isolated cannabinoids.
Not that long ago, Area 52 released a new product line called "the true full-spectrum." The collection features innovative formats, such as honey sticks and HHC gummies, as well as more traditional products like sleep gummies, energy gummies, immunity gummies, and CBD oil.
2. Finest Labs
If you're just dipping your foot in cannabis extracts, you may be overwhelmed by the abundance of different formulas and potencies. Here's where Finest Labs comes in handy.
This brand takes a scientific, no-BS approach to its products, focusing on the ratios between delta-8 THC and minor cannabinoids — and adding terpenes to the blend to boost synergistic effects.
You can choose from delta-8 THC tinctures, gummies, and vape pens. The vape pens are available in different strains — sativa, indica, and hybrid — to help you tailor the experience to your preferences and time of the day.
Finest Labs is also one of the most reputable manufacturers of botanical terpenes. It offers single terpenes as well as unique blends that recreate the flavors and fragrances of various cannabis strains.
FAQs
Who can use medical marijuana in Wisconsin?
Nobody can use medical marijuana in Wisconsin because the state doesn't have a medical marijuana program.
Can you grow weed in Wisconsin?
No. Growing even a single plant in Wisconsin can lead to misdemeanor charges, fines, and prison time.
Can you smoke marijuana in public?
No, smoking marijuana in public is prohibited. If you're caught smoking weed in a public place, the police will treat it as a misdemeanor and you'll be punished accordingly.
Can you travel with marijuana in Wisconsin?
No. It's illegal to travel with marijuana in Wisconsin. You can't fly with weed to another state, too, because you may face federal felony charges for drug trafficking. Being arrested for that equals 5 years in prison and $250,000 in fines if you're caught with less than 50 kg or fewer than 50 plants.
Is buying weed online an option in Wisconsin?
No, you can't legally buy weed online in Wisconsin. Whenever you come across an online store that promises to sell marijuana and ship it to the state, know that it's a scam.
Or a hopeless attempt of a desperate dealer to branch out their operations.
Anyway, it's illegal, so don't waste your time and try out hemp-derived delta-8 THC instead.
Is CBD oil from hemp legal in Wisconsin?
Yes. CBD oil is legal in Wisconsin under state law. In 2018, President Trump signed the amended Farm Bill, removing hemp from the list of controlled substances. Hemp was reclassified as an agricultural crop.
Farmers can grow and sell hemp plants for clothes, paper, ropes, construction materials, biofuel, food, and health supplements like CBD oil.
You shouldn't have problems finding a local store with hemp-derived CBD oils. But since the market is unregulated, I recommend finding a reputable online retailer. Similar to delta-8 THC, online CBD stores offer higher transparency and lower transparency compared with local vendors.
Buying Weed in Wisconsin: Bottom Line
Wisconsin is probably the last state on your mind when it comes to buying weed. It's virtually impossible to find a state with more backward policies surrounding cannabis.
Marijuana remains illegal for both recreational and medical use. Medical cannabis patients can only purchase low-THC/high-CBD oil, but these are the same products as the hemp-derived CBD oils you can find over the counter.
If you're looking for a federally legal alternative to marijuana in Wisconsin, delta-8 THC is the light in the tunnel. The state law allows delta-8 products, following the recommendations of the 2018 Farm Bill.
Just make sure to source your delta-8 THC from a trustworthy brand that provides up-to-date certificates of analysis for potency and purity. Feel free to use my recommendations if you're in a hurry.