BudPop Review & Coupon Code (2023 Update)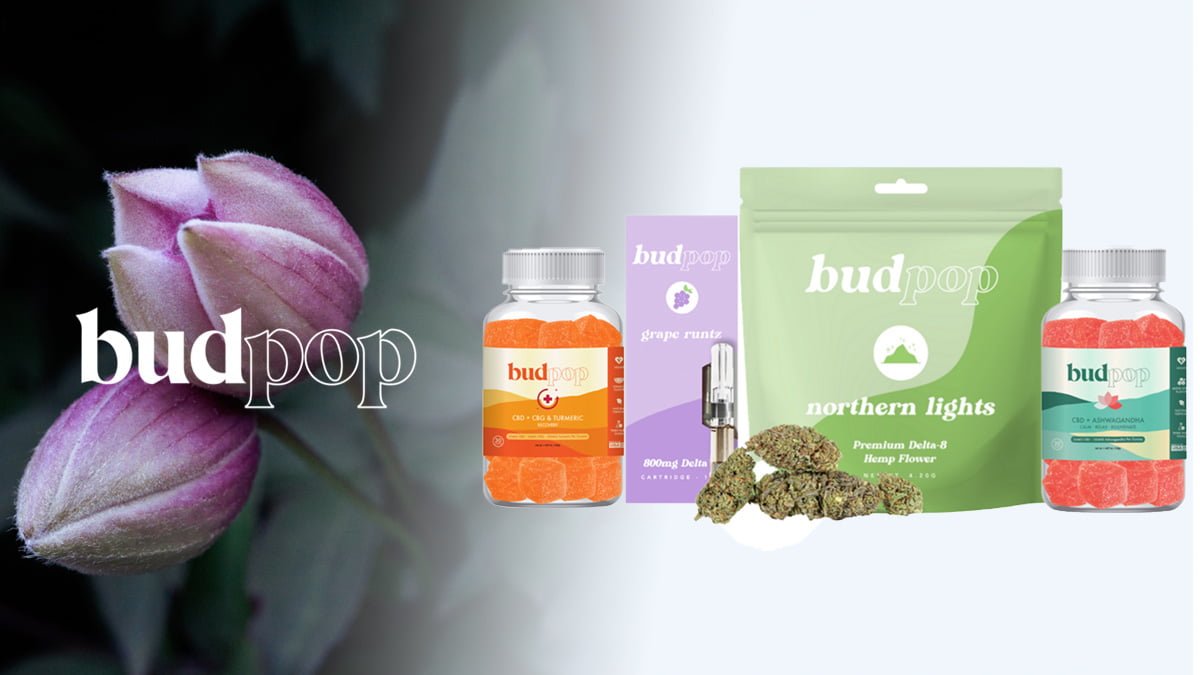 BudPop mainly focuses on producing and selling delta 8 THC products, but you can also find some CBD options here as well. All BudPop products are non-GMO, vegan, and made in the US.
The highlight of their product line is the gummies, and there are both CBD and delta 8 options, but they also feature delta 8 cartridges and delta 8 and CBD flower.
We'll start by giving you some general information and context about BudPop and going over their best products. We'll also list the pros and cons of this brand and give you some alternative brand suggestions if you decide BudPop isn't the best option for you.
About BudPop
BudPop is a delta 8 THC and CBD vendor. Their products are high quality, non-GMO, vegan, third-party tested, and made in the US from Nevada-grown hemp.
Just like many other companies in the cannabis space, BudPop started because their founders weren't satisfied with the organic hemp products in the market at the time and decided to fill that void.
They set out to look at every step of the production process and improve whatever was needed to get higher quality, safe, clean, and effective products.
The only downside of this brand is that most of their products are made with isolates and therefore lack the benefits of the entourage effect. 
BudPop Product Range
BudPop specializes in producing the best delta 8 products, but they also feature some CBD options. Here are our top three product recommendations:
1. Featured Product: BudPop Delta-8 THC Gummies
There are many high potent delta 8 edible gummies in the market today. With a standard potent dose of 25 mg of delta 8 per BudPop gummy, you'll feel relaxed, euphoric, and uplifted — a powerful body and mind high are guaranteed. Each container comes with 25 gummies.
Gummies have some advantages over other methods of consuming delta 8: you can carry these anywhere and eat them discreetly; dosing is super easy since you know how much delta 8 is in each; and, last but not least, the flavor is divine!
The BudPop team recommends you start with one gummy and wait at least 45 minutes before having another. They also recommend you keep them refrigerated after opening. 
Product Specs: 
| | |
| --- | --- |
| Total Delta 8 THC | 625 mg  |
| Extract Type | Delta 8 distillate |
| Delta 8 Potency | 25 mg per gummy |
| Flavors | Strawberry |
2. BudPop CBD + CBN Sleep Gummies
CBD can help you relax and sleep better, but the real sleep cannabinoid is cannabinol (CBN). CBN is a known powerful sedative that, together with CBD, works as a natural sleep aid.
Like all other products at BudPop, these gummies are made in the US, vegan, non-GMO, and third-party tested.
From the customer reviews available on the website, seven in eight customers highly praised these gummies, saying they help them fall asleep, stay asleep, and wake up without brain fog.
Product Specs:
| | |
| --- | --- |
| Total CBD & CBN | 750 mg & 300 mg CBN |
| Extract Type | CBD/CBN Isolates |
| Delta 8 Potency | 25 mg of CBD + 10 mg CBN |
| Flavors | Mixed Berry |
3. BudPop CBD + CBG & Turmeric (Sports Recovery) Gummies
These gummies were specially formulated for sports recovery. No matter what type of physical exercise you do, if you experience soreness, these are for you.
Besides a generous dose of cannabinoids — CBD and CBN — they come with 100 mg of turmeric root powder and 0.5 mg of black pepper extract.
Turmeric and black pepper are known to reduce inflammation, improve digestion, and act as antioxidants. Black pepper can also help you lose weight and supports the absorption of nutrients.
CBD can also reduce inflammation, relieve aches and muscle spasms, and help you relax and sleep better. CBG can help you sleep, and some studies suggest it might be the best pain-killer out of all cannabinoids.
Product Specs:
| | |
| --- | --- |
| Total CBD & CBG | 750 mg & 300 mg CBG |
| Extract Type | CBD/CBG Isolates |
| CBD Potency | 25 mg of CBD + 10 mg of CBG  |
| Flavors | Orange |
4. Other BudPop Products
BudPop has many products available in their online shop. We've covered the products we spent the most time testing and enjoyed the most, but there are many other options available on the company website as well. It is also best to buy D8 products online to see several perks that you won't find locally.
Currently, BudPop offers the following products in addition to what was listed in our review: 
CBD/ashwagandha gummies

Delta 8 THC vape cartridges

Delta 8 THC infused hemp flower

CBD hemp flower
What BudPop Does Well
BudPop uses CO2 extraction to make their products, which is the best way to avoid using toxic solvents during production. 
This company also does a good job at providing third-party lab tests for all its products — which is something most delta 8 THC brands fall short on. You can even scan the QR code on the side of the bottle to check the test for the specific batch of product you have in your hand. 
Negatives of BudPop
While we like BudPop overall, there are some downsides to be aware of. 
The main issue people have with this company is its poor return policy. Unlike most companies that have a 30-day return policy, with BudPop, you only have 14 days after receiving your order to request a refund. You should read their refund policy carefully because not all items can be returned or exchanged.
There's also some contradictory information on the website. On the shipping policy page, it says you'll get your items in 2–4 business days, while the FAQs page says it'll take 5–7 days. We had to wait about 8 days before our first order arrived and about 6 for the second order. 
Also, while the product pages say shipping is free, the shipping policy page says you need to pay — and these are just a couple of examples.
There's another issue we came across on the BudPop website that didn't sit right with us.
Often, cannabis companies will offer discounts for bulk buying or when customers subscribe to monthly purchases. BudPop does that with their vape cartridges — if you buy three or five at a time, you get a discount.
However, when it comes to the gummies, you actually pay more. If you buy a three or five-pack, you pay 10 or 20 pennies more, respectively, than if you bought them individually.
We hope this was a mistake and that they correct it quickly. Even if it's just some pennies, it's not nice to see a company punish their customers for their preference and loyalty instead of rewarding it.
Alternative Brands to Check Out Instead
BudPop has a limited product selection, and despite its many upsides, it also comes short on a few aspects. If you're not convinced it's the brand for you, here are our top picks as alternatives:
1. Area 52 (Best Delta 8 THC Vendor)
Get 15% off all Area 52 products. Use code "CFAH" at checkout.
Area 52 checks all the boxes for what we look for in a quality delta 8 company — their hemp is sourced locally and organically grown; they send their products to third-party labs for testing; their products' potency is outstanding, and the quality of their products is excellent across the whole product line.
It comes as no surprise since its founder is a biochemist and former member of a prominent chem society. He spent over a decade developing and optimizing methods to extract and isolate cannabis compounds.
All his expertise is now leveraged to bring you some of the best hemp-derived products on the market.
This company specializes in providing the best delta 8 products you can buy, but you can also get full-spectrum CBD oil and gummies there.
Products available at Area 52:
Delta 8 THC tincture

Full-spectrum gummies

Delta 8 THC gummies

Delta 8 THC honey sticks

Delta 8 THC cartridges
2. Finest Labs (Terpene-Enriched Cannabinoid Products)
The quality we've seen from Finest Labs is hard to match — especially if you like products that integrate organic terpenes. 
What sets Finest Labs apart is their extraordinary know-how when it comes to extracting and isolating cannabis compounds.
They later re-combine these compounds to create unique products that their customers love, and all the hemp they use is organically grown in the US.
In fact, besides only sourcing hemp from certified organic farms, they offer compensation to their partners to be as environmentally friendly as possible. Finest Labs' commitment to sustainability is remarkable.
Products available at Finest Labs:
Delta 8 THC tinctures

Delta 8 THC gummies

Delta 8 THC vape cartridges
3. Gold Bee (Best CBD Vendor)
Gold Bee is a relatively new CBD company from Nevada. Every ingredient in their products is organic from the hemp to the carrier oil they use.
This company first produced and sold organic, honey-infused superfoods but transitioned to making CBD products in 2019, only launching their online store in 2020.
Gold Bee offers a diverse product selection; all products are third-party tested. But what truly sets it apart is its previous superfood industry experience.
Besides producing outstanding CBD products, they offer a selection of kava root-based goods. Kava is a popular food supplement that originated in the Western Pacific Ocean islands. It's known and used for its relaxing and uplifting properties.
Products available at Gold Bee:
Full-spectrum CBD oil

CBD gummies

CBD honey sticks

CBD softgel capsules

CBD roll-on gel

CBD pet oil

CBD dog treats

Kava tincture

Kava powder

Kava capsules
Final Verdict: Great Brand, But Plenty of Room for Improvement
From the information on the website and client reviews, we believe BudPop's products are high quality. The targeted products, like their gummies for sports recovery, can be particularly beneficial for customers.
However, there are a lot of inconsistencies on their website that could easily be fixed. We also hope they extend their product line soon.
If you're looking for something similar, check out brands like Area 52 and Finest Labs for delta 8 THC or Gold Bee if you're keen on using CBD products exclusively.