CBD Capsules vs Oil: Which Is Better?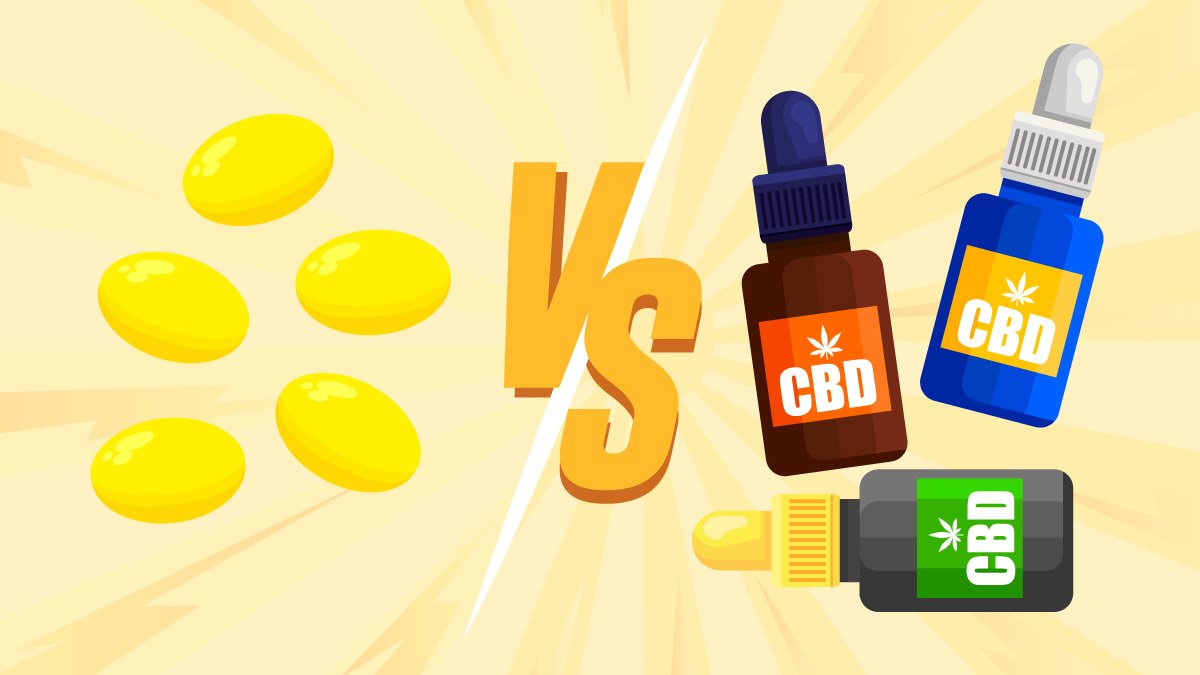 There's a debate over the superiority of particular forms of CBD over others. People are wondering which type is better — CBD oil or CBD capsules?
Both forms of CBD have been around with us for a while, and both are used for different purposes.
To be honest, the best form of CBD depends on your individual preferences, such as your lifestyle, convenience, bioavailability, dosage, etc.
In this article, we'll break down the differences between CBD oil vs CBD capsules to help you make a well-informed decision.
CBD Capsules vs Oil: A Brief Comparison
| | | |
| --- | --- | --- |
| | CBD Capsules | CBD Oil |
| Ingredients | CBD extract, carrier oil, softgel covering | CBD extract, carrier oil |
| Form of administration | Oral | Sublingual (beneath the tongue) |
| Bioavailability | Up to 20% | Around 35% |
| Onset | 30-120 minutes | 15-30 minutes |
| Lasting time | 4-6 hours | 8-12 hours |
CBD oil is usually made from a CBD extract (full-spectrum, broad-spectrum, or isolate), a carrier oil, and flavorings (optional). They may also feature additional ingredients that produce complementary effects or enhance the health benefits of CBD.
CBD capsules contain the same hemp extract and carrier oil, but unlike CBD oil, this form is odorless and flavorless. Capsules are covered in a soft gel shell that makes them easier to swallow.
And, since CBD capsules are swallowed, they come with a delayed onset compared to CBD oil. The effects of CBD capsules are noticeable usually within 30-120 minutes, while CBD oil can start working after 15–30 minutes. It also offers higher bioavailability, reaching 35% in studies.
Meanwhile, the maximum bioavailability of CBD capsules has been measured at 20% due to the first-pass metabolism in the liver. But, since CBD is released gradually into the bloodstream, the duration of effects is also extended — up to 12 hours.
Now that you know the basic differences between CBD capsules vs CBD oil, let's take a look at the health benefits of CBD supplements.
Why People Are Turning to CBD Supplements
From A-list celebrities to professional athletes and regular folks who are conscious about their health — everyone is jumping on the bandwagon.
It's no wonder why people are turning to CBD for relieving a wide range of symptoms, like CBD oil for sleep. CBD supports the functioning of the endocannabinoid system (ECS), which is our master regulatory network controlling processes like memory, mood, sensory perception, fertility, sleep cycles, attention, and more.
A healthy endocannabinoid system (ECS) ensures homeostasis throughout the body, which is a fancy term for the biological balance between all systems and organs.
By supporting the ECS, CBD may help in regulating the aforementioned processes in a natural and biologically appropriate way.
Research has found CBD to be potentially effective at fighting pain, inflammation, sleep deprivation, infections, epileptic seizures, neurodegeneration, and autoimmune conditions.
However, CBD extracts aren't cheap, so you want to make sure that you're maximizing the benefits of your product.
So, which one should you choose: CBD capsules or CBD oil?
CBD Capsules vs Oil: A Detailed Breakdown
Before choosing between CBD capsules vs oil, take your time to outline your goals and priorities.
You need to think about why you want to use CBD in the first place. If you're looking for a product for general supplementation, both capsules and oil are a good pick.
So, what's the point of choosing between CBD capsules and oils if they come with the same features?
This is where we need to dive into more specific differences between these two forms of cannabidiol.
CBD Capsules
Similar to most health supplements, the best CBD comes in capsule form.
CBD capsules are made with the same ingredient as oils — CBD — but they're more stable than CBD oil. Once pulled from the plant matter, the extract is covered by a softgel shell. CBD capsules are similar to any other pill that can be swallowed down with a glass of water, making them more popular among users who prefer convenience in their supplementation routine.
The Pros of CBD Capsules
Capsules are easy to take. If you already take encapsulated supplements, it's easy to add them to your daily plan.
Dosing CBD capsules is simple because each capsule contains a fixed dose of CBD.
Capsules are the traveler's best friend. They won't leak in a bag and aren't subject to volume restrictions for hand luggage.
Capsules are discrete. You won't be noticed for taking them in public.
Capsules are odorless and flavorless, making them a good alternative for people who dislike the taste of CBD Oil.
The Cons of CBD Capsules
CBD capsules are less bioavailable than oils, and they lose some of their strength on their way to the bloodstream.
Capsules aren't as popular as CBD oils, so the product choice is limited in terms of different formulations.
The fixed-dose per serving can be problematic for those using less obvious dosages in their routine.
CBD Oil
Also known as CBD drops, high-quality CBD oil contains a cannabis extract that has been infused into a carrier oil for higher bioavailability.
Taking CBD oil is easy. The product usually comes in 30-mL bottles that have glass droppers attached to them. All you need to do is squeeze the desired amount of CBD into the dropper, place it under your tongue, and hold it there for around 60 seconds. You can also swish your tongue around the gums to increase the surface area for absorption.
This way, CBD with other cannabinoids and terpenes will get absorbed through the tiny capillaries in your mouth right into the bloodstream. Then you just swallow the remaining amount.
Natural full-spectrum CBD oils have an earthy and nutty taste that can also leave a harsh feeling on the throat. If you dislike the natural taste of CBD oil, you can look for flavored options or mix them into food and drinks. However, consuming CBD in food will also deprive you of the benefits associated with more efficient absorption through sublingual use.
The Pros of CBD Oil
CBD oil is the most common form of CBD supplementation. You can choose from a wide range of potencies, sizes, formulations, and flavors to adjust the experience to your expectations. It's generally best to start with low-strength CBD oil and gradually increase the potency until you find the sweet spot.
The dropper attached to CBD oil can help you accurately measure out your dose.
CBD oil offers higher bioavailability than capsules, allowing more CBD to enter your system.
Taking CBD is relatively easy, even for people who have never used a tincture of any kind.
The Cons of CBD Oil
CBD oil has a strong earthy flavor and thick texture. Unless you use flavorings or add them to the food to mask the taste, you may not like the way it feels on the palate.
CBD oil may leak in your bag, making it a difficult product to travel with. Capsules are definitely more convenient
It's not a discrete method of applying CBD. Having to use a dropper to place the oil under your tongue might turn some heads in public.
4 Questions You Should Ask Yourself When Choosing Between CBD Capsules vs Oil
Before you click that "add to cart" button, ask yourself the following questions about CBD capsules and oil:
What are your goals with CBD? If you're aiming at regular supplementation and don't mind waiting at least 30 minutes for the effects, capsules are a better option. However, if you're looking for faster relief from your symptoms, then CBD oil has the upper hand.
What is your dosage? Do you take doses like 10, 25, or 50 mg? Or do you use less obvious amounts, such as 15 mg or 35 mg? If you're closer to the latter, you may want to consider buying CBD oil instead of capsules.
How long do you want the effects to stay with you? Capsules are processed in a slower manner than CBD oil, but at the same time, the duration of their effects is longer. Capsules usually kick in within 30 minutes to 2 hours and their effects last up to 12 hours. CBD oil needs around 15-30 minutes to show its effects, but it last shorter than capsules (6 hours at best).
How do you perceive the taste of CBD oil? Of course, you can grit your teeth and take CBD oil even if you dislike the taste, but if this is too much for you, then capsules should change the game. However, you'll need to sacrifice some of the bioavailability in favor of the lack of odor and flavor.
Key Takeaways on CBD Capsules and Oils
The bottom line is that choosing between CBD capsules and oils breaks down to knowing your priorities and lifestyle preferences. Bioavailability is the most important factor here, although convenience, ease of use, dosage precision, and the duration of effects also matter.
CBD capsules might be better if you're looking for an easy way to take your daily dose of CBD. You can add them to your pillbox and take them alongside other supplements without having to measure out a thick oily substance.
That being said, CBD oil might win if you're looking for higher bioavailability and accurate dosing. While less discrete and obvious than capsules, CBD oils are the closest you can get to nature when it comes to taking hemo supplements.
Let us know in the comments if you've tried both forms of CBD — and which one is your daily driver.