CBD For Weight Loss: Can Hemp Oil Help You Lose Extra Weight?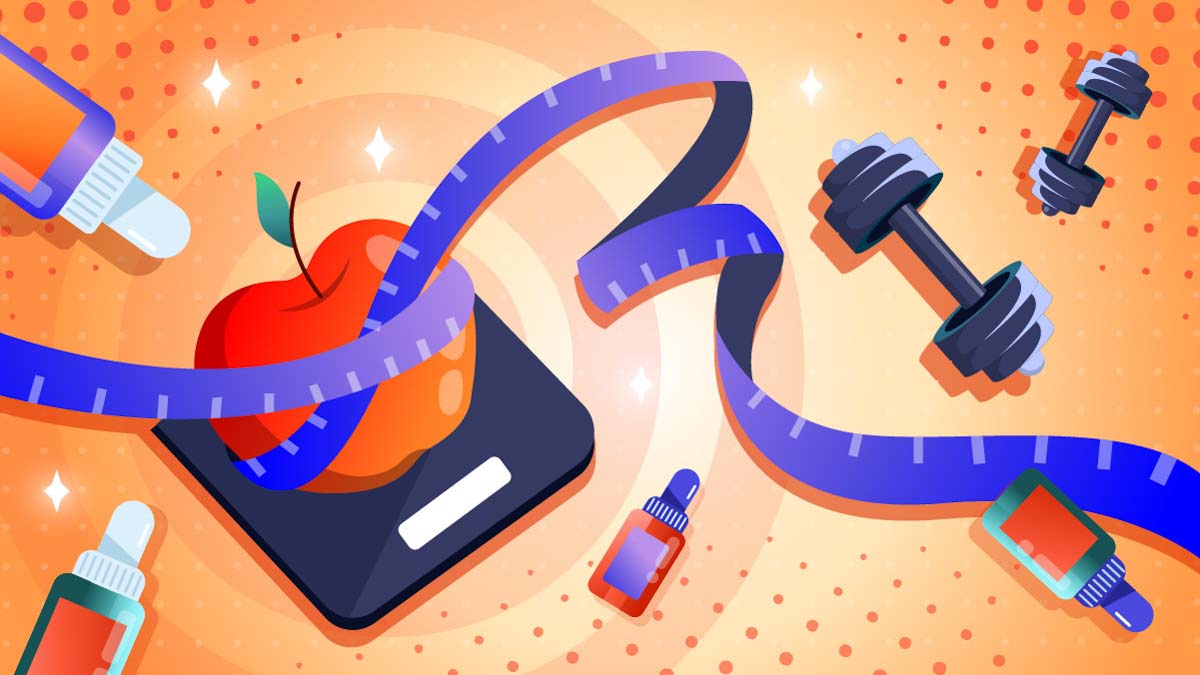 Most people assume cannabis extracts increase hunger — instead of killing it. But this effect is linked to a different cannabinoid called THC (tetrahydrocannabinol), which is also the reason behind the psychoactive effects of marijuana.
CBD is different, it's non-psychoactive, and has an entirely different set of effects on things like appetite and metabolism — both of which are heavily linked to weight gain and loss.
Numerous case-studies, as well as peer-reviewed research results, have indicated that CBD use is associated with reduced body mass index (BMI), lower body weight, and smaller waist circumferences.
This doesn't mean you should ditch your diet and rely solely on CBD. You can, however, add CBD oil to your regime for improved results.
In this article, I'll go over each aspect related to CBD and weight loss — and show you my top 4 CBD Oil brand recommendations.
Are you ready?
How Can CBD Oil Help You Lose Weight?
The reason why people gain weight is straightforward.
You're taking in more calories than you're letting out.
However, our ability to burn fat is affected by a variety of factors, and compromised metabolism often derives from hormonal imbalances and changes in metabolic patterns, inflammation status, and the function of the endocannabinoid system.
Steady weight loss requires you to return your body to a healthy balance between the digestive, immune, and nervous systems — and the ECS is a bridge between them all.
So, how can you modulate the endocannabinoid system with CBD? What does the research say about using CBD oil for weight loss?
Related: Best CBD Gummies for Weight Loss
Read on to learn about the latest studies.
1. Suppresses Appetite
Many CBD proponents say that the compound can help you lose weight by reducing your appetite.
Most people link cannabis to appetite stimulation, as people who smoke weed tend to feel more hungry than usual. While it's true that THC may induce hunger, CBD does not.
THC activates the CB1 cannabinoid receptors in the body, causing a range of effects, including increased appetite. However, according to a 2018 study, CB1 receptor antagonists may help reduce appetite and control obesity because they block off or "deactivate" the receptor.
While CBD doesn't deactivate CB1 receptors directly, it may act on other molecules prompting to block them off. Shutting off these receptors may help curb the appetite and prevent overeating in some people.
An older animal study published in 2012 revealed that CBD administration to rats reduced their appetite. While plenty of anecdotal evidence supports the concept of CBD and appetite suppression, there have been no human trials on this subject yet.
2. Turns On Fat Browning in the Body
CBD advocates also claim that CBD can convert white (or bad) fat into brown fat, which may improve the body's ability to burn calories.
White fat is responsible for increasing the risk of many chronic conditions, such as diabetes or heart disease, so the fat-browning process may also benefit you in other areas of health.
A 2016 study supports the claim about fat conversion. The scientists involved in that study found that CBD can influence how the body interacts with fat on many different levels.
Not only did CBD help turn white fat cells into brown fat cells, but it also caused a more efficient breakdown of fats within the body.
Brown fat cells are more active than their white counterparts. They burn off energy as heat, stimulating thermogenesis, and thus helping the body burn more calories.
3. Reduces the Risk of Metabolic Disorders
According to a 2018 study, obesity may trigger several metabolic disorders, such as high blood pressure, high cholesterol, and type 2 diabetes.
This happens through the overactivation of the CB receptors in the body. When CB1 receptors are overstimulated in the fat tissue throughout the body, this may contribute to obesity and the aforementioned metabolic symptoms.
Because CBD can block off the CB1 receptors, it might also reduce the risk of obesity. A review in Cannabis and Cannabinoid Research mentions some past studies involving CBD and metabolic factors, mainly in rodents.
For instance, people treated with CBD showed a reduction in cholesterol by 25 percent over time. Besides, the anti-inflammatory and antioxidant effects of CBD also decreased their blood sugar levels and improved markers for liver health.
4. Helps With Insulin Resistance
Insulin resistance is an almost inseparable feature of obesity and diabetes.
A healthy metabolic process follows a simple pattern:
You eat food
Blood sugar levels rise
The pancreas releases insulin to move the glucose to the body cells
The cells use glucose as an energy source
When your eating patterns constantly provide excess glucose, the system will go out of whack. As body cells are unable to withstand more glucose, they become resistant to insulin's signaling to pump the simple sugar into the cell.
With dangerously high blood glucose levels, the pancreas begins to secrete even more insulin. In the end, the unusually intense production of insulin will cause glucose levels to plummet.
That's why people suffering from insulin resistance tend to experience "blood glucose roller coaster," feeling hungry and sluggish.
Unhealthy metabolism follows this process instead:
You eat food
Blood sugar levels rise
The pancreas releases insulin to move glucose into the cells
Insulin doesn't work
Blood sugar levels continue to rise
The liver steps in to convert sugar to fat to protect the body from high sugar
Your cells still want sugar for energy and trigger the appetite
The process continues
A 2018 study showed that cannabinoids like THC, CBD, and CBN enhance cells' potential to absorb glucose, performing even better than metformin, a commonly prescribed pharmaceutical for high sugar levels.
If we can absorb the sugar from the blood when we need it, we convert less to fat and feel hungry less often.
5. May Fix Mitochondrial Dysfunction
Mitochondria act as the energy factories for cells. When insulin brings glucose to the cells, the mitochondria use it to produce the "fuel" for the body and brain. But when insulin resistance occurs, the mitochondria's capabilities are impaired as well.
Mitochondrial dysfunction occurs in most conditions that include imbalanced glucose levels and maybe a serious contributor to cancer. Healthy mitochondria, in turn, are guaranteed to provide long-lasting vitality.
A 2016 lab study investigated the impact of CBD on the metabolic function of fat cell cultures. The study recorded a significant improvement in mitochondrial function with the administration of CBD.
6. Reduces Inflammation
CBD has a well-documented list of anti-inflammatory effects. Metabolic dysfunction often involves chronic inflammation. The pancreas is one of the most at-risk organs in obese and diabetic people.
The hyperactivity of the pancreas in an attempt to secrete extra insulin can cause inflammation in the entire gland. That chronic inflammation can damage the beta cells, which are the ones responsible for insulin secretion.
As the body becomes unable to produce sufficient levels of insulin — it brings you one step closer to diabetes and obesity.
As shown by a 2016 study, there's a vivid link between inflammation and an overstimulated endocannabinoid system. The application of CBD can help fix this dysfunction. The antioxidant and anti-inflammatory effects of CBD curb inflammation and potentially save the pancreas against damage — reducing the risk of diabetes.
7. Repairs Liver Damage
Another common marker for obesity and diabetes is damage to liver cells. The liver plays a significant role in the conversion of stored and usable energy resources in the body.
Overburdening the liver with high sugar intake can prove disastrous for this system. Inflammation within the liver is an indicator of the onset of dysfunction and may lead to non-alcoholic fatty liver disease.
In 2015, researchers conducted a study on the impact of CBD and THCV on metabolic dysfunction and chronic liver damage.
The results suggested that these non-psychoactive cannabinoids reduce the buildup of triglycerides in the liver. Moreover, they lowered blood pressure and improved insulin resistance in human participants with type 2 diabetes. The scientists gave partial credit for these improvements to the anti-inflammatory properties of CBD.
Top 4 CBD Oil Recommendations for Weight Loss
There are hundreds of brands to choose from when it comes to the CBD oil space — many of which leave a lot to be desired in terms of transparency and quality.
To save you hours of research, I'd like to share my list of top 4 brands I would use to manage weight with CBD oil. Each of these companies offers nothing but high-quality products along with the third-party test results to back up their claims:
Get 15% off all Royal CBD products.  Use code "CFAH" at checkout.
Pros:
Their CBD oil is made using full-spectrum extracts
Every batch of product has been tested in a third-party laboratory
Available in 4 different potency options
Also sold as gummies and softgel capsules
Cons:
They're priced higher than average — although the cost is well justified
What I Like About Royal CBD:
Royal CBD is a premium CBD brand that uses simple formulas in their products with only the highest quality ingredients.
I'm a fan of all Royal CBD products, but as far as weight loss goes, I'd stick to the oil or capsules mainly because they offer the full spectrum of cannabinoids, which has been proven superior to isolates in reducing inflammation. The second reason why I wouldn't include the gummies in my supplementation regime is the sugar content. If you want to lose weight, cutting down on simple sugars is one of the most important steps, so instead, I'd look for more classic formats like oil or capsules.
What I love about their CBD oil is that it tastes much better than any other brand I've tried so far. That's because the extract has been suspended in organic MCT oil that perfectly masks the botanical taste of hemp. I use the 500mg option, and I must admit it has done an excellent job of keeping my food cravings at bay.
If for some reason, you don't want to use the classic oil, you can try their softgels. They allow for easier dosing and are more convenient to take than oil drops — not to mention they're super easy to swallow.
Pros:
Sourced from organic, non-GMO hemp
Full-spectrum and broad-spectrum products
Up to 2400 mg of total CBD
Made from high-terpene strains
Infused with superfoods
Third-party tested for potency and purity
Cons:
Limited potency options
Made in small batches (can sometimes be out of stock)
What I Like About Gold Bee:
Gold Bee is a superfood manufacturer turned CBD brand that specializes in a broad range of full-spectrum and broad-spectrum extracts. The company is known for its high integrity in lab testing and a careful selection of hemp strains, ensuring top-shelf quality standards.
While Gold Bee doesn't offer any weight loss-specific formulas in its line-up, some of the products are exceptionally good for working out and for post-exercise regeneration, such as the full-spectrum CBD oil (1200 mg) or CBD energy gummies (infused with CBG and caffeine).
If you don't like the natural flavor of full-spectrum CBD oil, Gold Bee offers two unusual flavors for its oil: Lychee and Kiwii. The fact this product is sweetened with honey and natural stevia extract makes supplementation guilt-free because you don't ingest additional sugar for a better taste.
All products by Gold Bee are tested in an ISO-certified laboratory for quality and safety. You can view the full lab test results on the company's website. The guys at Gold Bee also have stellar customer service, so if you have any questions regarding their products, they will help you with everything you need to know.
Pros:
They offer a diverse product range
Each product is sent to a third-party lab for quality testing
Five potency options available
Up to 5000mg of CBD per bottle
THC-free
Cons:
The extract used by Hemp Bombs aren't quite as "premium" quality as Royal CBD
There's no synergy from other cannabinoids
What I Like About Hemp Bombs:
Hemp Bombs offers one of the most diverse product ranges in the entire industry. Whether you want to buy oils, vape juices, pet treats, topicals, gummies, pet treats, CBD shots, and even beard balms — they have all these products in their assortment.
While their CBD oils aren't of the same 5-star quality as Royal, the company does provide detailed lab analyses of every batch of their products. Besides, Hemp Bombs CBD oil can carry up to 5000mg of 99% pure CBD per bottle. You can use the stronger options to relieve anxiety and control your food cravings if you're a compulsive eater.
3. CBDistillery
Pros:
Their products are sourced from Colorado-grown hemp
Available as full-spectrum CBD or pure CBD oil (THC-free)
Each batch has been tested in a third-party laboratory for purity and potency
Five potency options to choose from
Very affordable deals
Cons:
They don't use organic hemp
Slightly lower quality than Royal CBD and Hemp Bombs
What I Like About CBDistillery:
This Colorado-based company is one of the pioneer brands in the industry and the first company I've bought CBD oil from.
Their product line includes both full-spectrum CBD and THC-free oils, with potency options starting at 250mg up to 5000mg of CBD. Because of that, you can adjust the strength of your oil to the specific problem you want to address.
On top of that, they offer very affordable deals; the 250mg bottle costs only $20, so if you're using CBD oil for preventative supplementation and you don't need high doses of this product, CBDistillery offers some of the best deals on the market.
How to Choose Between High-Quality and Low-Quality CBD Oil
Many health supplements in the US are unregulated — and CBD is one of them. This means that virtually anyone can buy the raw ingredients and formulate them into health supplements.
This leaves a lot of room for inferior CBD products on the market — some of which can be dangerous to your health.
With CBD oils, the biggest problem lies in the source of hemp and the contamination of heavy metals, pesticides, and toxic solvents.
Luckily, there's a foolproof way to eliminate the risk of getting snake oil instead of CBD oil — third-party testing in independent laboratories.
While this isn't a mandatory step for CBD manufacturers, they can use lab reports to prove the quality of products they make. The lab will test the product for its cannabinoid content, as well as purity levels, providing a detailed analysis of the heavy metal, pesticide, solvent, and organic contamination contents.
Always look for these third-party tests on the manufacturer's website. If a company fails to deliver such simple proof, they aren't worth your time.
Weight Loss And the Endocannabinoid System
Better ratio of muscle to fat among cannabis users compared to non-users may sound counterintuitive. But this concept can be easily explained with the mechanism of the endocannabinoid system (ECS).
The ECS is a complex network of receptors and neurotransmitters found throughout the body, but its highest concentrations appear in the nervous and immune systems.
The neurotransmitters include molecules called endocannabinoids. The body releases them to send messages to cells via the cannabinoid receptors. Plant cannabinoids — or phytocannabinoids — like CBD or THC act much like the endocannabinoids.
The endocannabinoid system controls a wide range of vital processes, including mood, memory, inflammation, sensory perception, cognitive function, body temperature, appetite, and more.
The role of the endocannabinoid system is to maintain the balance in all of the above functions. When the balance gets compromised, a person will suffer from either under-activity or over-activity of the endocannabinoid system, which is when dysfunction sets in.
Many studies suggest that in the case of diabetes, metabolic syndrome, and obesity, there's sound evidence of endocannabinoid system deficiency.
Here's what Alicia Salazar, a New York state board-certified health coach, said about using CBD for weight loss:
"I don't look at CBD as a magic bullet for weight loss. But along with a healthy diet — one that contains healthy fats, whole grains, grass-fed meat and dairy, and plenty of greens, without processed foods and sugar — sets the tone for a healthy weight. And for some, that can naturally include weight loss."
Are There Any Concerns About CBD And Weight Gain?
The main concerns about CBD and weight gain come from the fear that cannabis and its compounds can stimulate the appetite.
As I said, this feature is typical of high-THC marijuana strains and products. In hemp-derived CBD oil, THC levels rarely exceed 0.3%, which isn't enough to activate CB1 receptors to the point they will make you empty the entire fridge.
But even in marijuana-derived CBD oils, the ratios of THC to CBD make it unlikely that you'll have munchies afterward.
Long story short, no, weight gain shouldn't be your concern when taking CBD oil as long as it doesn't contain more than trace amounts of THC.
The Final Verdict on CBD Oil for Weight Loss
The growing amount of evidence leans towards the health of the endocannabinoid system being tied to our metabolic performance. Scientists argue that the levels of endocannabinoid activity should be a new marker of metabolic health.
According to recent research, there's great promise in developing potential cannabinoid-based treatments for obesity and diabetes.
It's important to note, though, that CBD oil shouldn't be used as a substitute for a balanced diet. If you want to make changes in your body, start with fixing your eating habits. Then choose a high-quality CBD oil — you can use my recommendations or do your research.
I hope this article has given you a better insight into the link between CBD and weight loss. Let me know how you incorporate CBD oil in your everyday routine!
References:
Gruden, G., Barutta, F., Kunos, G., & Pacher, P. (2016). Role of the endocannabinoid system in diabetes and diabetic complications. British journal of pharmacology, 173(7), 1116–1127.
Rossi, F., Punzo, F., Umano, G. R., Argenziano, M., & Miraglia Del Giudice, E. (2018). Role of Cannabinoids in Obesity. International journal of molecular sciences, 19(9), 2690.
Farrimond, J.A., Whalley, B.J., Williams, C.M. (2012) Cannabinol and Cannabidiol Exert Opposing effects on Rat Feeding Patterns. Psychopharmacology (Berlin), 223(1), 117–129.
Parray, H.A., Yun, J.W. (2016). Cannabidiol Promotes Browning in 3T3-L1 Adipocytes. Molecular and Cellular Biochemistry, 416(1-2), 131–139.
Dong, Z., Gong, H., Chen, Y., Wu, H., Wu, J., Deng, Y., & Song, X. (2018). LH-21, A Peripheral Cannabinoid Receptor 1 Antagonist, Exerts Favorable Metabolic Modulation Including Antihypertensive Effect in KKAy Mice by Regulating Inflammatory Cytokines and Adipokines on Adipose Tissue. Frontiers in endocrinology, 9, 167.
Iffland, K., & Grotenhermen, F. (2017). An Update on Safety and Side Effects of Cannabidiol: A Review of Clinical Data and Relevant Animal Studies. Cannabis and cannabinoid research, 2(1), 139–154.
Ramlugon, S., Levendal, R.A., Frost, C.L. (2018) Time-dependent Effect of Phytocannabinoid Treatments in Fat Cells. Phytotherapy Research, 32(6), 1080–1089.
Parray, H.A., Yun, J.W. (2016). Cannabidiol Promotes Browning in 3T3-L1 Adipocytes. Molecular and Cellular Biochemistry, 416(1-2), 131–139.
Gruden, G., Barutta, F., Kunos, G., & Pacher, P. (2016). Role of the endocannabinoid system in diabetes and diabetic complications. British journal of pharmacology, 173(7), 1116–1127.
Silvestri, C., Paris, D., Martella, A., Melck, D., Guadagnino, I., Cawthorne, M., Motta, A. & Di Marzo, V. (2015). Two Non-psychoactive Cannabinoids Reduce Intracellular Lipid Levels and InhibitHepatosteatosis. Journal of Hepatology, 62(6), 1382-1390.