CBD Oil for Ulcerative Colitis: How It Works and Dosage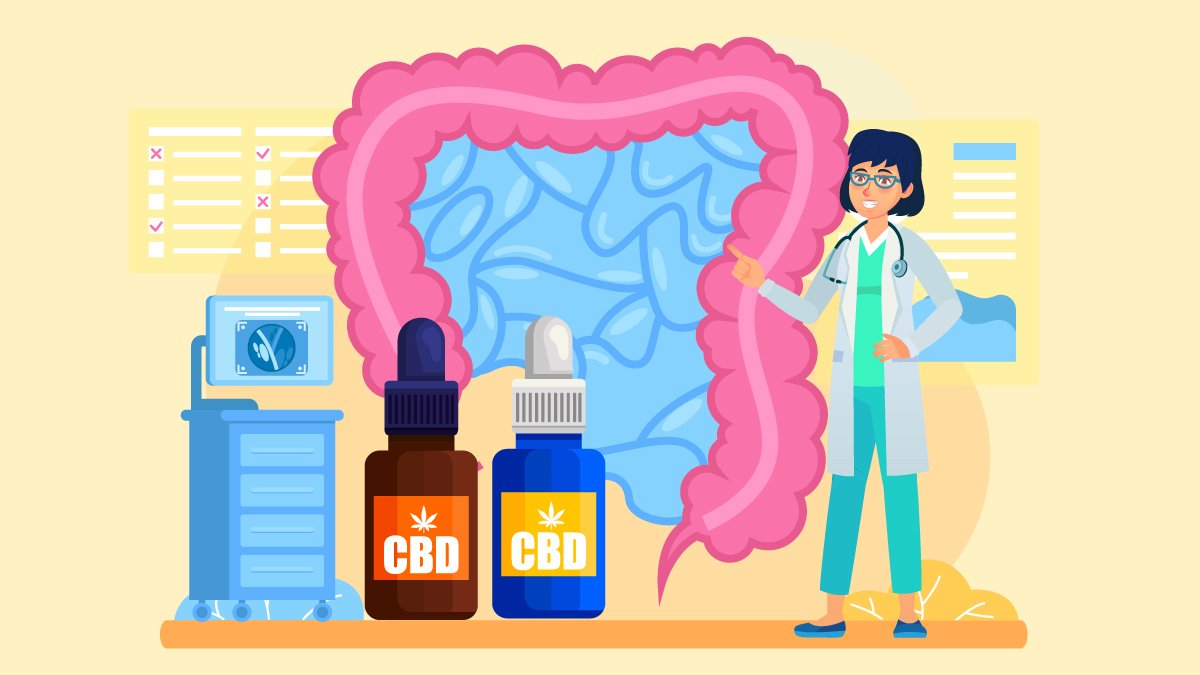 Ulcerative colitis and Crohn's disease are the two most prevalent types of inflammatory bowel disease (IBD). While the two conditions may involve similar symptoms, they have different causes and should be approached from different angles.
While Crohn's disease may show up in any part of the digestive gut, ulcerative colitis is exclusively referred to as inflammation of the colon. Another name for this condition is the 'large intestine.' Unlike Crohn's Disease, ulcerative colitis causes inflammation only in the inner lining of the gut.
Current treatments for inflammatory bowel diseases are expensive and may have dangerous side effects when taken regularly. For this reason, many people have started to seek out alternative methods of treatment, with CBD standing at the forefront.
If you're flirting with the idea of taking CBD oil for ulcerative colitis, this article will give you a detailed look into the scientific research on this subject on top of sharing some handy tips for using CBD.
What Is Ulcerative Colitis?
Ulcerative colitis (UC) is a chronic inflammatory condition affecting the colon and causing persistent ulcers, or sores, in the digestive tract. It falls into the category of inflammatory bowel diseases (IBD) along with Crohn's disease and irritable bowel syndrome (IBS).
The disease causes damage to the inner lining of the large intestine, which may lead to frequent bowel movements. Ulcerative colitis commonly affects adults aged thirty to forty years old and generates up to $15 billion in government spendings on healthcare in the United States (1).
The cause of inflammatory bowel diseases such as ulcerative colitis or Crohn's disease isn't fully understood. However, scientists suspect that hereditary factors are the major players in the development of these conditions.
Causes & Symptoms of Ulcerative Colitis
The cause of inflammatory bowel diseases such as ulcerative colitis or Crohn's disease isn't fully understood. However, scientists suspect that hereditary factors are the major players in the development of these conditions. These are autoimmune diseases, meaning the immune system attacks healthy cells instead of potential "intruders," causing chronic inflammation. But like we said, the "why" behind the development of chronic inflammation in the gut is yet to be discovered.
Ulcerative colitis symptoms include:
Abdominal pain
Cramping
Loose and frequent bowel movements
Loss of appetite
Low energy and fatigue
Persistent diarrhea
However, these symptoms aren't chronic in nature; a person with ulcerative colitis may go several months without any symptoms, only to be taken aback by severe flare-ups from time to time.
How Is Ulcerative Colitis Typically Treated?
Ulcerative colitis is theoretically incurable, but doctors may prescribe different medications to reduce the inflammation and manage the abdominal pain. These medications include aminosalicylates — the go-to treatment for the majority of IBD cases — but a physician may also prescribe antibiotics or corticosteroids.
In more severe cases of ulcerative colitis, surgery may be required to remove the parts of the large intestine that are most damaged. Sometimes, the disease can be cured with surgical removal of the colon, but it may seriously compromise a person's daily functioning, not to mention the risks of such surgery, especially among elderly sufferers.
Can CBD Oil Help Ulcerative Colitis?
Researchers hypothesize that CBD may be an effective alternative for ulcerative colitis due to its remarkable anti-inflammatory properties.
According to the National Institute of Health, CBD has both analgesic (pain-relieving) and anti-inflammatory effects on the gastrointestinal tract without causing intoxication.
Furthermore, few people are aware that the U.S. government holds a patent on CBD and other non-psychoactive cannabinoids as strong antioxidants and anti-inflammatory agents (2).
The patent says, "Cannabinoids have been found to have antioxidant properties… [making them] useful in the treatment of a wide variety of oxidation associated diseases, [including] inflammatory and autoimmune diseases."
The human endocannabinoid system (ECS), which keeps the body in the state of internal balance (homeostasis), has high concentrations of cannabinoid receptors in the digestive system — including the colon's lining.
Although there have not yet been clinical trials that would investigate the use of CBD oil for ulcerative colitis, preliminary research carried out for the last decade shows promising results.
Studies Exploring Use of CBD for Ulcerative Colitis
Can CBD Oil Help with Crohn's Disease?
Now that we've established CBD can help with ulcerative colitis, you're probably wondering if it can have similar effects on Crohn's disease. After all, this condition, too, belongs to the IBD group.
It's time to elaborate on the aforementioned study from Israel. The study observed and evaluated the effects of cannabis use on patients with different types of IBD, including Crohn's disease. The research team gathered 127 medical cannabis patients and closely monitored them using several assessment methods. These included forms of cannabis consumption, the use of other medications, side effects, and the long-term effects of cannabis use. The authors also took into consideration the exact THC and CBD levels the study's subjects consumed.
After 42 months of treatment, researchers used the said Harvey-Bradshaw Index to assess the effects of medicinal cannabis on the symptoms and overall well-being of the patients. A lower score on the index meant a decrease in the symptoms of Crohn's disease. For cannabis users, the index score went down from 11 to 5, and the patients experienced a decrease in their bowel movements — from 7.0 to 3.4 on average. The participants also reported a considerable reduction in pain.
The results of the study were encouraging, with 78% of participants reporting no harmful side effects. Some patients experienced very mild side effects, such as dry mouth and short-term memory decline. However, these patients also noted that the improvements in their symptoms outweighed these minor reactions.
The authors of the study (Naftali et al.) concluded that cannabis can induce clinical improvements in people with IBD and that it can lead to decreased medication use and weight gain. They also noted that the subjects responded well to a dose of 21 mg THC and 170 mg CBD per day.
CBD vs THC: Which Is Better for IBD Symptoms
This question is difficult to answer due to the current state of scientific knowledge on using cannabis for IBD. In other words, the majority of studies suggest that using whole-plant extracts with various ratios of CBD and THC appear to provide the best results for ulcerative colitis and Crohn's disease. No clinical trial has yet investigated the safety and efficacy of isolated CBD and THC for IBD.
Let's take a look at these cannabinoids from a more practical point of view.
As mentioned, CBD has remarkable anti-inflammatory and painkilling effects. On top of that, it can modulate the inflammatory response of the immune system by improving communication between its cells. Numerous studies have mentioned these qualities in relation to a wide range of health conditions, including IBD and its symptoms.
However, studies also show that the anti-inflammatory and analgesic effects of CBD are enhanced when you introduce some THC to an extract (along with other cannabinoids and terpenes). Researchers argue that even 1% of THC in a cannabis strain can significantly improve the plant's therapeutic potential.
THC is a potent anti-inflammatory and pain killer as well, but on top of that, it produces a set of psychoactive effects known as a "high." This "high" feeling usually elevates the user's mood provided that they take it in moderate doses. However, high doses of CBD are known for their backfire effect, which can lead to more anxiety and paranoid thinking patterns.
Now, when you take both cannabinoids together, CBD blocks the psychotropic potential of THC, preventing it from elevating anxiety, while THC amplifies the anti-inflammatory and analgesic effects of CBD. This mutual relationship is part of what scientists define as the entourage effect (6).
The entourage effect refers to synergistic effects between cannabinoids, terpenes, and other compounds found in cannabis. This synergy improves their therapeutic potential, making them work better as a whole than in isolation.
If your state or country has a medical marijuana program, you can try medical-grade CBD oil. For others, full-spectrum CBD oil from hemp is the closest they can get to evoking the entourage effect.
How to Use CBD Oil for Crohn's Disease and Ulcerative Colitis?
If you decide to try CBD for ulcerative colitis or Crohn's disease, it's important to choose a form that will be the most beneficial. CBD is available in oil drops, capsules, edibles, vapes, and topicals; each of these products has different bioavailability, addresses different problems, and suits different types of users.
Here are the most common ways people take CBD for ulcerative colitis:
CBD oil: the most common product on the list, CBD oil comes in glass bottles with droppers attached to them for accurate dosing. To use CBD oil, you need to squeeze the desired amount with the dropper, transfer that dose under the tongue, and hold it there for up to 60 seconds before swallowing. Since the oil absorbs right into the bloodstream through the tiny blood vessels beneath the tongue, you should be able to notice the first signs of relief within 15–30 minutes after administration. The effects of sublingual CBD last for up to 6 hours.
CBD pills and edibles: CBD capsules and edibles are oral products that come with a premeasured amount of CBD in each serving. Convenience is the name of the game here. Capsules and edibles are easy to take, low-profile, and eliminate the problem of swallowing earthy-tasting oil. They have a slower onset than the oil, though, as the CBD needs to be processed in the digestive system before passing into the bloodstream. The effects take hold usually between 40–90 minutes after ingestion, lasting 8–10 hours.
CBD E-liquid (vape oil): CBD e-liquid can be heated in a vape pen and then inhaled for fast results and high bioavailability of CBD. CBD vape oil starts to act after around 5-10 minutes from inhalation, lasting up to 4 hours. CBD e-liquid isn't the same as CBD oil. Regular CBD oil cannot be vaped because it's too viscous. CBD vape oil is thinned down with ingredients like vegetable glycerin or propylene glycol.
CBD topicals: topical products, such as creams, gels, and lotions, address localized problems, such as pain or inflammation resulting from injuries or flare-ups. Some studies have found that using CBD cream may reduce abdominal pain associated with IBD. They absorb through the skin into the epidermis layer, which contains high concentrations of cannabinoid type 2 (CB2) receptors. The absorption rate, as well as the duration time of effects, may vary depending on the product's formula, but usually, topicals need to be reapplied after several hours to maintain the relaxing effect.
CBD Dosage for IBD
There are no official recommendations when it comes to dosing CBD for ulcerative colitis and other inflammatory bowel diseases. If you want to get a decent point of reference, we suggest that you review the dosage of past human clinical trials to determine the safe amount for intake.
According to the studies mentioned in this article, patients with IBD respond well to amounts such as 50 mg of CBD twice a day. The participants who tolerated the compound well continuously increased their intake up to 250 mg twice per day for ten weeks — without dangerous side effects.
The study showed that patients who took CBD felt better and no longer experienced colitis symptoms. A few participants reported mild reactions, such as nausea and dizziness.
Other Remedies for IBD
Complementary therapies for IBD include herbal medicines. They are believed to alleviate the symptoms of inflammatory bowel disease.
For example, Italian complementary medicine mentions herbal therapies as frequently practiced by patients with IBD. In a similar manner, herbal remedies are recognized by Chinese literature that describes them as helpful in the treatment of ulcerative colitis.
These recommendations are based on the alleged anti-inflammatory benefits of specific herbs upon consumption.
Researchers mention Aloe Vera as a potential therapeutic agent in treating IBD, based on the positive outcomes of clinical trials on patients with the disease. Other herbs, such as Boswellia serrata and turmeric, are also reported to promote an anti-inflammatory response in the body.
Some CBD supplements are formulated with herbs such as Aloe Vera, Boswellia serrata, and turmeric. You can also mix different herbal remedies on your own, but we first recommend consulting a doctor knowledgeable about complementary medicine before you start your first trials.
Using CBD Oil to Treat Ulcerative Colitis: Does It Work?
Ulcerative colitis is an inflammatory disease of the colon that mostly damages the lining of the large intestine, causing people to experience flare-ups and frequent bowel movements. The condition is often confused with Crohn's disease, and although these two may share similar symptoms, their nature is completely different and thus should be looked at separately.
There is no clear explanation of what causes inflammatory bowel diseases, and as of right now, scientists are still trying to find a cure for them.
While conventional treatments provide short-term relief from the symptoms of ulcerative colitis, they lose efficacy in the long run on top of having dangerous side effects.
Several studies have suggested that CBD and cannabis, in general, are possible medical treatment options for ulcerative colitis, Crohn's disease, and other inflammatory bowel conditions. Researchers found that CBD could prevent injury in the colon's lining as well as inflammation, which is the underlying cause of all IBD's.
Experts believe that CBD exerts its anti-inflammatory and immunomodulatory actions by interacting with the cannabinoid receptors in the ECS.
However, researchers are yet to confirm whether the results from animal models and the preliminary findings from human subjects will be reflected in randomized controlled trials.
If you believe you could benefit from taking CBD for ulcerative colitis, visit a health provider experienced with CBD and cannabis oil.
References:
Cohen RD, Yu AP, Wu EQ, Xie J, Mulani PM, Chao J. Systematic review: the costs of ulcerative colitis in Western countries. Aliment Pharmacol Ther. 2010 Apr;31(7):693-707. doi: 10.1111/j.1365-2036.2010.04234.x. Epub 2010 Jan 11. PMID: 20064142.
Naftali, Timna et al. "Medical cannabis for inflammatory bowel disease: real-life experience of the mode of consumption and assessment of side-effects." European journal of gastroenterology & hepatology vol. 31,11 (2019): 1376-1381. doi:10.1097/MEG.0000000000001565
De Filippis, Daniele et al. "Cannabidiol reduce intestinal inflammation through the control of neuroimmune axis." PloS one vol. 6,12 (2011): e28159. doi:10.1371/journal.pone.0028159
Irving, Peter M et al. "A Randomized, Double-blind, Placebo-controlled, Parallel-group, Pilot Study of Cannabidiol-rich Botanical Extract in the Symptomatic Treatment of Ulcerative Colitis." Inflammatory bowel diseases vol. 24,4 (2018): 714-724. doi:10.1093/ibd/izy002
Schicho, Rudolf, and Martin Storr. "Topical and systemic cannabidiol improves trinitrobenzene sulfonic acid colitis in mice." Pharmacology Vol. 89,3-4 (2012): 149-55. doi:10.1159/000336871
Russo, Ethan B. "Taming THC: potential cannabis synergy and phytocannabinoid-terpenoid entourage effects." British journal of pharmacology vol. 163,7 (2011): 1344-64. doi:10.1111/j.1476-5381.2011.01238.x