CBD Oil Ingredients: What Is Cannabidiol Made From?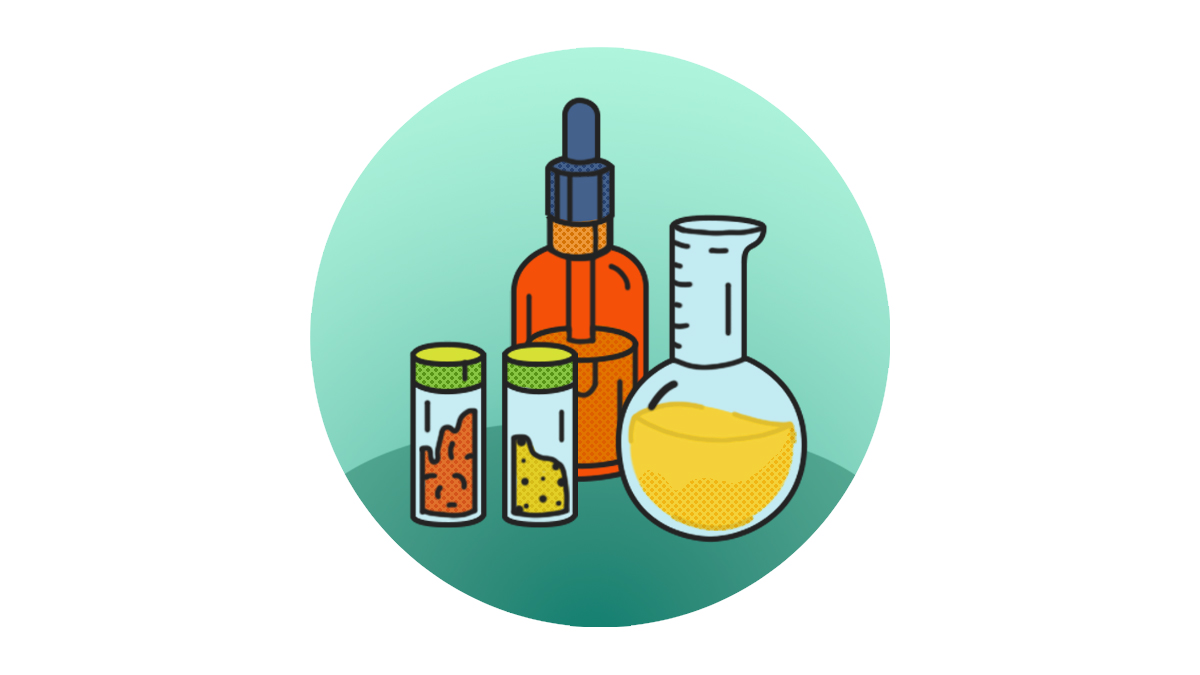 CBD has revolutionized the world of wellness on many levels. Its therapeutic versatility makes it appropriate for both humans and animals, and the best part about CBD supplementation is that it's safe in the long run.
However, not all CBD products are safe due to the lack of regulations regarding the manufacturing and lab-testing practices.
There are certain ingredients in CBD oil to avoid — and yet, some manufacturers don't give a dime about safety and are eagerly throwing these ingredients into their formulas.
Whether that's caused by the lack of knowledge or premeditative use to cut corners for the sake of lower prices is up for discussion.
The fact is, this phenomenon still exists, even though the CBD market has matured over the years.
In this article, we list all the ingredients that you should avoid when buying CBD products.
We'll shed light on different CBD formats, including oils, vapes, and topicals.
CBD Oil Ingredients to Avoid (Highlights)
When you buy cannabis or CBD oils, avoid products with pesticides, heavy metals, and solvents. You should also steer clear of products labeled as "hemp oil" or "hemp extracts" (little to no CBD), and make sure you're buying CO2-extracted oils from organic plants.
For vaping products, avoid stabilizers (e.g. vitamin E acetate), MCT oil, polyethylene glycol, and propylene glycol.
Topical products shouldn't contain parabens, perfume/fragrance, and artificial colorings
Choose US-grown hemp and always ask for lab reports to prove the manufacturer's claims about the potency and purity of its products.
CBD Oil and Cannabis Oil: Ingredients You Should Avoid
CBD oil is the most common way of supplementation. The good news is that there's less to worry about than when buying CBD vapes, but you still need to be wary of certain ingredients.
Here are mistakes that you want to avoid when shopping for CBD oils.
1. Pesticides and plant growth regulators
Pesticides and plant growth regulators (PGR) occur in mass-produced hemp that was grown to maximize the yields in the shortest possible time.
Pesticides are toxic for humans and can damage the nervous and immune systems when ingested long-term. Researchers have linked excessive pesticide intake with autoimmune diseases and neurological conditions.
The best way to avoid this ingredient in CBD oil is to buy products made with organic hemp. Such plants aren't sprayed with pesticides, making them a superior option to plants imported from overseas.
2. Heavy Metals
Heavy metals are among some of the most dangerous toxins for humans. Their buildup can lead to severe health issues, including anemia, brain damage and memory loss, kidney damage, difficulty breathing, miscarriage in pregnant women, and the risk of developing cancer.
Heavy metals are found in hemp that's been grown in contaminated soils. As a dynamic bioaccumulator, hemp plants absorb all substances from their environment, including nutrients and toxins. That's why organic farming is important for achieving true high-quality CBD oils. Organic farmers first clean their soil of impurities and then replant the new hemp so that it can suck up the nutrients without heavy metals.
3. Solvent Residue
Although a residue isn't an ingredient per se, there are certain extraction methods, such as butane or propane extraction, that can leave toxic solvent residue in the end product.
These solvents are supposed to leave the oil when the product is purged, but not all manufacturers know how to do it right.
This means there's a chance your CBD oil will be contaminated with trace amounts of propane and butane.
The best way to avoid these "ingredients" in CBD oil is to choose CO2-extracted products. CO2 extraction uses pressurized gas to strip the beneficial compounds from hemp. It doesn't require hazardous solvents or extreme temperatures, making it a golden standard in the industry.
4. "Hemp Extract" or "Hemp Oil"
These two terms are just codewords for a scam 99% of the time.
When buying CBD oil, all you want to see on a label is exactly this — "CBD oil."
Variations include "full-spectrum CBD oil," "whole-plant CBD," "broad-spectrum CBD oil," "CBD isolate," or "pure CBD."
A common denominator between these names is the word "CBD." It indicates you're buying a CBD-rich product.
The other two terms, however, mean something different. They refer to hemp seed oil, which doesn't contain any cannabinoids and terpenes.
Scam companies leverage the lack of awareness in first-time users and sell overpriced hempseed oil with ridiculously large numbers of milligrams of the bottle.
Watch out for potencies like "40,000 mg" or "60,000 mg." They describe the total amount of phytochemicals, not just CBD.
Related: How to Extract CBD Oil
Ingredients to Avoid in CBD and Cannabis Vaping Liquids
CBD vape carts or CBD vape juice is the main product causing safety concerns among consumers.
You need to be super careful when about ingredients. While some MCT oil won't harm you when you put it under the tongue, it's a different story if you're going to vaporize it.
Here are some ingredients to avoid when looking for CBD/THC vape oil.
1. MCT Oil
MCT oil contains medium-chain triglycerides; they're just isolated essential fatty acids from coconut oil.
However, any type of cooking oil or fat is dangerous when vaporized due to the risk of lung damage.
MCT oil is the perfect carrier for CBD extracts, but it works best when consumed orally or under the tongue.
Unfortunately, it's a red flag for anything you want to inhale.
2. Polyethylene Glycol
It's best to avoid all thinning agents in CBD vape oil ingredients, but some of them are particularly dangerous.
The main problem with thinners is that they can produce chemicals like formaldehyde (carbonyls) at high temperatures, increasing the risk of developing cancer on top of giving you nausea, watery eyes, wheezing, and skin irritation.
Propylene glycol (PG) and vegetable glycerin (VG) can cause some issues with formaldehyde too, but they're generally safe to use at settings most vape pens offer.
However, if you want to avoid these ingredients in your CBD vape oil, opt for cartridges infused with terpenes. They, too, can thin down the oil, but unlike the aforementioned compounds, they're biologically appropriate for humans.
3. Stabilizers (e.g. Vitamin E Acetate)
Vitamin E acetate is notorious for causing lung illness in vape users.
The bottom line is this: you should avoid ingredients like Vitamin E (also known as tocopheryl acetate) because they can severely damage your lungs and, in extreme cases, cause death.
The problem has been identified and addressed by the majority of the industry, but that doesn't mean shady companies won't use other thickening agents in the future.
If you see a vape cartridge with a stabilizer, it's best to avoid it. Reputable companies test their products for Vitamin E Acetate so you can check it for yourself by reading their lab reports.
4. Essential Oils
Essential oils can enhance the efficacy of topical CBD products, but you should avoid them in vapes. Oils are generally unsafe to inhale — which is why vape liquids are infused with terpenes, vegetable glycerin, or propylene glycol — so infusing essential oils into the formula is a risky business. Although not common, this is something you should keep an eye out for.
Plus, essential oils are loosely regulated, so you'll be better off avoiding them in general.
CBD Topicals: Ingredients to Avoid
CBD topicals vary from creams and balms to roll-on gels, lotions, shampoos, and bath bombs. There's a myriad of different formulas to choose from, but not all topical products are created equal.
You should pay close attention to what you're buying and what comes in the formula. Here are the most common ingredients to avoid.
1. Parabens
Parabens are popular preservatives used in conventional skin care products, but they cause some safety concerns.
Research indicates parabens are associated with hormonal disruptions due to their similarity to estrogen, and some evidence points to them as a potential cause of breast cancer.
Although further research is required to make definitive conclusions, it's best to avoid this ingredient in cannabis topicals. There are plenty of paraben-free options out there.
Keep in mind that the label may not include the generic name "parabens," but instead, it may mention a specific paraben, such as butylparaben, ethylparaben, and propylparaben.
2. Perfumes/Fragrance
The issue with perfumes and fragrances is that they contain specific formulations protected by trade law, so you can never determine what specific ingredients are included.
That's why it's best to avoid them in CBD topicals, and instead, choose a product that uses essential oils if you're looking for a nice scent.
Unlike perfumes, many essential oils clearly indicate what you're putting on your skin.
3. Artificial Colors
Many artificial colors that have been found to be dangerous have been prohibited, although the US allows way more such products than Europe.
There's no reason to include artificial colors in a cannabis topical. It doesn't provide any real value, and people are more conscious today about the safety of certain ingredients than they had been in the 90s.
Choose products that say "no artificial colors." You can read the ingredient lists for a double check.
If you insist on having a colored cannabis topical, choose one of the alternatives, such as beetroot, carrot, paprika, and turmeric. These are natural ingredients that add color in a safe way.
Tips on Buying Cannabis Products
Avoiding specific ingredients in CBD oils and other cannabis products is a good idea if you want to minimize the risk, but you can make a well-informed decision by following more vague guidelines.
Here are the best practices for buying cannabis extracts:
Opt for CO2-extracted or solventless CBD. If you're looking for CBD products, choose the ones extracted with CO2. Alternatively, you can opt for cold-press extracts. These options are free from solvent residue and are safer than products made with propane and butane.
Choose organic hemp. As mentioned earlier, hemp is a hyperaccumulator, so the best way to avoid harmful ingredients in CBD oil is to choose products sourced from organic hemp. It's much safer to use a US-made product because American farmers are subject to high manufacturing standards.
Read lab reports. Products containing cannabinoids should be tested by a third-party laboratory to confirm their potency and purity. The purity analysis includes the presence of heavy metals, residual solvents, pesticides, and mycotoxins. Reputable companies make the information available to consumers on their websites or via email upon request.
Don't buy on the cheap. Although there are many great companies that offer high-quality CBD oils at reasonable prices, it's never a good idea to go for the cheapest options. There's a good reason why CBD oils are more expensive than other supplements; the cheapest options usually come from hemp grown overseas and skip the necessary quality control procedures.
Follow the dosage instructions on the label. When you're buying CBD oil or any cannabis product, you need to know how much CBD you're getting per single serving, be it an mL or edible. If your CBD oil or edible doesn't specify the recommended serving, then you'll better avoid it.
Key Takeaways on CBD Oil Ingredients to Avoid
As a consumer, you always need to have your eyes wide open if you want to buy high-quality, safe CBD products.
Thankfully, there are only a few ingredients to avoid in cannabis extracts — unless we're talking about vape pens — and most companies follow the generally agreed standards, so you can easily find an alternative.
Follow the recommendations from our guide and always pay attention to factors like hemp source, extraction methods, lab testing, transparency, and company reputation.
Related: How to Make Home-Made CBD Oil