Delta 8 THC vs CBD: Explaining the Differences and Similarities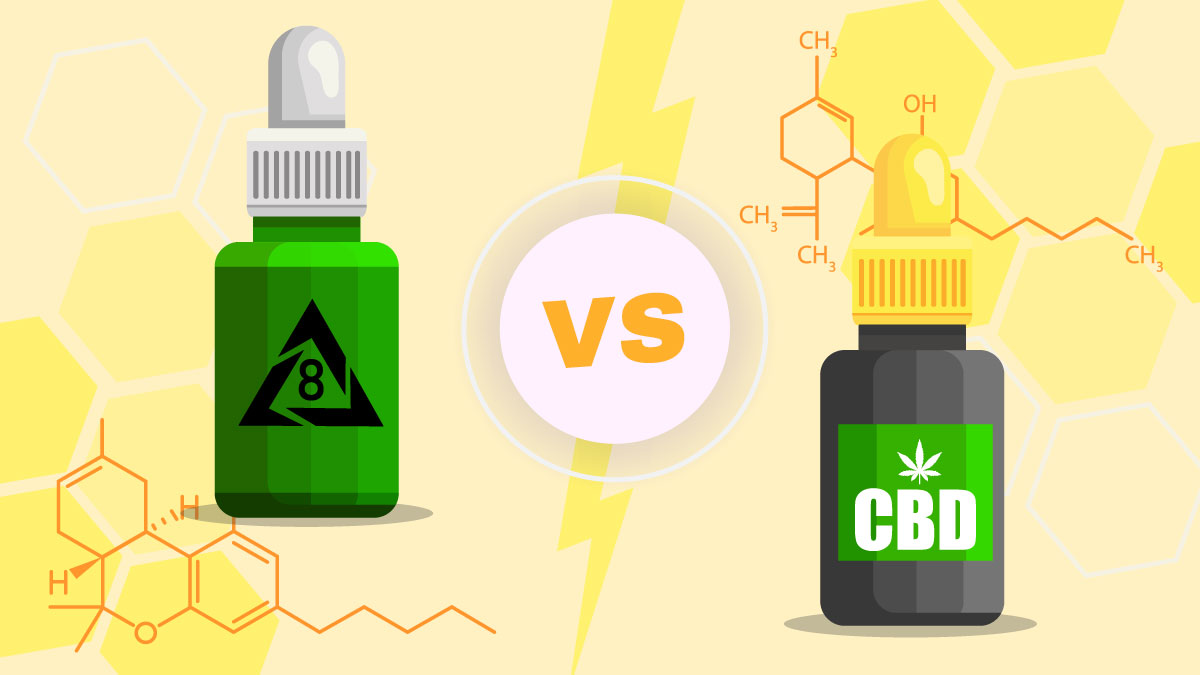 Most people choose delta 8 THC because they consider it the perfect middle-ground between CBD and delta 8 THC.
But what exactly is the difference?
In this article, we'll compare CBD and delta 8 THC in terms of their effects on the body, brain, appetite, and more.
We'll also cover their legal status and whether they produce the same results on a drug test.
What Is Delta 8 THC?
Delta 8 THC, also known as the "diet weed" and "cannabis light" due to less potent cognitive effects,  is an analog of delta 9 THC and belongs to the class of natural compounds known as cannabinoids. Extractors make delta 8 THC using a multistep process to isolate the compound from the raw plant material.
Hemp doesn't synthesize delta 8 naturally; it only occurs as a metabolite of delta 9 THC's degradation with time. Therefore, there are only trace amounts of delta 8 THC in hemp.
By using a natural catalytic reaction, manufacturers can now extract large quantities of delta 8 THC from hemp.
In its concentrated form, delta 8 THC binds to cannabinoid receptors in a similar fashion to delta 9 THC — but not to such a great extent.
Delta 8 THC and delta 9 THC have very similar molecular structures. However, there's a slight difference in how their atomic bonds are arranged.
The double bond location for delta 8 THC is at the 8th carbon chain, while the double bond in delta 9 THC occurs at the 9th carbon chain.
This difference makes delta 8 THC less potent than delta 9 — about 50-70%.
Delta 8 can get you high, but the effects are more clear-headed, less anxious, and smoother than from delta 9.
That's the reason why so many cannabis users are turning to delta 8 from normal weed.
Delta 8 THC can be obtained from both hemp and marijuana, but the only federally legal products are sourced from hemp.
What Is CBD?
CBD stands for "cannabidiol" — the second major cannabinoid in cannabis and the most abundant one in hemp plants. Unlike THC, it doesn't get you high because it's non-intoxicating. That being said, it's by all means psychoactive, contrary to what many people are saying.
According to the US National Library of Medicine, CBD affects the mind and emotions, so it fits into the definition of "psychoactive."
On top of that, CBD has a wide range of potential benefits, with the greatest number of studies investigating its effects on the nervous system.
People usually take CBD in the form of oil. You can apply it under the tongue or mix it with food and beverages. Other popular consumption methods include taking CBD gummies, capsules, vapes, and topicals.
It's worth noting that not every type of CBD oil is designed for vaping. Make sure to vape only the products that are labeled specifically for that use.
Delta 8 THC vs CBD: Explaining the Differences
In this table, we demonstrate the major differences between Delta 8 THC vs. CBD:
| | | |
| --- | --- | --- |
| | Delta 8 THC | CBD |
| Cognitive Change | Yes | No |
| Interaction with the endocannabinoid system (ECS) | CB1 and CB2 receptor agonist | The modulator of the ECS and FAAH inhibitor |
| Can It make you fail a drug test? | Yes | No |
| Most common health benefits | Anti-nausea, appetite stimulant, analgesic, anti-anxiety, anti-inflammatory | Anti-stress, anti-convulsant, muscle relaxant, anti-nausea, sleep regulation, anti-anxiety, analgesic |
| Side Effects | Dry mouth, red eyes, confusion, fatigue, sedation | Dry mouth, changes in appetite, irritation, dizziness |
| Price | $$–$$$ | $$–$$$ |
Delta 8 THC vs CBD: How They Work
When it comes to the differences between delta 8 THC and CBD, we need to take a closer look at how they interact with the endocannabinoid system (ECS).
Delta 8 THC directly activates CB1 and CB2 receptors which regulate everything from immune function to mood.
CBD, on the other hand, doesn't have a direct affinity with the CB1 receptor. It's only the agonist of the CB2 receptor, which is why CBD doesn't get you high, unlike THC.
Instead, CBD modulates the activity of the ECS and helps it maintain homeostasis in the body by enhancing endocannabinoid signaling and slowing down the breakdown of the body's natural endocannabinoids.
CBD also acts on 65 other molecular pathways that are independent of the ECS — hence its therapeutic versatility.
Delta 8 THC vs CBD: Effects On the Brain
Another significant difference between delta 8 THC and CBD is the way they impact cognition and perception.
For delta 8 THC, this effect is much stronger than CBD. It's going to induce a similar type of high to delta 9 THC, but without triggering anxiety and paranoia in sensitive users.
According to the textbook definition, both CBD and delta 8 THC are "psychoactive."
This term refers to any substance or activity that has an impact on mood, perception, and emotions.
Since both delta 8 THC and CBD affect our mood and emotions, we may consider them both psychoactive.
That being said, the cognitive change from delta 8 THC is much more pronounced compared to CBD.
Delta 8 THC vs CBD: Effects on Appetite Stimulation
Studies have shown that delta 8 THC is a strong appetite stimulant — even stronger than delta 9 THC.
CBD offers the exact opposite effects, resulting in moderate inhibition or reduction of appetite, effective for those who want to lose extra weight.
Delta 8 THC vs CBD: Drug Testing
There's also a vivid difference between delta 8 THC and CBD when it comes to drug testing.
Delta 8 THC can make you fail a drug test because such tests aren't designed to distinguish delta 8 from delta 9. Even in states where marijuana is legal, you should abstain from taking delta 8 THC for at least three weeks prior to your drug screening.
CBD shouldn't give you a false-positive result on a drug test as long as it comes from a certified source that can assure the THC content is below 0.3%.
According to health experts, a person would need to take around 2,000 mg of full-spectrum CBD daily to get a false-positive drug test result for THC, which is 40 times the standard dose of CBD for most individuals.
Delta 8 THC vs CBD: Legal Status
Delta 8 THC and CBD are treated in the same way by federal law. There are a few individual states that have enforced separate laws that view delta 8 THC the same way as marijuana.
Hemp-derived products, such as delta 8 THC and CBD, are legal on the federal level as long as they contain no more than 0.3% of delta 9 THC.
This condition allows hemp-derived CBD, as well as hemp-derived delta 8 THC, to remain legal in the light of federal regulations.
Some states have other laws that ban all forms of THC (including delta 8).
What Are the Similarities Between Delta 8 THC and CBD?
Despite visible differences, delta 8 THC and CBD share some similar qualities, especially when it comes to their relaxing effects.
Some studies even suggest that the health benefits of both cannabinoids are greater when taken together than either of them in isolation.
So, rather than looking at delta 8 THC and CBD as competitors, we should consider them synergistic compounds that work in tandem to enhance each other's therapeutic profile.
This phenomenon is known as "the entourage effect" or "whole-plant synergy." According to this concept, the sum of all cannabis compounds is more effective than each of them alone.
Where to Buy Delta 8 THC and CBD?
Both delta 8 THC and CBD are in high demand. While CBD remains the winner in the wellness space, delta 8 THC excels when it comes to recreational use and natural ways to biohack your brain, increase productivity, regulate mood, and regulate stress response with hemp extracts.
You can find delta 8 THC and CBD products in online stores as well as in nearby vape shops, wellness centers, head shops, and specialty stores.
If you're looking for the best deals on high-quality delta 8 and CBD extracts, we recommend finding a reputable online vendor. Unfortunately, the hemp market is still left without regulations, with a lot of scammy businesses entering the space with cheaply produced, untested products.
When buying CBD and delta 8 THC products online, make sure to buy only from companies that use organic hemp from local farms and test their products for potency and purity in third-party laboratories.
A laboratory is considered third-party if it has no affiliation with the manufacturer. The lab analysis should list the entire phytochemical profile, including delta 8 THC levels, other cannabinoids, terpenes, and results for contaminants such as pesticides, heavy metal reagents, bleaches, and mycotoxins.
Final Thoughts on the Differences Between Delta 8 THC vs CBD
Despite coming from the same parent plant — Cannabis sativa L. — CBD and delta 8 THC produce different effects on the body and brain.
Delta 8 THC produces a cognitive change, which is much different than the body-focused effects of CBD. Of course, CBD can also improve your mood and help regulate emotions, but delta 8 provides a similar kind of buzz to the one created by delta 9 THC.
Furthermore, delta 8 THC boosts appetite, while CBD appears to reduce it.
Both cannabinoids are legal in the United States as long as they're sourced from hemp.
Despite many differences, delta 8 THC and CBD share many of the same health benefits. Their primary role is to regulate the endocannabinoid system and promote homeostasis.
If you don't mind some alteration to your perception, go for delta 8 THC.
If a weed-like buzz isn't your pair of shoes, go for CBD instead.
Which cannabinoid do you prefer — Delta 8 THC or CBD? Share your thoughts in the comments below!