Honest Paws CBD Review & Coupon Code (2023 Update)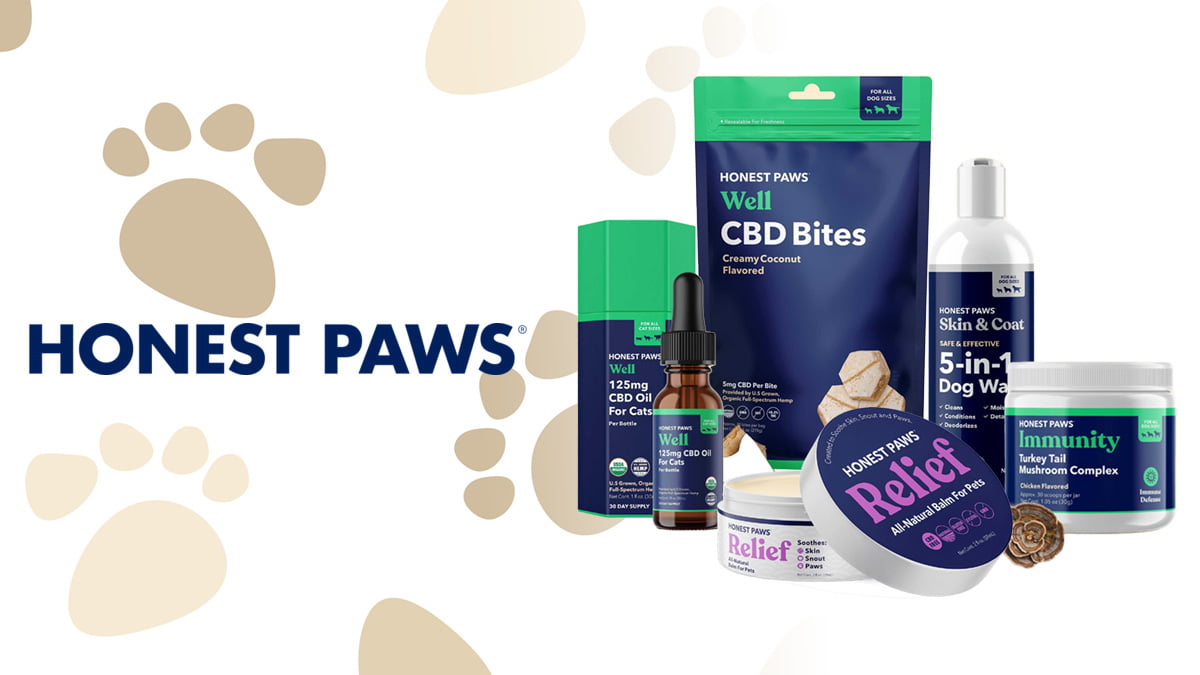 Pet parents are especially keen on sharing details about things that have helped their furry friends recover from a health condition or improve general wellness.
And, whenever this 'thing' is of a natural origin, testimonials start glowing even more.
Which is the case with CBD.
CBD can help with a wide range of pet health problems, from dogs with anxiety to pain to autoimmune disorders, seizures, and more.
However, as with any health supplement, the quality is paramount if you want to experience its benefits — and not fall victim to cheap marketing talk from fly-by-night vendors.
Is Honest Paws a trustworthy manufacturer of CBD products? In this review, I shed more light on this up-and-coming brand in the saturating CBD market.
Let's start with some general information about Honest Paws. Then we'll move to the company's product line, go through their strengths and weaknesses, and propose some alternative options.
Honest Paws: Highlights
Pros
Cons

Up-to-date Certificates of Analysis
Free shipping
Involved in animal charity

Lower CBD content than advertised
No lab reports for pesticides
Lots of customer complaints about the hardness of the dog treats
Quality & Transparency
Honest Paws claims to use organic full-spectrum CBD oil extracted from Colorado-grown hemp, where the company also has its headquarters.
Unfortunately, it's impossible to verify the organic status of the Honest Paws line for the moment because the company doesn't provide lab reports for pesticides and heavy metals. Speaking of the lab reports, while they're not complete, they are, at least, batch-specific.
Warning Letters & Lawsuits
Honest Paws hasn't received any warning letter from the FDA to date, meaning the company remains compliant with the agency's regulations surrounding the labeling and marketing of CBD products.
Honest Paws does, however, have a history of lawsuits. Currently, the manufacturer is facing three lawsuits — each from a different company.
The first lawsuit is rather benign because a company named Dominguo Pascal alleges Honest Paws of not being sufficiently accessible online. The allegations are quite vague and it's difficult to tell whether it's about a business offer or the accessibility of Honest Paws' customer service.
The other two lawsuits are more serious because two companies have alleged Honest Paws for a copyright infringement regarding trademark copyrights. Although both cases are pending, it puts the company in a negative light.
Certifications
Honest Paws not only claims to offer organic products, but it also has an actual USDA organic badge and is supported by the National Animal Supplement Council (NASC). That's some serious quality proof, not to mention that also confirms that the company's hemp is free from pesticides and heavy metals.
Customer Service
Honest Paws' business address and mailing address are listed on its website for customer requests. I've tested the customer service and they answered pretty fast — it took them less than one day to reply.
The company also offers a zero-risk purchase for its full-spectrum CBD pet products with a 30-day full refund for those who aren't satisfied with the quality of these products.
Pricing
Honest Paws' product prices range between $16.99 and $149.99, which puts them among high-budget companies. Fortunately, the company offers regular discounts for both first-time and returning customers.
Honest Paws Product Range
Honest Paws offers an impressive selection of CBD-infused products for pets. The company stocks CBD oils, treats, topicals, peanut butter, as well as non-CBD formats.
Below you'll find an overview of each product category.
Honest Paws CBD Oil for Dogs and Cats
| | |
| --- | --- |
| Type of CBD | Full Spectrum |
| CBD Potency | 125 mg – 1000 mg |
| Flavors | Unflavored |
| Formulas | Well, Calm, Mobility |
The Honest Paws CBD oil comes in three different formulas, including:
Well: for general wellness (sheer full-spectrum CBD)
Mobility: for joints and mobility issues (CBD + Turmeric Oil)
Calm: for stress and anxiety (CBD + Chamomile Oil)
Each version is infused with superfood ingredients that either enhance the health benefits of CBD or add their own therapeutic properties to the product.
You can choose how much CBD to give your dog from several potency options, such as 125 mg, 250 mg, 500 mg, and 1000 mg of CBD per bottle.
As whole-plant extracts, these products leverage the entourage effect in hemp, which is a biological phenomenon where all substances from the plant work synergistically to produce a better effect as a whole.
Honest Paws CBD Oil for Horses
| | |
| --- | --- |
| Type of CBD | Full Spectrum |
| CBD Potency | 1500 mg |
| Flavor | Unflavored |
| Formulas | Well |
Honest Paws also has one product dedicated to horses. That being said, it doesn't contain any special ingredients; it's just the classic Well formula with a little bit more THC than the strongest version for dogs. At 1500 mg of CBD per bottle, it should go well with horses of different sizes.
Honest Paws CBD Treats
| | |
| --- | --- |
| Type of CBD | Full Spectrum |
| CBD Potency | 5 mg CBD per bite |
| Flavors | Peanut Butter, Turmeric, Poultry, Coconut |
| Formulas | Well, Mobility, Calm, Relief |
If you have a picky dog, then these treats from Honest Paws should convince him to get some CBD in his diet.
Honest Paws has made a smart move by using similar formulas with its dog treats as it does with CBD oil.
You can choose from the following variants:
Regular: Organic Barley, Organic Oats, Organic Peanut Butter
Relief: Organic Barley, Organic Oats, Organic Peanut Butter, Organic Turmeric
Mobility: Chondroitin Sulfate, Glucosamine HCL, Hyaluronic Acid, Boswellia Serrata Powder
Well: L-Theanine, Tryptophan
Each version has 5 mg of full-spectrum CBD per treat.
Honest Paws Soft Chews for Cats
| | |
| --- | --- |
| Type of CBD | Full Spectrum |
| CBD Potency | 2 mg per chew |
| Flavor | Salmon |
| Formula | Calm |
Many customers are complaining about the hardness of Honest Paws' CBD dog treats, claiming they don't work well with cats. For that reason, the company has come up with special soft chews for our feline friends.
These treats contain a smaller dose to suit the average feline weight range. Each treat offers 2 mg of full-spectrum CBD in the beloved flavor of all cats — Salmon.
The Honest Paws CBD soft chews are available in the Calm formula, featuring silverine, passionflower, and chamomile flower powder on top of the CBD.
Honest Paws CBD Pet Balm
| | |
| --- | --- |
| Type of CBD | Full Spectrum |
| CBD Potency | 450 mg |
| Formula | Relief |
This balm is designed to address localized problems, such as dry and irritated skin, inflammation, swelling, and other kinds of physical discomfort.
The whole bottle contains 450 mg of full-spectrum hemp extract infused into a coconut oil base, which is arguably the best carrier for CBD due to a high amount of saturated fatty acids.
On top of that, coconut oil is an antibacterial ingredient that can also moisturize the skin, reduce inflammation, and promote wound healing.
Honest Paws CBD Peanut Butter
| | |
| --- | --- |
| Type of CBD | Full Spectrum |
| Potency | 160 mg |
| Size | 15 oz. (425 g) |
If your dog has a sweet tooth but you want to minimize the guilt in their pleasure, this jar of peanut butter looks like a decent candidate for the job.
While it's not a super potent product, it can be used as a little addition to your dog's diet. Just be mindful of the amounts of peanut butter because it contains dextrose — and high doses of sugar can be dangerous for the dog (e.g. contribute to obesity and diabetes).
Other Products by Honest Paws
Aside from an impressive collection of different CBD formats, Honest Paws also makes a few non-CBD health supplements for pets.
You can choose from products such as:
Probiotics for Dogs
Turkey Tail Mushroom
Green Lipped Mussel
5-in-1 Dog Wash
Calm Vest
Clean Dog Bundle
Honest Paws Review: Pros & Cons
Overall, Honest Paws is a trustworthy vendor, although the company seems to be going through some ups and downs with its current set of lawsuits pending for review.
Here you'll learn more about the strong and weak points of Honest Paws so that you can make a well-informed decision
The Pros
Up-to-Date Certificates of Analysis
That's a big advantage because it shows Honest Paws takes lab testing seriously. Some companies out there claim to provide certificates of analysis for their products, but those documents often date back to a 2-year-old batch. 2 years is definitely enough for a product to go through significant changes, so it's important that companies regularly update their lab reports.
Free Shipping
Despite higher-than-average prices, Honest Paws offers free shipping on all domestic orders above $49.95 — which is a nice nod towards customers. When you add discounts and subscription models for returning customers, these products turn out to be quite affordable.
Involved in Animal Charity
Aside from running a CBD-centered business, Honest Paws' mission reaches beyond the sheer business perspective. The company is actively involved in animal welfare charities that are looking to provide shelter for stray animals.
The Cons
Lower CBD Content than Advertised
Based on the lab reports of some of the brand's CBD products, they contain less CBD than advertised. For example, the 250 mg and 1,000 mg bottles of Honest Paws CBD Oil for Dogs Wellness Blends have a CBD potency of 235.46 mg and 989.35 per unit, respectively.
No Lab Reports for Pesticides
Another bugging problem with Honest Paws is that the company doesn't provide results for pesticides and heavy metals in its lab reports. While Honest Paws holds the USDA organic badge — meaning it makes 100% organic products — it would be nice to see these results, especially now that the CBD market remains unregulated.
Lots of Customer Complaints About the Hardness of the CBD Bites
This seems to be a typical problem with most CBD pet treats. A lot of customers complain about the hardness of the CBD bites for dogs. Our canine friends are naturally-born carnivores, so their teeth are designed to maul their food instead of try-Harding to crush hard items (except for the bones); not to mention that some breeds have natural difficulties with eating hard treats due to genetic factors or having some of their teeth pulled out in the past. Either way, it's a clear indicator that Honest Paws should do something about the consistency and texture of its CBD bites.
Alternative Options to Honest Paws
Pros
Cons

Organic hemp
CO2 extraction
Full-spectrum CBD
Up to 500 mg of CBD
Third-party tested for potency and purity

Rather expensive compared to similar products
Royal CBD specializes in high-quality, CO2-extracted CBD products from organic hemp. After succeeding with its line of CBD extracts for humans, the brand has decided to expand its collection with a special pet range, like their very own CBD pet oil for dogs.
All of Royal CBD's products are triple-tested in an ISO-certified laboratory for potency and purity — including the results for pesticides, heavy metals, solvents, and mycotoxins. The company sends them on request via email.
Royal CBD offers two pet products: CBD pet oil and CBD dog treats.
The oil is available in two strengths: you can choose between 250 mg and 500 mg of full-spectrum CBD in a bacon flavor. The flavoring should help your dog hop on the CBD routine even if they don't like eating oily supplements.
Still, if your buddy isn't keen on taking CBD oil, you can try to convince them to eat some CBD in the form of tasty treats. They come in three formulas: Heart, Calm, and Active — each version is infused with specific superfoods that provide their own health benefits, like help with your dog's joint pain.
Since these are full-spectrum extracts, the Royal CBD pet collection leverages the entourage effect — increasing the overall efficacy of cannabidiol thanks to the synergism between other cannabinoids and terpenes.
Pros
Cons

Non-GMO hemp
Supercritical CO2 extraction
Full-spectrum
600 mg of CBD
MCT carrier oil

Only one potency
Limited production runs mean limited supply available
Like Royal CBD, Gold Bee uses the same premium-grade full-spectrum CBD oil for its line for pets as it does in its human range.
You can choose from two product types: CBD oil and CBD dog treats (Goofy Bones).
The oil is formulated with larger animals in mind, containing 600 mg of CBD per bottle. It comes in a tasty peanut butter flavor, so your dog shouldn't have any problems swallowing it.
But, if you have a smaller dog, you may want to try out the Goofy Bones that come in a special "Calming" formula — with chamomile, 5-HTP, and L-theanine as the supportive ingredients. Each treat contains 5 mg of CBD, so if your dog is extremely small, you can even break them in half.
Final Verdict: Honest Paws Needs to Step Up Its Transparency In Order to Make It to the Top
Honest Paws is a brand with the potential to become one of the market leaders. However, there are a few caveats that may stop them from this achievement.
Despite a broad range of CBD pet products — suitable for dogs, cats, and even horses — Honest Paws is missing out on some transparency standards, such as third-party lab reports.
Moreover, the company is currently facing three lawsuits. Two of these lawsuits mention trademark infringements, which is a serious accusation that Honest Paws should resolve as quickly as possible.
The pet space is evolving in the CBD industry, and a lot of brands that have been making products for humans are now coming up with their pet collections.
Compare the options offered by Honest Paws with our alternative recommendations and see which product gives you the best value for the money.