How Do You Use CBD Oil for Anxiety?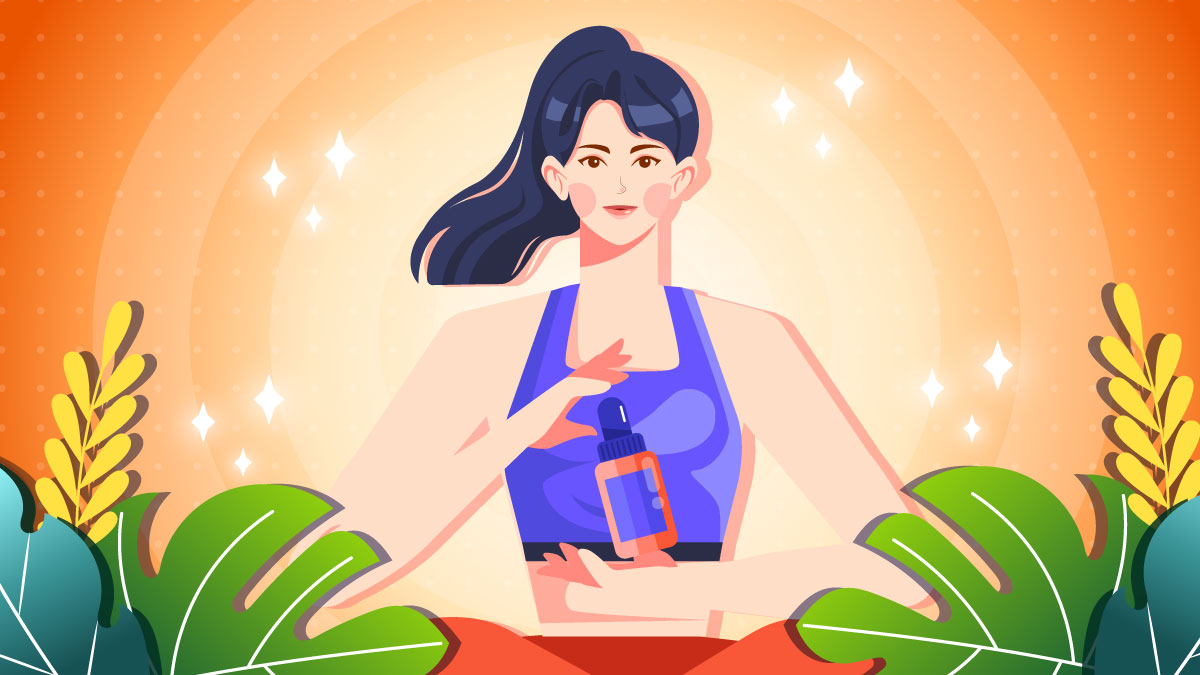 This article focuses on how to use CBD oil for anxiety. We explain the mechanisms thanks to which CBD alleviates stress and anxiety, elaborate on how CBD oil improves overall well-being, and highlight the current body of scientific evidence supporting the use of CBD supplements for mental health. You'll also learn how to find the best CBD oil for your needs and how to calculate the dosage to find your optimal zone.
Unlike THC, which can make you feel anxious in high doses, CBD can be used to relieve anxiety (1).
The anxiolytic properties of CBD oil are well supported by scientific studies (2). CBD can act on several anxiety disorders by modulating the activity of key neurotransmitters that control emotions and behavior.
While we're still waiting for large-scale clinical trials on the use of CBD oil for anxiety, the fact that 51% of U.S. adults take it for that reason speaks for itself (3).
CBD isn't a federally approved drug for anxiety — but neither is melatonin, lavender, or chamomile.
But that doesn't mean they don't work.
In this article, we focus on how to use CBD oil for anxiety to maximize its benefits.
Does CBD Oil Relieve Anxiety? Is It Backed By Science?
CBD is a chemical from the class of cannabinoids that interacts with your endocannabinoid system (ECS). Studies into the therapeutic qualities of CBD oil have revealed significant potential for treating anxiety (4).
According to the National Institute of Drug Abuse (NIDA), CBD could reduce stress in animals, such as rodents, with a generalized anxiety disorder (GAD). In their study, the authors observed the subjects and found they demonstrated reduced symptoms of anxiety, including behavioral and physiological ones (5).
Reviews of scientific literature point to CBD as a potential treatment for social anxiety disorder (SAD) and post-traumatic stress disorder (SAD).
Not only does CBD oil help ease stress and anxiety, but it also lowers blood pressure, strengthens your natural stress response, and makes you more resistant to distractors.
Here's what research says on the use of CBD oil for anxiety.
CBD Oil for Generalized Anxiety
A small 2011 trial involving CBD and people with a generalized social anxiety disorder (SAD) and a healthy control group tested their performance during a simulated public speaking test (SPST) (6).
SPST is a common testing method for anxiety. CBD significantly reduced anxiety and feelings of unease in the participants with SAD. Their reduced anxiety markers were almost identical to those of the healthy participants.
Eight years after that paper was published, another study compared the efficacy of three CBD doses (150 mg, 300 mg, and 600 mg) in men taking an SPST. The dose of 300 mg of CBD was more effective than the placebo, but the other two doses failed to yield similar results (7).
Another study from 2019 examined the role of small CBD doses than most other clinical studies. Some of the subjects took 25 mg of CBD, while others consumed 50 or 75 mg a day (8).
Researchers concluded that these doses helped reduce anxiety levels in participants, and the reduction remained low after the study ended. Sleep quality was also better, but it fluctuated more than anxiety levels. Only three patients reported adverse reactions.
CBD Oil for Anxiety and Depression
In 2020, scientists analyzed the effects of different doses of CBD oil across 397 patients with different medical conditions (9).
Patients with mental health problems and non-cancer pain reported significant improvements in anxiety and depression, as well as in their overall daily performance. CBD oil also provided them with significant pain relief.
CBD Oil for PTSD
In a small 2019 study of 11 PTSD patients found that oral forms of CBD reduced the frequency of symptoms of patients' post-traumatic stress disorder (PTSD) and their severity (10).
Other studies have found that CBD can alleviate PTSD symptoms when consumed alongside THC. When administered together, these cannabinoids enter a unique synergy called "the entourage effect," where THC enhances the effects of CBD, and CBD balances out the psychoactive effects of THC (11).
Some patients also report that CBD can make their exposure therapy more effective — allowing them to dissociate certain cues from fear responses.
How Does CBD Work for Anxiety?
CBD's therapeutic effects stem from its interaction with the endocannabinoid system (ECS). The ECS is a complex neurochemical network that works to promote and maintain homeostasis (balance) between the other systems and organs in the body.
It regulates essential functions, such as sleep cycles, immune response, pain perception, reactions to stress and fear, appetite, body temperature, fertility, neurogenesis, etc.
All in all, CBD operates on over 65 molecular pathways — hence its therapeutic versatility (12).
Here are the channels that determine CBD's impact on anxiety.
CBD, Serotonin & GABA
CBD has been widely studied for anxiety and depression. Its effects on these areas are mediated by serotonin and GABA receptors.
When it comes to serotonin, CBD acts similarly to selective serotonin reuptake inhibitors (SSRIs). However, its effects are achieved more subtly because CBD enhances the activity of serotonin receptors, allowing the body to use it more efficiently (13).
The same goes for GABA, which is an inhibitory neurotransmitter that works as a brake pedal for the nervous system. It helps prevent overexcitation and its negative consequences, such as anxiety, agitation, lack of focus, and impulsivity (14).
By balancing these key neurotransmitters in the brain, CBD reduces anxiety, elevates your mood, improves cognitive performance, and increases your attention span.
CBD & Anandamide
As mentioned earlier, CBD interacts with the ECS by signaling it to produce more of its endocannabinoids. One of them is anandamide, also nicknamed "the bliss molecule."
Anandamide plays an important role in the regulation of emotion, including responses to fear and pleasure. Low anandamide levels are associated with a higher risk of anxiety disorders, depression, and psychotic episodes.
CBD not only stimulates the production of anandamide, but it also slows down its breakdown, making it more available for the body (15).
From there, anandamide can communicate with other neurotransmitters and, for example, trigger the release of oxytocin, or love hormone, which your body releases when you hug someone or feel loved.
Healthy levels of anandamide contribute to better mental well-being — and CBD helps you calibrate them.
How to Use CBD for Anxiety
CBD supplements for anxiety take many different forms. The most common include:
Oils and tinctures: it's the regular CBD oil that you take under the tongue
Edibles: such as gummies or chocolate bars, sweet and infused with a predetermined dose of CBD per serving.
Sprays: they come with a nozzle to be sprayed in the mouth
Vapes: CBD vape pens heat up the hemp extract and create an inhalable vapor
Flowers: you can smoke them in a joint or bowl or vape them in a vaporizer
Creams and gels: topical CBD is a popular method of relieving localized pain.
You can experiment with different forms and various ways to use CBD to find your optimal product type for anxiety. For example, vapes provide the fastest absorption rate, while edibles offer the longest duration of effects.
CBD oil is the middle ground.
Here's how to use it for anxiety.
How Do I Take CBD Oil?
CBD oils come with glass droppers that have a scale to make dosing easier and more accurate.
Squeeze out the desired amount of CBD oil in the dropper and transfer it under the tongue. Hold it there for about 60 seconds – then swallow.
This way, CBD will be absorbed through the sublingual membrane in your mouth and avoid the first-pass metabolism in the liver.
The calming effects of CBD oil usually kick in after 15-30 minutes and last for up to 6 hours.
How Much CBD Oil Should I Use for Anxiety?
Finding the right CBD dosage for your anxiety can be tricky. Everybody is different, and what works for one person may fail to produce the desired effects for another.
As a rule of thumb, you should start with 2-6 mg of CBD for every 10 pounds of your weight. Use that amount for a few days, and if you don't notice any signs of relief, gradually increase the dose until you find the perfect spot.
You can also look into the studies on CBD and anxiety.
In many clinical trials, the research team jumped right to testing extremely high doses. Successful doses for anxiety relief included 300 mg and 600 mg of pure CBD in patients with and without social anxiety disorder in a speech simulation.
However, other studies recommend much lower doses, claiming they may be just as effective.
For example, people with generalized anxiety and sleep problems may benefit from 25 to 75 mg of CBD per day, while PTSD patients respond well to 33-49 mg.
Another study with a statistically significant sample noted that a positive dosage range for anxiety is between 40 and 300 mg daily, further supporting the concept that dosing CBD is determined by a host of individual factors.
What's the Best Time of Day to Take CBD Oil for Anxiety?
If you use CBD oil for sheer symptom relief, you take it anytime as needed. For example, if you have morning anxiety and suffer from racing thoughts, take CBD oil right after you wake up.
On the other hand, when you feel stressed throughout the day, and it negatively affects your sleep patterns, take CBD oil in the evening to unwind and balance the neurotransmitters, promoting the release of melatonin – your sleep hormone.
However, CBD works best for anxiety when you use it regularly. It's best to split your dosage into a few portions and take them accordingly throughout the day. This way, you ensure a constant circulation of CBD in your bloodstream so that it can level your endocannabinoid deficiencies and help optimize your nervous system.
Does CBD Oil Have Any Side Effects?
The World Health Organization (WHO) classifies CBD as safe and generally well-tolerated by humans. According to a 2017 update on the safety and side effects of CBD, the cannabinoid has very few adverse effects (16).
The most common side effects of CBD oil include the following:
Changes in appetite
Dry mouth
Dizziness
Fatigue
Diarrhea
CBD is also a potent inhibitor of the CYP450 enzyme system that metabolizes the majority of pharmaceutical drugs in the liver (17). If you take any medications for anxiety, consult your doctor before trying CBD oil to avoid these interactions and adverse events.
Where to Buy CBD Oil for Anxiety
CBD oil is often dubbed the "modern vitamin D" – and for a good reason.
With such an abundance of therapeutic effects, its popularity has exploded over the years. Today, you can find CBD near you in specialized stores, vape shops, wellness centers, pharmacies, cannabis dispensaries, and even at gas stations.
However, since the market is unregulated, the best way to find high-quality CBD oils for anxiety is to find a reputable online store.
Here's why.
The Benefits of Buying CBD Oil Online
Shopping for CBD oil online offers a few benefits that you won't find in a traditional brick-and-mortar store, such as:
Lower prices: online stores can cut out the middleman, offering lower baseline prices on the same-grade products.
Seasonal discounts: you can take advantage of coupon codes, subscription orders, and reward programs to save even more money on high-quality CBD oil.
More transparency: reading third-party lab results and user reviews can give you a bigger picture of your vendor and its approach to quality and safety.
Greater product choice and convenience: you can compare hundreds of different products and their prices in the comfort of your home, unrestricted by location and time.
Fresher products: unlike in-store vendors, online retailers don't keep their products on the shelves for months before they sell them.
Best CBD Oils for Anxiety
As mentioned earlier, the CBD market is unregulated, with no manufacturing and lab testing standards. Consumers must shoulder the responsibility for quality control. If you're short on time, check out these top 3 brands that offer the best value for money in 2023. All of these companies offer organic, third-party tested CBD extracts with batch-specific Certificates of Analysis (CoAs).
1. Royal CBD
Get 15% off all Royal CBD products. Use code "CFAH" at checkout.
Royal CBD started out in Nevada as a small artisan brand and has quickly turned into one of the leaders in the market. This company specializes in a wide range of broad-spectrum and full-spectrum CBD supplements from organic hemp.
All its products are extracted with CO2 to ensure maximum purity and consistent potency throughout the batches.
The Royal CBD oil comes in three different strengths that can address different levels of stress and anxiety: 500 mg, 1000 mg, and 2500 mg. The first two variants come in flavored options (Berry, Mint, Vanilla), but the 2500 mg one is available only in the unflavored version to preserve its original potency and terpene profiles.
If you struggle with persistent anxiety and have a poor reaction to stress, I recommend the 2500 mg CBD oil. It packs 83 mg of CBD per ml, supported by minor cannabinoids, terpenes, and flavonoids that enhance the effects of CBD.
2. Gold Bee
Gold Bee is another craft company from Nevada that focuses on organic products, but it also draws from its past as a superfood manufacturer, infusing its CBD extracts with raw honey and organic MCT oil.
Gold Bee offers a broad selection of CBD products, including oils, capsules, gummies, creams, and gels; it even has a CBD pet line.
The Gold Bee CBD oil comes in two options: 1200 mg (available in Lychee and Kiwi flavors) and 2400 mg (only unflavored). The latter packs over 80 mg in every milliliter, making it a decent pick for people who suffer from chronic stress.
This is also one of the best-tasting CBD oils I've ever had, thanks to the addition of honey extract and MCT oil.
3. Area 52
Get 15% off all Area 52 products. Use code "CFAH" at checkout.
Area 52 specializes in delta-8 THC products — a milder alternative to regular weed — but it's recently released a new line of "true full-spectrum" extracts featuring one interesting product for anxiety.
The Area 52 UFO full-spectrum oil combines 2400 mg with 600 mg of CBG and 150 mg of THC in a 30 ml bottle. Together, these cannabinoids create a unique entourage effect that not only feels relaxing and calming but also pumps more energy into your brain, making you more focused and alert. The microdose of THC in the formula helps promote neurogenesis and improve your cognitive function while elevating your mood.
CBD Can Alleviate Anxiety? How to Use It for the Best Results
CBD is generally a safe and well-tolerated compound that can help reduce anxiety. Not only does it address the symptoms, but it can also help recalibrate your body through its interaction with the ECS — optimizing your stress response and the activity of your neurotransmitters.
Studies suggest CBD has great potential as a treatment for a broad range of anxiety disorders, from social anxiety to phobias, PTSD, generalized anxiety, obsessive-compulsive disorder, and more.
Keep in mind that not all CBD oils are created equal. If you're looking for a safe and effective supplement for anxiety, choose CBD from reputable sources that provide up-to-date CoAs with a complete testing panel to ensure the product is free from pesticides, heavy metals, solvents, and other toxins.
Sources:
Perry, D., Ton, J., & Allan, G. M. (2018). Evidence for THC versus CBD in cannabinoids. Canadian family physician Medecin de famille canadien, 64(7), 519.
Blessing, E. M., Steenkamp, M. M., Manzanares, J., & Marmar, C. R. (2015). Cannabidiol as a Potential Treatment for Anxiety Disorders. Neurotherapeutics : the journal of the American Society for Experimental NeuroTherapeutics, 12(4), 825–836. https://doi.org/10.1007/s13311-015-0387-1
Wright, M., Di Ciano, P., & Brands, B. (2020). Use of Cannabidiol for the Treatment of Anxiety: A Short Synthesis of Pre-Clinical and Clinical Evidence. Cannabis and cannabinoid research, 5(3), 191–196 [3].
Zou, S., & Kumar, U. (2018). Cannabinoid Receptors and the Endocannabinoid System: Signaling and Function in the Central Nervous System. International journal of molecular sciences, 19(3), 833. https://doi.org/10.3390/ijms19030833
Gáll, Z., Farkas, S., Albert, Á., Ferencz, E., Vancea, S., Urkon, M., & Kolcsár, M. (2020). Effects of Chronic Cannabidiol Treatment in the Rat Chronic Unpredictable Mild Stress Model of Depression. Biomolecules, 10(5), 801 [5].
Bergamaschi, M. M., Queiroz, R. H., Chagas, M. H., de Oliveira, D. C., De Martinis, B. S., Kapczinski, F., Quevedo, J., Roesler, R., Schröder, N., Nardi, A. E., Martín-Santos, R., Hallak, J. E., Zuardi, A. W., & Crippa, J. A. (2011). Cannabidiol reduces the anxiety induced by simulated public speaking in treatment-naïve social phobia patients. Neuropsychopharmacology : official publication of the American College of Neuropsychopharmacology, 36(6), 1219–1226. https://doi.org/10.1038/npp.2011.6
Linares, I. M., Zuardi, A. W., Pereira, L. C., Queiroz, R. H., Mechoulam, R., Guimarães, F. S., & Crippa, J. A. (2019). Cannabidiol presents an inverted U-shaped dose-response curve in a simulated public speaking test. Revista brasileira de psiquiatria (Sao Paulo, Brazil : 1999), 41(1), 9–14. https://doi.org/10.1590/1516-4446-2017-0015
Strawn, J. R., Geracioti, L., Rajdev, N., Clemenza, K., & Levine, A. (2018). Pharmacotherapy for generalized anxiety disorder in adult and pediatric patients: an evidence-based treatment review. Expert opinion on pharmacotherapy, 19(10), 1057–1070. https://doi.org/10.1080/14656566.2018.1491966
Gulbransen, G., Xu, W., & Arroll, B. (2020). Cannabidiol prescription in clinical practice: an audit on the first 400 patients in New Zealand. BJGP open, 4(1), bjgpopen20X101010 [9].
Elms, L., Shannon, S., Hughes, S., & Lewis, N. (2019). Cannabidiol in the Treatment of Post-Traumatic Stress Disorder: A Case Series. Journal of alternative and complementary medicine (New York, N.Y.), 25(4), 392–397. https://doi.org/10.1089/acm.2018.0437
Rehman, Y., Saini, A., Huang, S., Sood, E., Gill, R., & Yanikomeroglu, S. (2021). Cannabis in the management of PTSD: a systematic review. AIMS neuroscience, 8(3), 414–434 [11].
de Almeida, D. L., & Devi, L. A. (2020). Diversity of molecular targets and signaling pathways for CBD. Pharmacology research & perspectives, 8(6), e00682 [12].
Sales, A. J., Crestani, C. C., Guimarães, F. S., & Joca, S. R. L. (2018). Antidepressant-like effect induced by Cannabidiol is dependent on brain serotonin levels. Progress in neuro-psychopharmacology & biological psychiatry, 86, 255–261. https://doi.org/10.1016/j.pnpbp.2018.06.002
Pretzsch, C. M., Freyberg, J., Voinescu, B., Lythgoe, D., Horder, J., Mendez, M. A., Wichers, R., Ajram, L., Ivin, G., Heasman, M., Edden, R. A. E., Williams, S., Murphy, D. G. M., Daly, E., & McAlonan, G. M. (2019). Effects of cannabidiol on brain excitation and inhibition systems; a randomised placebo-controlled single dose trial during magnetic resonance spectroscopy in adults with and without autism spectrum disorder. Neuropsychopharmacology : official publication of the American College of Neuropsychopharmacology, 44(8), 1398–1405. https://doi.org/10.1038/s41386-019-0333-8
Leweke, F. M., Piomelli, D., Pahlisch, F., Muhl, D., Gerth, C. W., Hoyer, C., Klosterkötter, J., Hellmich, M., & Koethe, D. (2012). Cannabidiol enhances anandamide signaling and alleviates psychotic symptoms of schizophrenia. Translational psychiatry, 2(3), e94. https://doi.org/10.1038/tp.2012.15
Iffland, K., & Grotenhermen, F. (2017). An Update on Safety and Side Effects of Cannabidiol: A Review of Clinical Data and Relevant Animal Studies. Cannabis and cannabinoid research, 2(1), 139–154. https://doi.org/10.1089/can.2016.0034
Brown, J. D., & Winterstein, A. G. (2019). Potential Adverse Drug Events and Drug-Drug Interactions with Medical and Consumer Cannabidiol (CBD) Use. Journal of clinical medicine, 8(7), 989. https://doi.org/10.3390/jcm8070989