What is The Best Time of Day to Take CBD Oil?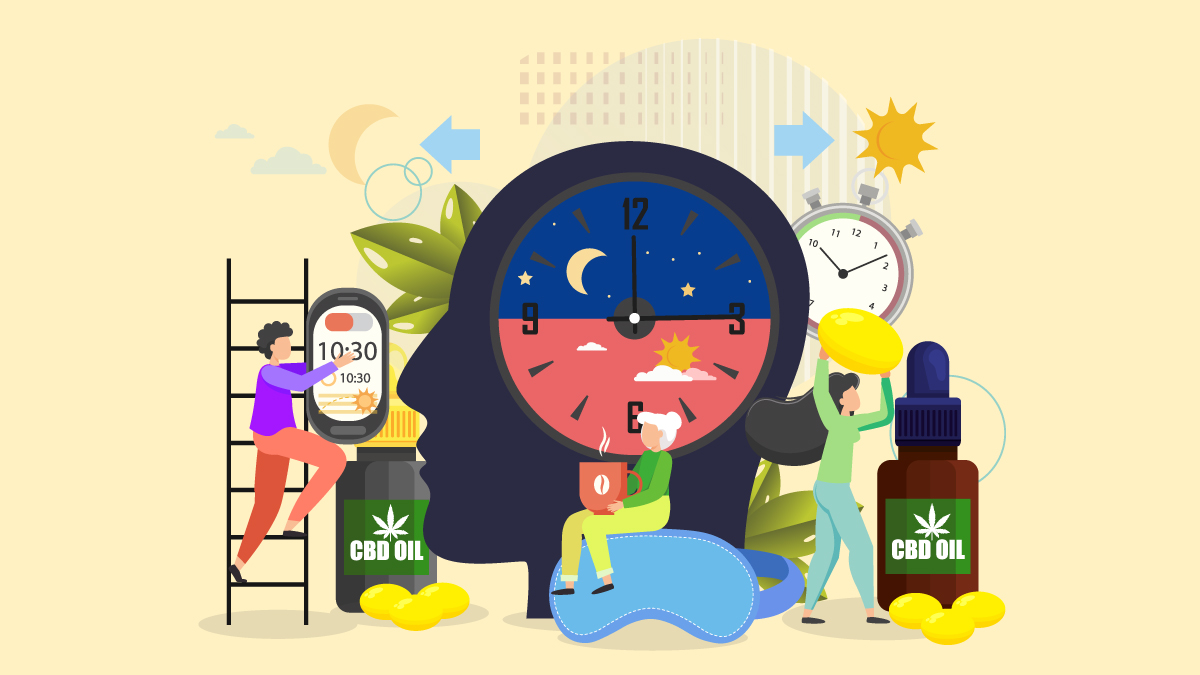 As more health-conscious consumers start to embrace the benefits of daily supplementation with CBD oil, a common question arises among new users:
What's the best time of the day to take CBD oil?
Does it even matter when you take your dose?
Indeed, both the amount of CBD and the time of the day can affect how you respond to CBD oil. Scheduling your intake of CBD helps to maximize its efficacy.
Today, we look at different times of the day to take CBD oil, different dosages, and how to use different forms of CBD to get the most out of them.
What's the Best Time of the Day to Take CBD?
The best time of the day to take CBD oil is the one that provides you with the best results for your individual situation.
Many people decide to take it in the morning, using lower doses to improve focus and calm the nervous system. Others take CBD oil in the evening to ease their breathing and calm down before going to bed. Some users take CBD as a daily supplement to maintain higher concentrations of endocannabinoids in their circulatory system.
Here's a quick breakdown of different times of the day to take CBD oil — along with a quick reference of what CBD can do in the morning and the evening.
Effects of CBD in the Morning
Morning is the best time of the day to take CBD if you want to:
Enhance Focus
CBD may help you gather your thoughts and improve cognitive performance when you struggle with brain fog in the morning. While it won't stimulate your brain receptors like caffeine, it will help support a healthy state of equilibrium in the nervous system, producing a calming sensation. As a result, you can maintain better focus throughout the day, contributing to a healthy circadian rhythm.
Relieve Stress
Sometimes, life throws unexpected things at you. If you experience frequent bouts of stress and anxiety that are difficult to control, CBD can modulate the functioning of your GABA receptors, which slows down an overactive nervous system. CBD also acts on serotonin receptors and ensures stable concentrations of your body's endocannabinoid, contributing to a better stress response.
Relax the Muscles
When your body feels achy or tense after a sleepless night or a heavy workout, you can take CBD in the morning to reduce some of the soreness. We recommend using a topical product in combination with CBD oil to curb inflammation flare-ups. Rubbing a CBD cream or ointment onto the skin can also help fight localized pain.
Improve Physical Endurance
Your warming routine can benefit from adding a CBD warming salve or taking CBD oil before working out. Doing so can warm up the muscles. On the other hand, if you use CBD after the workout, it can speed up regenerative processes in your body to help you recover faster.
Effects of CBD at Night
Using CBD at night comes with a few unique benefits, such as:
Relaxation After a Long Day
If you're drained from energy after a long day at work or you have an important event ahead of you, CBD is a great tool for setting your mind in the right mood for the evening. High doses of CBD at night facilitate slower breathing and calm the mind, helping an individual fall asleep faster.
Better Management of Sleep Cycles
Using CBD for sleep is one of the most common reasons people choose this kind of herbal supplementation. CBD oil interacts with our sleep cycles using a multifaceted mechanism to modulate the activity of different stages of sleep. For example, CBD can help us fall asleep faster and reduce the REM stage disorders characterized by abrupt body movements, tremors, and vocalizations. CBD can also extend our time in the deep sleep stage, translating into more efficient regeneration.
Relief from Anxiety Triggered by Running Thoughts
The number of stimuli and the amount of information we're exposed to throughout the day can take a toll on the performance of your nervous system. The brain becomes so wired that it's difficult to slow down after the whole day of processing different data. The stream of thoughts accompanying sleepless nights doesn't help either. Taking CBD oil at the end of the day can help you curb the stream of thoughts and ensure a calm state of mind before falling asleep. 
When to Take CBD (By Product Type)
The consumption method is as important as the time of the day when taking CBD oil. Vaporization and sublingual use produce faster effects and deliver more CBD to your system than oral products such as capsules and gummies. On the other hand, the latter is better suited for people who want to schedule up their supplementation and look for longer-lasting effects despite the delayed onset and lower bioavailability.
What's the Best Time of the Day to Take CBD Sublingually?
CBD oil is taken under the tongue and absorbed through a special mucous membrane in the mouth. This form of CBD avoids the first-pass metabolism in the liver, ensuring faster-acting effects than oral forms. It usually takes up to 30 minutes until you can notice a calming sensation, so it's much easier to schedule up your routine. You can start with ½ or 1 mL of full-spectrum CBD oil in the evening and follow through with 1–2 doses for the rest of the day to maintain consistent levels of CBD in the bloodstream. If you don't feel any effects after 5-7 days, increase the dose and continue for another week, monitoring your progress.
What's the Best Time of the Day to Take CBD Orally?
Oral forms of CBD have a slower onset than sublingual products because they need to pass through your gastrointestinal tract. The effects usually take hold within 30–90 minutes, depending on the time of the day, your metabolism, and whether you've taken CBD with a meal or on an empty stomach. The best time of the day to use CBD capsules and gummies is in the evening, around 2 hours before going to bed, when you can' sleep through the night. Want to learn more about how CBD gummies can help with insomnia? Don't worry, we got you. If you take CBD in the morning, you can use the same 2-hour window but with a smaller dose.
What's the Best Time of the Day to Vape CBD?
When you vaporize CBD oil, it absorbs into the bloodstream through the lung tissue, so the effects are noticeable within minutes from inhalation, lasting up to 4 hours. The best time to take CBD vapes is when you're going through a stressful or anxiety-inducing situation and want to ease it immediately.
What's the Best Time of the Day to Use CBD Topicals?
Topical products, such as CBD creams, ointments, and gels, should be used as needed to help deal with localized pain, meaning there's no best time to use them. The CBD won't pass into your bloodstream, but it will engage with the cannabinoid receptors in the skin.
Why Do People Take CBD Oil?
CBD oil has a long list of potential health benefits. People use it to relieve pain, reduce stress, support their cognitive functioning, and maintain homeostasis through supporting the endocannabinoid system (ECS) — the master regulatory network in all mammals.
The therapeutic versatility of CBD is attributed to its interaction with the ECS. There are dozens of studies touching on the subject of using CBD in a wide range of diseases. In fact, cannabinoids have been studied more extensively than some of the popular OTC supplements and medications.
CBD starts interacting with the ECS within minutes, but if you're looking to address specific health problems and achieve long-term results, you'll need to use it systematically.
That's because one of the main roles of CBD is to level endocannabinoid deficiencies in your body. CBD does this without directly binding to the cannabinoid receptors in the brain, which is why it doesn't get the user high and has such a decent safety profile.
Not only that, but full-spectrum CBD oil is also chock-full of other phytonutrients that the modern diet lacks. These ingredients include a wide range of macro and microelements, such as:
Minor cannabinoids

Terpenes

Flavonoids

Essential fatty acids

Vitamins

Trace minerals
Now that we've established the best times for taking different forms of CBD let's discuss one equally important parameter — the frequency of use.
How Often Can You Take CBD Oil?
The frequency at which you take CBD oil will depend on some individual factors and your goals with CBD. That being said, many people decide to go for daily supplementation to support the endocannabinoid system that helps maintain homeostasis. Daily use of CBD oil results in a regular level of your body's natural endocannabinoids.
Depending on the type of CBD, the serving size, product format, and other factors affecting absorption, it can take between 5–90 minutes for the effects to kick in.
The time CBD will stay in your system is affected by:
Body fat percentage

Total body weight

The potency of your product (CBD content)

Frequency of use
Some users prefer to split their dosage into several smaller amounts throughout the day to ensure a consistent circulation of endocannabinoids in the bloodstream.
How Much CBD Oil Should You Take?
The optimal CBD dosage for each person out there will be slightly different — depending on the form of administration, individual body chemistry, as well as the type and severity of the health problem they want to address.
CBD doses are measured in milligrams and can range from 1 mg all the way up to 300 mg per day in extreme situations. The main driver behind the efficacy of your dosage is the method of administration.
For example, CBD oil or vape pens offer faster and more effective delivery of CBD, but the effects are shorter-lived than with other products. On the other hand, oral forms like capsules and gummies offer lower bioavailability and delayed onset, but the effects last longer because the CBD is released gradually into the bloodstream. With topical products, you can provide relief from pain by applying CBD to the skin as needed.
The best way to determine your optimal CBD dosage is to go through trial and error — starting with a small dose and gradually increasing until you experience the desired effects.
You can use the table below to gauge the right dose for yourself depending on the type of effects you're trying to achieve:
| | | | |
| --- | --- | --- | --- |
| Weight Group | Mild Effects | Medium Effects | Strong Effects |
| 5 – 10 kg | 2.5 mg – 5 mg | 6 mg | 9 mg |
| 10 – 20 kg | 6 mg | 9 mg | 12 mg |
| 20 – 40 kg | 9 mg | 12 mg | 15 mg |
| 40 – 70 kg | 12 mg | 15 mg | 18 mg |
| 70 – 110 kg | 20  mg | 25 mg | 30 mg |
| +110 kg | 25 mg | 30 mg | 45 mg |
Key Takeaways on the Best Time of the Day to Take CBD
Finding the best time of the day to take CBD oil for every individual is nearly impossible. However, you can use the above information to determine the best form of CBD, scheduling, and dosage — and maximize the results of your supplementation.
Experiment with different dosages and timings, and listen to what your body is telling. Write down how you feel after each dose and keep the results in a log or journal. Just keep in mind to always order CBD oil from a reputable source that uses organically-grown hemp and tests its products in a third-party laboratory for CBD content and purity.
Doing so will help you ensure a well-informed decision and avoid companies trying to make a quick buck of unaware customers looking for a quick fix to their health problems.
What's the best time of the day to take CBD oil for you? Let us know in the comments!