Kanibi CBD Review & Coupon Code (2023 Update)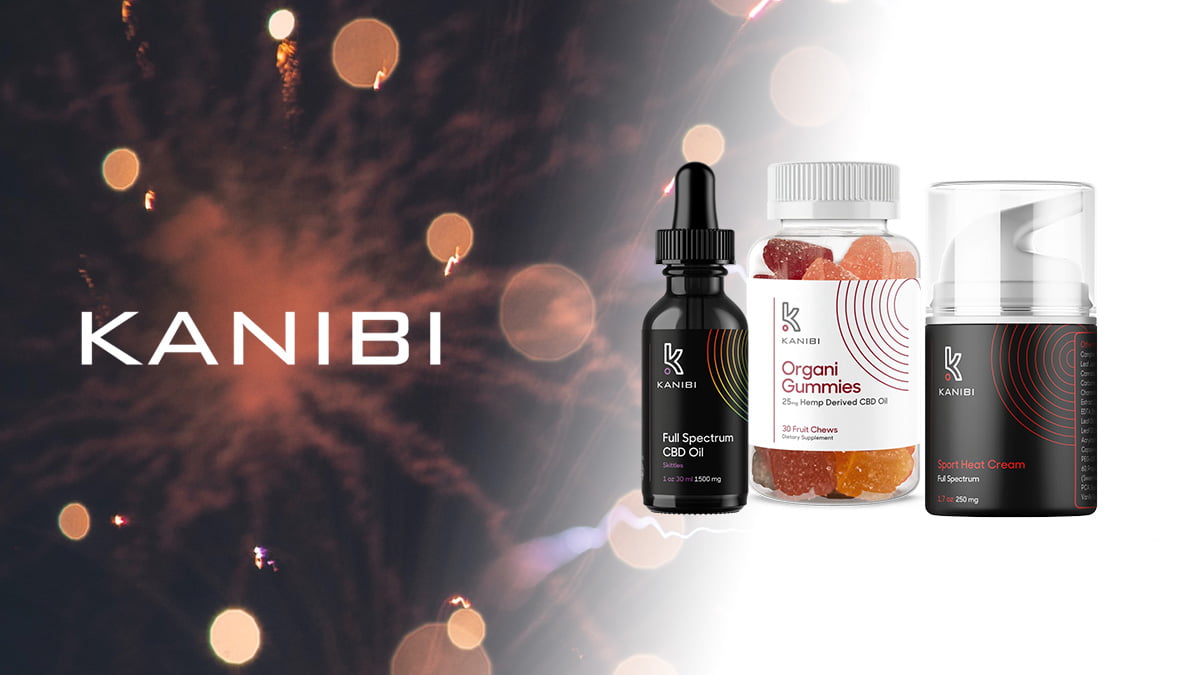 Kannibi is a CBD company based in the US that offers a good selection of hemp-based products. Except for their CBD isolate tincture, all of its flagship products use full-spectrum CBD.
Kanibi is a relatively new player in the industry but has already made a big impression among CBD consumers.
This Kanibi review will help you make a more informed decision before buying from the company and also check out alternative top brands of CBD.
Kanibi Review: Pros & Cons
Pros
Cons

Lots of tincture flavors to choose from
Discounts on bulk orders and subscriptions
Conducts a double-lab test
Offers 100% money-back guarantee

Topicals are expensive
Little information is available on the company's founders
Free shipping requires a minimum of $100
Email-only and no phone number available
Not yet USDA certified
About Kanibi
Since launching in 2019, the Kanibi team claims that they're on a mission to raise the bar for the CBD industry. The company insists that it's not merely a CBD manufacturer, but a lifestyle manufacturer as well.
Kanibi says it's in favor of transparency in each step of manufacturing CBD. Its products undergo a rigorous testing process and are accompanied by batch-specific certificates of analysis. Two independent laboratories test the Kanibi line to ensure they meet the desired purity and safety standards.
Quality
When you're looking for CBD products, it's important to ensure that it hasn't been adulterated with any harmful substances like pesticides, herbicides, or heavy metals.
Kanibi CBD offers premium safety standards from sourcing to manufacturing. Thanks to its double testing procedures, Kanibi CBD follows strict and standardized guidelines for product quality control and testing throughout the process.
Transparency
Kanibi's official website immediately informs customers that they must be 18 years or older to purchase goods.
Initially, the company suggests starting slowly and at a low dosage. It offers the example of starting with 10 mg once per day for a few days to assess effects. If this dose is insufficient, Kanibi recommends a gradual increase of 5 mg every 5 days.
In addition, the company encourages customers to keep track of their CBD usage, types of products, and effects.
Kanibi's website offers detailed instructions on how it makes its products and why they do so. Specifically, the company provides comprehensive information on full-spectrum, broad-spectrum, and isolate CBD products.
Additionally, a special section within the company's catalog is devoted to delivery methods, which exceeds buyer expectations by anticipating any typical question that might be asked.
Kanibi also has a section dedicated to Certificates of Analysis (COA) on its website. To double-check quality, each batch is tested a second time by another certified testing lab before selling them.
Downloadable from the site, quite a bit of information can be viewed regarding each batch of a product, along with detailed potency or flavor results.
Among the tests Kanibi performs are those for CBD potency, total cannabinoid concentration, terpene profile, microbes, pathogens, heavy metals, and residues from the extraction process.
The lawsuit and Warning Letters
Proposition 65 Notice of Violation was issued to Kanibi's full-spectrum CBD oil on July 23, 2021.
California's Proposition 65 says businesses have to warn consumers of chemicals that can cause cancer, birth defects, or other health problems [1]. This information is necessary to help Californians learn about the risks they face from chemical exposure.
Customer Feedback
There are many encouraging reviews on Kanibi's website from people who say they have had a good experience with this company. Out of all these reviews, the majority are rated four or five stars.
One reviewer named Angelo C. stated, "I had experienced erratic sleep patterns for a while and decided to try Kanibi to see if it would help me get better sleep. I didn't set myself up with high expectations because I was new to the CBD market, but this product works for me. I get more sleep and have an easier time falling back to sleep if I get up during the night. My wife says I hardly snore anymore too. The Full Spectrum 750 mg cinnamon flavor is the one I use. Try it!"
It's important to note that these reviews are curated by the company itself. Although some criticisms are visible, site owners are still able to filter out some negative reviews that they post on their site.
Pricing
Kanibi's CBD products are more expensive compared to the average market price. The brand's bundles are popular because they offer a way to get two or more products together at a discounted rate.
Prices range between $44 and $234, the equivalent of a $0.07 to $.20 price per mg of CBD for isolates, and an average of $0.08 per mg of CBD for tinctures.
On the other hand, the Kanibi CBD gummies have a price point of $0.14 per mg of CBD, which is higher than average the average cost. The most expensive product in its collection is CBD cream ($0.17).
Unfortunately, the $100 minimum for free shipping could be on the higher side for most average consumers. It's a major turnoff if you've ordered products from companies that offer free shipping on every order regardless of its value.
Certifications
While Kanibi's products undergo double laboratory testing, the company is not yet certified organic by the USDA.
USDA Organic Certification means that no synthetic fertilizers, pesticides, or herbicides have been used in the cultivation of hemp. It also ensures that farmers are using tillage and cultivation practices that maintain or improve the condition of the soil and minimize soil erosion.
When you purchase organic products, you want to make sure that the company is not mislabeling anything. This means that they have to go through a rigorous inspection and certification process before they can be declared organic.
Since Kanibi CBD doesn't have this certification, customers can't be sure if what they're buying is genuinely organic.
Kanibi also lacks a US Hemp Authority badge, which would've provided credibility to the brand through trusted third-party certification. This badge also demonstrates authenticity in labeling its products.
Kanibi CBD Oil
Type of CBD 
Full-spectrum
Potency Range
750 mg – 1500 mg
Flavor
Choco Mint, Cinnamon, Lemon Lime, Peppermint, Skittles, Unflavored
Formulas
Full-spectrum CBD Oil Tincture;
Pure Isolate Tincture;
Sleep – Full-spectrum CBD and CBN Blend
Kanibi Full Spectrum CBD Oil is described as pure, unadulterated full-spectrum CBD. It's produced from organically grown Kentucky hemp, so you get a full spectrum of cannabinoids to maximize the entourage effect. It's formulated with premium MCT oil as a carrier.
Several CBD concentrations and flavors are available to accommodate different consumer tastes.
The company offers its customers a variety of flavor options, unlike some other CBD vendors that offer only one earthy flavor.
Kanibi Full Spectrum CBD Oil is derived from pure CO2 extraction, which means it's a non-toxic, eco-friendly product. Unlike other hemp extractions made with toxic solvents such as butane or hexane, these CBD extracts are safe and free of contaminants.
The THC levels in this product are less than 0.3%, making it non-psychoactive. You can try Kanibi's Pure Isolate Tincture if you want to remove any other compounds, like THC.
Kanibi Sleep is the answer for those who use CBD and have trouble sleeping. It's meant to be taken before bedtime.
Kanibi CBD Gummies
| | |
| --- | --- |
| Type of CBD  | Full-spectrum |
| Potency Range | 10 mg – 750 mg |
| Flavor | Fruity |
| Formulas | Organi Gummies from Hemp-Derived CBD Oil |
Kanibi Organi Gummies are a healthy, delicious way to get the benefits of CBD. Made with only organic ingredients and hemp-derived CBD distillate, it provides a guilt-free way to take your daily dose of CBD.
For most consumers, 1 to 2 gummies are the ideal starting dose. Kanibi urges consumers to wait at least five to seven days before increasing their dose of Organi Gummies.
Lab tests verified that the product contained no THC. Its CBD is harvested via gold standard CO2 extraction.
Kanibi CBD Cream
| | |
| --- | --- |
| Type of CBD  | Full-spectrum |
| Potency Range | 6 mg – 250 mg |
| Flavor | Unflavored |
| Formulas | Sports Heat Cream |
Kanibi CBD Sports Cream is a moisturizing cream infused with CBD extract obtained from premium hemp plants. This sports cream's thin texture absorbs quickly without leaving an oily residue on the skin.
Since CBD topicals are absorbed immediately by affected areas, Kanibi CBD Sports Cream can be applied directly for quicker results. This sports cream can relieve everything from athletic stress and soreness to everyday aches and pains.
Kanibi CBD Sports Cream contains the following ingredients:
CBD Hemp Extract
Methyl Salicylate
Butyrospermum Parkii (Shea) Butter
Cetearyl Glucoside
Cetearyl Alcohol
Glyceryl Stearate Citrate
Eucalyptus Globulus Leaf Oil
Aloe Vera
Each pump delivers 6-8 mg of CBD. One pump should be enough for localized pain relief using CBD cream, although the final effect depends on your individual situation. A second pump may be needed for larger areas, but consumers are instructed to wait a few minutes before applying more product. To get maximum topical absorption, massage the cream into the skin thoroughly.
Kanibi Review: Pros & Cons
The Pros
Conducts Double-Lab Tests
One of Kanibi's strongest points is that its products undergo double laboratory testing.
This demonstrates Kanibi's commitment to providing their customers with safe, high-quality CBD products. With double laboratory testing, the company ensures that its products are of high quality and absolutely safe to consume.
Subscriptions and Bulk Orders Are Discounted
Getting a discount for bulk orders and subscriptions is another advantage of Kanibi CBD.
Unlike the vast majority of competitors in the market, Kanibi stands out through the exclusive discounts given to those who buy in bulk and sign up for a subscription.
Made With 100% American Hemp
Kanibi sources its hemp from certified US growers. It doesn't import substandard hemp from overseas to avoid making inferior products. To ensure the quality of its industrial hemp, Kanibi grows and harvests it organically in chemical-free soils.
Kanibi works with hemp farmers in America to make sure you're getting the best hemp extract available as well as supporting American agriculture.
The Cons
Costlier Than Comparable Brands
Compared to other prominent CBD products, Kanibi CBD is a little pricey. It might be worth checking out some others before deciding on a long-term purchase.
As an example, Kanibi CBD Sports Cream is almost twice as expensive as most other CBD topicals, despite being offered at a significant discount.
Limited Range of Products
Kanibi CBD is a relatively new company in the CBD industry. In comparison with some of the larger and more prominent brands, it offers a smaller selection of products.
If variety is important to you, know that the company offers the same product types you can also get from other companies.
Free Shipping Requires a Minimum of $100
If you order under $100, you'll be charged shipping charges. You'll end up paying more than you had anticipated unless you are ordering in large quantities.
Some CBD companies offer free shipping even if you order as little as $20. Consumers with limited budgets might not be as inclined to order from Kanibi.
Cannot Be Reached by Phone 
There is no phone number or live chat function on Kanibi's official website. The company can only be reached through email. This poses a problem for customers who need immediate assistance with their orders.
Best Alternative Options for Kanibi
Aside from their steep pricing, Kanibi has limited communication capabilities and can only be contacted via email.
A company that cannot directly communicate with you in case of problems with their product or delivery should be avoided.
We know you're tired of dealing with poor customer service. Whenever possible, make sure to choose brands that offer reasonable prices, as well as excellent customer service, and can be reached by phone.
Take a look at these brands to find out if they fit your needs:
Royal CBD
Gold Bee
Get 15% off all Royal CBD products.  Use code "CFAH" at checkout.
Pros
Cons

Excellent customer service
US-grown organic hemp
Uses CO2 supercritical extraction
Wide selection of CBD products
Only uses natural ingredients to enhance flavor
Provides detailed third-party testing profile
Money-back guarantee for 30 days

Prices are slightly higher than the market's average (but worth the extra cost)
Locally unavailable
Royal CBD stands out as one of the leading brands in the CBD industry for both its quality and effectiveness. This is achieved through the use of high-quality ingredients and the safest extraction method.
Royal CBD's strong and highly potent oils are made from organic hemp. In 2018, a group of CBD oil advocates in California founded the company.
Royal CBD offers a wide range of products, flavors, and strengths. Among the hemp extracts available are:
CBD oils
CBD gummies
CBD capsules
CBD topicals
CBD honey sticks
CBD for pets
Using non-GMO and pesticide-free hemp, Royal CBD's CBD oil is produced organically in Colorado. Like Kanibil, the brand utilizes CO2 extraction to ensure potency and purity are maintained over time.
Royal CBD has never been cited for violation or embroiled in controversy, a distinction it holds over other brands like Kanibi.
Royal CBD has excellent customer service. The company's representatives can be reached via phone for immediate assistance. If you prefer to speak directly to someone, this is an option for you.
There have been several high-profile publications that have featured Royal CBD, including Forbes, LA Weekly, SF Weekly, and The Observer.
Pros
Cons

US-grown organic hemp
Uses CO2 supercritical extraction
Contains superfoods
Full-spectrum and broad-spectrum CBD
Up to 2500 mg of total CBD
Pet products available
Only uses natural ingredients to enhance flavor
Provides detailed third-party testing profile
Money-back guarantee for 30 days

Potency options limited
Isolate-based products not available
Gold Bee is another good alternative to Kanibi. While it's a smaller company than Royal CBD, consumer demand keeps driving its growth. Their CBD oil is one of the best we've seen, and their prices remain competitive in the market.
Gold Bee's attention to detail sets it apart from its competitors. Several small details contribute greatly to its oil's great quality. The company's founders began making superfoods before making CBD products and combining their knowledge with hemp products.
CBD products from Gold Bee include both traditional and specialized varieties, including:
CBD oils
CBD softgel capsules
CBD gummies
CBD topicals
CBD pet products
Along with the hemp grown on the company's farm, it sources hemp from reputable growers in California and Colorado.
The company's CBD products are tested in an ISO-certified facility for potency and purity. Gold Bee rejects all plants that contain contaminants or low levels of terpenes and cannabinoids, proving its absolute dedication to quality.
Final Verdict: Should You Buy Kanibi?
Kanibi strives to provide CBD consumers with premium safety standards using double laboratory testing. Because of this, Kanibi's products are among the safest choices available on the market today.
Kanibi offers a respectable range of CBD products. However, if you're on a tight budget, their pricing can be a bit steep.
For those seeking immediate responses to their questions, Kanibi's customer service is not ideal because it can only be reached by email. This is a deal-breaker for those who prefer direct communication over the phone.
If you want to have a well-rounded comparison of different brands and products, check out my alternative recommendations to Kanibi. Both Royal CBD and Gold Bee offer high-quality extracts and caring customer service — but for a little bit less. I also encourage you to do your research on the market; this way, you can make a well-informed purchase decision and choose a product that's best suited for your health needs.