Is Weed Legal in Minnesota? MN Cannabis Laws (2023 Update)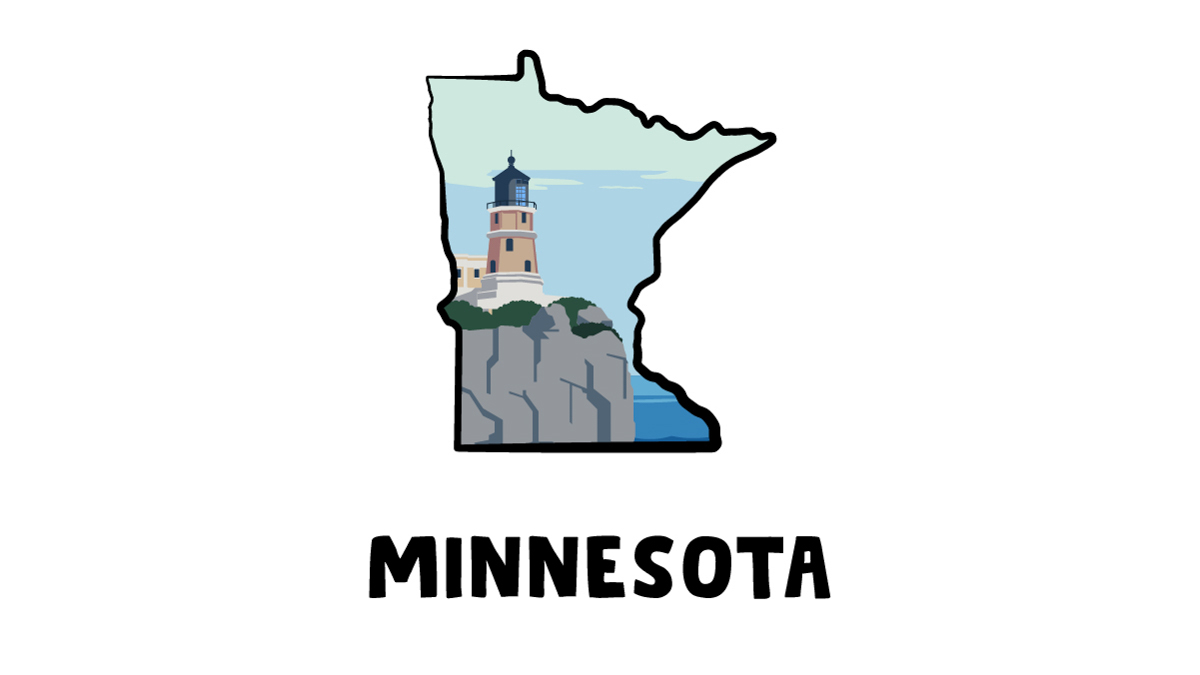 This article covers the legal status of marijuana in Minnesota. You'll learn about recreational and medical marijuana laws, possession penalties, and travel regulations. We also elaborate on the legality of hemp-derived products, including delta 8 THC.
Marijuana is illegal for recreational use in Minnesota.
However, the state partially decriminalized cannabis. If you're caught with 42.5 grams or less, you may be fined $200.
Possession of more than 42.5 grams is penalized with $10,000 in fines and up to five years in prison.
Medical marijuana is legal in Minnesota, with limited options for selected health conditions.
Patients aren't subject to any possession limits. However, they're not permitted to grow cannabis at home.
Hemp-derived delta 8 THC products are legal in Minnesota. The state law follows the provisions of the 2018 Farm Bill.
Is Weed Legal in Minnesota?
The legal status of weed in Minnesota is mixed. The state has a limited medical marijuana program for qualifying patients, but recreational use remains illegal.
Related: Marijuana Laws in All 50 States
Is Recreational Marijuana Legal in Minnesota?
No. Adult-use or recreational marijuana isn't legal in Minnesota. However, you won't go to prison if you possess less than 42.5 grams (1.5 ounces) of cannabis. This amount refers to marijuana as dried flowers, not hashish or other extracts.
Is Medical Marijuana Legal in Minnesota?
Minnesota legalized marijuana for medical use in 2014. SF 2470 created a legal framework for patients with qualifying conditions to access medical marijuana products in non-smokable forms.
You can't buy pre-rolled joints or dabs in a medical marijuana dispensary, but you can choose from liquids, pills, vape pens, and other approved methods.
Penalties for Marijuana Possession
Possession of more than 42.5 grams of marijuana and up to 10 kg is classified as a felony and punishable by up to five years in prison and a $10,000 fine.
If caught with more than 10 kg and up to 50 kg, you may face up to 20 years in prison and a $250,000 fine.
More significant amounts of marijuana lead to longer prison sentences and heftier fines.
It's also illegal to sell cannabis to adults or minors. If you sell marijuana to a minor, you can be sentenced to 20 years in prison and have to pay $250,000 in fines.
Is Weed Decriminalized in Minnesota?
Weed is only partially decriminalized in Minnesota. Getting caught with 42.5 grams or less can land you a $200 ticket. First-time offenders may be ordered to attend drug rehab.
What's the Future of Cannabis Legalization in Minnesota?
Minnesota was close to legalizing cannabis in 2019, but the Minnesota Senate killed the legalization bill.
In 2020, HF4632 proposed a comprehensive regulatory framework for recreational marijuana. However, the bill didn't make it before the end of the legislative session in May. Lawmakers blamed Covid-19 for that situation.
Delta 8 THC: A Better and Federally Legal Alternative to Marijuana in Minnesota
If you live in Minnesota, your options for legal marijuana are limited, to say the least. Even if you're a medical marijuana patient, your options end with vaporization and oral/sublingual use.
Thanks to recent breakthroughs in extraction methods, cannabis companies became able to extract significant amounts of delta 8 THC from hemp.
Never heard of delta 8 THC? It's the less psychoactive cousin of delta 9 from marijuana.
Not only does it cause a milder cognitive buzz, but it's also federally legal.
But before we put delta 8 THC in the spotlight, let's focus on why some people choose to avoid high-THC cannabis.
Cons of Delta 9 THC From Marijuana
Delta 9 THC has a biphasic nature, meaning that low and moderate doses can provide relaxation, while high doses can be overly stimulating for certain individuals.
When you get high off delta 9 THC, the psychoactive experience should be deeply relaxing and euphoric. You will feel happy, hungry, and motivated, although depending on the strain, these effects may lean toward sedation.
However, if you're sensitive to the psychedelic nature of delta 9, it may backfire on you, creating feelings of unease along with a few physiological reactions.
The side effects of delta 9 THC include:
Anxiety
Paranoia
Feelings of discomfort
Cold sweats
Dizziness
Confusion
Increased heart rate
Short-term memory problems
Effects and Benefits of Delta 8 THC
Delta 8 THC is an isomer of delta 9 THC. Both compounds have the same chemical formula, but their molecular makeup is slightly different.
Delta 8 THC has a double bond at the eighth carbon chain, while for delta 9 THC, this bond is located at the ninth chain.
This minor difference makes delta 8 THC about 50% less potent than delta 9. It does get you high but less intense. You'd need to consume twice the amount of delta 8 to experience the same intensity of effects as with marijuana.
The cognitive effects of delta 8 THC are more clear-headed and less anxious — that's why many people are turning to hemp-derived delta 8 products these days.
Delta 8 THC comes with similar health benefits to delta 9, including:
Anti-nausea
Anti-inflammatory
Pain relief
Increased appetite
Feelings of calmness and relaxation
Neuroprotection
Is Delta 8 THC Legal in Minnesota?
Yes. Hemp-derived delta 8 THC is legal in Minnesota, making it possible to produce, buy, sell, and distribute delta 8 products in the state.
In 2018, President Trump signed the amended Farm Bill into law, drawing a thick line between hemp and marijuana. Hemp was removed from the list of controlled substances and thus federally legalized.
Shortly after the new law was passed, manufacturers discovered new ways to extract usable amounts of THC isomers from hemp plants, including delta 8 THC.
Since the end product contains less than 0.3% delta 9 THC, it's legal under federal law.
So far, 14 states have banned delta 8 THC products. Fortunately, the Minnesota law follows the rules laid out by the Farm Bill; you can legally buy delta 8 THC in local stores and online.
Benefits of Buying Delta 8 THC Online
The delta 8 THC space is largely unregulated, with no established standards when it comes to manufacturing, lab-testing, and labeling practices.
Many products sold locally are contaminated with harmful additives; some of them also contain significantly more delta 9 THC than legally approved.
If you want to limit bad experiences with delta 8 products, look for a reputable online store.
Buying d8 online instead of locally gives you a better toolset for vetting your suppliers. You can look into third-party lab reports, read customer reviews, learn more about the company from their "About Us" section, or reach out to other users on social media platforms or forums like Reddit.
Online stores also offer lower prices on the same products because they can cut out the middleman. You can save even more money on high-quality extracts by using seasonal discounts, joining reward programs, or signing up for subscription payments.
And nothing can beat the convenience of shopping online. You can compare dozens of different products and their prices without leaving your house — unrestricted by time.
Best Online Delta 8 THC Vendors
You need to have eyes on the back of your head when you shop for delta 8 THC products. With so many points to cross out on the checklist, you may feel overwhelmed during your first purchase.
If you want to take a shortcut, I can recommend the two best brands that I've been using for the past two years. Both companies offer outstanding transparency and come with a reasonable price/quality ratio.
1. Area 52
Get 15% off all Area 52 products. Use code "CFAH" at checkout.
Area 52 specializes in hemp-derived delta 8 THC from pure distillate. The company infuses its extracts into various forms, such as gummies, tinctures, vape carts, and pre-rolled joints. All of its products are rigorously tested in an ISO-certified laboratory for potency and purity.
The Area 52 product line comes with high levels of terpenes; depending on the blend, the effects of these products lean toward creativity and stimulation or deep physical relaxation. The guys at Area 52 use 100% natural ingredients, steering clear of artificial colorings, flavorings, and bleaches.
The company has recently introduced a new line called "real full-spectrum." The collection features CBD oil, CBG energy gummies, CBN sleep gummies, HHC gummies, and delta 8 THC honey sticks.
2. Finest Labs
Finest Labs will be your best bet if you're looking for high-quality delta 8 THC products for beginners. While it doesn't have a store anywhere in Minnesota, you can order from its online store.
Fines Labs offers a humble product selection that consists of vapes, tinctures, and gummies. The gummies are infused with delta 8 THC distillate, but you can also choose from HHC gummies and a special Energy version infused with CBD, CBG, and Vitamin B12.
The company is also one of the most respected manufacturers of terpenes in the United States. It offers pure terpenes or special blends that recreate the effects of specific cannabis strains.
FAQs
Who Can Use Medical Marijuana in Minnesota?
If you want to apply for a medical marijuana card in Minnesota, you must be diagnosed with one of the following conditions:
Cancer
Glaucoma
HIV/AIDS
Tourette syndrome
Amyotrophic lateral sclerosis (ALS)
Seizures
Severe and persistent muscle spasms
Inflammatory bowel disease
Terminal illness with a life expectancy of fewer than 12 months
Intractable pain
Autism
Alzheimer's disease
Obstructive sleep apnea
Post-traumatic stress disorder (PTSD)
Can You Grow Weed in Minnesota?
Home cultivation is banned in Minnesota. You can't grow your own marijuana plants even if you're a medical patient.
Can You Smoke Weed in Public?
No. Medical marijuana patients must consume their medicine on private properties. They can face criminal charges for consuming cannabis in places like school buses, the grounds of schools, correctional facilities, or on the grounds of any childcare facility.
Traveling With Marijuana in Minnesota
You can travel with marijuana in Minnesota only if you have a medical marijuana card and your cannabis comes from a licensed dispensary.
You can't take marijuana outside of Minnesota; doing so will be treated as drug trafficking, which carries a 5-year prison sentence and $250,000 in fines if you're caught with less than 50 kg or fewer than 50 marijuana plants.
Driving under the influence of cannabis is prohibited for both medical and recreational users.
Can You Buy Weed Online in Minnesota?
No, buying weed online isn't an option in Minnesota. If you want to buy cannabis products online, you can choose between hemp-derived CBD and delta 8 THC products.
Is CBD Oil From Hemp Legal in Minnesota?
Yes. The 2018 Farm Bill legalized all hemp derivatives, including cannabinoids, terpenes, flavonoids, isomers, and salts of isomers.
Related: Is CBD Legal in Minnesota?
As long as your CBD oil contains 0.3% or less delta 9 THC by dry weight, you can legally buy it in local stores and from online retailers.
I recommend buying CBD oil online for the same reason I recommend doing so with delta 8 products — a better research toolset and lower prices.
Buying Weed in Minnesota: Bottom Line
Marijuana is legal in Minnesota only for medical use. But even if you're a medical marijuana patient, your product options are limited to non-smokable forms.
You can't grow marijuana, no matter if you're a recreational or medical user. However, you won't be prosecuted for possession if you possess less than 42.5 grams of weed.
So far, the only legal way to enjoy psychoactive cannabinoids is to buy hemp-derived delta 8 THC products. They're legal in Minnesota for adults 21+. Just make sure to buy certified products from reputable stores to make the most out of your experience.