Select CBD Review & Coupon Code (2023 Update)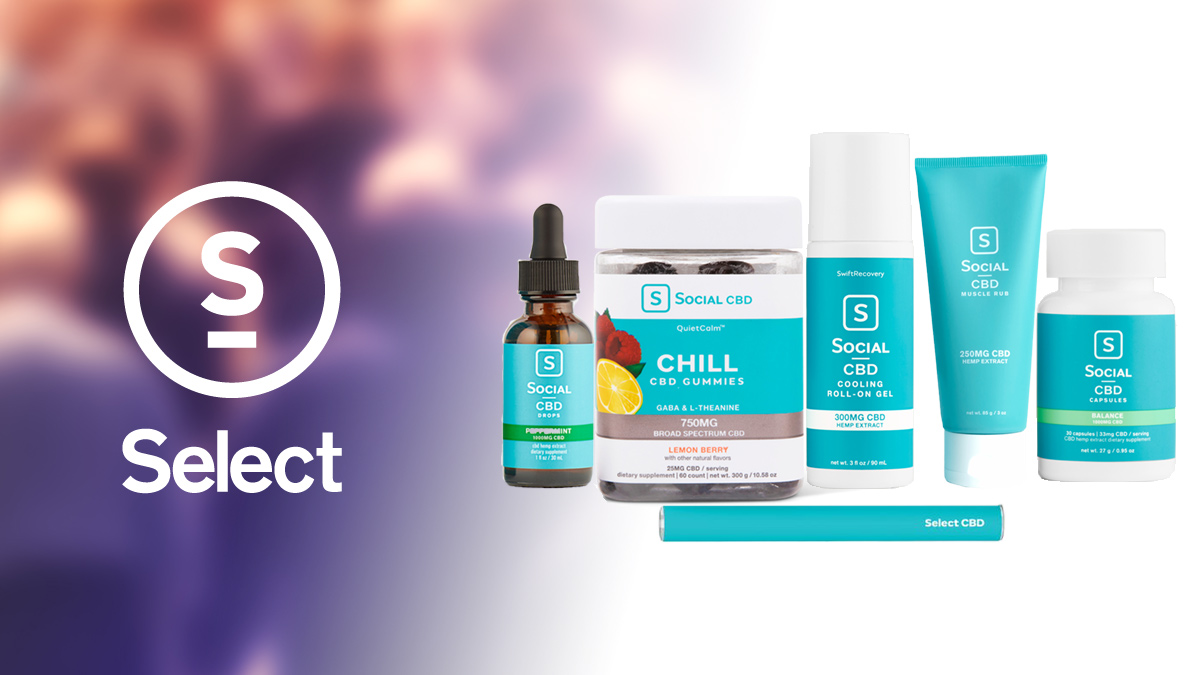 When talking about different CBD brands, people often mention Select CBD as a reliable manufacturer.
Select CBD has recently rebranded to Social CBD, offering products like CBD oil drops, vape pens, capsules, edibles, and creams that can help you address specific health needs.
Continue reading to know if Select CBD is the right brand for you.
About Select CBD
Pros
Cons

High level of transparency
US-grown hemp
Wide range of formulas for each product

No full-spectrum extracts
Lab reports aren't batch-specific
Premium pricing
No educational section
Select CBD has been around on the market for a few years now. While you may think it's a new player in the game, your confusion is likely caused by the company's rebranding in the last year.
Still, a lot of people refer to it as Select CBD, so we'll stick to that name for the purpose of our article (not Social CBD).
Select CBD offers lab-tested products based on broad-spectrum extracts and isolates. Although its products are a bit more expensive than the competition, they offer veteran discounts and special coupon codes for first-time buyers.
Quality & Transparency
Select CBD claims to use US-grown hemp, but there's no information about the exact source. It would be nice to know the state where the company imports its plants from.
We also don't know if the hemp is non-GMO and organic. To learn this, you need to look into the lab reports of each product.
However, the problem with these lab reports is that they're not batch-specific. The customer service sends the batch number via email, but it's yet another step that you need to take before purchasing.
Lawsuits & Warning Letters
Select CBD hasn't received any warning letters from the FDA so far, nor is it facing any lawsuits.
Customer Feedback
Select CBD doesn't have many user reviews of its individual products. However, these reviews are mostly positive, leaving 4 or 5 stars. Customers seem to be satisfied with the company, but compared to many other veterans on the market, the company doesn't receive as much buzz for some reason.
Pricing
Select CBD products are priced at the higher end, so they might be a little expensive for some people's budgets. The prices of its CBD oils range from $23.99 to $128, so at first glance, it might look appealing, but considering the price per mg of CBD, they may be cost-prohibitive for some people in the long run.
Select CBD Product Selection
Select CBD has a wide assortment of broad-spectrum and isolate CBD products, such as:
CBD oils
CBD vape pens
Capsules
Patches
Muscle Rubs
Gummies
Featured Product: Select CBD Drops
| | |
| --- | --- |
| CBD Type | CBD Isolate, Broad-Spectrum CBD |
| Potency | 375 mg – 2000 mg |
| Flavors | Unflavored, Acai Berry, Pomegranate, Blood Orange, Cinnamon Leaf, Vanilla Mint, Meyer Lemon |
| Size | 30 mL |
For this product, you have several options to choose from — starting at 375 mg up to 2000 mg of CBD per bottle.
In terms of flavors, the choice is much broader. There are 9 flavor options available, so if you don't like the natural flavor of CBD oil, the company has got your back.
The drops are made with broad-spectrum CBD or CBD isolate mixed with terpenes and MCT oil. Each bottle has a convenient dropper to make dosing precise and easier.
Select CBD Capsules
| | |
| --- | --- |
| CBD Type | Broad-spectrum |
| CBD Potency | 1000 mg |
| Size | 30 capsules |
| Formulas | Balance, Recover, Boost, Rest, Alert, Relax |
Select CBD softgel capsules are categorized according to the effects they provide.
You can choose from 6 types of capsules: Recover, Balance, Rest, Alert, Boost and Relax. Depending on the selected option, you also support your body with vitamins, antioxidants, and minerals aside from CBD.
Each container contains 30 capsules (33 mg each), with 1000 mg of total CBD.
Select CBD Gummies
| | |
| --- | --- |
| Type of CBD | Broad Spectrum |
| CBD Potency | 750 mg (25 mg per gummy) |
| Size | 30 gummies |
| Flavors | Raspberry, Blackberry Mint, Peach Mango, Lemon Berry |
| Formulas | Original, Chill, Sleep |
Select CBD offers three different formulations of its gummies: original, sleep, and chill.
The original version contains nothing but broad-spectrum CBD and natural flavors, so you can use it for general supplementation. However, if you want to address specific health needs, the Chill and Sleep variants will help you reduce some tension and provide more restorative sleep.
There are 4 flavors to choose from Peach Mango, Lemon Berry, Blackberry Mint, and Red Raspberry. Each version comes with 30 gummies inside, each carrying 25 mg of CBD and terpenes.
Select CBD Vape Pens
| | |
| --- | --- |
| CBD Type | Broad Spectrum |
| CBD Potency | 250 mg |
| Formulas | Relax, Focus, Revive |
| Flavors | Spearmint, Peppermint Cinnamon, Lemon, Grapefruit, Lavender |
| Size | 5 mL |
You can order disposable vape pens from Select CBD. There are three formulas to choose from: Relax, Focus, and Revive.
Each formula contains 250 mg of broad-spectrum CBD infused with botanical terpenes that are responsible for their flavor and effect profile.
For example, the Relax variant comes in the Lavender and Cinnamon flavor; Revive has been infused with Grapefruit and Lemon; The Focus option has pens with the Peppermint and Spearmint flavor.
Select CBD Topicals
| | |
| --- | --- |
| Type of CBD | Isolate |
| Potency | 100 mg – 400 mg |
| Product Types | Muscle Rub, Patch, Lip Balm, Roll-on Gel, Body Lotion, Balm Stick, Muscle Balm, Cooling Spray |
Select CBD stocks several types of CBD topicals, all of which contain 100% natural ingredients that complement the health benefits of CBD.
The company uses a pure CBD extract, so while you won't benefit from the entourage effect, these products have a very nice scent and are super easy to use. Even better, they don't leave a greasy layer on your skin, unlike many handmade CBD topicals.
Unfortunately, there are no high-strength options in this line-up. The strongest product — CBD Muscle Balm Stick — contains 400 mg of CBD per container.
Select CBD for Pets
| | |
| --- | --- |
| CBD Type | Broad Spectrum |
| CBD Potency | 500 mg – 750 mg |
| Flavors | Unflavored, Bacon, Peanut Butter, Chicken |
Select CBD has special oil drops for pets that come in appealing flavors, such as Bacon, Peanut Butter, and Chicken. However, if your pet likes the hempy flavor of natural CBD oil, you can also order an unflavored version of their CBD oil for dog pets.
These oils are better suited for medium-sized and large dogs, with up to 750 mg of total CBD. Owners of cats and smaller breeds may find this product difficult to dose.
The formula contains a broad-spectrum CBD extract, meaning that your pet can benefit from some of the entourage effects despite the lack of THC.
Select CBD also offers a balm for pets with 200 mg of CBD per stick. The product is formulated with lick-safe, moisturizing ingredients to help soothe various skin problems.
Pros & Cons of Select CBD
Let's summarize what Select CBD does well, and where the company could improve.
The Pros
Transparency
Select CBD broadly describes its production process, from extraction to third-party testing and packaging. You can easily access the certificates of analysis by scanning the QR code attached to each product.
Discounts
Although Select CBD has high prices on its products, it offers coupon codes with a 15% discount for the first order. And, if you're a veteran, you can use the courtesy of the company's discount program.
The Cons
Lab Reports Aren't Batch-specific
The problem with the certificates of analysis from Select CBD is that there is no batch number attached to the lab report. This makes it difficult to verify if the report relates to the current product batch. You need to contact the company's customer service for this kind of information.
Vapes Are Out of Stock
Vapes are among the best-selling products in Select CBD's collection, so it's a shame they're often out of stock. The company has promised to fix that situation soon and prevent future shortages.
Lack of Full-Spectrum CBD Oils
This is our biggest caveat with Select CBD. Their collection of oils doesn't include full-spectrum extracts, which are considered the most beneficial and thus most desired among CBD users.
No Educational Section
The majority of reputable CBD brands have blogs and educational sections where they share valuable insights about their products and the health benefits of CBD. This way, consumers can educate themselves about cannabis and
Best Alternative Options to Select CBD
If Select CBD's assortment doesn't appeal to you, here we present our top 3 alternative choices. Each brand from this list makes organic extracts that feature full-spectrum CBD, broad-spectrum CBD, and isolates. All of their products are thoroughly tested in third-party lab reports for potency and purity.
Pros
Cons

Organic, US-grown hemp
Supercritical CO2 extraction
Broad product range
High-strength options are available
Well-designed formulas
Flavored with natural ingredients
Complete third-party testing profile
30-days Money Back Guarantee

A little bit more expensive than the market's average (but still worth the price)
Not available locally
Royal CBD specializes in high-quality hemp extracts in a wide range of formats, including:
CBD oil
CBD capsules
CBD gummies
CBD honey sticks
CBD topicals
CBD for pets
The company sources its hemp from Colorado; these plants are non-GMO and pesticide-free, which is proven by third-party lab reports. The lab analysis includes results for cannabinoids, terpenes, and potential contaminants.
Royal CBD provides the best CBD oil for pain and has been mentioned several times in reputable online magazines, such as LA Weekly, SF Weekly, High Times, Observer, and We Be High.
Pros
Cons

Organic hemp from California
CO2 extraction
Infused with superfoods
Full-spectrum and broad-spectrum CBD
Up to 2500 mg of total CBD
Flavored with natural ingredients
Pet products
30-day Money Back Guarantee

Limited potency options
No isolate-based products
Before entering the CBD space, Gold Bee had been making superfoods, such as organic raw honey and coconut oil, which they use for their CBD-infused honey straws. After transitioning to the hemp market, they have translated the same philosophy into their CBD products.
Gold Bee offers mostly full-spectrum products, but you'll also find broad-spectrum extracts in its collection.
You can choose between the following forms of CBD:
CBD oil
CBD capsules
CBD gummies
CBD honey sticks
CBD roll-on
CBD for pets
Similar to Royal CBD, Gold Bee double-tests its products in an ISO-certified laboratory for quality and safety.
3. CBDPure
Pros
Cons

Organic hemp from Colorado
Full-spectrum products
Well-thought-out formulations
90-day Money Back Guarantee
One of the pioneer brands in the USA

Narrow product range
Lack of flavored products
Premium pricing
CBDPure blazed the trail for other CBD manufacturers in 2014. Since then, the company has become one of the most reputable suppliers in the USA. However, unlike many other pioneers, CBDPure doesn't offer a broad selection of products, but rest assured that they offer top-quality products, like their premium CBD capsules.
Instead, the company focuses on mastering their classic formulations, including:
CBD oils
CBD capsules
CBD cream
CBD for pets
All products are made from organic hemp grown in Colorado, extracted with supercritical CO2, and third-party lab tested for CBD and contaminants.
CBDPure is also one of the most transparent brands in the US, broadly describing every step of its production process, from farming to packaging.
Even if you're not satisfied with these products, you can use a 90-day Money Back Guarantee and receive a full refund for your product. That says a lot about CBDPure's confidence in its products.
Final Verdict: Does Select CBD Live Up to the Hype After Rebranding?
We took some time to review Select CBD products, and we feel that the brand doesn't live up to its full potential.
While its broad-spectrum and isolate-based products are of high quality, the company lacks full-spectrum options for those who would like to benefit from the full entourage effect.
The lab reports, while complete, don't refer to the specific batch. You need to contact the brand's customer service for exact information.
For those seeking greater product diversity and higher transparency standards, brands like Royal CBD, Gold Bee, and CBDPure offer decent alternatives at very similar — sometimes even lower — prices than Select CBD.