Sol CBD Review & Coupon Code (2023 Update)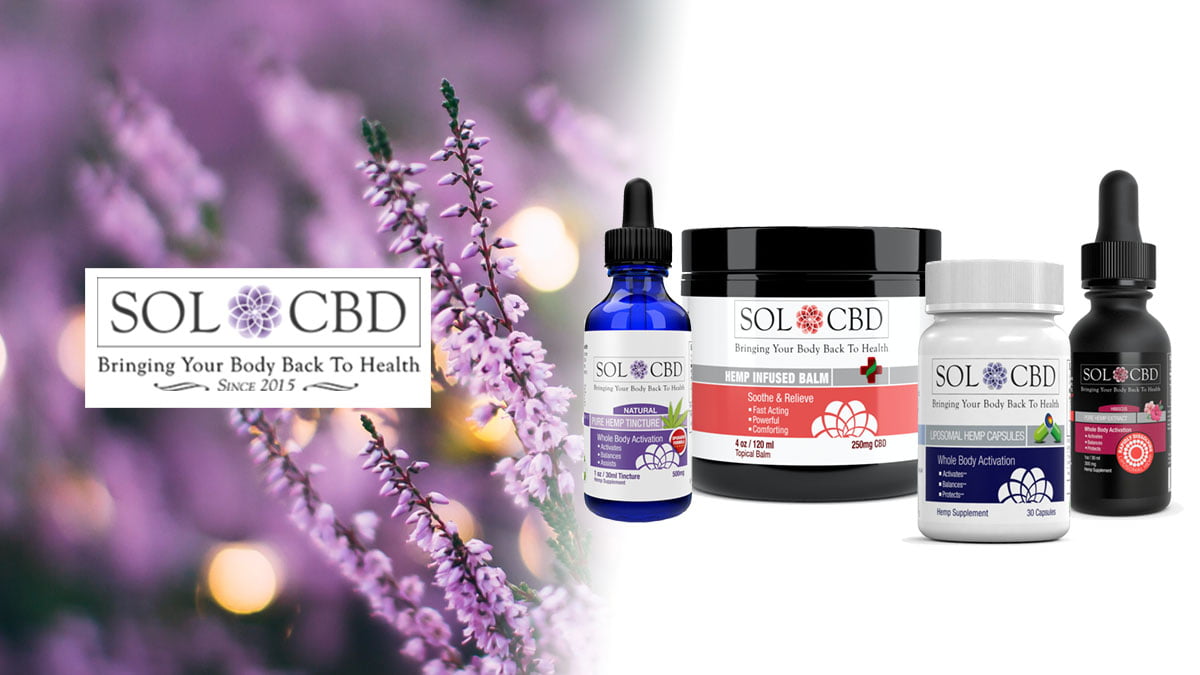 Sol CBD is a company created by a couple named Oksana and Larry Ostrovsky. While the founders don't share many details about themselves, their company is among one of the best brands of CBD on the hemp market.
Sol CBD has been operating in the CBD scene for quite some time — 8 years to be precise. Transparency and fairness are the backbones of the company's activity.
Although Sol CBD has quite expensive products, there's a good reason for that; namely, its liposomal line of CBD oils for humans and pets.
Today, I've prepared a complete review of Sol CBD, including basic information about the brand, its product lineup, pros and cons, and alternative recommendations.
Sol CBD Review: Highlights
Pros
Cons

Liposomal CBD
Full-spectrum products
Contribution to the cannabis community

Humble product selection
No gummies and vapes
Limited information on product pages
Only ships within the USA
Sol CBD: A Brief Overview of the Company
Sol CBD is an innovation-focused company that is pushing its limits by incorporating quality-focused practices in its production processes. As a high integrity brand that strives to enhance the overall state of the CBD market, it uses organic hemp, CO2 extraction, and Miron glass to ensure the highest quality of its products.
Here I elaborate on each quality criteria I've taken into account when preparing my Sol CBD review.
Quality & Transparency
Sol CBD sources its hemp from organic farms in Colorado, where farmers cultivate the plants in clean soil and without pesticides, herbicides, and chemical fertilizers. Non-GMO and pesticide-free hemp ensures CBD-rich sourcing material that doesn't require further refinement.
Once matured and harvested, the Sol CBD hemp travels to its state-of-the-art extraction facility, where lab workers treat it with CO2 to strip the beneficial compounds from the plant matter in a safe and environmentally friendly way.
As for the quality assurance, Sol CBD provides extensive lab reports from a third-party laboratory, including the potency of CBD, complete cannabinoid and terpene profile, and results for contaminants, such as pesticides, heavy metals, mycotoxins, and solvents.
Warning Letters & Lawsuits
Some CBD companies have received warning letters from the FDA in the past due to making unsupported health claims. The FDA cracks down on companies that use such practices because hemp-derived CBD is classified as a novel drug and thus the agency claims little is known about its medical use in certain conditions (from the clinical standpoint).
Fortunately, Sol CBD hasn't received any warning letters from the FDA, nor does it have a history of lawsuits for selling mislabeled or contaminated products. This fact only adds more transparency to the company.
Certifications
As one of the few CBD companies, Sol CBD is officially certified by the United States Department of Agriculture (USDA) as organic.
This means that Sol CBD products are all-organic, including the hemp and other ingredients in its formulations.
That's also a good indicator of the company's dedication to quality, as USDA certifications are expensive and time-consuming.
Customer Service
Sol CBD has responsive customer service that you can reach out to email (support@solcbd.com) or phone 1-800-413-5420 for questions. Discount coupons for Sol CBD products are available on the company's website. Sol CBD offers a 60-day return policy and a money-back guarantee, meaning you'll receive a full refund for your product if you're not satisfied with it.
Pricing
The prices of Sol CBD products are on the expensive side due to the unique liposomal technology the company employs in the manufacturing process. Liposomal CBD allegedly improves the absorption of CBD molecules but also requires greater financial investments. The cost of Sol CBD products ranges from 447 for Liposomal CBD Oil for Dogs and Cats to $327 for 4000 mg CBD tincture.
Sol CBD Product Range
Sol CBD has a similar product policy to CBDPure and other pioneering companies that focus on mastering their current formulations instead of rushing new formats for the sake of capitalizing on CBD trends.
If you're new to CBD, that's good because you won't get confused with the abundance of different products. But, if you're a seasoned user, you may not like the fact that the company is lacking gummies, vapes, roll-ons, and other popular forms of CBD.
Sol CBD Tinctures
| | |
| --- | --- |
| Type of CBD | Full Spectrum |
| CBD Potency | 300 mg – 4000 mg |
| Flavors | Unflavored, Cinnamint |
| Formulas | Regular, High-Strength, Sleep |
Sol CBD offers three types of CBD tinctures — each dedicated to different types of consumers.
For example, the 500 mg formula contains full-spectrum CBD suspended in MCT oil for higher bioavailability; it's a typical product for general supplementation because every milliliter comes with approximately 16 mg of CBD. You can buy it in an unflavored version or a cinnamint flavor.
The Sleep CBD Tincture is even less potent, carrying 300 mg of CBD. However, the product also relies on other supportive ingredients, such as GABA, 5-HTP, Melatonin, Valerian Root Powder, and Passion Flower Extracts — all of which are known for their sleep-inducing effects.
If you're looking for a real high-strength CBD oil, the 4000 mg tincture will be your best bet. At 120 mg of CBD per mL, it's enough to help you with serious discomfort, severe stress, inflammation, sleep deprivation, and other bugging symptoms. It's also the most expensive product in the Sol CBD line-up, but if you don't use much CBD oil, one bottle can last you for months to come.
Sol CBD Liposomal Oil
| | |
| --- | --- |
| Type of CBD | Full Spectrum |
| CBD Potency | 300 mg |
| Flavors | Hibiscus |
| Size | 30 mL |
The Liposomal CBD oil from Sol CBD is the most innovative product in the company's line-up. Sol CBD has almost patented its special liposomal manufacturing process and even funded a study that measured the bioavailability of liposomal CBD oil.
As it turns out, the absorption rate of liposomal CBD is 17 times higher than that of regular CBD oils. It's even higher than smoking.
That being said, I'd like to see some independent studies on this subject that would declare no conflict of interest. It's not that I don't believe the results, but some people can get skeptical — especially when they see 300 mg of CBD for almost twice as much they pay for 500 mg of regular full-spectrum CBD oil that has been quite well examined in the scientific literature.
Sol CBD Capsules
| | |
| --- | --- |
| Type of CBD | Full Spectrum |
| CBD Potency | 100 mg per capsule |
| Size | 30 capsules |
These capsules are a great pick for people who don't like the taste of full-spectrum CBD oil but want to reap the benefits from the entourage effect while delivering a decent dose of CBD to their system.
Each capsule contains 100 mg of liposomal CBD in the whole-plant form and 25 mg of isolate. Other ingredients include non-GMO dextrin, non-GMO sunflower lecithin, and cellulose. Keep in mind that these aren't softgel capsules, so you may need a larger amount of water to swallow them.
Sol CBD Topicals
| | |
| --- | --- |
| Type of CBD | Full Spectrum |
| CBD Potency | 30 mg – 250 mg |
| Formulas | Herbal Balm, Extra Care, Nourish |
Sol CBD offers three types of topicals:
CBD Herbal Balm: with 250 mg of CBD
CBD Extra Care: with 50 mg of CBD
CBD Nourish: with 30 mg of CBD
The CBD herbal balm is the go-to topical if you're looking for therapeutic effects of CBD on the affected area. On top of 250 mg full-spectrum CBD, the formula includes lemon peel essential oil, rosemary leaf extract, eucalyptus essential oil, sunflower seed oil, and terpenes.
The other two products are dedicated to everyday skincare due to a very small amount of CBD (30–50 mg). For example, the CBD Extra Care lotion is supposed to help with wounds, cracked skin, and breakouts, while the Nourish lotion balances, softens, and moisturizes the skin.
Sol CBD for Dogs & Cats
| | |
| --- | --- |
| Type of CBD | Full Spectrum |
| CBD Potency | 250 mg |
| Flavors | Salmon |
| Size | 30 mL |
Sol CBD caters to our four-legged friends with its Liposomal CBD Oil for Dogs and Cats. This formula contains 250 mg of full-spectrum CBD, so your buddy is getting the entire range of cannabinoids and terpenes that work synergistically to facilitate more efficient absorption of CBD.
One thing that concerns me about this product — compared to the human version — is its strength. Dogs and cats are much smaller than humans (even large breeds), so if humans receive a product that is only 50 mg stronger, there's either something wrong with the liposomal technology or the oil is super affordable.
Anyway, according to the reviews posted by Sol CBD users on its website, the product works well for both our canine and feline friends.
The Pros & Cons of Sol CBD
Sol CBD is a decent company that combines high transparency levels with innovative manufacturing methods. That being said, it's not a brand without flaws. Let's take a look at where Sol CBD shines and where it could improve.
The Pros
Liposomal CBD
Liposomes protect, transport, and release the active compound in your supplement at the right place and time. Thanks to this, a lower dose may achieve better efficacy and avoid side effects compared to regular forms of CBD.
Although the subject of liposomal CBD is relatively new and needs to be researched using larger groups of people, it's good to see more companies jumping on this idea and providing diversity not only when it comes to different routes of administration.
Full-spectrum Products
Full-spectrum CBD is superior to broad-spectrum and isolate-based products because it evokes the entourage effect.
The entourage effect is a biological phenomenon where all phytochemicals from hemp, including cannabinoids, terpenes, and flavonoids, create a synergism that allows the body to process CBD more efficiently.
Contribution to the Cannabis Community
Sol CBD has a very impressive record of donations to different charities working for cannabis reforms and beyond.
As of today, Sol CBD supported 241 veterans and 252 low-income households, donated 162 bottles of CBD oils, and transferred $16,175 to charities.
That's what I mean when I'm saying CBD companies should give back to their communities.
The Cons
Humble Product Selection
Much as I admire Sol CBD's dedication to quality and transparency, I wish the company did more in terms of broadening its product selection. Currently, Sol CBD doesn't offer much more than CBD tinctures, capsules, topicals, and pet products — so if you already have some experience with CBD, the liposomal collection is the only novel line that you could try.
No Gummies and Vapes
Speaking of a limited product line-up, the lack of CBD gummies and vapes is quite strange, especially since Sol CBD has no problems diving into novel technologies like liposomes. I hope the guys at Sol CBD will work on the said formats soon.
Limited Information on Product Pages
Sol CBD likes to elaborate on its nanotechnology and liposomes, which is good because new users may get confused by these fairly recent concepts. That being said, I think too much focus is being put on this aspect, while we can learn very little about the ingredients, their properties, directions for use, etc.
Sol CBD could do better when it comes to product descriptions.
Only Ships Within the USA
Using its liposome technology, Sol CBD could conquer foreign markets such as Europe or Asia, where the CBD scene isn't as developed yet as here in the USA. Unfortunately, the company's products are available only within the US. On a positive note, Sol CBD ships to all 50 states.
Alternative Options to Sol CBD
Here are my two favorite brands that I've chosen as alternative options to Sol CBD in this review. Both companies use organic hemp, CO2 extraction, and provide complete certificates of analysis from third-party laboratories — with a slightly broader product range.
Get 15% off all Royal CBD products.  Use code "CFAH" at checkout.
Pros
Cons

Organic, US-grown hemp
Supercritical CO2 extraction
Broad product range
High-strength options are available
Well-designed formulas
Flavored with natural ingredients
Complete third-party testing profile
30-days Money Back Guarantee

A little bit more expensive than the market's average (but still worth the price)
Not available locally
Royal CBD is a Nevada-based company that specializes in full-spectrum and broad-spectrum CBD products from organic hemp. The company started in 2018 when a team of biohackers and hemp aficionados partnered to leverage the market standards after witnessing too much mediocrity.
You can choose from the following products:
CBD oils
CBD capsules
CBD edibles

CBD gummies
CBD honey sticks

CBD topicals
CBD for pets
Royal CBD uses the supercritical CO2 method to make all its products. Every batch is rigorously tested in an ISO-certified laboratory for their cannabinoid and terpene profiles, as well as for potential toxins, such as pesticides, herbicides, heavy metals, microbial impurities, and solvent residue.
Pros
Cons

Organic hemp
CO2 extraction
Infused with superfoods
Full-spectrum and broad-spectrum CBD
Up to 2500 mg of total CBD
Flavored with natural ingredients
Pet products
30-day Money Back Guarantee

Limited potency options
No isolate-based products
Gold Bee is another high-quality brand that combines organic ingredients with innovative formulas infused with superfoods such as raw honey and organic coconut oil.
On top of a broad CBD range, Gold Bee also offers Kava Kava extracts and CBN sleep products.
You can order both traditional and novel forms of CBD, including:
CBD oils
CBD softgel capsules
CBD edibles
CBD roll-on stick
CBD for pets
Like Royal CBD, Gold Bee tests its entire collection in a third-party laboratory. You can access the certificates of analysis directly on the company's website.
Final Verdict: Sol CBD Is a Trustworthy Brand that Could Benefit Even More from a Greater Product Diversity
Sol CBD is one of the few companies that offers USDA-certified organic products and uses liposome technology for making its unique CBD extracts.
However, I'd like to see more diversity in its product range. If Sol CBD added gummies and vapes to its line-up, it would be hands down my favorite company. As of today, it's in my Top 5.
If you're looking for CBD brands that offer similar quality to Sol CBD, but with more different formats to choose from, compare the Sol CBD products with the ones offered by Royal CBD and Gold Bee to see what works best for you and make an educated decision.