Xoth Nutrition CBD Review & Coupon Code (2023 Update)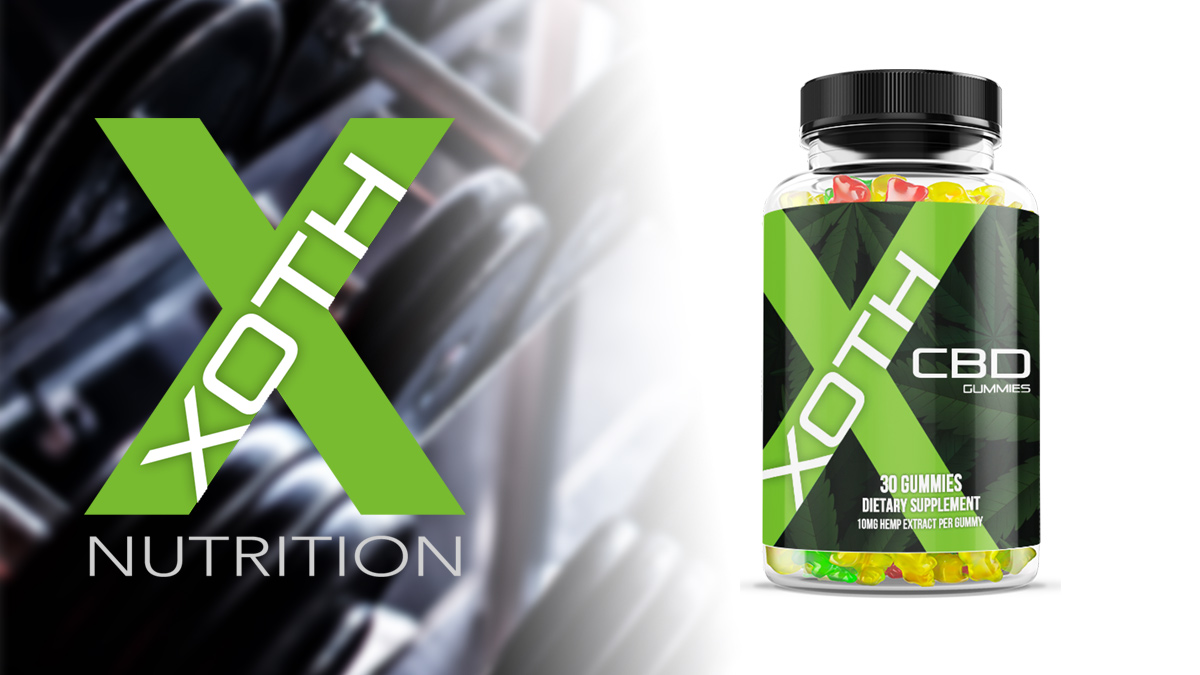 Xoth Nutrition is a suspicious vendor that advertises itself on social media as "committed to maintaining the highest-quality products and the utmost integrity in business."
Something which should be at the core of every CBD company out there.
But, truisms aside, Xoth Nutrition seems to believe that its CBD gummies can cure a wide range of health conditions — making unsupported claims about the benefits of this product.
Is this brand even real?
I doubt it, considering its website — or lack thereof — and several red flags that caught my attention, I believe this company may be a rip-off.
Here's what you need to know.
Who Is Xoth?
Xoth Nutrition is an American company that offers pure CBD gummies made from US-grown hemp.
Much as I'd like to tell you more about this brand, the Internet is completely silent.
All I could find was a bunch of similar reviews that looked as if they were written by the same person and then handed over to several writers to copy these reviews using slightly different words.
With so little information about Xoth Nutrition, questions about its credibility may arise.
Is Xoth Nutrition Legit Or A Scam?
In my opinion, Xoth Nutrition is a scam — and one of the most obvious ones.
Sometimes, scam companies make an effort to look legitimate and make an impression that they actually offer high-quality goods.
Others, however, don't even bother to make appearances — Xoth Nutrition is one of such brands.
As mentioned, the company doesn't even have its own website; when I was searching for any valuable information on Google, all I could find was some suspiciously looking websites disguised as press magazines — with links and banners to Xoth CBD Gummies.
When you go further down the rabbit hole, things start to get even worse.
In the next section, I expose every red flag I've spotted with Xoth Nutrition, from uncovering the mechanisms behind the scam to reviewing the company's social media profiles and customer feedback.
Type of Scam: Fake CBD Company
Xoth Nutrition is a fake CBD company that has no mentions on the web from third-party websites. There are also no real reviews from customers who have tried the Xoth CBD gummies.
The Xoth Nutrition website was previously run on a simple Google builder — without its own domain.
Today, the server's address spits out the 404 Error message — a clear indicator that the website either doesn't exist or is going through a makeover.
The company's Facebook page links to a couple of the aforementioned fake reviews, so you actually can't learn anything valuable about Xoth Nutrition and its products.
How This Scam Works
Fake CBD companies leverage the popularity of CBD products. Since CBD oils and gummies are in high demand, manufacturers want to get their fair share of the hemp cake.
However, not all companies put equal efforts into making their products. Some of them will lure you with unrealistic claims that CBD can cure chronic diseases. Others will use simple tricks like "rush your order before it runs out of stock," "100% natural," "no side effects," etc.
Xoth Nutrition does a little bit of both.
How to Spot This Scam
While some scam CBD companies are difficult to spot, others give you tell-tale signs right off the bat.
Here's how I know Xoth Nutrition is a fake CBD brand.
No Official Website
That's the first thing I've mentioned in this Xoth Nutrition review. Don't you find it strange that a company that claims to deliver the highest-quality products and business integrity doesn't even know how to set up a website — or to keep it running once it does?
Another shady practice is that the Xoth Nutrition Facebook page redirects you to another fake website with the company's gummies review. The review is written in a very bad style, with a lot of grammatical errors and awkward wording.
Not to mention that every page that has a review of Xoth Nutrition is full of salesy banners and suspicious links.
Low-Quality Images
Reputable companies invest a lot of money in high-resolution images, user-friendly interface, and other features that make shopping easy and enjoyable. Scammers such as Xoth Nutrition don't even care to pretend that they have your interest in mind. They use shockingly low-quality images as if the page was running during the early 2000s.
Misspelled Copy
Another sign that you're dealing with a fake CBD company is the low quality of its website copy. As mentioned above, the Xoth Nutrition LinkedIn page — the only legit page where you can read about the company and its product — is full of misspelled text; some of the sentences don't even make sense; let alone inch-deep phrases like "100% pure CBD extract," "Make out the purchase today," and fake user testimonies.
Fake Presence On Social Media
When you see a company being present on virtually every social media platform, it puts you under the impression that you're looking at a trustworthy vendor. However, it's important to look at the content posted by these profiles. When you examine the content posted by Xoth Nutrition, you'll see that it only publishes ads and fake reviews of its products.
No Information About the Company
That's another red flag and a sign that your vendor isn't transparent about its activity in the hemp industry. None of the websites that feature Xoth Nutrition products contain information about the brand, the source of hemp, extraction methods, lab testing, and other details that would enable you to verify the quality of its products and services.
No Product Display
Usually, when you shop for CBD online, you'll see a separate "Shop" section with different product categories. Xoth Nutrition doesn't have such a page. Instead, the company uses the copy from the main landing page to persuade potential customers to rush their orders before Xoth CBD Gummies disappear from the stock. The truth is, these gummies might as well not exist.
No Lab Reports
CBD is an unregulated market, so it's the manufacturer's responsibility to ensure that its products are of the right quality and safety standards. Reputable companies test their products in third-party laboratories for potency and purity, including the results for pesticides, heavy metals, solvents, and mycotoxins.
Xoth Nutrition doesn't provide any lab reports that would confirm the ingredients used in its gummies. As I said, considering that the company has no official website and doesn't post real pictures of its gummies, I doubt this product is actually for sale.
And even if it is, who knows what's inside?
Aggressive Ads From Suspicious Websites
The language of benefits is important because it focuses on the strengths of a particular product — highlighting why you should buy it.
However, there's a world of difference between using the language of benefits and just being salesy.
The entire website is built around convincing you to "rush your order" and providing the company with your personal and financial information.
The only mentions about Xoth Nutrition come from suspiciously looking websites that contain strikingly similar articles. Most likely, they've been written by one person and then rewritten by a group of writers for multiple websites — just to rank high for popular phrases, such as "the best CBD oil" or "the best CBD gummies."
Fishy Checkout Page
The checkout page of Xoth Nutrition is actually the most bugging thing that I've noticed when browsing its website. The company claims to offer CBD gummies, but once you click on one of the "rush your order" links, it will take you to a different landing page with three options of a completely different product. The target website sells CBD oils, which is — least to say — confusing.
No Real User Reviews
Legitimate CBD brands have plenty of reviews on their own websites as well as on third-party rankings, blogs, niche forums, and social media. For Xoth Nutrition, the number of reviews is… ZERO.
Yes, the company doesn't have a single review of its products — hitting the final nail to the coffin of its credibility.
Alternative Options to Xoth Nutrition
CBD scams are quite common in the space, which is true for many in-demand products. Fortunately, there are just as many trustworthy, and reputable CBD suppliers that pay great attention to details.
Among them are my top 3 favorite companies:
Royal CBD
Gold Bee
CBDPure
Below I elaborate on each of these brands, highlighting their pros, cons, and product ranges.
Pros
Cons

Organic, non-GMO products
Supercritical CO2 extraction
Sustainable farming
High-potency products available
Natural flavorings
Free shipping
User-friendly website

Limited product range (but convenient for new users)
Not available locally
Royal CBD is an artisan company specializing in full-spectrum CBD extracts from US-grown hemp. The brand also has broad-spectrum and isolate-based products in its line-up, including:
CBD oils
CBD capsules
CBD edibles
CBD topicals
CBD for pets

CBD pet oil
CBD dog treats
These CBD products are available in various potencies, formulas, flavors, and sizes to match different health needs and lifestyles. Whether you're just getting started or looking for a new CBD provider, the Royal CBD store is a good place to stop by.
Royal CBD's hemp is non-GMO and comes without pesticides, heavy metals, and microbial contaminants. This is proven by third-party lab analysis. Royal CBD provides batch-specific lab reports with complete results on request; you need to email the company with your product batch number.
Pros
Cons

Organic hemp from California
CO2 extraction
Infused with superfoods
Full-spectrum and broad-spectrum CBD
Up to 2500 mg of total CBD
Flavored with natural ingredients
Pet products
30-day Money Back Guarantee

Limited potency options
No isolate-based products
Gold Bee is a smaller company than Royal CBD, but it's hands down one of the best brands if you're looking for all-organic CBD products. Better yet, these craft extracts are also infused with superfoods such as raw honey and coconut oil, which you can find in all of their products including their very own CBD-infused honey straws.
Gold Bee has partnered with local farmers to create its proprietary blend of CBD-rich strains that also boast exceptional terpene profiles. This way, the company can enhance the entourage effect in its products.
Speaking of which, you can choose from the following forms of CBD:
CBD oil
CBD capsules
CBD edibles

CBD gummies
CBD honey sticks

CBD roll-on
CBD for pets

CBD pet oil
CBD dog treats
Similar to Royal CBD, Gold Bee tests every product batch in an ISO-certified laboratory for quality and safety. You can view the lab reports directly on the Gold Bee website.
3. CBDPure
Pros
Cons

Organic hemp from Colorado
Full-spectrum products
Well-thought-out formulations
90-day Money Back Guarantee
One of the pioneer brands in the USA

Narrow product range
Lack of flavored products
Premium pricing
CBDPure entered the market in 2016 during the biggest boom on CBD products. It's also one of the few companies that have managed to uphold their reputation once the dust and hype have settled.
However, unlike other pioneering brands, CBDPure hasn't evolved much in terms of product diversity. Instead, the company focuses on mastering its classic formulas, including:
CBD oil
CBD cream
CBD for dogs
While CBDPure doesn't offer the broadest product range out there, it's one of the best picks for new users who are looking for organic, unadulterated CBD oils.
Final Verdict: Xoth Nutrition Is A Fake Company. The Gummies Aren't Real Too — Don't Fall for This Scam
Xoth Nutrition claims to make the highest-quality CBD products and maintain business integrity, but in fact, it's a 100% scam that is mooching on the lack of awareness among people who have just jumped on the CBD bandwagon.
From the lack of a website to low-quality images, poor copy, salesy ads, and a fishy checkout page — this company is far from being legitimate.
If you're looking for high-quality CBD products that are tested in terms of their potency and purity, check out my recommendations — or do your own research. Should you choose the latter, make sure to be meticulous to the bone. You can never be too cautious when it comes to your health.