Full-Spectrum CBD Oil: What Is It and How Does It Work?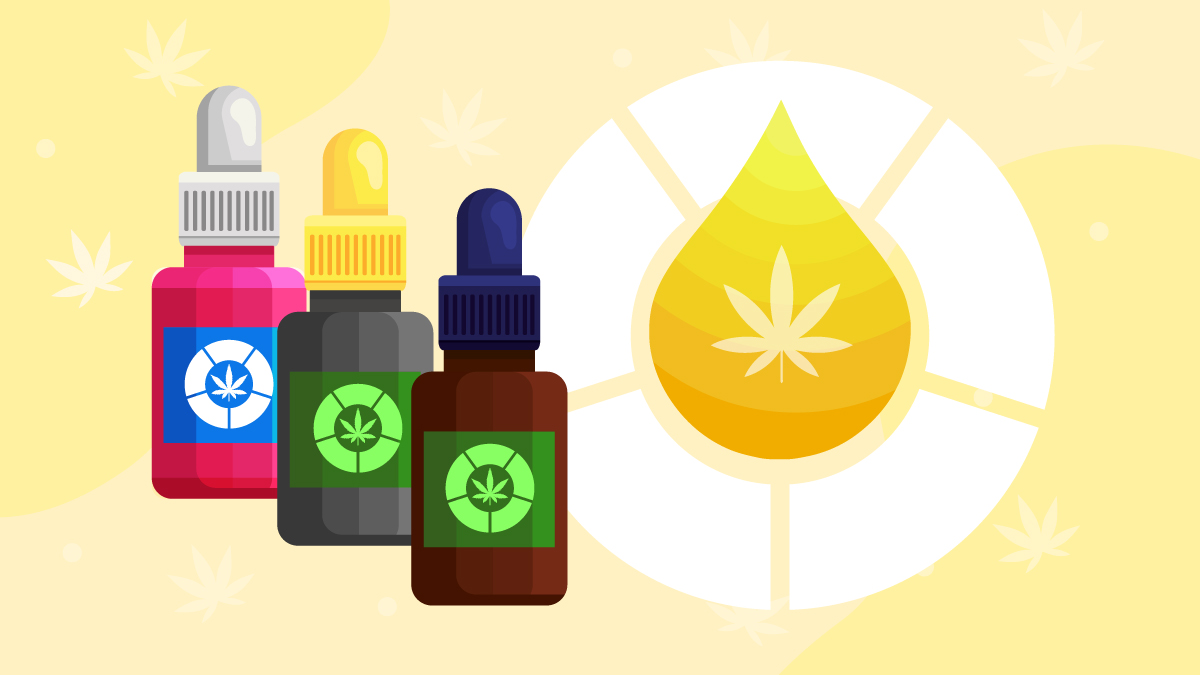 Full-spectrum CBD oil is the most desired form of CBD among consumers.
It reflects the original profile of the hemp plant, evoking a phenomenon known as "the entourage effect." Studies have found full-spectrum CBD to be more effective than its processed counterparts, such as broad-spectrum CBD and isolates.
People use full-spectrum CBD oil to alleviate a wide range of ailments as well as for symptom control. Many users decide to incorporate full-spectrum CBD into their routine to support the proper functioning of the endocannabinoid system (ECS).
Today, we explain the ins and outs behind full-spectrum CBD products — comparing them with other types of CBD and their effectiveness.
What Does Full-Spectrum CBD Oil Mean?
Full-spectrum CBD oil refers to a hemp extract that contains all naturally occurring compounds in hemp. Full-spectrum CBD is also known as whole-plant CBD.
There are over 400 chemical compounds in cannabis plants. Over 100 of them are classified as cannabinoids, which are the active ingredients responsible for the therapeutic properties of hemp and marijuana.
Full-spectrum CBD oil is the most complete version because it even contains trace amounts of THC.
Here's a more detailed overview of the basic cannabis formats.
Types of CBD Oil
As mentioned earlier, there are three main types of CBD oil: full-spectrum, broad-spectrum, and isolate.
Below we highlight the differences between them.
Full-Spectrum
Full-spectrum CBD contains cannabidiol and other cannabinoids found in hemp — including trace amounts of THC. It also features terpenes, flavonoids, vitamins, minerals, and essential fatty acids contained in the plant's waxes. As we said, this is the most complete type of all CBD oils because it creates the entourage effect and allows the body to process CBD more efficiently. Full-spectrum CBD looks like a dark, viscous liquid that has a botanical aroma and the same flavor. It is then suspended in a food-grade carrier oil for faster absorption and more effective delivery.
Broad-Spectrum
Broad-spectrum CBD is almost the same as full-spectrum CBD — except for its THC content. The THC is removed after initial extraction, leaving behind CBD, minor cannabinoids, terpenes, and flavonoids so that the user can benefit from some of the entourage effects.
Isolate
CBD isolate is exactly what it sounds like — pure CBD. The cannabinoid is separated from the other compounds using winterization and fractional distillation. CBD isolate takes the form of white crystals and is usually turned into powder; a powdered form allows the manufacturer to infuse it into a wide range of products, including tinctures, edibles, capsules, vapes, and topical products.
Although CBD isolates may appeal to certain users due to being flavorless and odorless, they only offer the health benefits of CBD. Some cannabis experts argue that isolated compounds can't use the full potential of cannabis unless they are combined with other cannabinoids and terpenes.
Comparison Chart of Full-Spectrum CBD, Broad-Spectrum CBD, and Isolates
| | | | |
| --- | --- | --- | --- |
| | Full-spectrum CBD | Broad-spectrum CBD | Isolate |
| CBD | Yes | Yes | Yes |
| THC | Yes (0.3% or less) | No | No |
| Minor cannabinoids | Yes | Yes | No |
| Terpenes | Yes | Yes | No |
| Smell & Flavor | Botanical smell and earthy taste | Botanical smell and earthy taste | No |
| Entourage Effect | Yes (Full) | Yes (Partial) | No |
Does Full-Spectrum CBD Have THC?
Yes, full-spectrum CBD has trace amounts of THC. However, the concentration of THC in full-spectrum CBD oil is no more than 0.3%.
Such small amounts won't get you high and also make full-spectrum CBD oils legal on a federal level.
That being said, even trace amounts of THC can increase the therapeutic potential of CBD oil, so if you aren't allergic to other hemp compounds and don't mind taking traces of THC along with your product, full-spectrum CBD oil is the best option in terms of efficacy.
Is Full-Spectrum CBD Legal?
There are two types of full-spectrum CBD depending on the plant that it was sourced from.
Marijuana-derived CBD is legal only in certain states because the federal government still classifies it as a Schedule 1 substance.
Hemp-derived CBD is federally legal due to its extremely low THC content. You can buy them online from any state and have them delivered to your house just like any other health supplement.
Can Full-Spectrum CBD Show Up on a Drug Test?
This is a common concern among CBD users. While drug tests don't look for CBD, full-spectrum CBD oils contain trace amounts of THC.
The question is: can you fail a drug test using full-spectrum CBD oil?
Not really, unless you take around 1900 mg of full-spectrum CBD daily.
However, since the market is unregulated, there are a lot of poor-quality CBD products on the market, and some of them can be contaminated with significant amounts of THC.
If your product has more than 0.3%, not only can it make you fail a drug test, but it's also illegal on a federal level.
The best way to ensure that the THC content of your full-spectrum CBD oil is below 0.3% is to read a Certificate of Analysis from third-party lab testing. Third-party laboratories offer unbiased insight into the product's chemical makeup because they aren't affiliated with the manufacturer.
A lab analysis should provide the results for the product's potency, its THC content, and the presence of common contaminants like pesticides, heavy metals, and solvents.
Alternatively, you can choose broad-spectrum CBD or isolate instead of full-spectrum CBD oil — but again, make sure your products are certified by an independent lab.
Will Full-Spectrum CBD Oil Make You High?
Full-spectrum CBD oil won't make you high as long as it comes from hemp. As mentioned, hemp plants contain only 0.3% of THC (or less), which isn't enough to produce psychoactive effects.
The only type of full-spectrum CBD oil that can get you high is the one extracted from marijuana because marijuana naturally contains much higher levels of THC than hemp.
Similar to the case of drug testing, there's a risk of cross-contamination with THC during extraction, and if the manufacturer doesn't adjust the cannabinoid ratios after that, the end product may contain more than 0.3% of THC.
How Long Does Full-Spectrum CBD Stay In Your System?
Full-spectrum CBD can stay in your system between 2–5 days. Even in heavy users, the concentrations of CBD in urine and blood aren't detectable after 7 days.
The time CBD stays in your system is affected by several factors, such as:
Frequency of use: the frequency of use is the driving factor between the duration of CBD in your body. CBD builds up over time if consumed regularly. That's why it's recommended to use it for at least a week to evaluate the effects. If you only use it on occasions, your body will flush it faster.
Your body chemistry: everyone is different; that's why CBD and other substances affect people differently. Individual factors determining the time CBD stays in your system include your age, gender, weight, metabolism, tolerance to THC, and the condition of your endocannabinoid system.
Food: the type of food you consume, how often you eat, and how much you eat matter. If you take CBD on an empty stomach, it will be metabolized faster than if you consumed it along with food or after a hearty meal. Consuming CBD on a full stomach slows its digestion.
Administration method: there are a few ways to take CBD; each of them affects the time CBD stays in your system, as well as the onset and duration of effects. The most common CBD formats include tinctures, capsules, edibles, vapes, topicals, and pet products.
Pros and Cons of Full-Spectrum CBD
Pros:
The entourage effect: CBD is beneficial on its own, but research suggests that its therapeutic properties can be enhanced by the presence of other cannabis compounds, including minor cannabinoids, terpenes, and flavonoids. When these compounds work together, they create the entourage effect, which is the main reason why people generally prefer full-spectrum CBD over other types.
The least processed form of CBD: broad-spectrum extracts require removing THC from the final product. Isolates are even more processed because the CBD is separated from the extract and transformed into white crystals. If you're looking for a product that reflects the original profile of the source strain, full-spectrum CBD will be your best bet.
Cons:
Contains THC: some people are apprehensive about taking any THC with their product, whether it's because of drug testing or for other reasons. Especially when you're buying full-spectrum CBD from an unregulated market.
Doesn't have the best flavor: not everybody likes the taste of full-spectrum CBD oil. Since it contains other compounds from hemp, such as essential oils and waxes, it can leave a strong, earthy aftertaste when you swallow it. The more concentrated the oil, the harsher it gets on the throat, so if you don't like the idea of taking a botanical extract every day, isolate may be a better option.
Is It Safe to Use Full-Spectrum CBD During Breastfeeding?
Health experts discourage the use of CBD during breastfeeding because there's insufficient evidence about the safety of CBD for a breastfed child. What we know so far is that some CBD can pass into the child's bloodstream with the milk.
Full-spectrum CBD also contains THC and other substances that could be dangerous to a breastfed baby. Research is ongoing, but for now, it's best to avoid using CBD in any form while pregnant or breastfeeding.
Key Takeaways on Full-Spectrum CBD
Full-spectrum CBD oil is beneficial due to the entourage effect, which enhances the therapeutic properties of CBD. This phenomenon doesn't occur in CBD isolate and is not complete in broad-spectrum extracts because it lacks trace amounts of THC.
Speaking of which, you shouldn't be afraid of these THC concentrations in full-spectrum CBD. Such amounts are not enough to have any intoxicating effect. They are also not likely to show up on a drug test as long as you buy CBD from a company that tests its products in a third-party laboratory.
Do you use full-spectrum CBD? What are your preferences? Let us know in the comments below!