Blue Moon Hemp Review & Coupon Code (2023 Update)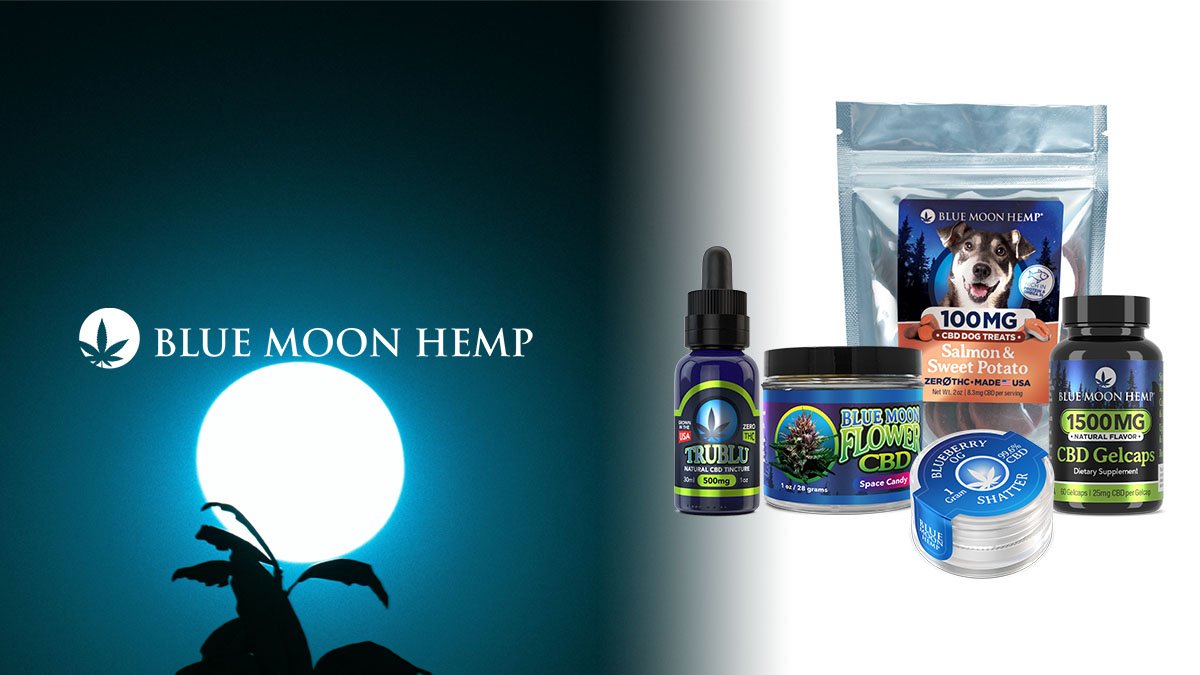 Blue Moon Hemp was established in 2015, and by September 2018, the company had hit the record of million bottles of CBD oil sold to their customers. All Blue Moon Hemp products come from a single genetic strain cultivated in Kentucky.
The brand was awarded first prize in Leafwire Cannabis Pitch Contest in Miami in late 2018. Since CBD is not an FDA-approved medication, Blue Moon Hemp advertises its products as "wellness" supplements.
The brand doesn't offer any full-spectrum extracts due to its 0% THC policy. Although these products don't evoke the full entourage effect, they come from non-GMO, organic ingredients.
This review will help you make an informed decision about where you should buy your next purchase. I'll cover everything from the basic information about the brand to its manufacturing practices to the product range, pros and cons, and alternative options on the market.
Blue Moon Hemp Review: Highlights
Pros
Cons

Organic, vegan, non-GMO products
A broad range of different formats
Worldwide shipping

Some Products Come Without Lab Reports
Confusing for New Consumers
You Must Pay a Higher Amount to Be Eligible for Free Shipping
No Money-Back Guarantee
How Does Blue Moon Hemp Approach CBD?
Compared to other reputable brands of CBD, Blue Moon Hemp is a quite decent brand, but there are some contradictions in its marketing strategy that I couldn't come across indifferently.
Here's what I've learned after reading through the company's website.
Quality & Transparency
A good thing about Blue Moon Hemp is that it uses only Kentucky-grown hemp from a single strain, which allows it to maintain consistency in the quality and CBD levels in its products.
A not-so-good thing is that these products are made from CBD isolate, so the hemp source doesn't matter that much because the CBD is purified (it doesn't come with any other compounds).
On the other hand, Blue Moon Hemp claims its products are "rich in cannabinoids and other beneficial compounds," while earlier, they brag about using CBD isolate.
It's like wanting to eat a cookie and save it at the same time — not possible.
My other concern is that Blue Moon Hemp uses the cold-press extraction method instead of supercritical CO2 or standard CO2 extraction used by premium producers.
That's why these products are less expensive than the competition. However, keep in mind that the lower price can't be achieved without compromising other parameters. In this case, you might be missing out on the potency of your CBD oils.
Not to mention that some of these products don't have lab reports attached to them.
Transparency-wise — not a good move.
Warning Letters & Lawsuits
The Food and Drug Administration (FDA) sends out warning letters to companies that advertise their products as therapeutic or intended to treat specific ailments. That's because hemp-derived CBD is considered a "novel drug" and remains in a gray area when it comes to labeling and marketing.
To date, Blue Moon Hemp hasn't received any warning letter from the FDA, meaning the brand is honest about the properties of its products and complies with the agency's regulations.
The brand is currently facing one lawsuit, but there are only a few mentions about it online and they mostly refer to the structural issues within the company. That means the lawsuit may have something to do with internal affairs rather than its products.
Certifications
Blue Moon Hemp doesn't have a USDA organic certificate, but the lab reports of one product indicate that it's pesticide- and herbicide-free. Therefore, it's safe to assume these farms use organic practices to grow their plants.
Customer Service
Unfortunately, Blue Moon Hemp has poor customer service. Every experience I've got with the company was on the verge of frustration. From misguided contact information to unanswered emails and lousy customer service workers on the Zendesk live chat feature, I've got the impression that people simply don't know what they're doing there.
Pricing
Many of Blue Moon Hemp's products are priced lower than competitors, but that's because the brand uses CBD isolate instead of whole-plant extracts. Still, not all of these products are that inexpensive. For example, one of its CBD tinctures costs $0.20 per mg of CBD, which is anything but a low price.
Blue Moon Hemp Product Range
This is where Blue Moon Hemp outshines many of its competitor brands. The company's product line-up is outstanding, providing different forms of CBD and an entire selection of hemp-derived delta 8 THC extracts.
That being said, I have mixed feelings about the quality of some of these products.
Here you'll find my mini-reviews of each format.
Blue Moon Hemp CBD Oil
| | |
| --- | --- |
| Type of CBD | Isolate |
| CBD Potency | 500 mg – 3000 mg |
| Flavors | Unflavored, Peppermint |
| Formulas | Regular, w/ Melatonin |
Blue Moon Hemp offers a broad range of CBD oil tinctures. Like all its products, this one contains CBD isolate, so you won't benefit from the entourage effect. On a positive note, the tincture also doesn't contain any botanical ingredients that are responsible for the earthy taste of full-spectrum CBD oils.
You can choose from different potency options, including 500 mg, 1000 mg, 2000 mg, and 3000 mg. The strongest version packs 100 mg of CBD, which is a hefty dose.
Aside from the regular formula, users may also buy a CBD tincture with melatonin to enhance sleep quality. Melatonin is a natural sleep hormone that plays an important role in regulating our circadian rhythm. The formula with melatonin is available in the same potency range and comes in a berry flavor.
As for the regular line, this one is available as either unflavored or infused with peppermint.
Blue Moon Hemp CBD Softgels
| | |
| --- | --- |
| Type of CBD | Isolate |
| CBD Potency | 750 mg (25 mg per capsule) |
| Formula | Regular |
| Size | 30 or 60 capsules |
Blue Moon Hemp has a humble selection of CBD softgel capsules for pain for those who don't like the oily feeling when taking CBD tinctures. You can choose from two bottle sizes — 750 mg or 1500 mg CBD — but the strength per capsule remains the same, providing 25 mg of pure CBD.
There are no specific formulations available, so this product is best used for daily supplementation.
Blue Moon Hemp CBD Gummies
| | |
| --- | --- |
| Type of CBD | Isolate |
| CBD Potency | 7 mg – 18.75 mg per gummy |
| Sizes | 8 pcs. – 140 pcs. |
These gummies are one of the worst products in Blue Moon Hemp's line-up. Despite being available in a wide range of concentrations and sizes, the gummies are rich in sugar and contain titanium dioxide, artificial flavorings, and colorings that other quality CBD gummies don't contain.
All these ingredients are biologically inappropriate for humans and their long-term consumption may have detrimental effects on health.
The product is actually against the philosophy that stands behind CBD treats; they're meant to be relatively healthy and leverage the benefits of CBD in a fun way — not stuff you with ingredients that you wouldn't otherwise ingest.
Blue Moon Hemp CBD Salves
| | |
| --- | --- |
| Type of CBD | Isolate |
| CBD Potency | 500 mg – 1000 mg |
| Formulas | Original, Limonene, Eucalyptus |
Blue Moon Hemp has three types of CBD salve in its line-up. You can choose between the original formula and two versions infused with concentrated terpenes, such as limonene and eucalyptus.
Each scent contains either 500 mg or 1000 mg of pure CBD depending on the selected strength. What I like about these products is that they're all-natural, and unlike the company's gummies, they don't contain any ingredients that could be dangerous for people.
Blue Moon Hemp CBD Shatters
| | |
| --- | --- |
| Type of CBD | Isolate |
| CBD Potency | 990 mg |
| Flavors | Pineapple Express, Blueberry OG, Sour Diesel |
Now that's one of the most interesting products from Blue Moon Hemp. Shatter is the purest form of concentrated cannabis, resembling a glass-like structure that has an amber color.
Since shatter itself is naturally lower in terpenes than other concentrates, this product has been infused with various terpenes that come from well-known cannabis strains such as Blueberry OG, Sour Diesel, and Pineapple Express.
Blue Moon Hemp Flower
| | |
| --- | --- |
| Type of CBD | Whole Plant (Full Spectrum) |
| CBD Potency | 12 – 16% |
| Size | 28 grams |
Blue Moon Hemp CBD flower is the only full-spectrum product in the company's collection. These hemp buds are available in three strains — Bubba Kush, Sour Space Candy, and Cowdaddy Crush — and you can add king-size hemp paper pre-roll cones to your purchase if you're looking for an all-around rolling kit.
These strains contain between 12% and 16% of CBD, which is a bit strange for a hemp-derived flower, as the maximum concentration you can naturally get with 0.3% of THC is 8–10%.
Therefore, there must've been some spraying with CBD isolate to boost the strength of these flowers.
Blue Moon Hemp CBD E-Liquids
| | |
| --- | --- |
| Type of CBD | Isolate |
| CBD Potency | 1000 mg |
| Flavors | Unflavored, Red Devil, Kush, Flan, Mango Moon |
If you're into vaping, Blue Moon Hemp has four types of CBD liquid for you. At the core, they're all the same because each version contains 1000 mg of pure CBD in a 30-mL bottle.
However, they are different when it comes to flavors. You can choose from options like Red Devil, Kush, Flan, and Mango Moon, although I'm not sure what the brand means by the two first names because they don't tell you much about the flavor.
I'm also a bit concerned about the ingredients. Most high-end CBD liquids are made with pure CBD distillate; this one contains vegetable glycerin and propylene glycol on top of "natural flavors" (whatever this means, they should put "plant-derived terpenes" instead).
Blue Moon Hemp CBD for Pets
CBD Pet Oil
| | |
| --- | --- |
| Type of CBD | Isolate |
| CBD Potency | 250 mg – 1000 mg |
| Flavors | Bacon, Tuna |
Blue Moon Hemp uses the same pure CBD extract for its CBD pet oils as it does for its line for humans.
You can choose from potencies like 250 mg (for cats), 500 mg (small and medium dogs), and 1000 mg (large breeds). The oils are available in the Bacon and Tuna flavor and have been suspended in virgin cold-pressed hemp seed oil.
I'm wondering why Blue Moon Hemp uses hemp seed oil instead of MCT oil, especially since the latter ensures better absorption due to the higher content of saturated fats. But I guess the decision was driven by the cost of production. Otherwise, these products wouldn't be as affordable as they are now.
CBD Pet Treats
| | |
| --- | --- |
| Type of CBD | Isolate |
| CBD Potency | 100 mg (8.3 mg per treat) |
| Flavors | Salmon & Sweet Potato |
If your dog dislikes the taste of unflavored CBD oil, using CBD dog treats provides a good alternative. They're soft, tasty, and provide a decent dose of CBD per serving.
But the best part is that unlike many other CBD dog treats out there, these are made with all-natural ingredients and come without starches, grains, sugars, or artificial fillers such as preservatives, colorings, and emulsifiers.
Other Products by Blue Moon Hemp
CBD isn't the only area of interest for Blue Moon Hemp. The brand also specializes in hemp-derived delta 8 THC products, such as:
Delta 8 cartridges
Delta 8 tinctures
Delta 8 gummies
Delta 8 dabs
Delta 8 flower
Delta 8 gel caps
Delta 8 pre-rolls
These products come from the same strain as the company's CBD extracts, but the CBD is later converted into delta 8 THC using a series of chemical processes. What bothers me is the lack of results for purity in the lab reports. Conversion from CBD to Delta 8 THC requires using toxic chemicals that are difficult to purge from the end product, so this raises serious health concerns.
Blue Moon Hemp Review: Pros & Cons
Like I said at the beginning of my Blue Moon Hemp Review, the company is full of contradictions. On the one hand, it boasts a broad selection of different CBD formats, some of which are crafted into premium quality. If it wasn't for the CBD isolate, they could compete with some of the best brands in the hemp space.
But on the other hand, many of these products contain artificial ingredients or don't provide certificates of analysis, so it's difficult to prove their safety. CBD is a booming and unregulated market; companies lacking transparency lose trust right off the bat.
Here's my overview of Blue Moon Hemp's strengths and weaknesses.
The Pros
Organic, non-GMO, Vegan Products
Apart from CBD gummies, all Blue Moon Hemp products are organic, non-GMO, vegan-friendly, and gluten-free. The topicals, in particular, are a textbook example of how to make premium CBD extracts for a reasonable price.
Broad Selection of Products and Flavors
Whether this is your first time with CBD or you're a seasoned user looking for more diversity, Blue Moon Hemp has everything you need, from tinctures to capsules, gummies, topicals, vape liquids, and pet products. The company even provides a separate line of hemp-derived delta 8 THC extract, providing opportunities for experiencing some part of the entourage effect when you mix the right products.
Offers Worldwide Shipping
Blue Moon Hemp strives to become one of the most recognizable CBD brands in the world. The company offers worldwide shipping for an extra cost, so you can try its product even if you live outside of the United States.
Speaking of which, local shoppers in the USA can use the brand's website to find a vape store near them that offers Blue Moon CBD products.
The Cons
Some Products Come Without Lab Reports
As mentioned earlier, transparency is paramount in the CBD market if the manufacturer wants to be seen as trustworthy. Although Blue Moon Hemp provides certificates of analysis (CoAs) for its flagship products, others lack these lab reports. That way, it's difficult to tell if what you're buying is the same thing that will be delivered to your door. Not to mention obvious concerns about the purity of these products.
Some forms of CBD offered by Blue Moon Hemp have no certificates of analysis at all, which further undermines the brand's transparency.
No Full Spectrum Products
Isolate is the cheapest form of CBD and provides the highest dose in a single serving. That being said, its effects are inferior to those produced by full-spectrum or broad-spectrum products. That's because the latter contain other ingredients that enhance and complement the therapeutic properties of CBD.
As a whole, such extracts produce stronger effects and are more predictable when it comes to measuring doses due to the lack of the bell-shaped dose-response curve which notoriously occurs in trials on isolates.
You Must Pay a Higher Amount to Be Eligible for Free Shipping
The "Free Shipping" perk sounds great unless you take a look at the minimum order amount that needs to be met if you want to become eligible for free shipping. You must pay at least $89, which makes me doubt the advertised affordability of this brand.
No Money-Back Guarantee
A customer-friendly return policy is not only a sign of confidence in the company's products, but it's a nice nod toward them. After all, CBD may not work for everyone despite its high versatility, so if your customers aren't satisfied with the effects, it's in a good tone to provide options like a money-back guarantee program.
Unfortunately, Blue Moon Hemp doesn't have one; so, if you've bought one of its products and it has done nothing good for you — c'est la vie.
And good luck trying to reach customer service for help. Maybe you'll be luckier than me.
Alternative Options to Blue Moon Hemp
Feeling curious about other brands and their products? You can compare Blue Moon Hemp with the two companies below to make an unbiased decision on your future purchase. Both Royal CBD and Gold Bee make organic, third-party certified products in various forms.
Get 15% off all Royal CBD products.  Use code "CFAH" at checkout.
Pros
Cons

Organic, US-grown hemp
Supercritical CO2 extraction
Broad product range
High-strength options are available
Well-designed formulas
Flavored with natural ingredients
Complete third-party testing profile
30-days Money Back Guarantee

A little bit more expensive than the market's average (but still worth the price)
Not available locally
Royal CBD was founded in early 2018 by a group of biohackers and hemp activists after witnessing too much mediocrity on the market. Today, this company is a true powerhouse that offers a broad range of different CBD products.
You can choose from the following formats:
CBD oils
CBD capsules
CBD edibles

CBD gummies
CBD honey sticks

CBD topicals

CBD cream
CBD roll-on stick

CBD for pets
Royal CBD sources its hemp from local Colorado farms, where the plants are grown in healthy soil and without pesticides, herbicides, and chemical fertilizers. The entire product line is triple-tested in an ISO-certified laboratory for potency, phytochemical profiles, and purity.
Pros
Cons

Organic hemp
CO2 extraction
Infused with superfoods
Full-spectrum and broad-spectrum CBD
Up to 2500 mg of total CBD
Flavored with natural ingredients
Pet products
30-day Money Back Guarantee

Limited potency options
No isolate-based products
Gold Bee provides a unique selection of both classic and novel forms of CBD, as well as Kava Kava extracts and CBN products for sleep. Gold Bee infuses its hemp extracts with well-known superfoods, such as raw honey, honey sticks infused with CBD, and organic coconut oil.
You can order products such as:
CBD oils
CBD softgel capsules
CBD edibles

CBD gummies
CBD honey sticks

CBD roll-on stick
CBD for pets
Like Royal CBD, Gold Bee thoroughly tests every product batch in a third-party laboratory for quality and safety, including results for pesticides, herbicides, heavy metals, and mycotoxins. You can view the certificates of analysis on the Gold Bee website.
Final Verdict: Blue Moon Hemp Doesn't Have What It Takes to Make It to the Top of the Ladder
Much as I appreciate a broad product selection and a variety of different flavors and formulas, I don't like how Blue Moon Hemp is cutting corners when it comes to product transparency and quality.
From unnecessary ingredients in CBD gummies to a selective approach to publishing lab reports, this company is far from the top brands in my opinion. It seems that it wants to win people by offering inexpensive CBD products that are marketed in a fancy way — but that's not enough for health-conscious consumers.
You can try these products, but make sure you choose the ones that have high-quality ingredients inside, such as the Blue Moon Hemp CBD oil or topicals. For other formats, I suggest checking out the products offered by Royal CBD and Gold Bee. They're slightly more expensive, but the quality is top-shelf.