Is Weed Legal in Arizona? AZ Cannabis Laws (June 2023)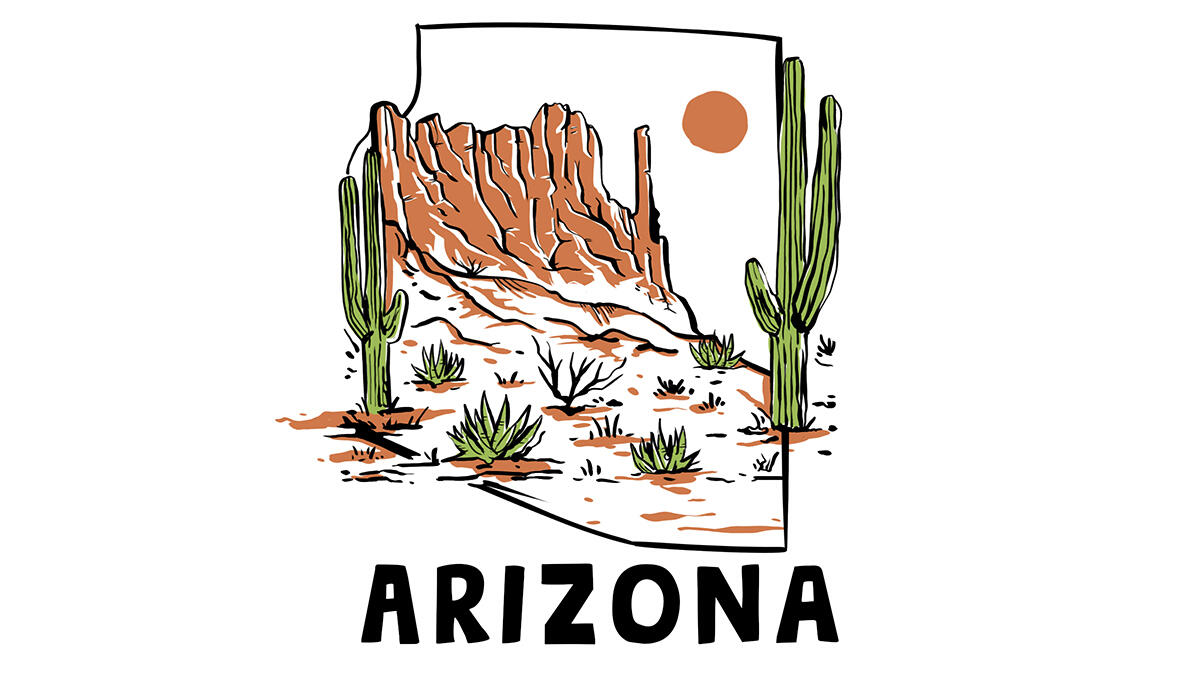 This is the complete guide to the legal status of marijuana in Arizona. We explore both recreational and medical marijuana laws, shed light on cannabis consumption, home grow laws, and everything regarding public consumption and driving. You'll also learn about hemp-derived delta 8 THC, a safer and federally legal alternative to marijuana in Arizona.
Arizona legalized marijuana for recreational use in 2020.
Adults aged 21 or older can possess up to 1 ounce of marijuana purchased from a state-licensed dispensary.
Possession of between one and 2.5 ounces of marijuana is considered a petty offense. Minors caught with less than one ounce can receive a fine of $100 and four hours of counseling on drugs.
Arizona has a medical marijuana program for patients with qualifying conditions. The list of diseases is available on the Arizona Department of Health Services (ADHS) website.
It's illegal to drive under the influence of cannabis in Arizona. You also can't smoke in public and take cannabis outside of state borders.
Hemp-derived delta-8 THC products are legal in Arizona if they contain 0.3% delta-8 THC or less.
The delta-8 space is largely unregulated. Always look for batch-specific lab reports from an independent laboratory for the product's potency and purity.
Is Weed Legal in Arizona?
Yes, weed is legal in Arizona for both medicinal and recreational use. Here's a quick breakdown of the state marijuana laws.
Related: States That Have Legalized Marijuana
Is Recreational Marijuana Legal in Arizona?
Yes, recreational marijuana in Arizona is legal for adults aged 21 and older.
Arizona voters approved Proposition 207 in the 2020 general election, passing the new law with 60% of the vote.
Adult-use sales began in January 2021.
You can possess up to one ounce of marijuana in the form of dry flowers and no more than five grams of marijuana concentrate.
Is Medical Marijuana Legal in Arizona?
Arizona legalized medical marijuana use in 2010, allowing patients and their caregivers to purchase and possess up to 2.5 ounces of marijuana every two weeks.
For years, Arizona struggled with the dilemma of whether to consider hashish and cannabis extracts as medical marijuana.
Fortunately, in 2019, the Arizona Supreme Court made a pivotal decision, stating that hash and cannabis extracts are legal under the Arizona Medical Marijuana Act (AMMA).
"The AMMA defines 'marijuana' as 'all parts of the plant," the judges ruled.
Penalties for Marijuana Possession in Arizona
If you possess up to 1 ounce of marijuana, you won't have any trouble with the law.
However, possession of between 1 and 2.5 ounces is considered a petty offense; you can pay a $100 fine when caught with more cannabis than the state allows.
The same fine applies if you're a minor caught with marijuana; you'll also be required to spend four hours in drug counseling.
Is Weed Decriminalized in Arizona?
Yes, Arizona decriminalized weed on November 30, 2020, when officials certified the statewide election.
As of July 12, 2021, Arizona residents previously charged for possession, use, or transportation of less than an ounce of marijuana, up to six plants, or cannabis paraphernalia can have their records expunged.
The process isn't automatic in Arizona. Eligible individuals must send a petition to the court in the county where they were arrested and convicted.
Delta-8 THC: A Better & Federally Legal Alternative to Marijuana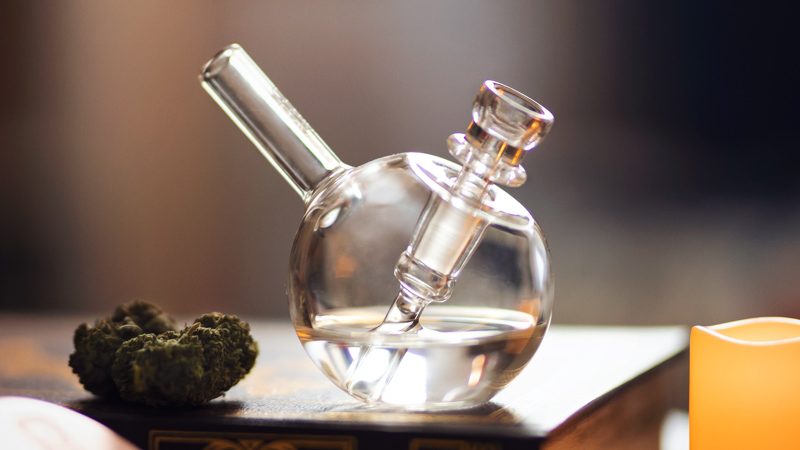 Although cannabis is legal for recreational use in Arizona, there are still limitations to its use.
For example, you can't possess more than one ounce of marijuana. The limits are even stricter when it comes to cannabis concentrates.
It's also illegal to buy weed online.
Not to mention that some people can't consume marijuana without experiencing feelings of unease.
Here's why certain individuals choose to avoid high-THC products.
Cons of Delta-9 THC from Marijuana
Most people can enjoy the psychoactive effects of marijuana without any unpleasant side effects.
Low and moderate doses of delta-9 THC induce relaxation, ease stress, dampen pain, and can improve your cognitive performance.
Higher doses get you high, altering your thinking patterns, and causing euphoria, munchies, laughter, and increased sensory perception.
However, not everybody responds well to delta-9 THC. Some individuals are particularly sensitive to its psychedelic nature, and their high is anything but pleasant.
The side effects of too much delta-9 THC include:
Anxiety
Paranoia
Feelings of discomfort
Cold sweats
Dizziness
Confusion
Increased heart rate
Short-term memory problems
The effects of delta-8 THC are more easy-going. Here's how it works.
Effects & Benefits of Delta-8 THC
Although delta-8 and delta-9 THC have the same chemical formula, their molecular structure is slightly different.
Delta-8 THC has a double bond at the eighth carbon chain, while delta-9 THC has this bond at the ninth chain.
This subtle difference changes the potency of delta-8 THC. The cannabinoid is about 50% as potent as delta-9 THC.
The high from delta 8 THC is smoother feeling, more clear-headed, and less likely to drive you anxious and paranoid.
It also comes with similar health benefits, including:
Anti-nausea
Anti-inflammatory
Pain relief
Increased appetite
Feelings of calmness and relaxation
Neuroprotection
Is Delta-8 THC Legal in Arizona?
Although delta-8 THC is legal at the federal level, things are more complicated in Arizona.
The Arizona law considers all forms of THC controlled substances, so although marijuana was legalized in 2020, other isomers of THC remain illegal for recreational and medicinal use.
Although some hemp stores in Arizona sell delta-8 THC products, they're doing a risky business, and we don't recommend buying from them, especially in this loosely regulated market.
You can buy hemp-derived delta-8 THC online, but you're doing this at your peril. It can be difficult to prove your case in court, considering that Arizona bans all THC variants.
Benefits of Buying Delta-8 THC Online
Buying delta-8 THC online comes with several perks.
For one, you can take advantage of lower prices because online retailers don't have to cover the operational costs of running a traditional storefront. On top of better deals in general, you can join reward programs or use subscription orders, coupon codes, and bulk pricing to save even more money on high-quality delta 8 products.
Speaking of quality, it's easier to verify your vendor online. You can read its "About Us" section, look into the certificates of analysis (CoA), read customer reviews, or reach out to other users on social media groups and forums to learn from first-hand experiences.
Not to mention that you can browse through hundreds of formulas and compare prices in the comfort of your home; that's a tremendous time-saver.
Best Online Delta-8 THC Stores
No two delta-8 THC products are made the same. A disturbingly large number of subpar products are contaminated with pesticides, heavy metal reagents, and solvents. Some of these products contain little to no delta-8 THC at all.
You need to spend a considerable amount of time researching the safety precautions for buying delta-8 products before you can make a well-informed decision.
Feeling in a hurry? Here are the two best delta-8 THC brands that I use and recommend. So far, no other company has beaten them in terms of quality, consistency, and transparency.
1. Area 52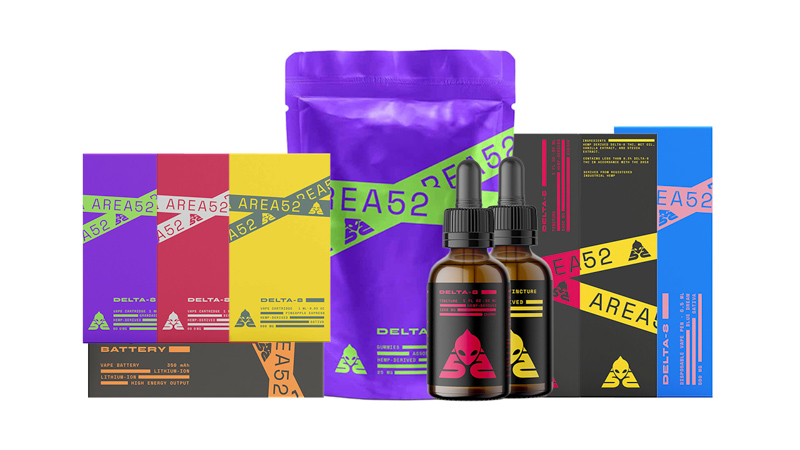 Get 15% off all Area 52 products. Use code "CFAH" at checkout.
Area 52 is a brand from Nevada that specializes in high-quality delta-8 THC products from the pure distillate.
Its selection of delta-8 THC extracts includes tinctures, gummies, vape carts, and pre-rolls. These products are infused with plant-derived terpenes to create the entourage effect and increase the efficacy of delta-8.
Recently, the company has added a line of "true full-spectrum products" that combine CBD with minor cannabinoids, such as CBG, CBN, and delta-9 THC, in small amounts to address different health needs.
All Area 52 products are rigorously tested in a third-party laboratory for potency and purity, including the results for pesticides, heavy metals, solvents, and mold.
2. Finest Labs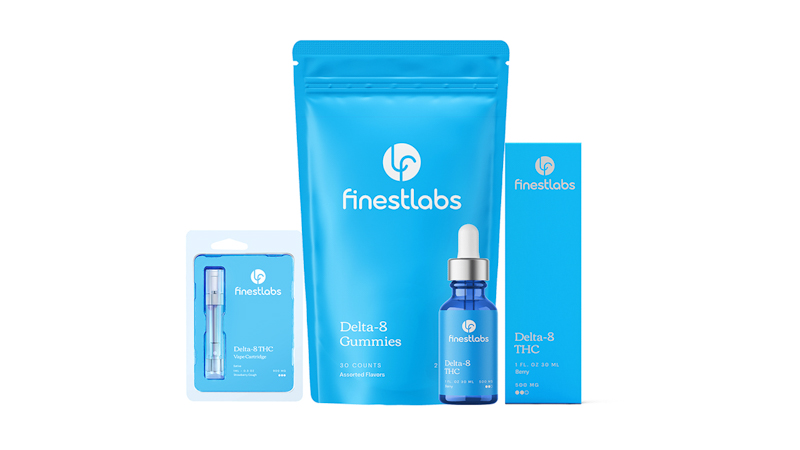 Finest Labs is the go-to company for beginners who are looking to start with a simple selection of delta-8 THC products, such as tinctures, vapes, and gummies.
The extraction process follows natural practices and is free from heavy metal regents and other toxic catalysts that are difficult to purge from the end product.
On top of delta-8 extracts, Finest Labs offers HHC gummies and Energy gummies infused with CBG and Vitamin B12.
The company is also one of the most reputable manufacturers of botanical terpenes, offering single terpenes as well as unique blends that you can use to create your own cannabinoid extracts.
FAQs
Who can use medical marijuana in Arizona?
The Arizona Department of Health Services (ADHS) supervises the state's medical marijuana program.
Patients with the following conditions can apply for a medical marijuana card:
Agitation of Alzheimer's disease
Amyotrophic Lateral Sclerosis (ALS)
Cancer
Chronic pain
Crohn's disease
Glaucoma
Migraines
HIV or AIDS
Hepatitis C
Post-traumatic stress disorder (PTSD)
Severe nausea and vomiting
Chronic and severe muscle spasms, such as those caused by multiple sclerosis (MS)
Seizures
Any chronic or debilitating medical condition or disease or the treatment that triggers cachexia or wasting syndrome
Can you grow weed in Arizona?
Recreational marijuana users can grow up to six plants at home.
Medical patients are allowed to grow up to 12 plants at home, but only if they live further than 25 miles from the nearest medical dispensary. Arizona doesn't distinguish between mature and immature plants.
Can you smoke marijuana in public?
It's illegal to smoke weed in public in Arizona unless you're a medical marijuana patient consuming edibles.
Traveling with marijuana in Arizona
You can travel with marijuana in Arizona. However, your cannabis products must be kept in closed containers and away from the driver's reach.
It's unlawful for individuals to drive under the influence of cannabis or any other psychoactive substance. This applies to all states.
However, medical marijuana patients can't be prosecuted for driving under the influence by merely having cannabinoid metabolites in their system.
Can you buy weed online in Arizona?
No, recreational users can't buy weed online in Arizona. The state law allows marijuana delivery services only for medical marijuana patients.
Unfortunately, several cities in the Phoenix metro area banned medical marijuana delivery.
Is CBD Oil from Hemp Legal in Arizona?
Yes, hemp-derived CBD oil is legal in Arizona under the 2018 Farm Bill. The amended bill legalized hemp and its derivatives as long as they contain no more than 0.3% delta-9 THC by dry weight.
You don't need a prescription to buy CBD oil in Arizona. You can easily find such products locally and online.
We recommend sourcing your CBD oil from a reputable online supplier for the same reasons we recommend buying delta-8 products online. Doing so gives you more options for verifying the quality and transparency of your vendor.
Buying Weed in Arizona: Bottom Line
Marijuana is legal in Arizona for both medical and recreational users.
Adults aged 21 or over can buy and possess up to 1 ounce of marijuana from a state-licensed dispensary.
For medical marijuana patients, these limits increase to 2.5 ounces of marijuana.
All types of users must follow the limit of 5 grams of cannabis concentrates if they want to avoid being fined.
Although hemp-derived delta-8 THC is federally legal, regulations in Arizona have complicated its actual status, so buying delta-8 THC products is risky there. The safest option is to purchase from an online store.
Hopefully, as cannabis legalization continues to roll through the states, we'll soon witness reasonable changes in the law that will allow the sale of all hemp-derived isomers of THC.