Best Delta 8 THC Gummies for Anxiety in 2023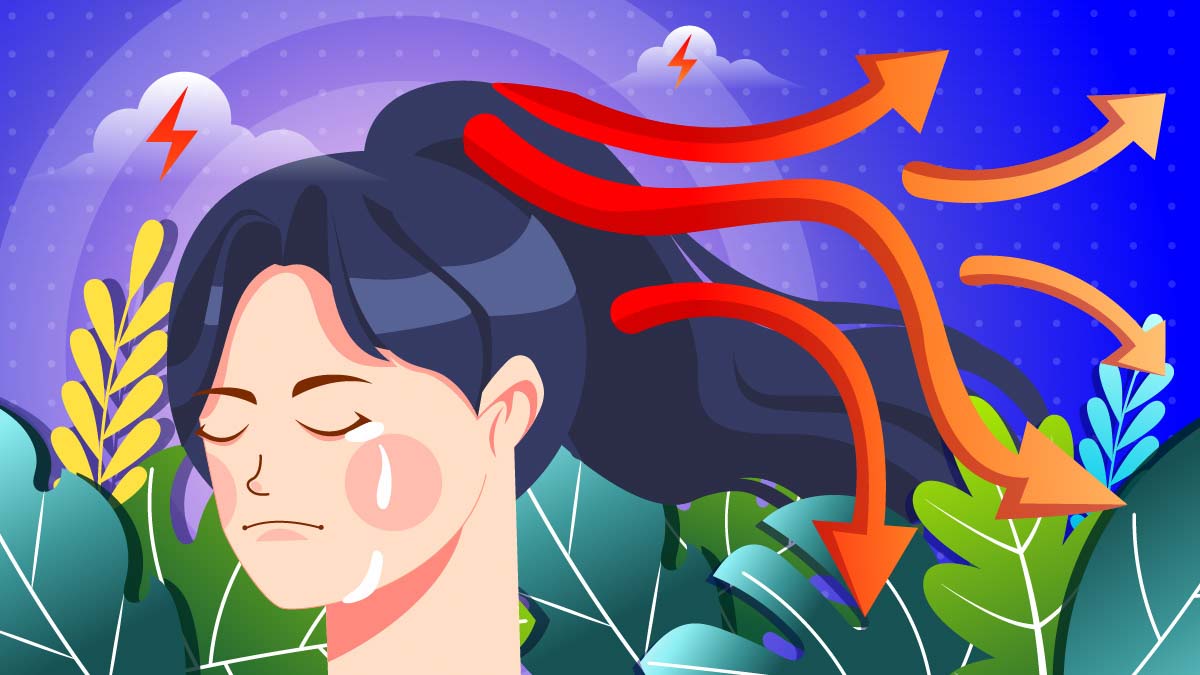 Using cannabis for anxiety is a double-edged sword — but not with delta 8 THC.
Delta 8 THC is milder than delta 9 THC, which is the main psychoactive ingredient in marijuana. It comes with similar health benefits, but it has a lower incidence of triggering anxiety and paranoia in high doses.
Are delta 8 THC gummies a good choice for anxiety?
That depends on the quality of your gummies.
If the product can leverage the entourage in cannabis to improve your stress response and wash your anxious thoughts away — then why not.
But where do you find the best delta 8 THC gummies for anxiety?
Follow me.
Best Delta 8 THC Gummies for Anxiety (Top 10 Brands for 2023)
Area 52 – Best Delta 8 Gummies Overall
Finest Labs – Best Delta 8 Gummies for Beginners
3Chi
Delta 8 Pro
Diamond CBD – Chill Plus
Everest
Moonwlkr
Binoid
Delta Extrax
Exhale Wellness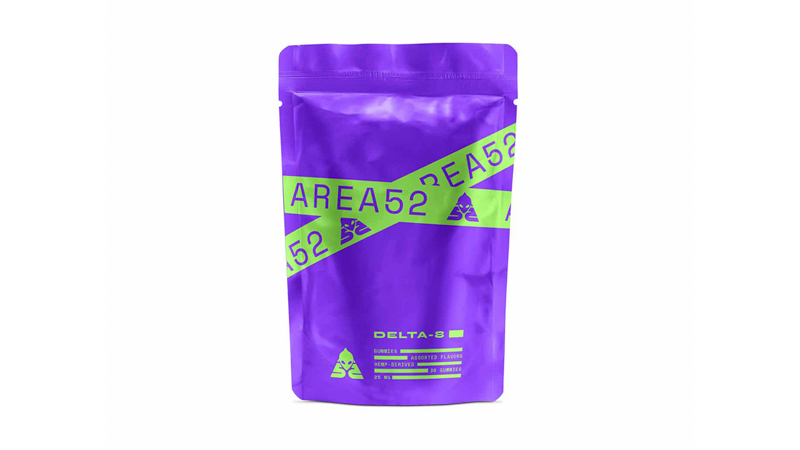 Get 15% off all Area 52 products. Use code "CFAH" at checkout.
Area 52 made a loud debut in 2020 when it introduced its line of premium delta 8 THC extracts from organic hemp. Featuring a simple product selection, ranging from tinctures to D8 infused gummies, the company is focused on providing the highest quality of ingredients with unmatched transparency.
You can choose from formats like tinctures, vapes, and gummies — all of which contain pure delta 8 THC distillate.
The Area 52 delta 8 THC gummies come in two versions: Classic (delta 8 plus terpenes) and UFO (CBD + THC), also known as the Real Full Spectrum Gummies.
The first option is fairly potent, with 25 mg of delta 8 THC per gummy; the latter features 25 mg of CBD and 5 mg of THC. Both versions are available in three flavors: Green Apple, Strawberry, and Pineapple.
Another great thing about these gummies is that they contain natural flavorings and coloring, making them a not-so-guilty treat — they taste like these classic childhood gummies but with an extra vibe of adulthood, thanks to cannabinoids.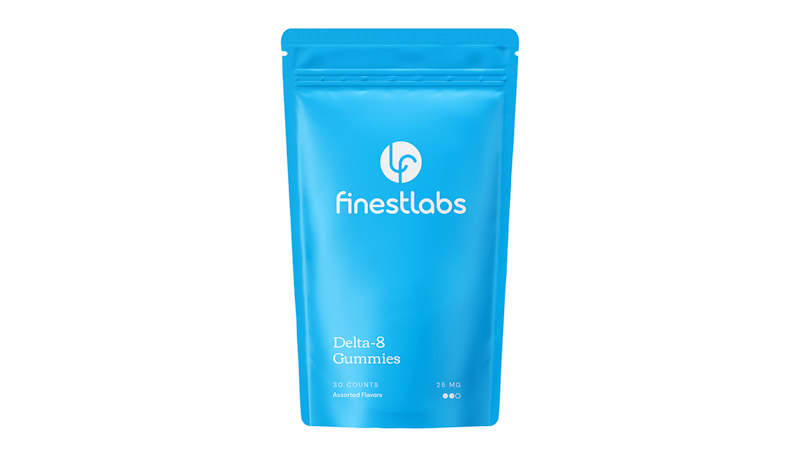 Finest Labs is the go-to brand for beginners, in my opinion. Its gummies contain a standard dose of delta 8 THC per gummy and contain a broad-spectrum hemp extract infused with strain-specific terpenes (Blueberry).
As a result, the effects are focused more on the body than the head, so you may want to consider Delta 8 THC gummies as your next sleep aid.
I only wish Finest Labs had more flavors in its range — the quality and taste of these gummies deserve it.
3. 3Chi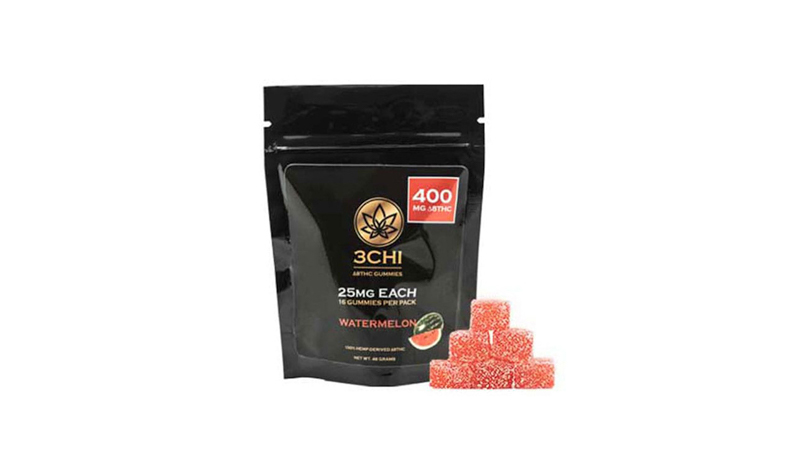 3Chi is one of the pioneer brands in the delta 8 THC market. The company was one of the first players to enter the scene and offer such a broad range of delta 8 THC products — including vapes, tinctures, flowers, moonrocks, and gummies.
The 3Chi gummies come in a mouthwatering black raspberry flavor. You can choose between pure delta 8 THC and a blend of delta 8 with CBN. Both versions contain 25 mg of delta 8 THC.
If you're looking for daytime gummies, the classic version should work better because the CBN blend may be too sedating. You can order them in packs of either 8 or 16.
3Chi is a brand with decent transparency, although it doesn't share any information about the source of its hemp. If you're looking for a 100% transparent supplier, I recommend checking out the two above companies.
4. Delta 8 Pro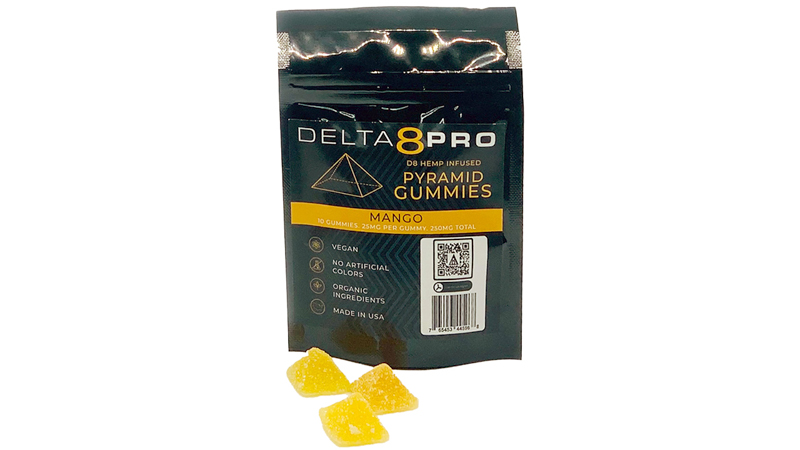 Delta 8 Pro is one of the largest suppliers of delta 8 THC extracts in North America. The company offers a full range of products, including tinctures, vapes, dabs, moon rocks, flowers, gummies, and more.
The Delta 8 Pro Pyramid Gummies pack a decent dose of 25 mg of delta 8 THC per serving; they're also vegan and made with organic ingredients, including flavorings and colorings.
Unlike most hemp-derived gummies out there, they don't leave a botanical aftertaste; instead, they provide tangy flavors and a nice jolt of energy.
Unfortunately, the Delta 8 Pro gummies aren't tested for pesticides and heavy metals. The only results published on the company's website show the content of three cannabinoids: delta 8 THC, delta 9 THC, and CBD.
Delta 8 Pro's return policy is also far from friendly. Once opened and tried, the products don't qualify for a refund, even if you're not satisfied with them.
5. Diamond CBD – Chill Plus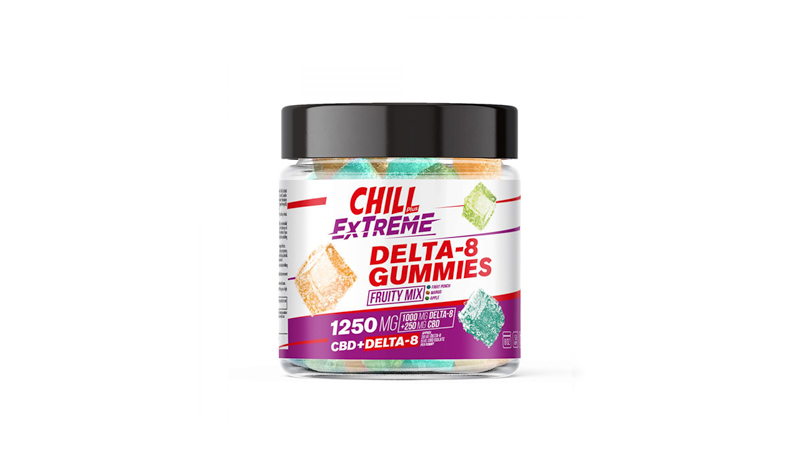 Recently, Diamond CBD introduced delta 8 THC gummies as its latest addition to an already impressive product line-up. The company is one of the most well-known CBD manufacturers, and after succeeding in the CBD space, it decided to go further and started making delta 8 extracts.
The Chill Plus Delta 8 Extreme Force Gummies are available in three strengths: 500 mg, 1000 mg, and 4000 mg. Each option comes in one of the six flavors: Original, Blueberry, Island Mix, Sunshine Mix, Mango, and Watermelon.
If you can't decide which flavor and potency to choose, you can buy them in sample packs. However, keep in mind that the gummies aren't tested for contaminants so they may contain pesticides, heavy metals, or solvent residue.
6. Everest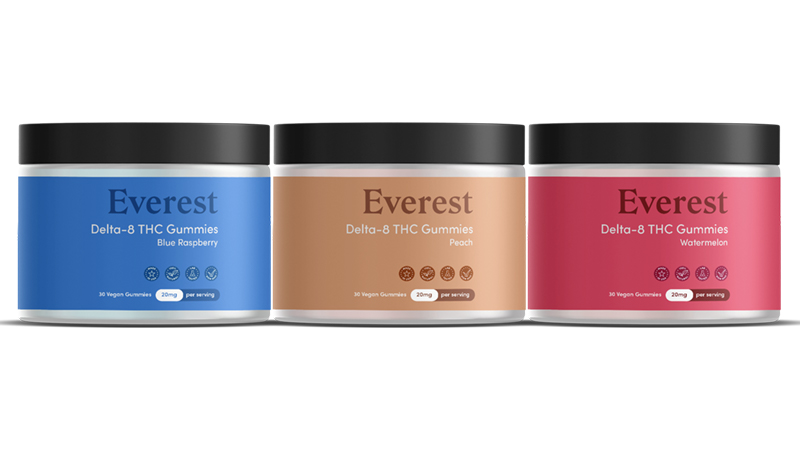 Everest makes high-quality delta 8 THC gummies from non-GMO, US-grown hemp. These sweet cubes don't contain any wheat or animal-derived ingredients, making them a great option for vegans and people with food allergies.
Each gummy contains 20 mg of delta 8 THC, which is slightly below the average concentration in such products. They're available in one flavor (Blue Raspberry), which has a great flavor and doesn't leave an artificial aftertaste in your mouth, unlike other gummies from this price range.
All products sold by Everest are double-tested in a third-party laboratory for potency and purity. If only the brand offered more flavors and potencies, I'd have them much higher on this list of the best delta 8 THC gummies for anxiety.
7. Moonwlkr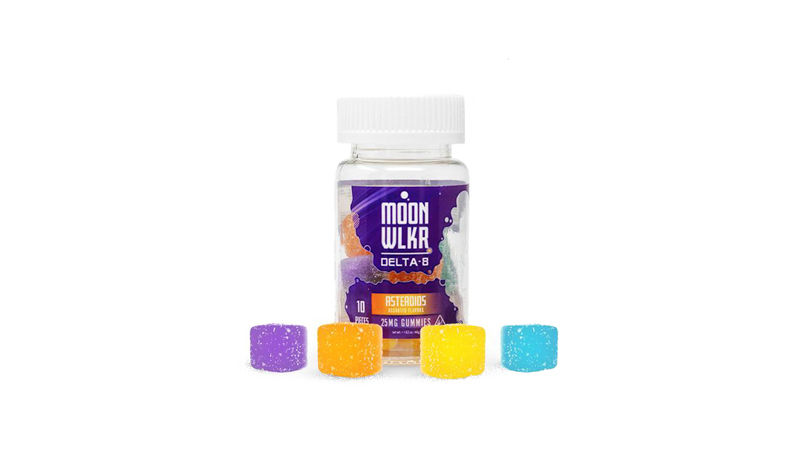 Moonwlkr is a brand that combines smart marketing and brilliant branding with high-quality delta 8 products. So far, the company offers only gummies and vapes.
The gummies are made with organic hemp and infused with strain-specific terpenes that recreate the flavors and effects of certain cannabis strains — such as OG Kush, Sour Diesel, Blue Dream Berry, Pineapple Express, and Zkittlez.
At 25 mg of delta 8 THC in each piece, this product is great for experiencing the classic cognitive boost offered by this cannabinoid. However, the gummies can be quite harsh once you're done enjoying the typical candy-like notes.
What bugs me even more is the use of artificial colorings, which contrasts with the philosophy Moonwlkr describes on its website.
8. Binoid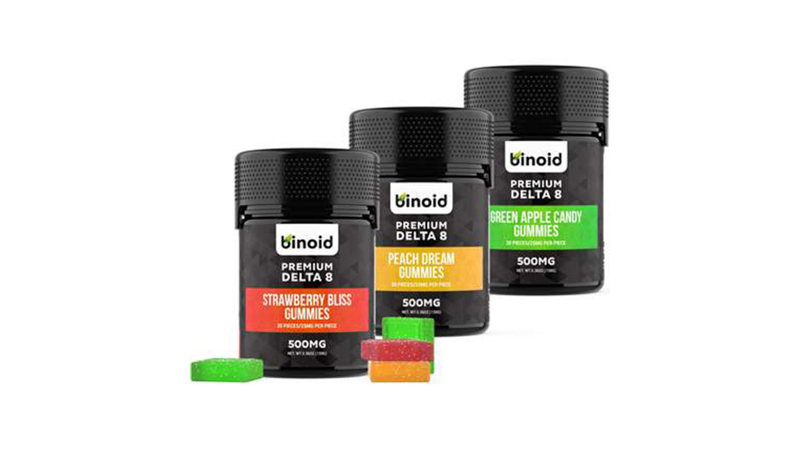 Binboid offers various cannabinoid-based products, such as CBD, delta 8 THC, delta 10 THC, and THCV.
The gummies have the delta 8 THC extract infused into their base rather than sprayed, setting them apart from most mediocre edibles on the market. Binoid offers three different flavors: Sour Green Apple Candy, Strawberry Bliss, Peach Dream, and a mixed jar with an assortment of all flavors.
A single gummy contains 25 mg of delta 8 THC — with 20 gummies per jar. The formula is free from animal-derived ingredients or wheat, which further increases their quality. The gummies also provide a nice balance between sweet and sour flavors.
Unfortunately, Binoid doesn't have any discounts, gift cards, and reward programs, so its products are more expensive than the competition.
9. Delta Extrax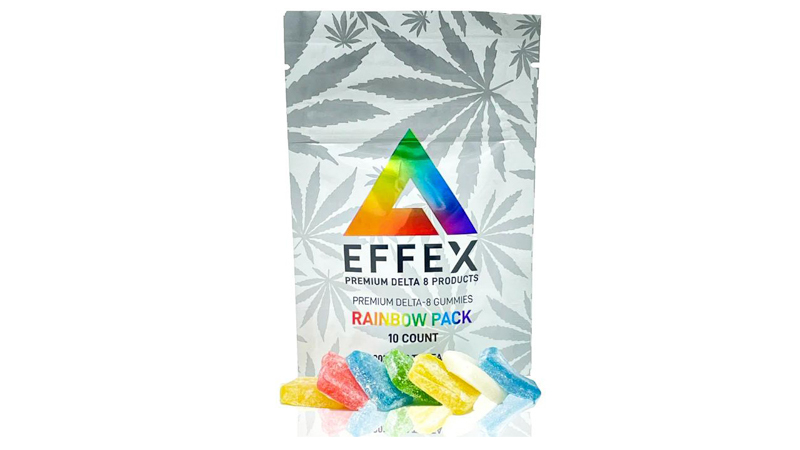 Previously known as Delta Effex, Delta Extrax focuses on making delta 8 and delta 8 THC products. It's the daughter company of Savage Enterprises, one of the biggest players in the vaping market.
Delta Effex's delta 8 THC gummies carry 20 mg of delta 8 per cube and are made from sugar, corn syrup, water, gelatin, and fruit pectin. They're a bit harder than other gummies due to these two thickeners.
Despite great flavors, they won't be suitable for people on plant-based diets due to gelatin.
10. Exhale Wellness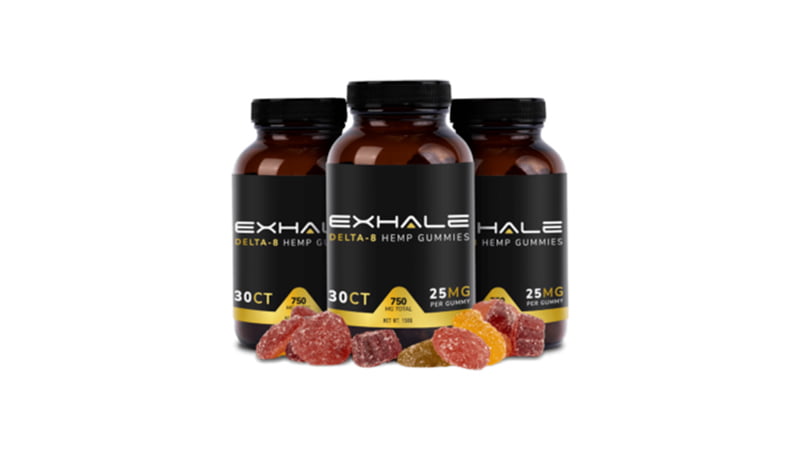 Exhale Wellness makes some of the best delta 8 THC gummies formulated with organic hemp and all-natural ingredients. Although the brand is among the newer names in the industry, it has already garnered the attention of the community due to the high potency of its gummies.
Each gummy packs a whopping dose of 50 mg of delta 8 THC (or 25 in the regular version), making a little go a very long way. The gummies are available in an assortment of five fruity flavors achieved with fruit juices and concentrates.
Unfortunately, Exhale Wellness doesn't have any single-flavored and low-strength gummies in its range.
What Are Delta 8 THC Gummies?
Delta 8 THC gummies are similar to regular marijuana gummies, except for the main active compound.
There are different types of THC. The one that occurs in marijuana is known as delta 9 THC.
But did you know that delta 9 has a close relative that offers similar health benefits but is less trippy?
It's known as delta 8 THC.
It has a similar molecular structure to delta 9 but with a slight difference in the arrangement of its atomic bonds.
Delta 8 THC has a double bond at the 8th carbon chain, while for delta 9, this bond is located at the 9th chain.
Because of that, delta 8 THC has about half the potency of delta 9 — and thus isn't as likely to trigger anxiety and paranoia in large doses.
What Does Delta 8 THC Feel Like?
The effects of delta 8 THC feel pretty much like those produced by delta 9 THC, these gummies can be strong as if you took regular weed gummies.
Delta 8 is only mildly psychoactive, so you can get high off of it, but you'd need to use twice the dose of delta 8 THC as you would with normal cannabis.
The high also won't be as overwhelming as when you take too much weed.
Delta 9 THC is known for its ability to trigger anxiety in high doses when it braches the user's sensitivity to the compound. That's why some people choose to avoid high-THC cannabis.
Delta 8 THC has fewer side effects, and most importantly, it makes it easier to avoid mental distress.
What Are the Health Benefits of Delta 8 THC?
As reported by the National Cancer Institute, delta 8 THC has an affinity with the CB1 receptor in the brain. Cannabinoid receptors type 1 and 2, along with endocannabinoids and enzymes, constitute our endocannabinoid system — the master regulatory network in all mammals.
The ECS modulates a wide range of biological functions, such as mood, memory, pain perception, body temperature, reactions to stress, pleasure and fear, immune response, and neuroprotection.
Since delta 8 THC has a weaker connection to the CB1 receptor, its high doesn't feel as intense as with delta 9. However, you'll surely be noticed once it kicks in.
On top of that, some of the health benefits of delta 8 THC are more pronounced than what you can achieve with delta 9 THC.
The potential perks of using delta 8 THC include:
Neuroprotectant: some studies highlight delta 8 THC as the potential neuroprotectant thanks to its ability to signal the nervous system to produce Acetylcholine — a neurotransmitter supporting memory, cognition, neuroplasticity, and arousal.
Appetite stimulant: a 2004 study on cannabis and appetite concluded that even low doses of delta 8 THC stimulated appetite and increased food intake.
Antiemetic: In a 1995 study, the authors found that delta 8 THC can safely reduce nausea and vomiting in children after chemotherapy. They noted a 100% success score in reducing their nausea over 480 total treatments.
Analgesic: Delta 8 THC in edibles form can modulate pain signals and reduce inflammation through binding to the CB1 and CB2 receptors. Delta 8 THC has an affinity with both — suggesting it could help with inflammatory, neuropathic, and post-surgery pain.
Anxiolytic: delta 8 THC is a potent relaxant due to its aforementioned connection with the two cannabinoid receptors. It can reduce anxiety, bolster your response to stress, and induce a calm state of mind.
How Delta 8 THC Works for Anxiety
The anxiolytic (anti-anxiety) effects of delta 8 THC gummies are achieved through similar mechanisms as they are with delta 9 THC.
However, since delta 9 THC is more potent, it has a biphasic nature — lowering anxiety at small doses and potentially exacerbating it with larger amounts.
With delta 8 THC, the risk of getting anxious and paranoid is greatly reduced.
Now that you know that, we can move on to breaking down the benefits of delta 8 THC gummies for anxiety.
Increases Dopamine
THC and its analogs are the agonists of the CB1 receptor, meaning they directly activate it. This activation results in sending certain signals to the brain. These signals stimulate the production of dopamine in your body — a hormone thanks to which we can experience pleasure and feel rewarded for our achievements.
It's a similar effect that you experience after working out in the gym. Dopamine is known for reducing stress and elevating mood, so by eating delta 8 THC gummies; you can help yourself take the edge off anxiety.
Reduces Sensitivity of Amygdala
A study published in 2020 showed that the endocannabinoid 2-AG (which binds to the same receptors as THC) reduced anxiety-inducing pathways between the amygdala and frontal cortex, pointing to another mechanism by which cannabinoids can relieve anxiety in certain doses.
Since you only need a low dose of THC to ease stress and anxiety, increasing the dose of delta 8 THC by about two times won't take many gummies to fulfill your needs.
Calms the Mind With the Right Blend of Terpenes
Cannabis terpenes are another interesting area for researchers when it comes to explaining why delta 8 THC may help with anxiety.
Terpenes are volatile molecules that make up the plant's aroma, and researchers are investigating to what degree they can amplify the therapeutic effects of cannabis.
For example, the terpene limonene has been studied for its anti-anxiety effects. Researchers have found that not only does it has anxiolytic benefits on its own, but it can also improve the absorption of other cannabinoids and terpenes.
Another terpene, linalool, is known for its calming properties that can relieve anxiety and induce sedation. Linalool is also found in lavender, and lavender essential oils have been widely studied for their relaxing properties.
How Many Delta 8 THC Gummies Should You Take for Anxiety?
Since research into the benefits of delta 8 THC for anxiety is in its infancy, there are no established dosage charts or guidelines.
However, if you know a dose of delta 9 THC that relieves your stress, you may try taking twice as much delta 8 THC in the form of gummies.
It's always best to start low and slow. In some cases, you may need less delta 8 to achieve anxiety relief. Some people find that a 5-10 mg dose is most effective, while others regularly take doses upwards of 25 mg to achieve desired results.
Just monitor the effects and work your way up slowly to the sweet spot, allowing adequate time to pass between every dose.
You can also try pairing delta 8 THC with a CBD product o evoke the entourage effect — or try delta 8 gummies that already have this combination of ingredients, such as the Area 52 UFO Gummies.
Are Delta 8 THC Gummies Safe for Anxiety?
Again, the studies on the effects of delta 8 THC are few and far between, but cannabinoids, in general, have been considered safe and well-tolerable by many health organizations, including the WHO.
To date, there has been no record of death from cannabis overdoses. That's physically impossible because cannabinoids don't interfere with the brain stem region responsible for respiratory function.
That being said, eating too many delta 8 THC gummies at a time may cause a few mild side effects, such as:
Dry mouth
Red eyes
Sedation
Problems with coordination
Altered time perception
Confusion
Huge boost in appetite
If you experience any of these side effects, try to lower the dose or balance it out with CBD.
Is Delta 8 THC Legal?
The legal status of delta 8 THC is a little bit foggy.
On the federal level, hemp-derived delta 8 THC gummies are legal like any hemp products as long as they contain 0.3% of delta 9 THC (or less).
Obtaining delta 8 THC from hemp uses a special conversion process from CBD so that the delta 9 THC content can be maintained within legal limits.
However, as with many federal laws, states can implement their own regulations and restrictions with regard to the 2018 Farm Bill. Currently, at least 18 states have decided to ban delta 8 THC products, including:
Alaska
Arizona
Arkansas
Colorado
Connecticut
Delaware
Kentucky
Idaho
Iowa
Michigan
Mississippi
Montana
New York
North Dakota
Rhode Island
Utah
Vermont
Washington
Before buying delta 8 THC gummies online, make sure they're legal in your state.
How to Buy Delta 8 THC Gummies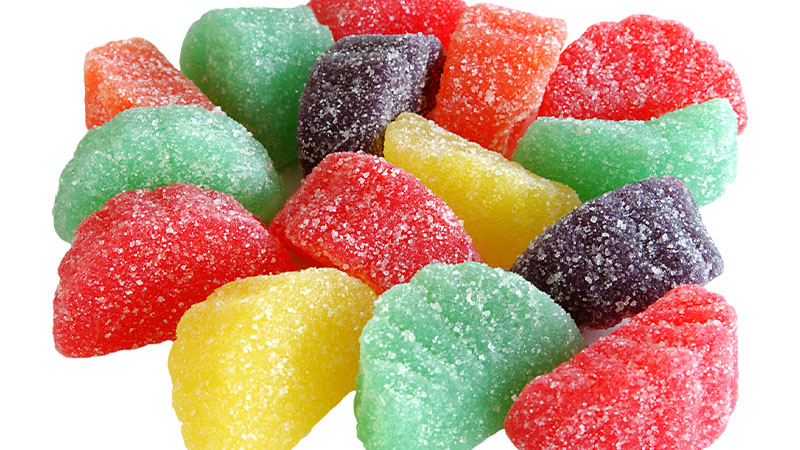 Since the market lacks regulation, there's also no standardization when it comes to production and labeling practices in the delta 8 markets. Without such standards being established, it's the consumer's responsibility to research their vendors.
Here are a few criteria to look for when buying delta 8 THC gummies for anxiety.
Source of Delta 8
Delta 8 THC can be extracted from hemp and marijuana.
Although marijuana is a more efficient source, it's currently illegal in most states.
Federally legal products are made with hemp-derived delta 8 THC.
But, you also need to mind the source of the hemp.
Hemp plants are effective bioaccumulators, meaning they draw up every compound from the environment, including the good and the bad substances.
The best hemp for delta 8 THC gummies comes from organic farms, where cultivators don't use pesticides or growth boosters on their plants. They yield clean, high-CBD flowers, which is the perfect sourcing material.
Beware of hemp imported from overseas, especially from China. They're likely mass-produced and contaminated with the aforementioned chemicals.
Extraction Method
There are many ways to extract CBD from hemp before converting it into delta 8 THC. The golden standard in the industry is CO2 extraction.
When CO2 runs through hemp, it effectively pulls the beneficial compounds and then dissipates — leaving behind a thick, resinous extract. This process doesn't require additional heat or toxic solvents, which makes it the preferred method.
Reputable companies also don't use bleaches to make their extracts appear "pure"; they're also good at purifying the chemicals from the end product.
Lab Testing
Third-party testing is a sign that your provider treats its customers seriously. Delta 8 companies have an option to send samples of their products to third-party laboratories for a complete analysis; this includes the potency and purity of the product.
Once the product passes the screening, it receives the Certificate of Analysis (CoA). Transparent brands display up-to-date CoAs on their websites or send them to customers on request (or attached to their gummies as a QR code).
Potency
Delta 8 THC is about half less potent than delta 9 THC, so you should adjust your dosage accordingly when using delta 8 gummies for anxiety.
A standard dose of delta 8 THC in a gummy is 25 mg. It provides more of a cerebral buzz combined with relaxation and high functionality.
Gummies with 50 mg and more can get you moderately high and induce sedation.
On the other hand, anything below 20 mg per piece may be cost-prohibitive if you're not a lightweight user or microdoser.
THC/CBD Ratio
Some brands like to play with the entourage effect by blending the delta 8 THC distillate with CBD and terpenes. CBD may amplify the therapeutic properties of THC while mitigating the risk of getting too high and experiencing side effects.
Terpenes
The buzz from delta 8 THC feels a bit bland; you can feel a cognitive change, but it gets you in no particular direction. Terpenes are aromatic molecules that not only provide the cannabis plant with its unique aroma and flavor profile, but they, too, add to the entourage effect. On top of adding the character to your effects, they provide their own health benefits, as I said about using limonene and linalool for anxiety.
Additional Ingredients
As a sweet treat, delta 8 THC gummies aren't thought to be super healthy. But, it doesn't mean they should have garbage ingredients inside them. By garbage ingredients, I mean artificial colorings and flavorings, wheat, preservatives, or synthetic stabilizers. Make sure that your gummies are made with organic ingredients — and don't contain anything you wouldn't use in your kitchen.
Summarizing the Best Delta 8 THC Gummies for Anxiety
Delta 8 THC can work similarly to delta 9 THC when it comes to easing anxiety.
But, unlike delta 9, it doesn't seem to have a biphasic nature — higher doses of delta 8 THC have a much lower incidence of causing anxiety and paranoia.
So, if you avoid regular weed because of that, delta 8 THC may become a reasonable alternative for easing anxiety.
However, as with any unregulated market, it's important to watch out for scammers and low-quality products out there. Always do your research on any brand selling delta 8 gummies, and if you're in a rush, feel free to use my recommendations from this guide.
Sources:
Revuelta, A. V., Cheney, D. L., Costa, E., Lander, N., & Mechoulam, R. (1980). Reduction of hippocampal acetylcholine turnover in rats treated with (-)-delta 8-tetrahydrocannabinol and its 1′,2′-dimethyl-heptyl homolog. Brain research, 195(2), 445–452.
Avraham, Y., Ben-Shushan, D., Breuer, A., Zolotarev, O., Okon, A., Fink, N., Katz, V., & Berry, E. M. (2004). Very low doses of delta 8-THC increase food consumption and alter neurotransmitter levels following weight loss. Pharmacology, biochemistry, and behavior, 77(4), 675–684.
Abrahamov, A., Abrahamov, A., & Mechoulam, R. (1995). An efficient new cannabinoid antiemetic in pediatric oncology. Life sciences, 56(23-24), 2097–2102 [3].
Bloomfield, M. A., Ashok, A. H., Volkow, N. D., & Howes, O. D. (2016). The effects of Δ9-tetrahydrocannabinol on the dopamine system. Nature, 539(7629), 369–377 [4].
Marcus, D. J., Bedse, G., Gaulden, A. D., Ryan, J. D., Kondev, V., Winters, N. D., Rosas-Vidal, L. E., Altemus, M., Mackie, K., Lee, F. S., Delpire, E., & Patel, S. (2020). Endocannabinoid Signaling Collapse Mediates Stress-Induced Amygdalo-Cortical Strengthening. Neuron, 105(6), 1062–1076.e6 [5].
Lima, N. G., De Sousa, D. P., Pimenta, F. C., Alves, M. F., De Souza, F. S., Macedo, R. O., Cardoso, R. B., de Morais, L. C., Melo Diniz, M., & de Almeida, R. N. (2013). Anxiolytic-like activity and GC-MS analysis of (R)-(+)-limonene fragrance, a natural compound found in foods and plants. Pharmacology, biochemistry, and behavior, 103(3), 450–454 [6].
Linck, V. M., da Silva, A. L., Figueiró, M., Caramão, E. B., Moreno, P. R., & Elisabetsky, E. (2010). Effects of inhaled Linalool in anxiety, social interaction, and aggressive behavior in mice. Phytomedicine : international journal of phytotherapy and phytopharmacology, 17(8-9), 679–683 [7].